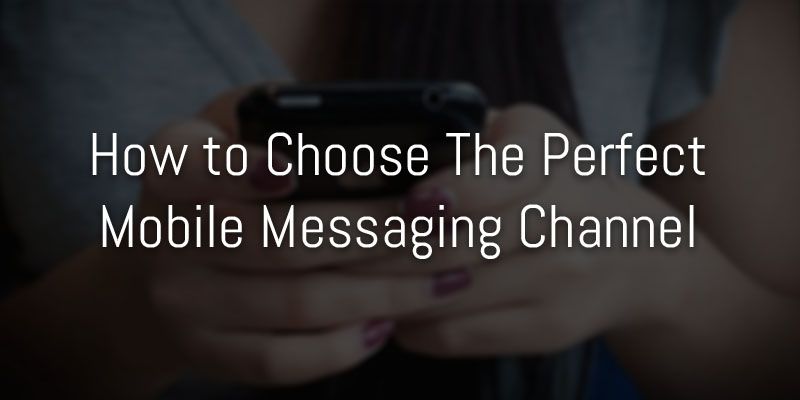 Every eCommerce business desire to reach new heights through the mobile devices because people in today's date make use of mobile devices in their life for many kinds of tasks and shopping being the top-most part which involve the use of mobile by the mobile users as they make use of the mobile for shopping a lot. Because many people are making use of the mobile handsets for accessing the internet, and so the industries must look forward to include a marketing strategy of the mobile messaging also. Bu throw to opt for the best mobile messaging channel?

Here in this post we will tell you about the suitable mobile messaging channel you must watch out for.
Messaging channel choice:
Email is the top choices and quite efficacious messaging channel to be opted for. Marketers have been using the email strategy since long time and it works wonders if the marketing is concerned. If you don not have a function-rich app developed for your business, then also the email marketing strategy will help you generate good sales leads. And later on when you will develop the mobile app then the emails will help you increase app users by the same.
Top 4 uses of mobile messaging:
There are multifarious reasons why marketer might opt for choosing the mobile messaging for connect to the prospective customers. Here are the best uses of mobile messaging:
#1 You desire to advertise a new product:
For drawing people's attention, advertising your product is the best channel you must opt for.
Email can be the quality-oriented option:
Apps does work best for when people are making use of the app more often. There are some people who don't make use of the app and in this case email helps you to gain the attention of your potential customers. Email is the great option to make your customers aware of something new which you are looking forward to bring to the market by the photos and the videos too. You can also mail the prospects about using your app or giving a visit to your website.
In-app messaging is also best:
In-app messaging will be of great help to you for announcing the information to your consumers regarding your apps. Messaging apps like whatsapp will play an important role for broadcasting information about your new product. All you need to do is to keep it as captivation and add the call-to-action also.
#2 For marketing your sale:
If you are giving sale offers or different kind of short-term promotion, then you also desire to tell about the same to the potential customers as quickly as possible.
Push notification will be best:
Just like the in-app message, your app users are not required to get the push notification. With other kinds of apps, these will show up as the alert message that appears on the home screen or might show in different notification part of user's smartphone device. This turns ou to be the best method for sale promotion to attract people for your business and this in turn will generate higher revenues for your business. Mobile apps development company in Boston have the best team of developers who have good experience in creating world-class mobile apps which includes even the push-notifications too.
News feed will also be great option:
If your app includes the news feed, then you can make optimum use of the same for promoting your sale. If you constantly use the news feed for publicizing your new products then your users will make a routine for checking it regularly.
#3 You desire to communicate again with your former customers:
Yet another efficacious use of mobile messaging in marketing is to communicate again with your former customers. By this you will be able to rekindle their interest in your app or in your products.
Through email:
Email helps in promoting your new product and it also plays great role for getting in contact with former customers to your app. You can tell about the discount and sent them the captivating email which will urge them to come back to your app and this will help you to generate higher revenues for your business and increasing the sales.
By push notification:
Make use of the push notification for re-energizing the interaction of your customers with your app by your users and the customers. Push notification will be of great help and best choice.
#4 Requesting for rating your app:
The best way to grab the eyeballs of new users is by getting the positive ratings from your active users.
Through in-app message:
The best method for getting good ratings of your app is by focusing on your most active users who are satisfied immensely by your business and service. When someone has used your app for making a purchase or reservation, then it is the best time to ask them for rating about your app.
News feed:
Even your news feed can help you in publishing a request for the ratings. In this manner, you can drop the reminder to your users for giving the rating in the news feed. In this way when your user will go through your mobile app then they will see the reminder for giving a review about your app.
Summing up:
So, after reading this above post you might have seen that mobile messaging is the perfect channel for your marketing. If you desire to create interest about new products for your users or promoting a sale, getting in touch with the happy former customers, giving them reminder to leave a rating for your app, etc will be done through the mobile messaging channel in the blink of an eye. This will take your business to the next level.