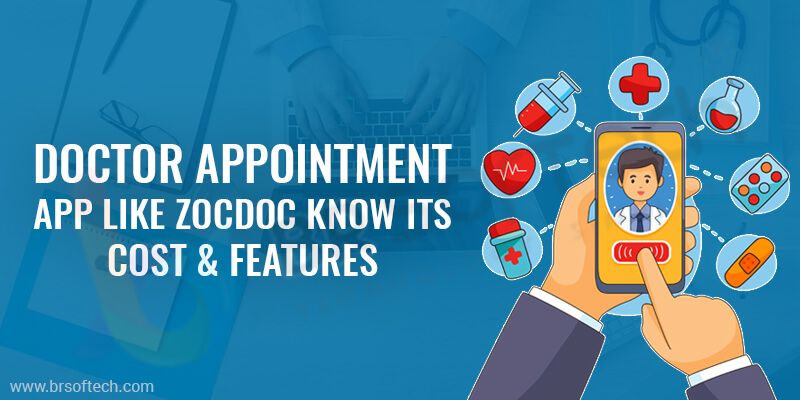 88% of doctors appointment are appointed by the smartphones
In this 21st century, the world has turned into hustle bustle, where everything is getting quicker and faster. In this contemporary time, no one has time to wait. Human wants instant replies and relied on the quicker service.
When it come to the health sector, so obviously in the pace world no one prefer to stand in the queues and waste their precious time while waitifont-family: Liberation Serif,serif; ng for their number. In this situation, doctor appointment booking apps has turned as a rescue for the patients.
In 2020, mHealth market is expected to rise to $58.8 billion
In this article, we have focused on the most demanding Doctors On Demand App including its market position, features and cost.
Glimpse of Online Doctor Appointment App
Doctors appointment app helps to connect doctors and patient with each other.

It act as a bridge between doctors and patient.

Helps patient to find the doctors nearby location

Patients are enable to get the prescriptions via video calls, audio and text message.

Patients can take the prior appointment with doctors via online booking.
Related Post: Create Your Own App with HealthKit
Advantages of Online Doctor Booking Apps
Online consulting: Doctor mobile app offers online consultant to the patients, hence user can contact with doctors via online doctor app and have the treatment even without going to clinic.
Cost and Time Saves: It saves time and cost of the user, as user don't have to waste time in traveling and in online doctor consultation, they can get offers and rewards.
Doctors Search by Filters: The doctors can be searched by the following aspects such as location, rating, specialty, experience and review.
Enabled to View Doctors Profile: Users are enabled to view the doctor's profile and his specialty as well as can know the doctors qualifications.
Improve Health Status: With this online doctor app service, patients can improve their status of health. As going to doctor can be skipped by patients but online doctor service takes only two clicks on your smartphone.
Online Prescription: With the help of Doctors appointment apps, user can have the online prescriptions by the certified and professional doctors via mail, SMS or in whatever format you prefer.
Online Payment: Users are able to do the online payments via different platforms paytm, credit debit card.
24/7 Support: Patients can get doctors service from anytime and anywhere. 24/7 support is available for the users.
In 2015–2020 the major fluctuation has been observed in the Online Dr. Booking market
Leading Doctor Appointment Booking App
The following applications are ruling the doctor appointment booking apps industry.
Features of Doctor Appointment App
Support: Patients don't have to bother about day or night, by the support feature in online doctor appointment apps, they can contact anytime to the doctors and from anywhere.
In-app Payment: With this feature, the online doctor booking app can withdraw a fee from the account according to the consult duration and can pay to the doctor.
Push Notifications: This feature is beneficial for both doctors and patients, as it gives the reminder to both doctors and patient. Even user can mark the reminder option on the app only for the medicine time to remind them.
Health Tracking: The online doctor appointment app turn as enrich app by including health tracking feature as measurement of weight, fat, blood pressure and users can record this data to calculate statistics, interactive charts and spreadsheets.
GPS Tracking: With GPS tracking, the user are able to track the current location and know the real time in the maps. It would be helpful in time management and accessibility.
In app camera: By integrating, in app cameras will play the advanced role. As by cameras users are able to have a live chat and video chats. Users are enabled to interact with the doctors on live basis also. Hence, this is how the doctor patient communication becomes more effective.
Related Post: Healthcare Industry : Impact of Technologies
Panel of Doctor Appointment Booking Apps
Patients Panel
Sign-In/Sign- Up

User Profile

App Appointment booking

Tracking Doctor's Location:

Support

Calling feature

Live video sessions

Health Tracker

Online Payment

Review & Ratings
Doctor's Panel
Register on Panel

Appointments Status

Accept or reject appointment

Live Video call

Edit Schedule
Admin Panel
Patient Management

Doctors Management

Report management

Marketing Tools
Advanced Feature Doctor Appointment App Development Process
The advanced doctor mobile app development process in future the following technologies will become the part of it and rule the industry.
Artificial Intelligence and Machine Learning: For making doctors app development search more relevant and reliable, app development companies introduce AI to the platform. It helps to extent the platform and to make the platform more advanced.
Blockchain Technology: The effect of blockchain has been seen in every industry and the same has reflected on the healthcare industry. The doctors health care industry is also going to touch the decentralization too.
The blockchain technology will help to bring all the data on a decentralized system. Hence, there would not be any interference of the third party. The data will turn in a secure and reliable form.
Cloud computing: In health care industry, the cloud computing platform is playing a vital role and going to being a king of the doctor application development. Even in future this technology is going to become more advanced and will hit market with google healthcare cloud API. It will bring many advantages.
Earning Source of Doctor Appointment App
Subscription: With this, the doctors and medical practitioners have an option to take the subscriptions on monthly or yearly basis. AS this will offer them, to reach to the wider number of patients. Even the patients can pay for the monthly and yearly subscription.
Sponsorship: This offers an opportunity to the doctors and healthcare centers or they can demand to show their name or brand on the topmost section of the app with the sponsor program.You can offer the wide number of videos and photos as the branding of the particular hospital or center.
On-Demand Services: Through an doctors mobile app, you can serve the on demand services and link the hospitals and customers. It helps to serve the services like home blood, urine collection and medicine delivery. Many services can be added to the app. It adds additional revenue to the app.
Cost to Develop a Doctor Appointment App Like ZocDoc?
The actual cost of Online Appointment Scheduling App for Doctors is relied on the type of functionality and implemented features.
Here we will telling you the cost as per the module to deliver the idea:
Simple appointment booking app – Cost $40,000
If you implement several features in the mobile app development process for android and iOS so the additional amount added in such a way:
App with Prescription tracker and live video – Cost beyond $100,000
Front- Back End Development (400 Hours – $10,000 to $ 20,000)
Maintenance and upgradation (40 hours – $1000 to $2000)
Designing- UI/UX design (60 Hours – $1500 to $3000)
Technical documentation (40 hours – $1000 to $2000)
MVP testing (80 Hours – $2000 to $4000)
Cost as per Developers:
You can also hire Doctor Appointment Booking App developer on full time, hourly and part basis from all around the world.
Eastern Europe based developers: – $30 to $150 per hour
U.S. based developers: – $50 to $250 per hour
India based developers: – $10 to $80 per hour
Conclusion:
The medical industry has become advanced and various features has implemented to the online doctor appointment platform. If you are looking to develop an online doctor app, so implement these features and the cost we have mentioned is suitable to develop the doctor app