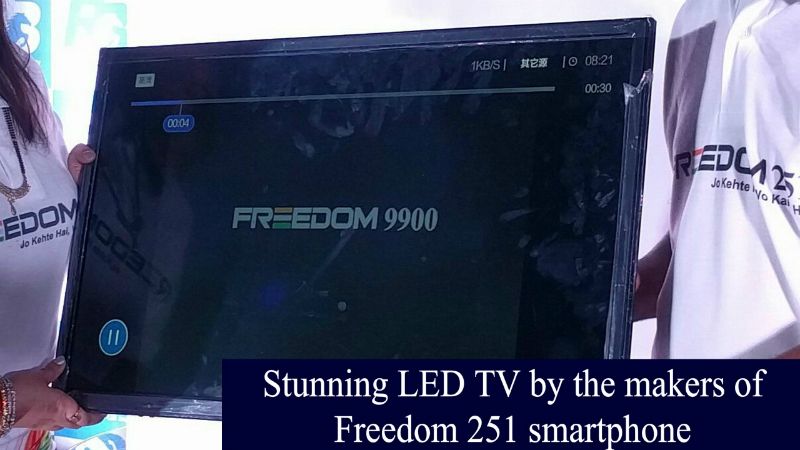 The makers of Freedom 251 all set to launch New HD LED TV on Thursday.
Stunning features:
LED TV is expected to be priced below Rs. 10,000. Ringing Bells is all set to raise the curtain from a 32-inch LED TV.
The manufacturers of Freedom 251 smartphone, Ringing Bells have declared that it is all set to launch the wonderful LED TV. The company had organized the event in Delhi on 7th of July where the company unveiled the Freedom HD LED TV. At the same time, Ringing Bells, at the event, states that it will reveal all new stunning smartphones.
Ringing Bells organized the event on a huge platform. However, the price and availability of the LED TV has not been released. Well, if the Freedom 251 is to be an evidence. Then the all new upcoming LED TV will also not cost you a king's ransom. General manager of the company, Anmol Goel had stated earlier that TV will not be pricey, it will be around Rs. 10,000. The High-Definition LED TV is will have 32-inch display, TV will be available in different variants.
Well, this news comes like the surprise because the company has not yet delivered the Freedom 251 smartphone to the buyers. This invite states that company's Managing Director Mohit Goel will give updates to the media on the enhancements related to the Freedom SmartPhone.
Closing Thoughts:
So, the makers of Freedom 251 has decided to bring the wonderful LED TV to the markets.
Well, everybody are not able to watch TV as they remain busy in their schedules and they can't carry the TV with them.
So, BR Softech has the perfect solution fo those people. BR Softech Pvt Ltd. Has the wonderful app for those people like Hotstar app clone which can be used on your lovely smartphone, and you can get updated about recent news from the news channels on the TV. And you can also have latest news about your favourite TV shows, by sitting never, right on your smatphone screen.