Boost your food business developing an advance food delivery app. The immense success of the food sector offers people convenience and ease. Provide customers with effortless ordering, one-step checkout and instant delivery using the food delivery app. To withstand the competition and keep up with the market trends, every food business must come online. 
Half of the restaurant owners want to consider on-demand food delivery app options, but they aren't sure how it works. Half of it is marking its presence in the market by introducing innovative solutions and attractive offers like Swiggy, Just Eat, Ubereats and a lot more. Here to keep with ever-changing market demands and stay ahead in the competition, we will help you grow your business and increase your number of orders.
Concept of Online Food Delivery App
The online food delivery app facilitates the delivery of meals covering a wide area of the market.  It allows customers to order food from various restaurants or food cooperative covering various cousins. It provides customers with a great number of options to order food while allowing establishments to earn more. 
Online food ordering will surpass the offline ordering in the coming decade. The explosion of technology advancement has taken the food industry to another level providing with next-generation solutions.   
The transition of food business from offline to online has captured the global market. According to Statista, 53 percent of respondents stated that they used the restaurant's own delivery service to order a meal.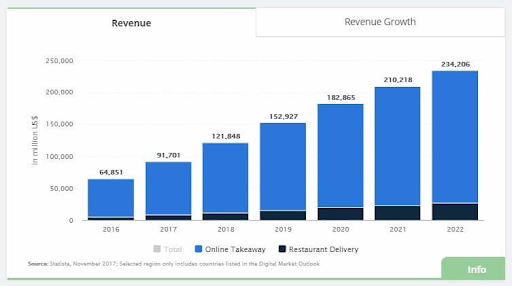 As per the forecast revenue of food business will grow each year. All the market leaders are now investing in food platforms for consumer experience and increased revenue.
For more details watch this video.
How Online Food Delivery Application Works?
Without further ado, Let's find out how does online Food Delivery Application works and get immense popularity capturing the targeted audience's attention.
User Visits your Website or Mobile App
Digital presence plays a vital role in growing your business. Shape your food business by marking your presence online. Online presence increases your visibility in the market and allows you to grow with the increased user base. 
Your digital presence makes your customers visit your website or application whenever they feel hungry and place the order. According to Google Play, India is the biggest Google Play download market in the world. It facilitates individuals to order food in the comfort of their homes by searching for multiple options. 
Select Favorite Restaurants 
By providing customers with food delivery application, you allow them to search for multiple restaurants. It allows them to select their favorite restaurant and gives them the opportunity to explore more food options selecting a different restaurant. 
With changing time instead of trusting one brand people are more open to seeking other lucrative options. Increase your chance of success by marking your presence in the market and launch a successful app keeping location, services, customers, profit, and loss in mind. 
Select Desirable Food
Serve your foodie customer with a smart solution consisting of multiple food options. All the available food items will reflect on your mobile phone with price and description to choose from. 
Without any rush, users can select the food they wish to eat and can go through the entire menu. Research into food choices and understand how people select food for offering a better user experience. Some people look for authentic food taste while some look for fast food to calm their hunger. By providing this option you provide users with the utmost convenience and comfort 
Add Food Items to Cart
After selecting the dishes, The next step is to add your favorite dishes in the cart. It displays the total cart value with description. By using this option you can increase and decrease the quantity of food. Not just that, it also allows you to check the individual item price with ease. 
Add items to cart option gives you the feasibility to order exactly what you are looking for and select the dishes which is available in the budget. 
Select the Payment Mode
Once all the food items are added to the cart, select the desired address, and pay for the food you wish to order. Users can directly pay the amount online through the integrated payment gateway from where the amount gets credited into your account.  
There are different payment modes available like COD, Debit card, Credit Card, Net banking; you can choose the one you like. You can also visit our page for more information on the payment gateway.  Once the payment is made, your order will get confirmed, and you will be notified about the order detailed along with users. 
Notify Customer about Food Preparation 
As soon as the order gets placed, you will be notified about the delivery time via SMS to your registered phone number or a mail will be sent to you with order number and details. It makes it easy for the individual to cross-check the order and amount while allowing the restaurants to prioritize the order according to the order placed time. 
Despite the competition, Online food delivery application development seems promising.  It has the largest network in the world. Millions of orders are processed every day offering customer convenience and ease of ordering food. Online food delivery application is the source of generating greater revenue while bringing ease in the industry. 
Ubereats is the biggest name in food delivery services.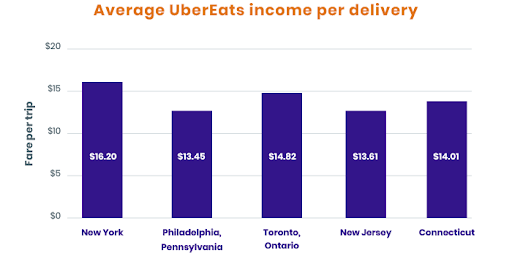 Since the market has a huge number of restaurants, it has greater competition. To stay ahead in the competition and attract the maximum number of clients its must to build a food delivery app. You can also read our detailed blog: 
>>>Food Ordering App: Business Models of On-Demand Meal Delivery Startups<<<
Conclusion
With mobile applications gaining prominence, it attracts more and more people to develop their own apps. It provides customers with all the information in one place, estimate time of delivery, and real-time tracking. It offers the customer simplicity they look for therefor business look for investing in food application development. With the changing time, restaurants are expending their reach and coming online with different app ideas. The overall food industry has broadened the horizon of new opportunity for many entrepreneurs. It's bringing several android app developments and iOS app development opportunities while being one of the fastest-growing industries.