Technology is transforming our lives to the core. It has changed the way we live and interact with each other. With our changing lifestyle, it is making a greater impact on our daily needs. Buying grocery is no longer a concern, It provides with a wide range of options. From fresh fruits and vegetables to rice, spices, seasonings, packaged products, beverages, personal care products, meats get everything in one place.
Online grocery business offers a relaxed way of browsing and shopping for groceries. By 2020, there will be roughly 6 billion mobile users. In only two years, app store consumer spending increased by 75 percent to $101 billion worldwide. Grocery app helps you discover new products and shop for all your food and grocery needs from the comfort of your home or office. Get everything you need, when you need, right at your doorstep using online grocery stores.
US grocery ecommerce—specifically online food and beverage sales—will grow 18.2% to $19.89 billion in 2019 and will rank as the fastest-growing product category online. (Source)
Types of Grocery Mobile App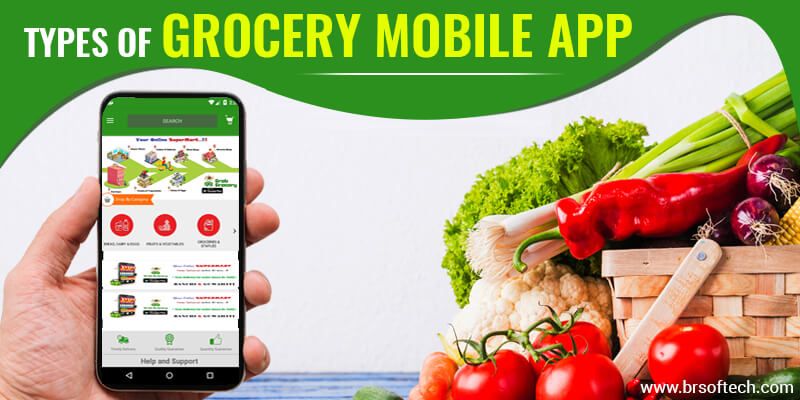 There are mainly three types of Grocery Mobile Apps.
E-commerce Grocery Apps

In-store Grocery Apps

Personalized Grocery Apps
E-commerce Grocery Apps
E-commerce grocery app allows users to browse a wide variety of items irrespective of their locations and time. It enables buyers to schedule the delivery slot as per their convenience and comfort. These apps are mainly used by online retailers like Amazon, Flipkart, etc. The kind of comfort e-commerce grocery app offers to its users is what attracts the users towards it.
In-store Grocery Apps
In-store grocery apps are a perfect blend of e-commerce functionality and independent grocery app. It uses the concept of crafting the images of the ambiance of the grocery store. Using In-store grocery app, you can get access to all the grocery products along with their specification. In-store grocery apps engage customers using beacon technology and push notifications while the customer is nearby to the store.
Personalized Grocery Apps
Personalized Grocery delivery apps mainly focus on providing customers with an incredible shopping experience. By using a personalized grocery app, consumers can create a grocery list and can directly share them with the store and allow the user to set the items for purchasing. This way, the user can avail the products at the moment they require.
Top Market Players of Online Grocery Business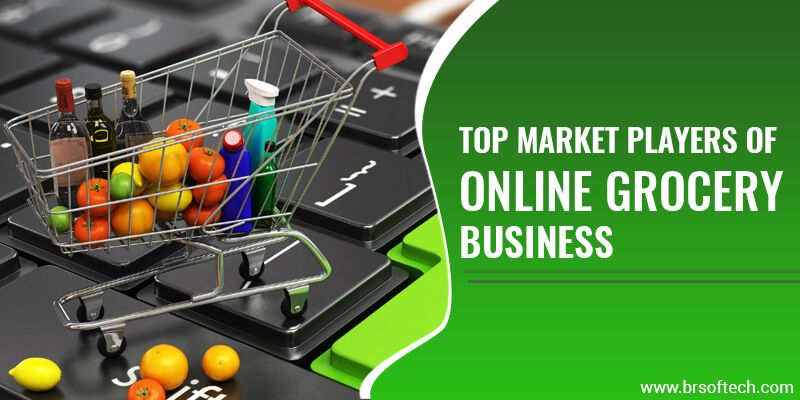 With changing dynamics, the users of on-demand grocery app solution are rapidly growing. There is a tremendous increase in the number of people who install grocery ordering app on their smartphones.
As per the report of Satista, the revenues from mobile retail in the US is anticipated to increase by around 115.9 billion US dollars in the year 2016 to around 335.8 billion in the year 2020. It can be also said that in the year 2016, nearly 136 million users have done at least 1 purchase through the web platform or the mobile app through the mobile gadget they make use of.
There are top industry leaders who promote online grocery shopping and delivers the products at users preferred destination within a limited time. It has shown a drastic increase in the number of people who are ready to shop for grocery products online.
Let's find out more about Market Players of Online Grocery Business
Grocery App Development Process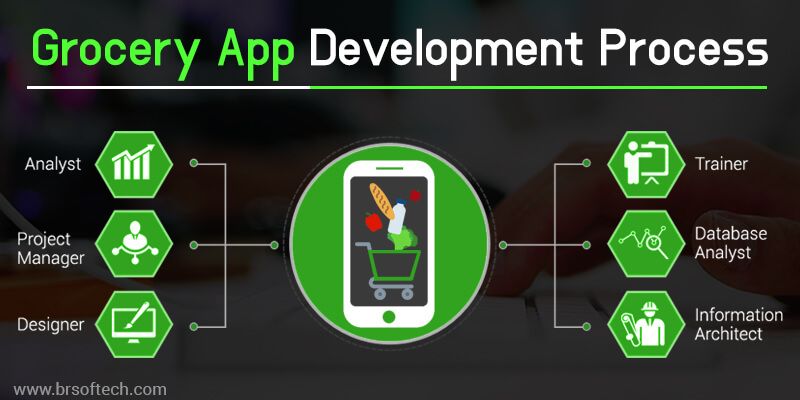 Grocery app mirrors all the facilities of an online store. It guarantees the customer base and provides a list of products, prices, shopping cart, checks out and delivery at doorstep services. For successful Grocery App Development, it's a must to follow certain steps.
Shoppers are becoming more comfortable with ordering online in general, and grocery is a part of that," said eMarketer senior analyst Patricia Orsini. In addition, the study shows that grocery app usage among Americans will grow in the future from 18 million in 2018 to 30.4 million in 2022.
Plan: – Explore and understand the market trends to meet the customer's expectations. Plan the complete development process according to the market demand and take the action subsequently.
Design: – To stand out in the competition one must build a unique interface. It helps in grabbing the customers attention while capturing the market effortlessly.
Build: – Focus on customer-centric development while building the grocery app. In the development process, it is really important to follow the right approach which allows you to grow and establish a reputation in the industry.
Test: – Testing plays a very crucial role in the development process. It helps you analyze website speed and performance and everything. At the testing phase, we can make the required changes and bring customer exactly what they are looking for.
Launch: – Make your website or app visible in the market before launching it or go live in the market, so that it can grab the customers attention before the launch and make your website or app launch successful.
Monitor & Evaluate: – Analyze your performance to improve it as per the market trend. It helps you review your app and make the changes accordingly while covering many aspects. Like: How successful is it, how's the server doing and how the frontend and backend working.
Key Elements of Grocery Mobile App To Consider While Development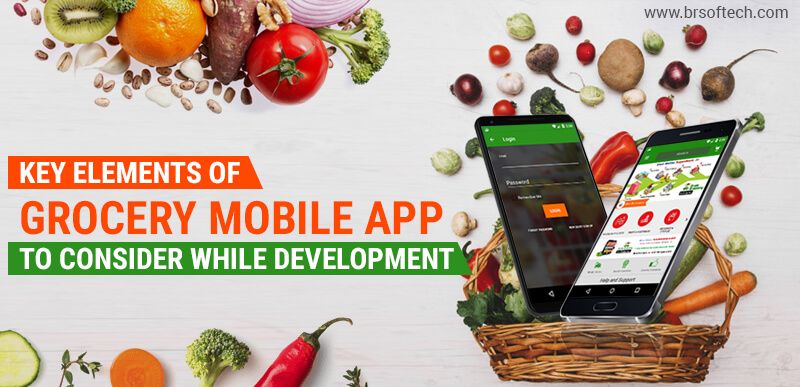 There are certain elements which are essential to implement so that, with the help of an online grocery delivery app, a user can easily select their preferred grocery items online and quickly add to their cart or proceed to checkout option. Let customer experience the seamless process by considering these key features.
Seamless Sharing: – The grocery mobile app must have the class feature of making sharing seamless to the core for the app users and for sharing the lists with other users in a smooth way.
Impressive Design: – To make your app successful, it's essential to make it highly interactive. It provides the best shopping experience to the users as well as creates a lasting impression
Reminder Option: – This option is a must for grocery mobile apps. It helps the users to know when they are running out of essential grocery items.
Product Shopping Lists: – The grocery app must include product shopping list that helps the user in providing with the built-in database and allows them to shop for their favorite items effortlessly.
Payment Integration: – Grocery app must provide the users with the best user experience and while checkout multiple options to clear the payment.
Barcode Scanners: – By including this key feature in the grocery app, you allow your user to search the related information regarding the products faster.
Start Online Grocery Business In India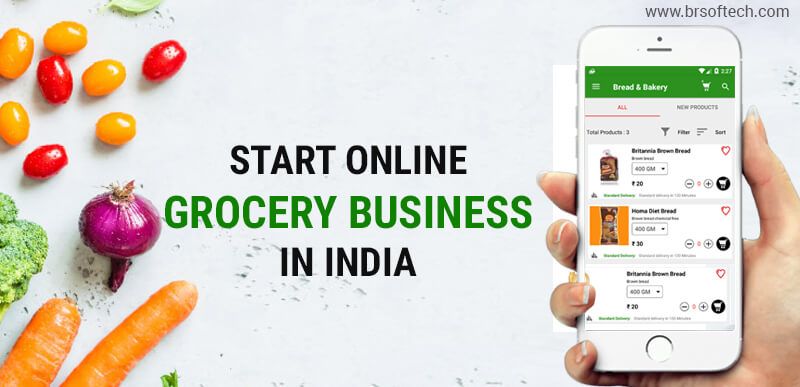 Work on the Idea of Delivery Region: – To develop a successful Online Grocery Business work on the ideation. It is the most complex process. It requires complete industry research and competitors knowledge. To generate a unique concept one has to think of something innovative and engaging. Do not forget to analyze your identified regions, culture, eating habits, population, suburban, urban, and families. It helps in knowing the market fully.
Register your Business: – Once you are ready with the idea and everything, register your business. You can start your grocery business with a sole proprietorship firm or if you have a partner continue with LLP registration. To complete the registration process successfully you can get in touch with any tax consultant or chartered accountant. They will help you complete these formalities and guide you throughout the process.
Work on Inventory: – To run a grocery business it is really important to work on inventory management. There are two ways to manage your inventory. First, you can keep your stock ready in your warehouse or you can tie-up with local grocery store initially. Or else you can also prepare a business module with multi-vendors. The best way to work is by starting preparing the
Work On delivery Modules: – Online grocery business completely relies on the delivery modules. It plays a crucial role in running your business successfully. Mostly it gets impacted by the time it takes to deliver the groceries to the customer. To manage the delivery time successfully one must decide the range of delivery area. Hire delivery boys with bikes and work accordingly. By providing great customer service, you can grab the market attention and provide with utmost services. 65 percent of users say a poor mobile experience negatively impacts their opinion of the brand hence, make sure to provide users with ultimate experience.
Develop a Website and App: – With the changing time developing the website and app has become essential. Online presence helps your business to grow and empowers you to connect with more and more customers. It helps you maintain a healthy relationship with your customers while bridging the gap between you and the consumers.
Add Payment Methods: – By adding payment methods we provide our customers with multiple choices. It allows the customer to choose their preferred payment method and bring them the utmost convenience. One can also add cash on delivery as a primary mode of accepting payment as all the orders will be delivered to customer doorstep directly.
Plan Marketing: – To increase the online grocery business visibility one must invest in marketing. The best way to market your online grocery store is pamphlets, newspapers, Bulk SMS, Hoardings, Society meetings, Social media, and Search engine optimization. It helps you enhance your business visibility while increasing your customer base.
While working on the development one must choose the platform wisely. It plays a crucial role in the development process. Hence, you must know about your targeted audience and know more about your requirements. It helps you choose the platform accordingly and provides with ease of navigation.
Here we have listed some of the top e-commerce platforms which leads to unique, secure and effective development like:
Opencart Development

OSCommerce Development

Woocommerce Development

Spree Commerce Development

Jigoshop ecommerce Development

Magento Development

Prestashop Development

X-cart Development

Shopify Development

Solidus Development
To know more about these popular platforms you can read our detailed blog: Which is the Best ECommerce Platform for Your Online Store?
Costs to Build a Grocery Shopping App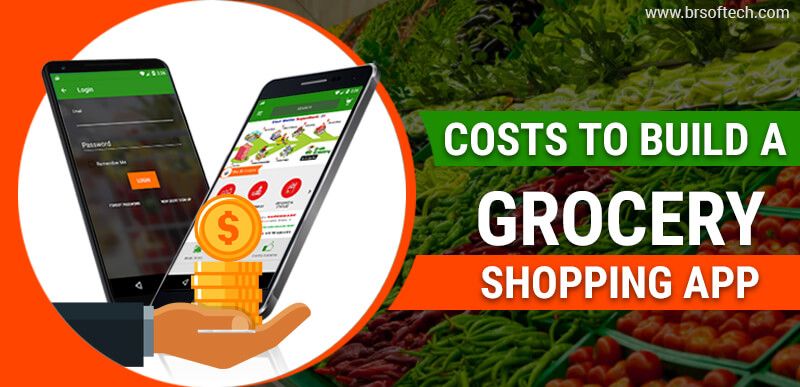 Who doesn't like shopping? Especially when you can order the grocery in the comfort of your home and avoid standing in the long queues. With advancement, online grocery stores are expanding rapidly and became immensely popular.
This year, 18.0 million US adults will use a grocery app at least once a month, up 49.6% over last year. (Source)
Online grocery stores offer a relaxed way of browsing and shopping for groceries. It commonly works on different panels like:
User Panel:-

From the user profile to order management everything is being taken care of by our user panel. It consists:
User Profile

Browse Products

Schedule Delivery

Order Tracking

Multiple Payment Option

Offers & Discount

Review & Settings
Admin Panel:-

Admin panel takes care of the representation of the information using the display screen in the given circumstances. It consists:
Dashboard

Manage Payment

Assign Order

Manage Customer

Manage Store

Offer Excellent Services
Grocery Store Delivery Panel:-
Order Units

Order Quantity

Order Delivery

Cancel Order

Accept Order

Chat Option
There are some major factors which impact the development cost like: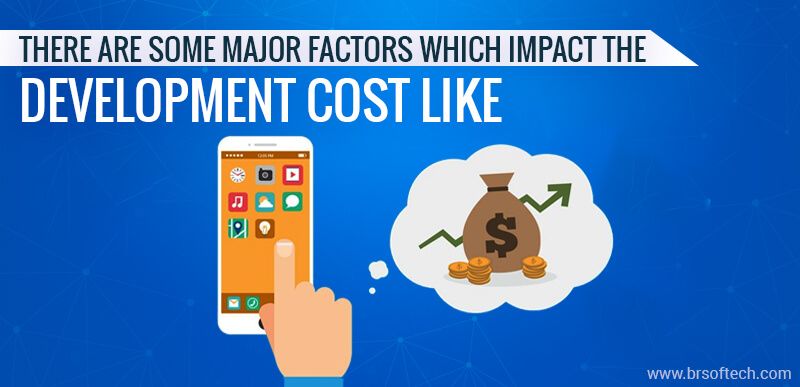 App Design: – To engage the buyers and motivate them to buy the product, it's essential to choose the app design which attracts the customers.
App Size: – App size is decided by its features and functionalities which decides the cost of the app.
App Developers: – The overall development cost depends on the app developers depending on developers geographic location.
Mobile Wallet: – For hassle-free payment its really important to maintain the mobile wallet.
App Platform: – Selecting the app platform decides the development cost and directly impacts it.
Features & Functionality also impacts the Grocery App Development Cost.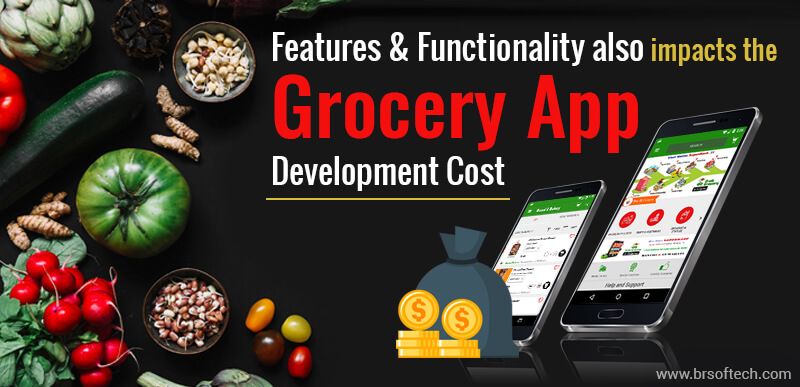 Basic Features: – Basic features include User Profile, Barcode/QR Code, Offer zone, order history and Shopping cart with help option for customers.
Advance Features: – The advanced features helps in increasing customer satisfaction and provides with great options to fulfill the requirements.
The overall cost of developing an online grocery shopping app can be evaluated by its complexity, the platform you choose, and the country as developers' cost may differ depending on the country.
We at BR Softech provide with cost-effective grocery delivery app which will cost somewhere around $10,000 to $30,000 for a single platform.
To read more about the of Costs to Build a Grocery Shopping App in detail read our blog:
How Much It Costs to Build a Grocery Shopping App like Bigbasket, Grofers, Amazon Pantry, and Zopnow?
Challenges In Online Grocery Business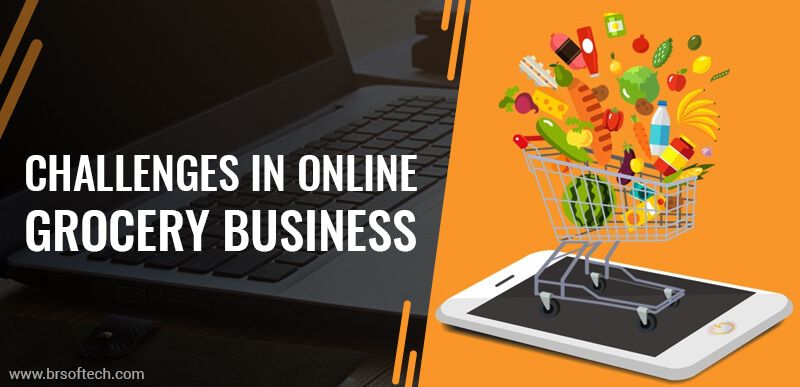 The online grocery business is quite challenging due to the nature of grocery products. Grocery products are perishable good and intended for immediate consumption. Here we have listed some of the challenges which, the grocery industry faces constantly.
Storage is the biggest challenge for the Grocery business.

Unwillingness to pay delivery charges.

Low-profit margins

Most of the shopping is done by housewives and they are not techno-savvy.

Missing Inventory management

Keeping fruits and vegetables fresh

Huge marketing cost
Other then that, there are many challenges one needs to consider while planning to start an online grocery business.
Advantages of Purchasing Grocery Online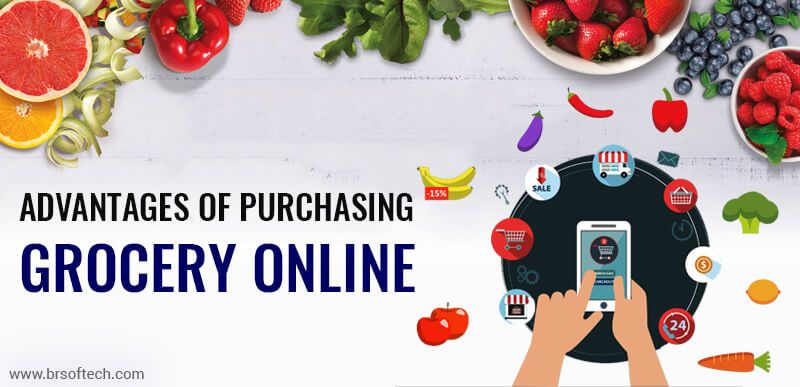 These grocery app development companies provide users with many advantages of purchasing grocery online. Approx 45% of people buy groceries online aged 25-35. Online grocery app development has made retailers life a lot easier by allowing them to sell food products including groceries, vegetables, fruits, beverages, staples, and much more online using these successful platforms.
One of the biggest advantages of online grocery delivery app is that they encourage you to shop smart and stops you from impulsive shopping.

Forget about the hustle-bustle of every day and start shopping using online grocery delivery app. It helps in saving time and allow you to buy the needed stuff in the comfort of your home.

Online ordering gives you the option of buying everything in one place without running here and there.

24/7* service is one of the biggest advantage grocery apps holds.

With the increasing growth, competition is getting tougher, and online grocery apps are now coming with lucrative offers and discounts to capture the user's attention.

Online grocery apps provide users with great services at affordable charges and at desired slot timings.
There is nothing better than shopping efficiently and buying all the necessary stuff in the comfort of your home.
Globally, mobile e-commerce sales reached $1.4 trillion in 2017 and are expected to increase to $3.5 trillion in 2021. (Source)
Technology is taking our life beyond imagination. It's drastically changing it to the core. Now, you can get everything online from household cleaning products to beauty, and makeup, everything you need for your daily needs is now available online. We allow you to make your strategic decision while providing the user with a better experience.
BR Softech is a leading Grocery app development company. With the team of 250+ professionals, we make use of all the trending technologies while development. We focus on developing innovative, interactive, advanced yet easy to use applications which, can make your customer order more.