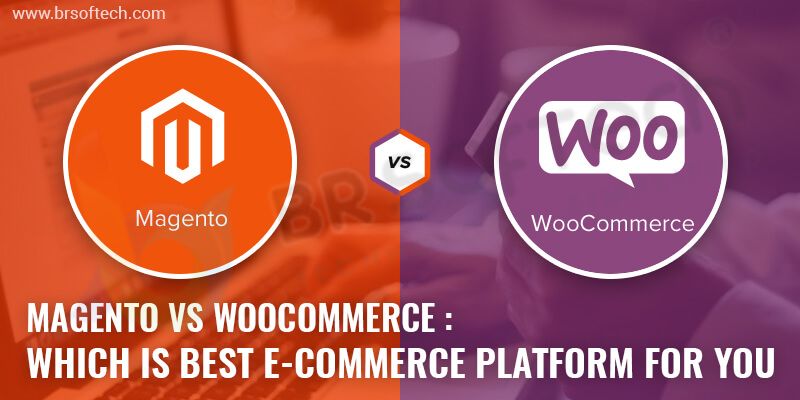 Magento vs Woocommerce is an ongoing discussion. It is quite tricky to decide which one is better. Magento and Woocommerce both are unbeaten platforms, they are widely popular. If put collectively they both are massive players in ecommerce websites. It's enough to know why they are the market leader.
Before we provide you with detail information, let's take a look at both the platforms solely. Understand what each one has to offer.
Magento Introduction
Magento is one of the most powerful corporate level e-commerce platform. It was launched on March 31, 2008, and since then nearly 250,000 retails use this platform. It provides with the flexibility to online stores. For startups, they have the free version available, however, if one wishes to opt for premium features they can. There is no additional investment to get a domain name.
They provide you with free extension and themes. Premium version of extension and themes are also available. It's popular because of its user-friendly features and advanced security and updates.
Magento Plus Points
Extensive range of features with incredible Performance.

Great Scalability

Offers an extensive range of catalog management

Allow developers to make effortless changes

Works on the Model view controller framework

Offer diverse tools for promotion and marketing

Makes search engine optimization smooth for online stores

Provides with mobile-friendly features

Provides with advance shipping and payment capabilities

Powerful e-commerce inclinations

Excellent platform with tremendous flexibility

Perfect site management

Magento allows users with one-page-checkout

Provides with the user account with unlimited storage option

Magento comes with many e-commerce features
Magento Cons
For general users, it's quite Complex

If you wish to get its Enterprise Edition, it will be an additional expense

It requires the steep learning curve

Unlocking its feature require an upgrade

There is no exact price, price depends on the project size
Woocommerce Introduction
Woocommerce is one of the popular open-source e-commerce plugins for WordPress. It was launched on September 27, 2011, and since then approx 2,241,108 websites (Source) use it commercially. It enables you to run an online store and offer various features. This open source online e-commerce plugin for WordPress is available free of cost. Woocommerce development companies provide with your own domain name and hosting on premium charges.
Woocommerce provides with unlimited storage size. Its extensions and plugins are available free of cost. It has almost 330 extensions and over 1000 plugins. There are many premium extensions and plugins are also available. WooCommerce expert's advice to use this plugin because of its simplicity to install and user-friendly features.
Woocommerce Plus Points
Free ecommerce platform that helps you sell anything

Seamless presentation of online business presence

Provides with user-friendly Interface

Give you with the customization option

The popular customer engagement tool

An in-built analytic system to get the detailed report handy

Free extensions available

Let e-commerce website grow efficiently

Provides with a compatible theme framework

Provides you will complete data control

Mobile- friendly structure

Adjustable shipping rates

Provides with many plugins free of cost

Top-notch security

Assist various languages through third-party plugins
Woocommerce Cons
Premium themes and extensions will increase the investment

You will have to learn about two new platforms if you don't use WordPress

Without WordPress, Woocommerce cannot be used

Woocommerce includes a lot of priced extensions

Woocommerce is not suitable for large enterprises
Magento VS Woocommerce Comparison
woocommerceBoth the platforms provide with a comprehensive range of features. Here we have listed the top features of both the platforms.
Magento is a well known open-source e-commerce platform. Wherein Woocommerce is an open-source e-commerce plugin for WordPress.

Magento goal is to provide with easy navigation, increase user engagement, and high return on investment. Wherein Woocommerce focuses on providing with great support to large and small ecommerce websites to get the high traffic.

E-Commerce Development Services offered by Magento cover many popular online stores wherein WooCommerce is a powerful plugin offer e-commerce solution by making it easy for parent platform.

Magento community version is self-hosted wherein WooCommerce challenges you to discover your individual web host

Magento e-commerce platform enables you to add unlimited products and WooCommerce supports the unlimited product.

Magento development companies offer a theme based system while Woocommerce development companies nearly support all the WordPress themes and offer customization option for all the developers

Magento provides with advanced security option and does not allow any unauthorized activity while WooCommerce includes basic security features.

Software Development Companies recommend Magento to users that have basic knowledge of web development while Woocommers platform is incredibly easy to use and make changes.

Woocommerce is a great platform for startups and users with no e-commerce experience and Magento, on the other hand, works for all the medium and large e-commerce platforms.

Magento comes with advanced features and WooCommerce is better for users who are looking for basic features and wants to start and run their e-commerce website.
Hope the comparison between Magento Vs Woocommerce will help you understand the difference between both the platform and help you to make a better decision while starting your own e-commerce website.
Both the names are familiar in e-commerce development Services. While selecting the best e-commerce software we suggest you look for all the features, product information, and all the other significant information which can help you to grow.
    Related Post: E-Commerce Platforms for Small Businesses in India
Price Comparison between Magento VS Woocommerce
Magento is a cloud-based e-commerce platform if you compare it with WooCommerce then its one of the most customizable platform to build an online business. Both the platforms provide with the seamless shopping experience. Their price may vary as per the unique requirements of the business. There are a lot of free and premium extensions available. Premium extensions are expensive as compare to other charges. Web hosting costs completely depend on your e-commerce project.
Here you will get the pricing idea of both the platforms.
| | | |
| --- | --- | --- |
| Compare | Magento | WooCommerce |
| Cost | $2000 | By Quote |
| Pricing Model | Quote-Based | Monthly Payment as well as Quote-Based |
For most of the businesses to increase the user traffic online presence is remarkably important. It increases the business value and enhances the number of permanent customers. Hence, It is extremely important to choose the right platform.
Magento VS Woocommerce Security
For any e-commerce business, cybersecurity is important. No one wants to put their customer's payment at risk. Insufficient internet safety can impact the retails or the business greatly on a financial level. To avoid such risk choose the platform wisely. All the Magento eCommerce development sites provide with advance security and updates. It can support an unlimited number of products while providing complete security.
Woocommerce development company also takes it very seriously. They provide with complete SSl support. They make sure all the customers personal and payment details are secure and protected from any unauthorized access. If you wish to protect your site and provide your user's a secure environment then Magento is definitely a winner with advanced security option.
Magento VS WooCommerce Product Management
Magento helps all the businesses to grow stronger with their immense support and services. Its developed especially for e-commerce. Its open source technology provides online business the versatility they require the most. They allow all the businesses to control their data and provides with the flexible shopping cart and top-rated content. If you are will to generate high revenue then one can also opt for Enterprise edition. Magento 2 Enterprise Edition license cost is approx $22,000.00 annually.
Woocommerce allows all the business to sell their products. They allow products to divide into many categories like simple, grouped, virtual, external and much more.

Conclusion
Ensure your success by choosing the right platform as per your business requirement. For beginners, Woocommerce is the best as it simplifies the process and easy to understand. Its available in affordable prices and ideal for small business. Magento is the best choice for existing organizations. It can boost the revenue in a short span of time. It provides with complete security and thousands of theme and extension available as per your requirements.