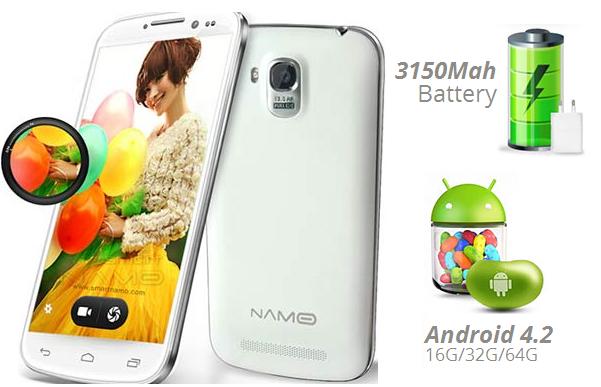 A Gujarat-based group has launched two Narendra Modi-themed smartphones in India, named SmartNamo Saffron One and SmartNamo Saffron Two. The features of the phones as explain on the website can give a strong competition to any available top smart phones like Samsung Galaxy / Sony Xperia. The devices run on Android 4.2.1 jelly been OS.
Saffron One is a cheaper version with price ranging from Rs.10, 000 to Rs.23, 000. The 5 inch display device is powered with 1.GHz Dual Core processor, it has a 2GB RAM & up to 32 GB of internal storage.
Smart NAMO Saffron2 HD is a phablet i.e. smart phone cum tablet. It has a larger 6.1 inch screen & 1.6 GHz Quad Core processor for faster surfing speed with 13 Mega Pixel camera and 2 Mega Pixel front cameras for Skype / video calling. The display also features Gorilla glass 2 coating to keep it scratch resistant. It has a dual SIM facility & both the SIMs can be 3G, which is not there in any smart phone in the marketplace.
Smartphone also pre-loaded with apps & videos to highlight Brand Narendra Modi. The company has plans to rollout at least four models catering to different price ranges. A team of businessmen from Gujarat plan to launch a smartphone, called the 'Smart Namo' a play on the Gujarat Chief Minister Narendra Modi's nickname among his youthful fans. We are from land of Gujarat and in electronic smartphone business in China. NAMO stands for Narendra Modi & Next generation android mobile odyssey. Our product is our way of dedication & respect to our big nation leader.
Save