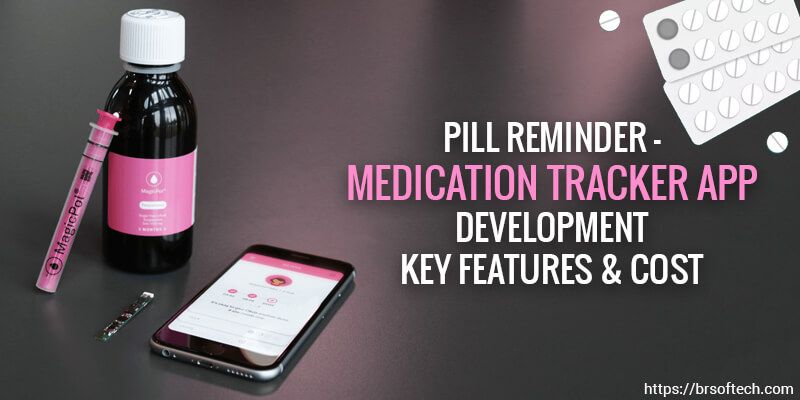 Staying on track with your medication is a lot easier now with an app for medication tracking & pill reminder. It simplifies the daily process and allows you to plan your medication no matter how complex it is for you to remember. Stay safe with your meds and keep track of your pulse rate, glucose, and blood pressure and other significant measurements. With the advancement of technology, the healthcare market has become one of the fastest growing markets. It has a lot of potential for business purpose while benefiting people around the globe. Just enter the details of each medication you take and experience greater medication management.
Millions of people use pill reminder and medication tracker app on a daily basis. It has many positive life-saving advantages. It can transform your life and make the required changes in order to maintain your health.
The global mHealth solutions market is expected to reach USD 90.49 Billion by 2022.(Source)
There are approx 272 medication apps out of which 152 are exclusively available on google play and 87 are on iTunes, and there are 33 apps which are available on both stores.
To understand how mobile app solutions help read our detailed article " Healthcare Sector Benefits From Mobile Apps Solution "
These apps will dramatically help you improve your experience and quality treatment.
Without further ado here we have listed some of the key features of pill reminder – medication tracker app must have.
Reminder: – Reminder is mainly used to prompt or aid the memory. It can be computerized reminders or a phone call depending on the option you choose. Each reminder type carries a piece of certain information which helps the app to remind you about your pills on time.
It's a core feature of medication tracker app which allows users to set a reminder for his/her prescribed medicine. Using this feature, users can choose different time slots depending on the prescribed medicins. While developing the app one must consider integrating these core features which provide users with ease and flexibility.
Get Points and Rewards: – Countless people around the world taking health seriously and using medication tracking app. It gives multiple benefits while providing great healthcare to people. To make it attractive one must include a feature that allows users to invite their respective caregivers and share their medications. On each invite, one must earn some point, these points and reward feature helps in earning and makes the app lucrative.
Track History: – This is one of the most useful features which allows users to track history and of medicines taken in the past. This track history feature is one of the significant features in medication tracker app development. It helps in keeping patients electronic medical record and a large number of reports. It supports you ensure that your prescription medication taking routine is consistent and up-to-date without a miss while providing the opportunity to others to track your updated record of all your prescriptions.
Keep Users Informed About Medicines & Its Information: – To make your app one of the best pill reminder app you must add this feature. This is considered as one of the core features to keep users informed regarding details of medicine they are taking. It allows users to organize the whole pill as per their information and make proper use of it. It provides users with ease and serves a better experience. It's considered as one of the handy features which, adds value to your app and builds a reputation in the market.
Send Timely Alerts: – This is one of the attention-grabbing features which helps users to ensure they are taking their medicine on time. Not just that this feature also helps you ensure that you do not forget to take pills on time and run out of pills. All you need to do to make full use of this feature is to feed your details correctly embrace the ease.

Not just that, there are many more features which are must to consider while developing Pill Reminder – Medication Tracker App. This app must be designed to fulfill all the patient care need while enabling you to keep all the records of healthcare.
The user-friendly visual interface is a must to consider.

Synchronization option to remind with smartwatches.

Access to a medication progress report.

List PRN Medication.

Multiple sound option for medication reminder.

Track other measurements like weight, blood pressure, pulse rate, and others.

Access to reminder list.
There are multiple health and pill reminder – medication tracker app and software available. Which helps individuals and huge organizations manage everyday activity. For more detailed information, you can visit our page regarding hospital management system software.
Benefits of Medication Management App
Save yourself from unfortunate events and use medication management app in order to track all your past medications. These apps are available on both the platforms Android & iOS. It helps you track all your medications and send a reminder with much more benefits.
Here we have listed some more benefits to help you understand how the medication management app works.
It keeps electronic medical records.

Useful in maintaining continuity in patient care.

Offers flexibility to customize the schedule as per requirement.

Gives you the ability to create the schedule.

Allows you to edit the records.

Reminds you to take medicine by sending alerts.

Prevent from taking the wrong medicine.

Offers user-friendly functionality.

Designed keeping in mind the ease of use.

Help you monitor your progress.
It offers seamless communication and allows you to take good care of your health. If you wish to secure your health and get a high level of flexibility then know more about our Insurance Claim Management Software By following this link:
Cost of Pill Reminder – Medication Tracker App Development
Deciding the ballpark to develop a pill reminder app is such a daunting task. The cost of mobile app development depends on several factors. Let's find out the cost of medication apps for patients and all the factors that impact the overall development cost.
1. Application Type: – There are fundamentally three types of apps:
Native Apps

Hybrid Apps

Web Apps
Hence the development cost differs depending on the application type you choose.
2. App Platform: – Deciding the platform is a little tricky. You can choose the platform depending on the targeted audienced you wish to cover. There are multiple excellent platforms are available all over the world. All you have to do is make your decision to select a single platform or cross-platform for your app.
3. App Complexity: – Complexity of an app is decided by its features and functionality. To help you understand it better we have divided into three categories.
Basic apps: – The one that comes with regular features require basic UI components and pre-defined backend with templates and analytic features.
Mid Level App: – Mid-level app includes extra features and like integration with the API, Simple backend structure, real-time messaging option with less complexity.
High-level App: – High-level app is equipped with top functionality features. They help with custom animations, database relationship, media processing, real-time synchronization, and much more elaborate features.
4. API Development Cost: – API is the Application Program Interface. It defines the accurate way for a developer to write a program that requests services from an operating system. APIs are increasingly generalized, validation of API structure is remarkably important for any app developer.
5. App design: – Wireframing, UI design, Animation these are the factors that really impact the cost of the mobile app development. Generally, there are two options to design the app, custom and standard UI. Customized UI as compare to standard UI is more complex and expensive.
6. App Maintenance: – Maintenance of the app is the final stage in mobile app development. It's divided into a few categories.
Updates: – Apps require the update on a regular basis. To keep your app updated and maintained its really important to maintain the app development.
Operating System: – To keep your apps compatible with the newer version of Android and IOS, it's really important to keep it up to date.
Libraries: – Most of the apps use a third-party library which will get broken unless updated.
Security Bugs: – Once the app is published it can be affected by bugs any time, Hence, it's really important to update the app in order to fix the bugs.
It's an on-going process as trends keep on changing. To keep up with the market requirement one needs to maintain the app.
These above-mentioned factors are not limited to its features, functionalities, creative design and user interface. Medication management app may cost less or more depending on the business requirements.
BR Softech is leading mobile app development, and software development company in India and abroad. We have a team of expert software developers excels in providing with best pill reminder, medication tracker app development software solutions. If you have any creative app idea, you can bring it to us, and we will help you convert it into reality.