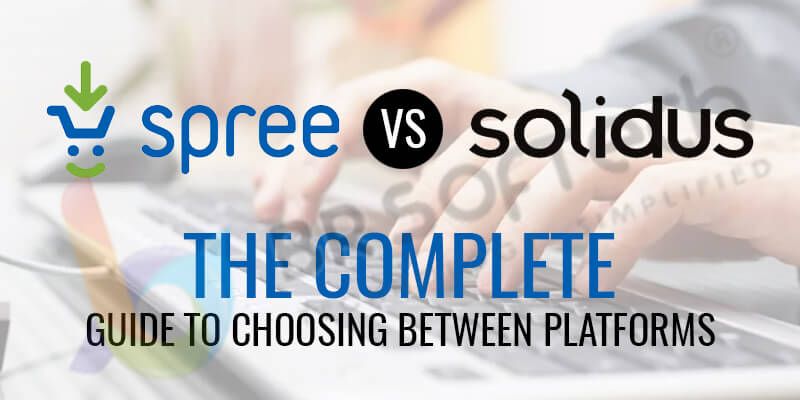 We recognize that the eCommerce platform rising in this era instantly where many eCommerce platforms have come into the market where these two platform Spree and Solidus become on the most popular in the eCommerce industry. Both platforms are the open source platform that uses the development source code to make 100% perfect. It is always available to use anytime. The increasing demand for open source platform is now becoming a "Norm" in the software and application development.
So let's go these platform features which we define in this article. Basically, Companies which chose Spree eCommerce development, they all are aware already with this service and changes, increasing demand for open source platform is now becoming a "Norm" in the software and in open source framework world. With this technique, Solidus eCommerce development has come on the market after the spree, which is equally similar to the spree Framework. Here we are providing some essential features of both platforms, which are helpful for you.
What is Spree E-commerce Platform
The Spree commerce development platform is known as an open source platform that is built on Ruby or Rails language platform. Also, it is known as a "Lightweight" because it is an easier comparison to another eCommerce like Magento, Shopify etc. that have minimal approaches to code designing.
According to this framework, the developer can develop a platform on the larger level, which has pre-built functionality and combined in a trading. Due to this reason, Spree developers working on an open source project boasted site load times for excellent storefront appearances. Also, it has been Acquired by the first data. Here us providing you some feature of this framework.
Instant Development.

Subset of Ruby and rails

Customisation

Rich document

Community Support

Reliability

Scalability

Mobile Compatibility
What is Solidus E-commerce Platform
The solidus is the one of the most trending E-commerce framework technology. Solidus eCommerce development was invented after the Spree eCommerce development platform. Radically, the solidus is an updated version of spree 2.4 but the three major difference has in solidus stability, quality, and API congeniality which is a totally different comparison to Spree framework.f
The Solidus framework that is known as a fork of spree which is totally dedicated to development support that maintains every service of this framework. Also, it's developed a slack channel for professional Solidus eCommerce developers to support always.
Stable

Secure

Scalable

Product Management

Flexibility

Payment integration

Customer support
Business Similarly of Spree and Solidus
According to an increasing demand of these platforms give the advance feature to develop an eCommerce website and application platform.
A. Rapidly Development
Whenever the web development comes the ruby and rails come to the top level. The ruby and rails much better language compared to another language that gives the fast development process. So both platforms are reliable and efficient in term of development resources time.
B. Completely Ownership
The ownership is based on the framework development that gives you an allowance and full control of the development source code asset. Also, you can settle source code the quality and ethics on the higher level. Furthermore, they can verify all the contribute code to ensure perfect codebase.
C. Fully Functional
The spire and solidus platforms give much better benefits compared to other platforms, so it is a complete set of the full online eCommerce service set. This feature gives the expand payment process, Secure integration, multiple extensions, way of configurable and add or remove features. Also, both platforms provide the efficient solution, keyword targeting, and SEO features.
D. Modularity
It gives the methodical and smoothly scale on your online store. Both frameworks are based on the modern standard the give quicker response to market revolution, integration requirements and modularity principles.
E. Mobile Commerce Support
At the present time the smartphones user quantity goes to a higher level where every resource is compatible and supportive with mobile devices. Also, both platforms support various payment node with securely integration payment methods.
F. Comprehensive API
Both applications has provided the API (Application programming interface) that is helpful or crucial to integrate third party solution.
Wrapping Thoughts

As we mentioned above the Spree and Solidus ecommerce platform that is current trending framework in the ecommerce market, but people has confused that which is better for business and marketing purpose. So we give you advice that you can use both framework. Basically the spree framework based market is the higher comparison to solidus but if you want to advance feature in your web development then you can use Solidus framework. Also you can hire spree and solidus developers to make impressive services in your business.