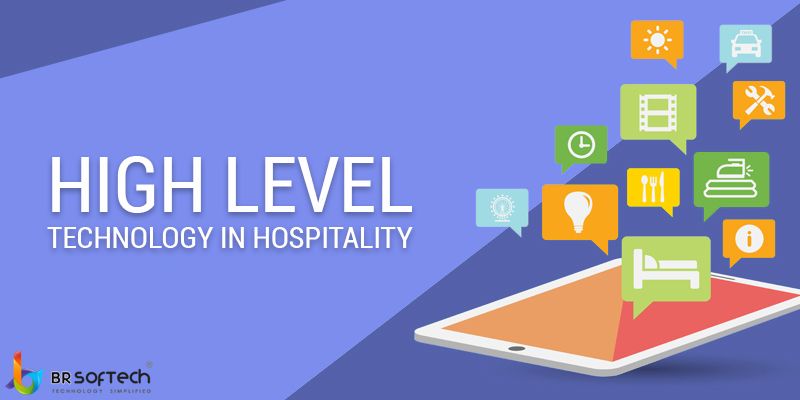 This article is about the concept of the practice of the giving luxury to our guest. We all are taught from the childhood that guest is another name of god. "our guest are our god" and we start giving 5 star hospitality to our guest keeping in mind that nothing should go wrong in the sense that our guest shall get disappointed. "Atithi devo bhava" is the most used slogan for giving the paramount respect to our guest.
When it comes to our guest, some people find it very difficult to handle any type of guest on the other side some people can handle all types of guest. Guests can be distinguished depending upon their physical and mental appearance. As well as it also depends upon the type of relation we have with that guest. All our efforts shows the curiosity to get the things done in a positive way. In today's world technology is increasing as fast as our growing hair. We have seen all the roles of the technology in various fields, but do you want to know how technology helps in hospitality. Hospitality is an important terminology used to give pleasure to your guest. But what if we add some advanced technology in that make it more useful and ease to access.
How technology is playing the crucial role in the hospitality? A very big question filled with lot of curiosity. The market has emerged to be in a grand way as we have added technology in hospitality. In this case both customers and businesses can get the benefits from the continuous communication. Technology can build an appropriate relationship between the customer and the clients. Most of us have problem with the reservations during traveling and accommodation . We have come with an idea of technology in tourism industry. We are aware about many travel agents all across the world providing us the best facility and solution through their known sources. First and all we needed to the reservations for our traveling purpose before one month. But now scenario has changed and we have reached to a level where we can book our tickets instantly. We have so many native apps available for booking of the tickets at affordable rates. They provide us best offer in the sense to beneficial. It should be turn out to be benefit for both the business and the customer.
Terminology of Hospitality:
#1 Hotel technology
When we have to reach somewhere or we have to travel ,firstly we always check for the accommodation. This is the predominant rule before traveling. Mostly we have some of our relatives present all over the world, but what if we don't have any known people at the place where we are about to travel. In that case we have hotels available all over the world. We can book our rooms in the particular hotel depending upon the availability. We have so many hospitality management softwares for hotels available in our play store. Booking tickets and hotels have become so easy and reliable that we can book it with 100% assurity by not seeing the hotel once also. It all depends upon the suitability of the person's need.
#2 Integration of mobile data
Mostly we don't prefer booking anything online as we are scared about the fact that they may hack our account details which may lead to disruption. But we should know this thing that the online transactions are highly secure and stable. We have all the proofs of getting the transactions done. We are provided the appropriate details before our confirmation of the booking for any stuff. So always prefer to have a good and stabilized internet network while booking so that you may not loose any of your data and get the booking done properly.
#3 End of time consuming techniques
As soon as we get updated with the technology we start taking things in a easy way and it reduces our energy as well as our precious time. With advanced technology we have proven that it is the best way to get the things done in a trouble free way. We have come up with numerous hotel booking apps solution developed by our software developers. Previously, it used to take much time to travel somewhere as we need to get the reservation and check for accommodation there itself but now we have an uncomplicated platform to book our tickets fast and save our time to the best.

Social Media Experience:
#1 Social media marketing
Now when we know that things can be approached easily in terms of technology, it should be known by each and every person. We have something called social media. It is a powerful and dynamic base in today's date which can provide you as many leads as you want. It is said be good as well as bad depending upon one's needs. We have this platform to publish our websites and our activities. Through this we can come to know about various websites and protocols providing the facilities to make tourism easy.
#2 Guest response
When we are about to travel we are considered to be the guest of the place where we are going. It depends upon the type of hospitality what we will be getting. The guest response should be in a positive way to make the hospitality special and successful. If our guest gets impressed by our specialty we can maintain our image in the market. For a business it is very important to maintain the reputation. People will only get attract if we have that level of quality service providing network.
#3 Advanced check out procedure
Some people find it difficult to check out from the hotel just after waking up and standing in the front of the reception giving the keys back. For all of them technology has started a new procedure of checking out from your respective hotels. Some hotels are providing system to check out from their native app. So no need to give back the keys standing in front of the reception.
The Final Word:
All together technology has made one's work very easy to book the flights, hotels and rooms. Thanks to our developers who always try to add some beneficial features to the mobile applications to make it more compatible for the customers. We can get a lavished hospitality if we use our advanced technology. We can do our booking at affordable rates. We can have a better way to reach somewhere in a troubles and painless way.