Our advanced tools, team of experts, and years of experience in the game development segment give us the advantage to stand out from the crowd. Serving our services to 100+ of clients all over the globe has helped us emerge as the top game development company.
3D games or multiplayer games, Android or iOS - be it any platform or game type, we leave no stone unturned in making the best. Our focus remains on the following:
Successful game development
Proper game deployment
Workable game marketing
Making sure the client's business is growing
Always be present for support, maintenance, and assistance.
Providing a to z game development services & solutions, BR Softech uses high-end technology to conduct a thorough analysis and execution process.
Today, one of our goals is to sustain the invaluable reputation we have built over the years. Hire the best mobile game app developers, i.e., BR Softech.

100 +

Games

1000 +

Happy Client

50 +

Countries

More than 10

Years of Experience
Game Development Services
With BR Softech, you will receive a range of game development services at an affordable price, aligned with your business requirements. It is not merely development that we provide. We go the extra mile for our clients by offering maintenance and support services after a project is completed.
With our experience as a premium game app development company, we ensure full client engagement and involvement right from the beginning of the project. You can be sure that our game development services will help you gain results and opportunities that will propel you forward.
Here is the list of services we offer to our clients.
We have mastered the art of game designing. Be it AAA games, minigames, sports games, racing games, or role-playing games - BR Softech serves all with 100% quality assurance.
Game Animation
BR's animators are the most experienced industry experts that can turn any game into reality by developing as realistic as possible characters & surroundings.
Engaging UI/UX Design
Our high-tech tools help us create the best user experience and user interface. Be it sound or graphics designing - we leave no stone unturned in making the best game.
Our years of experience and advanced game development techniques enable us to create exceptional AR games.
VR Game Development
Our acclaimed projects are a corroboration of our great work, and VR is one of our core work areas.
Game Marketing Services
BR Softech doesn't stop just after handing over the game to its clients - the marketing team is deployed to market your game across every relevant corner.
Social Gaming Services
We not only build games but also thrive to serve remarkable gaming services that provide an engagingly phenomenal user experience.
We have remained highly successful in making Fantasy games. Our specialized features like tracking player statistics, leaderboards, and real-time data attract users to choose & use our app.
Loaded with top-notch graphics, crisp sound effects, & brilliant animations - our sports games are built in accordance with UX/UI.
Esports Game Development Services
BR Softech delivers feature-loaded Esports development solutions & services that attract the users and enhance the user base.
HTML5 Game Development
HTML5 game development is the simplest yet the trickiest segment of game development. And like the other game developments, BR has mastered this too.
Game Testing
Game testing is the most crucial stage before launching the game. Our team of experts specializes in-game testing and does thorough testing to get the best final output.
Unlock Nemours World Best Game Development Service with Us
TaKe a Tour
Game Development Solutions We Provide
Using our extensive knowledge of various front-end and back-end game development technologies, we can create game development solutions that can be launched in the market as quickly as possible. In everything we do, our game software developers go above and beyond to ensure exceptional quality to set your game apart from the competition.
Choose any of the following game development solutions we provide, and we will do the rest.
Game App Development
Create a tangible physical product from your game development idea, putting your dreams and concepts into action.
Game Website Development
The game websites we create can fit any screen size and offer a seamless experience across all devices.
Game Software Development
Game software development services from BR Softech include a large selection of genres suited for desktop and laptop.
Game Web App Development
A truly fun fling gaming experience can be derived from our game web app development services at optimal cost.
Video Game Development
BR Softech has certified video game developers who can create your game from scratch following the latest market trends and client specifications.
Hire Custom Game Developers
BR Softech's custom game developers produce next-generation AR, VR & mixed reality game software or mobile apps compatible with Android, iOS, and desktop. Games that feature stunning graphics and immersive cinematic experiences are a trademark of our highly experienced video game software engineers. Every project we work on is driven by an absolute dedication to quality and illustrates our ability to acquire new domain knowledge.
Hire Now
Our Game Development Platforms
Irrespective of what technology or development engine you prefer, we are entirely committed to bringing your vision to life.
Unreal Engine Game Development
Our team of professional Unreal Engine developers excels at providing valuable features for game applications on iOS, Android, and other platforms. The best tools and latest technologies are used to help you create Unreal Engine games.
Unity Game Development
We are a well-known Unity game development company that specializes in creating a mesmerizing and memorable gaming experience from scratch using the Unity game development engine.
Cryengine Game Development
In our game development agency, developers are trained on CryEngine well enough to craft intuitive gaming experiences rendering smooth UI transactions.
We develop unusual game app development solutions by skillful and talented HTML5 developers with user-friendly features.
AI Game Development
We have a good knack for developing artificial intelligence gaming experiences that can easily give users a seamless gaming experience. We put AI characters in video games that make the game look more realistic.
Windows Game Development
We have a laudable team of programmers, developers for developing Windows platform compatible games. Our team is competent at turning your ideas into realities with awesome graphics for the gaming app.
Arcade Game Development
With our team of dedicated game designers & programmers, we can deliver highly functional games that can attract the maximum number of users.
2D/3D Game Development
You can hire our 2D/3D game developers for the development of highly entertaining and robust 2D & 3D game apps and software.
Snooker Game Development
A tailor-made snooker game developed by BR Softech is known to give the exact land-based feel of the snooker game.
Education Game Development
Make the learning experience an enjoyable ride with our education game development services.
Android Game Development
We created Android game applications that can run on hundreds of smartphones without any problems. Our 2D/3D Android game application features world-class animations and addictive gameplay.
iOS Game Development
Creating iOS games that are feature-rich, engaging, and aesthetically pleasing is what we do best. A flawless gaming experience is guaranteed, regardless of whether you're using an iPhone, iPad, or Mac.
Browser Specific Games
Dedicated HTML5 game developers at BR Softech know how to develop browser-specific games of the finest quality.
Metaverse Game Development
Metaverse's booming market is now attracting a large customer base - and we are serving them the best services, heading to be the Metaverse game developer.
NFT Game Development
NFT, the future is NFT - and we are the best NFT game development company building fully functional NFT gaming platforms on Metaverse.
The Technologies We Use For Development
With the most recent game engines and frameworks, we are one of the top game development studios.
UNITY

A cross-platform game engine with component-oriented approach and extensive platform, technology, and API support.

UNREAL ENGINE

With real-time photorealistic rendering, dynamic physics and effects, and realistic animation, this engine provides a state-of-the-art technology experience.

HTML

Indie games created with this language include slot machines, tile-matching games, and table games.
CRYENGINE

Creating AAA class games with real-time editing and numerous interactive features is possible with this constantly improving multiplatform game engine.

The language has a clear structure and is fast and versatile, enabling both small and large-scale projects to be created.

Indie games can be easily created with Unity 3D and CryEngine thanks to this powerful and simple programming language.

SWIFT

Developed by Apple to create simple games for iOS and Mac, Swift is an open, fast, and interactive programming language.
Who Will Work on Your Project
PRODUCER
Manages the in-progress project, decides on the style of the created content, and focuses the team on what matters. By maintaining a balance between the publisher's vision and the developers' creative direction, the producer ensures a harmonious outcome.
ASSOCIATE PRODUCER
Coordinates and tracks schedules, identifies risks, resolves problems, and ensures smooth communication between clients and developers of our game development studio. Develops games based on industry best practices, customer requirements, and stated goals according to industry standards.
GAME DESIGNERS
Work on the concept implementation and core features of our future game at our game development studio. In accordance with the chosen platform and direction, they select game mechanics, storylines, and character biographies according to their years of experience developing games.
DEVELOPERS
Develop video games that complement the design team's ideas by creating a virtual environment that can scale and be managed appropriately. In charge of coding the game's engine, fixing bugs, storyboarding, and scripting, as well as fixing performance issues.
QA ENGINEERS
play all possible game scenarios in sequence to ensure the quality of the product. A QA engineer also tests different versions of the game, checks its performance and manages and covers test artifacts, corrects typos and grammar mistakes, and reports error codes to the developer.
ARTISTS
Ensure that the visual style of the game is harmonized by 2D artists, concept artists, and other game art experts. The look of the game is shaped by artists taking into account the limitations of the game platform and listening to feedback from QA testers. In addition, they create artwork for promotional materials, websites, and packages to strengthen their marketing position.
Our Different Versions of In-game Development
BR Softech offers coverage for a diverse range of business verticals as follows.
Here at BR Softech, we ensure the deployment of highly feature-rich games with a user-friendly gameplay environment that keeps gaming enthusiasts hooked for hours.
Desktop Game
With our Desktop Game, we create an unparalleled 3D Dimensional adventure that captivates game lovers.
Windows Game Software
The desktop game software we offer empowers players to unleash their imaginations and provides them with a captivating gaming experience.
Our Game Design & Development Process
All our high-quality mobile game apps and software are the result of the following proven and tested game design & development processes.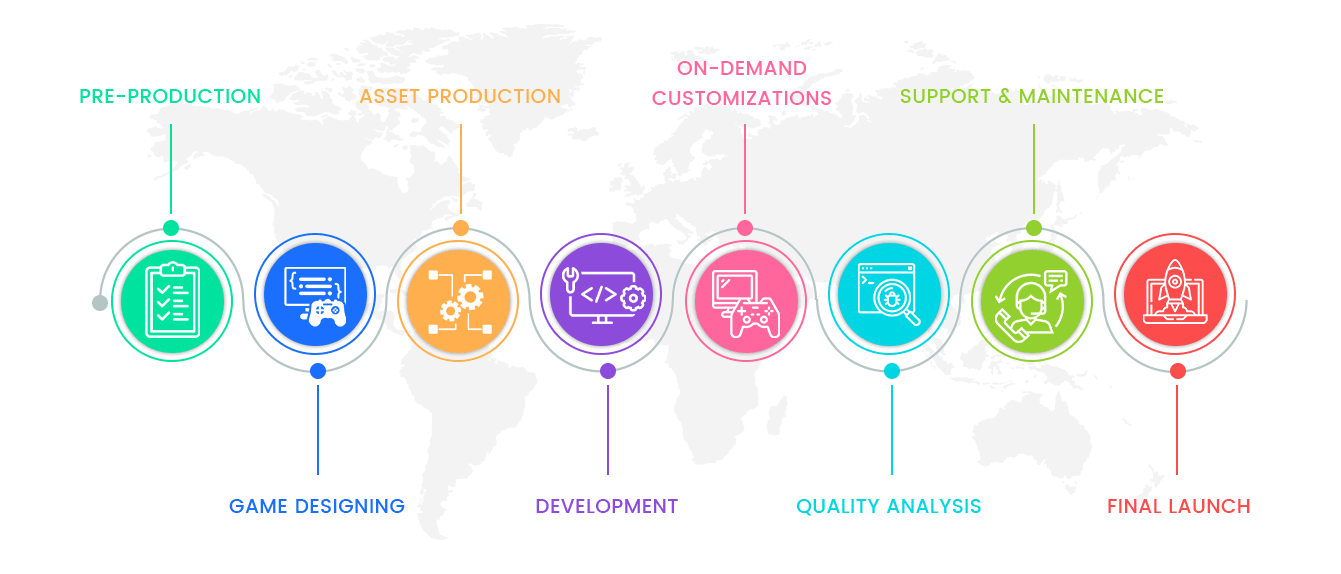 Build Game From Scratch to Power Your Business With Our Custom Game Developers
Hire Now
Frequently Asked Question?
Yes, at BR Softech, we are a team of Android, iOS, and PC game developers who hold years of experience in turning game development ideas from scratch to reality on millions of devices.
These are some of the most common software or tools we use to develop games.
Unreal Engine
Unity
GameMaker
Godot
Blender
Visual Studio
GNU Tool Chain
There is no set timeframe for developing video games; they can range from a few days to a few months to a few years. Let's discuss your game development project with us and we will give you the estimated time your game development will require.
The answer to this question completely depends upon you. We prefer to store your game data on highly secured gaming servers. If you have any recommendations for the gaming server, then you may discuss them with us and we will store the data on the chosen server.
Yes, we offer a range of game development services including website development, mobile app development, and software development.
At BR Softech, we ensure complete transparency with our clients. We will provide you with the complete source code upon completion of your game development project. The source code of the game can be further customized to meet your specific needs.
Latest Blog
Intensify your knowledge to navigate your digital transformation with us.
Our Game Services
Our highly competitive and skilled team of game developers offers advanced game development services which are compatible with operating Systems like, Android, iOS, Windows, and more.
Why Choose BR Softech as a Game Development Company
BR Softech is the one-stop shop for all types of game development services you need to make your fantasy a reality. Our team of video game software engineers, designers, and artists has over a decade of experience developing games. Moreover, our team is well versed in the latest technologies and current industry trends to provide clients with the best possible solutions.
Transparency & communication at the highest level
The agile game development process
Adherence to best security practices
100% bug-free code guaranteed


Ryan Bryon
It was my first time collaborating with BR Softech, but now I think there is a long way to go with their fabulous team. They pay very much attention to the statement of customers and deliver such a fab game, which is said to them. They ensure that the product matches all the requirements. Thanks for the wonderful services.


Jofer Kriss
BR Softech is a company that gives full attention to their valuable customers, and I had an amazing experience with them too. I came into contact regarding game development and they provided me with a great feature game. They know how to work and deal with customers.


Oscar Puker
BR Softech has hired a professional and dedicated team for accomplishing the requirements and desires of the customers. They delivered us a magnificent game that covers all the features that I asked for. I would love to work with them again and have such amazing services from them.
USA Office
21 Overlook Ridge Terrace
#523 Revere, Boston,
MA 02151 USA
+1-650-727-6690
India Office
90, 10 B Scheme, Usha Vihar,
Triveni Nagar, Gopalpura Bypass,
Jaipur- 302018, Rajasthan INDIA
+91-7821055537 , +91-9982201414
Australia Office
11 parklands place,
Morwell, Vic-3840
Australia
+61 425 630 321
Canada Office
1193 Main St #3301,
Vancouver, BC V6A 4B6,
Canada
+1-604-360-4433