BR Softech, founded in 2012, is the leading mobile game app development company, specialised in art & design, NFT, AI, Metaverse development, blockchain games, and full cycle mobile game app development. We have in-house certified mobile game app developers and designers who can provide you all types of game development and design solutions from Android game development, iOS game development, and 2D/3D game development to cross platform game development, AR/VR Game development and HTML5 game development.
Our gaming concepts and differentiated developing approaches is what makes us stand out from the crowd.
For us, customers are our utmost priority. We provide highly-personalised gaming solutions that are packed with innovative features, unique design, user-friendly interface, latest technologies such as Unity 3D, Unreal, Cocos2d, PlayCanvas, etc. Our mobile app developers use high programming techniques to create interactive, and high-resolution mobile game applications.

100 +

Games

1000 +

Happy Client

50 +

Countries

More than 10

Years of Experience
Mobile Game Development
Be it art, design, or programming, we provide comprehensive mobile game development solutions across the globe. Being a gaming industry leader, we believe in innovation and constant upgradation when it comes to mobile game development. We use unique storyline, visually-striking features, and latest tools and technologies to develop most-advanced and engaging gaming frameworks.
From keeping up with all your mobile game requirements to supporting you at every stage of the mobile game development process, we are a top mobile game app development company in India and United States with the best mobile game developers, delivering customised gaming solutions.
Our main objective is to create remarkable game applications that captivates your target audience and are bug-free and run smoothly.
Mobile Game Design: Converting imagination into reality
An ideal game design is an amalgamation of eye-catching graphics, high-quality art, characters, and themes. We at BR Softech make sure to create ideal game design through the lens of innovation. We have a team of the most qualified mobile game designers and developers who can help you bring your dream gaming app to life with engaging graphics and promising business growth and returns. Our main objective is to offer unique, cost-effective, and innovative mobile game development with great UI/UX design and user-friendly interface.
We deliver high-quality, hard-to-find mobile game design services:
Designing 3D and 2D games
Single player game and multiplayer game
UI/ UX with best-in-class graphics
Outstanding animation integration
Eye-catching art creation
Unique character design
Appealing theme and concept art design
Multiple revisions after taking the app to production
Top-notch Mobile Game Development Services and Solutions
Mobile game development is itself a very wide term. Be it a basic game, 2D game or 3D complex game; mobile game development requires an efficient blend of art, design, sound and programming. To address the same, our developers at BR softech make sure to translate your expectations into real mobile game applications with interactive mobile game art, design and animation. With our high-quality mobile game application development services, we develop multiple genres of mobile games, including:
HTML5 Mobile Game App Development
We make the best use of HTML5 technology to deliver robust game applications with top-notch engaging features and functions.
We develop visually stunning and feature-rich game development services using the most preferable programming language python.
We offer interactive and visually appealing facebook mobile game app development services that can keep your players engaged with exceptional social gaming experience.
Cross-platform Mobile Game Development
We offer end-to-end cross platform mobile development services that can help you reach a wider audience and increase revenue.
2D and 3D Mobile Game Development
We can offer you high-quality 2D/3D mobile game app development services for different platforms such as Android, iOS, and Windows.
Get the VR, MR, We deliver augmented game development services using AR/VR technology that engages users with virtual characters and the environment of mobile gaming.
We develop single-player and multiplayer iPad game development services that are cost-effective, highly reliable and scalable for your business.
Nothing can beat the functionalities and features of Unity. Our developers make sure to maintain this standard and offer exceptional unity game development services.
Our developers hold an expertise working on distinctive unreal engines to develop interactive and leading unreal mobile game applications.
We offer highly personalised mobile video game development services that include high resolution, HD quality 3D video game applications.
AI-powered Mobile Game Development
We offer an extensive range of Artificial Intelligence mobile game development services that are highly credible, scalable and reliable.
Arcade Game Development
We offer different types of Arcade video game applications that have a varied range of user-friendly features and creative concept art design.
Snooker Game Development
A tailor-made snooker game developed by BR Softech is known to give the exact land-based feel of the snooker game.
Education Game Development
To make education a fun activity, we also develop a wide range of education mobile game applications that are highly interactive and engaging.
Key Features of Our Mobile Game Application Development
We deliver high-quality yet affordable mobile game development services that are customizable as per your requirement. The following gives you a brief of our mobile game development features:
Payment Integration

We provide flexible, safe, and secure payment gateways that include multiple payment modes like PayPal, Google Pay, credit or debit cards.

Interactive UI Designs

We provide a simple, engaging and easy-to-use interface with stunning visuals that catches the user's eye and enhances the user base.

Different Game Modes

We provide multiple game variations and modes to make the gameplay more competitive, attractive and engaging.

Refer & Earn

We customise games according to your will. We also integrate the Refer & Earn feature that encourages users to earn exciting rewards by sharing the game.

Social Platform Connectivity

We create mobile game applications that allow users to connect their gaming application with their social media platforms, helping in promotion of the game.
ChatBot Feature

We develop applications with a Chatbot feature that can help you connect with the user for support.

High-quality graphics

We provide stunning and aesthetically pleasing visuals that are beneficial for an immersive and engaging gameplay.

Time-to-time Updates

We provide timely and regular updates to help you fix bugs or incorporate the latest features and trends into the mobile game app.

Monetization Strategy

We also provide best game monetization strategies that can help you generate greater revenue through in-app purchase, in-app advertising, and subscription.

Hardware-driven Games

We provide end-to-end hardware-driven games that run efficiently on the available hardware.
Tech Stack We are Well-Versed In
Technology brings mobile game apps to life. When it comes to cross-platform mobile game development, we have the best game developers who make the best use of various new-age mobile game development technologies and mobile game development engines to offer customised gaming solutions.
Unity
Leading cross-platform game engine that supports a wide range of APIs, platforms and technologies.
SmartFox Server
Simple, versatile, high-performing language, making the server API more streamlined, intuitive and richer.
HTML 5
Easy-to-use language with quick implementation, used to develop games such as table games, and slot games.
Unreal Engine
State-of-the-art engine with instant photorealistic rendering, distinctive effects and animation features.
C#
A robust yet easy-to-use programming language, suitable to create indie games in Unity 3D.
C++
A suitable coding language to create AAA projects with multiplayer support on unreal engines.
Swift
Fast, and engaging programming language used to create iOS mobile game applications.
Python
It is a widely used, high level programming language that has a built-in library called pygame, suitable for mobile game app development.
Java
Java is an easy-to-use, interactive programming language, suitable for developing a wide range of 2D game applications.
Hire Mobile Game Developers
For us, customers are our topmost priority. Our experienced mobile game developers at BR Softech work day-in and day-out to deliver high-quality, affordable game development services for Android, iOS, and Windows mobile platforms. They use the latest technology, tools and gaming engines to develop cost effective, reliable, and highly scalable mobile game applications. If you are looking to hire a mobile game developer, you can trust our globally reputed developers that are always ready to serve you with excellence.
Hire Mobile game developer
Our full-fledged Game Design & Development Process
We deliver end-to-end game development services by following a complete mobile game development process that is highly credible, reliable and scalable for you.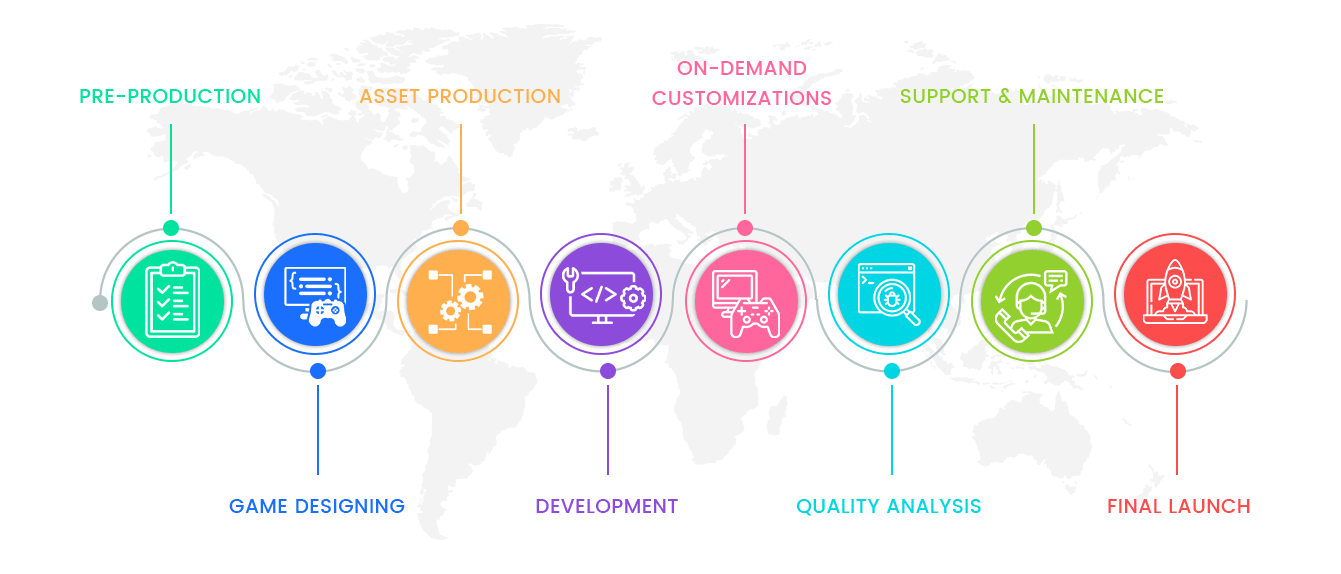 Our Game Development Specialization
In a time span of 12+ years, we have developed different types of mobile game applications for many global gaming business owners. As a leading mobile game development company, we develop gaming solutions with visually striking graphics, addictive gameplay and high gaming experience.
Casino Games
We deliver high-quality and affordable casino game development services. Our casino mobile game developers offer a wide range of casino games such as baccarat, blackjack, poker, roulette, teen patti, three card poker, bingo, keno, etc.
Racing and Shooting Games
We also develop different types of racing and shooting games such as Kart racing games, car racing games, motor bike racing games, first-person shooter games, light gun shooter games, run-and-gun shooter games, hero shooter games etc.
Action Games
Action games are the most fascinating game type as they place players at the centre of the action. Action games include platformer games, shooter games, fighting games, stealth games, rhythm games and survival games.
Board Games
We offer 3D or 2D board game development at an affordable price. We develop various types of board games such as ludo, chess, bingo, snake and ladders, slot game, carrom board, ball pool, tic tac toe and scrabble.
Adventure Games
In adventure games, players need to engage with other characters to progress the gameplay. Famous adventure game types include text adventure games, graphic adventure games, and real-time 3D games.
Role Playing Games
RPGs are one of the most famous game genres. Types of role-playing games include action role playing games, Massive multiplayer online role-playing games, tactical role playing games, and sandbox role playing games.
Latest Blog
Intensify your knowledge to navigate your digital transformation with us.
Our Game Services
Our highly competitive and skilled team of game developers offers advanced game development services which are compatible with operating Systems like, Android, iOS, Windows, and more.


Ryan Bryon
It was my first time collaborating with BR Softech, but now I think there is a long way to go with their fabulous team. They pay very much attention to the statement of customers and deliver such a fab game, which is said to them. They ensure that the product matches all the requirements. Thanks for the wonderful services.


Jofer Kriss
BR Softech is a company that gives full attention to their valuable customers, and I had an amazing experience with them too. I came into contact regarding game development and they provided me with a great feature game. They know how to work and deal with customers.
USA Office
21 Overlook Ridge Terrace
#523 Revere, Boston,
MA 02151 USA
+1-650-727-6690
India Office
90, 10 B Scheme, Usha Vihar,
Triveni Nagar, Gopalpura Bypass,
Jaipur- 302018, Rajasthan INDIA
+91-7821055537 , +91-9982201414
Australia Office
11 parklands place,
Morwell, Vic-3840
Australia
+61 425 630 321
Canada Office
1193 Main St #3301,
Vancouver, BC V6A 4B6,
Canada
+1-604-360-4433
Frequently Asked Question?
Q1. How much does it cost to develop a mobile game?
Mobile game development is booming at an alarming rate. Mobile game development is a very lengthy process which includes various forms of mobile game development. There are various factors that determine the cost of mobile game development such as game features, animation, game genre, mobile game testing, etc. Read more
Q2. Which platforms do you develop mobile games for?
As a leading mobile game development company, we develop mobile game apps for Android and iOS and Windows mobile platforms. We develop various types of mobile game apps such as 2D/3D mobile game development, AR/VR mobile game development, HTML5 mobile game app development, AI-powered mobile game development, etc.
Q3. Which types of mobile games do you develop?
We develop different types of mobile game apps from basic 2D games to complex 3D games. As a leading mobile game app development company, we deliver casino game development, board game development, sports betting app development, and other video game development. We deliver top-notch game development services such as poker game development, ludo game development, teen patti game development,etc.
Q4. What Are the Best Tools Used for Mobile Game Development?
We use cutting edge mobile game development tools and mobile game technologies to develop mobile game apps. There are various tools and technologies used in mobile game app development. Some of the most common game engines used by our developers worldwide are unity, HTML5, Cocos 2D, Cocos 3D, unreal engine, photon, Smartfox server, swift, C++, python, and java. Read more
Q5. Why Outsource Mobile Game Development Services?
Outsourcing mobile game development is emerging as the trend in the gaming world. Outsourcing mobile game development services is highly profitable for you as it is the most cost-effective, reliable, secure, and scalable mobile game development process.
Q5. How to Hire a Mobile Game Developer?
For proficient and high-skilled mobile game developers, you can hire a mobile game development company, having years of experience in mobile game development services. Make sure to check the knowledge and expertise of the company to get high-quality, feature-rich and customized game development solutions.