Entrepreneurs can raise money legally through initial coin offerings, or ICOs, by selling coins or other digital assets. Extensive domain expertise, comprehensive market research, and extensive ICO development experience are necessary to successfully begin an ICO fundraising campaign.
BR Softech is a well-known ICO development company that delivers highly secured and trustworthy ICO development services to assist businesses in raising cash through Initial Coin Offerings. We handle every aspect of ICO, from the development of the whitepaper through the implementation and activation of the ICO.
ICO Development Services
One of the most famous names in the industry of ICO website and app development is BR Softech Singapore, which offers end-to-end ICO software solutions from the conceptual phase to ICO implementation. We make sure that our customers get the services they need by constantly improving our offerings and providing unique things other than the usual trend to create a new trend. We guarantee a risk-free, secure, and efficient fundraising procedure that surpasses your expectations with our ICO token technology solutions. Get one-of-a-kind ICO Development services in Singapore.
Our Pre ICO Launch Services
Conceptualizing & planning
Whitepaper & Light Paper Creation
Logo development for ICO
Landing page design
Technology configuration
Smart contract setup
BlockExplorer Integration
ICO website development
ICO fundraising dashboard implementation
Multi-level-marketing (MLM)
Cryptocurrency wallet setup in ICO token
Our Post-ICO Launch Services
ICO exchange listing assistance
Blockchain-based ICO token software development
Hedging of price volatility
ICO summary & due diligence report
Hire ICO Developer
We at BR Softech have a team of full-stack ICO engineers who really can explain how ICOs work in depth. They can create and launch initial coin offerings (ICOs) as quickly and effectively as possible by making use of their extensive experience with cryptocurrencies and blockchain technologies.
We'll work with you to create highly immutable ICO tokens. You may update your brand's image and win investors' confidence by using these tokens. To obtain an advantage over your rivals, hire an ICO game or website developer from BR Softech Singapore and get your dream ICO Game/website on run.
Our Unparalleled CO Development Process
The culmination of the following tried-and-true model is our incredibly effective ICO development process.
Conceptualizing
Our core ideology is that you fully comprehend your concept better than anyone else. As a result, our ICO developer takes the time necessary to discuss your proposal with you in detail And create a concept to your demands and in line with the market trends
Drafting a whitepaper
We present a well-drafted whitepaper catering to your specific project requirements. Using this, our developers will have all the information they need about your project.
Pre ICO Marketing & Dashboard Creation
Through extensive market research, we develop marketing plans that attract your target audience and keep you one step ahead of the competition. In this phase, we also set up your investor dashboard to draw their attention.
A public Initial Coin Offering
Make your ICO coin available to the general public for purchase at the designated time for a predetermined fee.
Wallet setup and coin drop
Whenever your client makes a purchase, the brought amount to the ICO token will be transferred to the secure e-wallet of the client.
Our Expertise In ICO Token Development
We provide all kinds of solutions however, being recognized as the leading ICO development company our expertise lies in.
Ethereum ERC Token Development

ERC20 ICO token

ERC721 ICO token

ERC1400 ICO token

EOS ICO token

Private Blockchain Development

Public & private blockchain development

ICO & enterprise applications
ICO PR Marketing Services

ICO marketing through community building

ICO marketing agency

PR and communications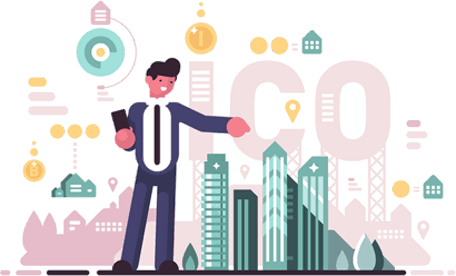 What is Initial Coin Offering?
Initial Coin Offerings (ICOs) are favorable for the corporate sector as they are based on the creation of a virtual form of money to be generated for a start-up.
Objectively stated, this amount is referred to as an initial coin offering (ICO) or a token. Later, it can be quickly and simply swapped or exchanged anywhere in the world with only a few clicks. The blockchain is a platform where the token is securely encrypted.
It is quite simple to create and maintain an ICO token safely on the online channel thanks to the incorporation of blockchain technology. This ICO can be quickly transferred from one person to another. These were formerly referred to as utility tokens.
How can we launch an initial coin offering successfully?
BR Softech Singapore is a well-known ICO development company that delivers secure, faster, and highly stable ICO Solutions that cater to all your business needs at affordable prices.
We envision running a simple process to make your development transparent and an easy flow for you to understand.
Here are simple steps to ensure your ICO is a success
Determine What Your Technology Is
Understand the Securities Laws Affecting Your ICO
Choose Jurisdiction for Your ICO
Maintain Compliance with Securities Law
If you are thinking of developing an ICO successfully
Essential factors to include in ICO development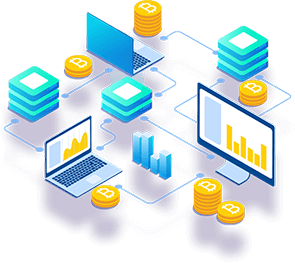 Different ways in which blockchain tools will help fundraising issues
Enable cutting-edge technologies that help the user to raise funds.
Strategies to remember to make sure the platform is completely secure
The most important thing to consider is the legal requirements that need to be followed.
The software engineer needed for this job must be knowledgeable on how to use blockchain technology effectively.
How to Make Money Through ICO Exchange?
Consider a project that has a solid fundraising record of success.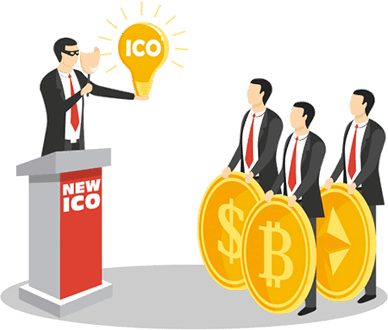 Analyze the token's probability of success on the exchange
Make sure the product and token have a real use
Count the constant token holders and join their ranks.
Count the constant token holders and join their ranks.
Follow your strategy
Pay attention to and employ the project's tools.
Attract new participants to the ecosystem.
All you need to know about the hidden costs of Initial Coin Offerings:
Planning the fundamental line of reasoning before ICO activation is crucial in the beginning. Before system approach of the ICO, you must carefully lay out your strategy and what exactly you want.
The price will vary according to the representative count, tokens, and any noteworthy aspects of the ICO programming. It is crucial to speak with a committed team of blockchain research specialists who will provide essential guidance in designing the ideal Initial Coin Offering services instrument by your requirements.
Work with the best ICO development provider in Singapore and stay rest assured from the conceptualization to the implementation of your dream asset
Why Hire our Professional ICO Token Developer for ICO Development?
At BR Softech Singapore, we undertake all ICO comprehensive development, encompassing ICO token development, platform hosting, Pre-Post Token creation, Smart contract, landing page design, and a broad range of digital Initial Coin Offering campaigns. Our skilled workforce of ERC20 (Token) developers are highly well-versed in the platform for creating tokens and can maintain a large number of Ethereum Tokens. Additionally, to deliver strong talents for ICO, we have multi-disciplined Token and ICO Smart contract masters who can let you have your dream ICO program tailored to your need.
Initial coin offering (ICO) Development
White paper and smart contract development
Frequently Asked Questions?
The top cryptocurrency ICO development firm, BR Softech Singapore, provides a wide range of ICO development services at the most competitive rates.
The six essential phases for introducing an ICO to the market are listed below.
Define the need for your ICO
Draft a whitepaper addressing your requirements
Build your community
Pick token sales model
Develop a smart contract and mint tokens
Launch ICO
Here are the 6 critical steps in launching an ICO in the market.
Interactive dashboard
User management
User Staff
Custom funding plan
DDoS protection
Multiple token support
Banking
Real Estate
Healthcare
Insurance
Food
Sports
Entertainment
Crypto ICO token development companies will provide you with stable and secure tokens that will help your business to raise money. A company like BR Softech will take care of every step starting from concept to development to deployment.
At BR Softech Singapore, we provide ICO development services on several different platforms, such as Polygon, Binnacle smart chain, and Ethereum. You can choose from any of the ICO development platforms according to your needs for funding.