Metaverse took game development to the next level by introducing the latest blockchain, virtual reality, augmented reality, unity and IoT expertise. Metaverse games allow users to create their own avatars using 3D models and objects. Metaverse game development has bridged the gap between the physical world and the virtual world by seamlessly integrating digital currency, AR, VR, and social networks.
We at BR Softech offer highly personalised, 3D-based metaverse NFT games made with an advanced tech stack and supreme-level features to provide seamless experiences to users. We have a team of dedicated metaverse game developers who are always ready to guide you through every stage of the metaverse game development process. From technology incorporation, and game promotion to game app launch; We ensure seamlessness at every touchpoint.
Metaverse Game Development Company
As a leading metaverse game development company in the USA, BR Softech is known for its globally accepted and appreciated metaverse and blockchain gaming solutions. We keep innovation, creativity and an advanced tech stack at the core when developing feature-rich, virtual metaverse game applications. We offer highly interactive, engaging and highly supportive blockchain-based gaming platforms, wherein players can build new avatars, and sell, buy and bid activities in 3D dimensions.
Take your business to the next level with our cutting-edge metaverse software or applications that are making a difference with visually realistic graphics, animation and features. Besides an immersive 3D gameplay experience, our metaverse-based NFT games also offer the play2earn feature to gamers worldwide, offering huge amounts of in-game rewards. We also incorporate top-notch game strategies and game engines, which, in turn, increase the screen time of users and customer base.
Our Metaverse Game Development Services
We at BR Softech offer end-to-end metaverse game development services that are highly reliable and credible. We have developed various metaverse game applications for Android, iOS and Windows mobile platforms. Our expert team of metaverse software developers have years of experience in developing metaverse development technologies, AR/VR platforms, blockchains, and creating P2P and PVP gaming experiences customized for the metaverse.
AR/VR games

Our team of metaverse game developers are specialized in developing 3D games for Android, iOS, and Windows mobile platforms.

3D environment development

We provide best-in-class three dimension metaverse game development services, defining in-game maps and routes in 3D.

NFT game development

Our developers work day in and day out to bring NFT into the gameplay where assets and the game concept are built on NFT.

Avatar development

We create realistic and interactive avatars for metaverse game applications, helping players interact seamlessly.

Digital assets development

We focus on creativity and innovation to build interactive digital assets, including characters, objects, props, sound effects, etc.

UI/UX design and development

We focus on designing and developing crystal clear UI and UX, offering users an uninterrupted and seamless gameplay experience.
Play to earn game development

The introduction of blockchain has transformed the functioning of metaverse games. We incorporate the play-to-earn features in metaverse game development.

3D animation development

Animation plays an important role in any game development process. We offer high-quality 3D animation mobile game development services, defining game assets and characters in a detailed manner.

Technology and tools integration

We take full responsibility for incorporating advanced tools, technologies, and APIs into your metaverse games in the most enhanced manner.

Decentralized gaming platform

Our game developers focus on building a complete decentralized gaming platform using blockchain technology, offering players great transparency and reliability.

Gaming metaverse marketplace

From ideation to full-stack development; We can help you design, innovate and create a supreme-quality gaming metaverse marketplace.
Metaverse Game Development Solutions
Metaverse is almost everywhere and in everything. Our skilled metaverse development team works day in and day out to deliver immersive gameplay experiences. Here is the list of our top-notch metaverse game development solutions:
Decentralized gaming platform
By providing an open-source gaming ecosystem, we design and develop a gaming platform that offers decentralization or freedom to make necessary UI/UX design requirements.
Gaming NFTs
We enable trading the gaming assets within the platform while helping players earn while they actively participate in the game.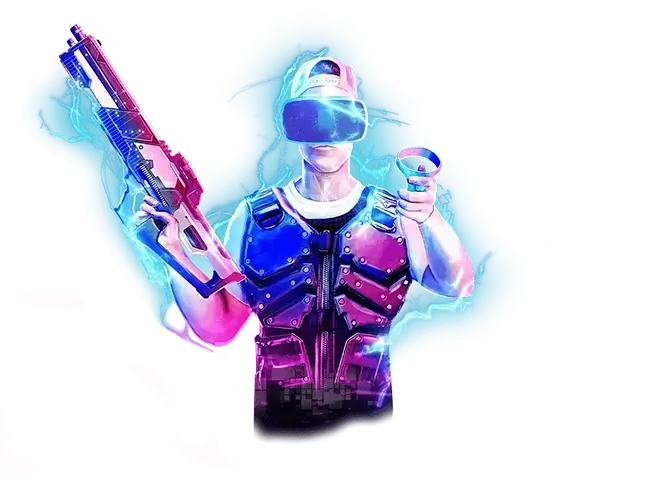 3D gaming environment
By providing an immersive and interactive 3D environment, we enable you to play and engage in 3D gaming models.
Gaming marketplaces
From ideation to full-stack design analysis, we help you design and develop a comprehensive and extremely competitive gaming marketplace.
Play To Earn Games
One can easily earn great money by taking part in a P2E game. We develop top-notch play-to-earn games that are highly interactive and immersive.
Role Play Games
We offer cutting-edge solutions for role-play games, wherein players take full control of the chosen character.
Move To Earn Games
We offer end-to-end Move-to-earn gaming solutions that help users get rewarded with cryptos just by doing a physical activity or workout.
Sleep To Earn Games
We offer sleep-to-earn game development solutions, which let users generate a great amount of revenue based on hours of sleep.
Types of Metaverse Games We Develop
Our certified game developers and blockchain experts dedicatedly work together to bring up a wide range of metaverse games with advanced features, functionalities, technology incorporation, next-level graphics and great customer support that drive a large amount of audience to the game.
Features of Our Metaverse Games
Blockchain Integration

We integrate blockchain and decentralized ecosystems to create a highly secure metaverse gaming platform and reliable NFT-based game applications.

Interactive 3D Environment

Our experienced metaverse game developers create unique 3D avatars, objects, and characters to develop best-in-class metaverse game applications.

Outstanding Sound Effects

Sound effects play a crucial role in metaverse game development. We integrate unique and high-quality sound effects by giving voice to each character or level.

Visual Reality Creation

Our efficient metaverse game developer incorporates an advanced tech stack to bring the utmost visual realism to the platform, offering an uninterrupted experience.

Multi-gaming Platform

Through our metaverse multi-gaming platform, you can play a wide range of metaverse games with your friends and family.
Secure Payment Integration

We make sure to provide secure and convenient payment methods for players. By integrating the next-generation tech stack, we create secure cryptocurrency wallets and gateways.

Reward System Incorporation

We initiate a robust reward system in metaverse-based NFT gaming, wherein players get in-game points or rewards for all their achievements in virtual reality.

Game Level Creation

To create a perfect storyline and game flow, we incorporate different metaverse game levels ranging from high, and medium to complex levels.

Play 2 Earn

We develop a metaverse gaming platform using the play 2 earn feature, offering players an opportunity to tokenize and trade in-game game assets to earn crypto returns.
Benefits of Metaverse Game Development
Apart from entertainment value, metaverse games offer plentiful opportunities for both players and creators to earn a great amount of revenue. As a leading metaverse development company, we offer potential benefits that are ideal and exceptional.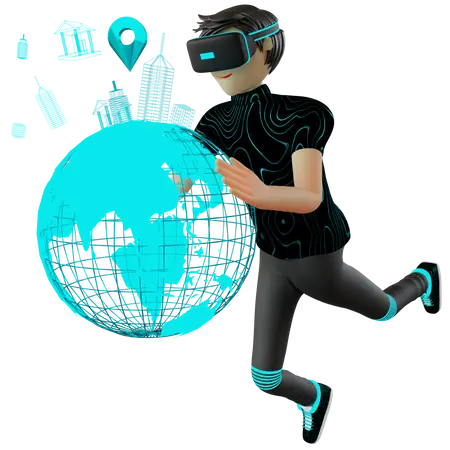 Immersive Environment

When it comes to metaverse NFT game development, we integrate robust yet impressive 3D environment characters and objects that are visually appealing for users.

Increased ROI

The metaverse industry is increasing at an alarming rate, thus, investing in metaverse game development is highly profitable and can help you gain high returns on investments.

Enhanced Security

We use decentralized systems, blockchain networks and contract programming to create highly secure and player-centric metaverse game applications.

Community Driven

Metaverse has a huge community today. The metaverse updates and information is greatly influenced by the metaverse community of activated players.

High Reach

The metaverse has attracted a large amount of audience from across the globe, making NFT-based gaming platforms highly preferable and profitable.

No Boundaries

Metaverse game development includes virtual reality at its core. The virtual world doesn't have any pre-defined limits, allowing players to interact creatively using the metaverse platform.
Metaverse Game Development Process
Our experienced metaverse game developers follow a predefined set of sequences to create bug-free, highly-efficient blockchain-based game applications.
Market Research

Research plays an important role when it comes to the process of metaverse game development. It includes determining gaming industry trends, opportunities, threats, weaknesses, target audience, type of metaverse game, and so on.

Select Blockchain Network

Our developers know how to develop metaverse games that are unique, interactive and high-performance. Having said that, we make sure to select the ideal blockchain network supporting your type of metaverse gaming platform.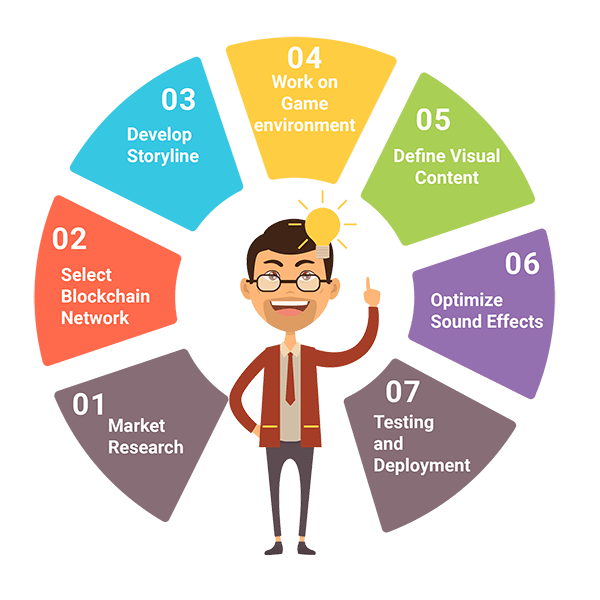 Develop Storyline

After finalizing the blockchain network, we tend to create a unique and exceptional storyline, including interactive in-game characters, objects, environment, etc. Our developers align assets and storylines in such a manner that the platform defines your brand name.

Work on Game environment

This is the phase where actual development happens. Our metaverse game developers define all the game elements crucial in the gaming platform interface, including game assets, characters, props, objects, and so on.

Define Visual Content

Our metaverse game developers use visually appealing features and HD-quality graphics to create realistic visual content. By optimizing advanced technology and great gaming strategies, we can help you make your metaverse gaming application cut above the rest.

Optimize Sound Effects

Sound plays an important role to bring in-game characters and props of the game to life. We focus on quality and uniqueness when it comes to incorporating voice and other sound effects.

Testing and Deployment

Once the game is developed, we use top-notch testing techniques and tools to fix bugs and remove vulnerabilities. By incorporating top testing and deployment strategies, we make sure that our metaverse gaming software or application is efficient, reliable, and competitive.
Hire Metaverse Game Developer
With the certified team of metaverse game developers, we can help translate your game development requirements in a hyper-personalized manner. In order to make game applications successful, you need to consider various factors such as game concept, features, visual content, testing and marketing requirements. We focus on implementing the same to provide you with end-to-end metaverse game development services.
HIRE DEVELOPER
Technologies Used in Metaverse Game Development
We incorporate next-generation tools and technologies to keep up with the rising trends of metaverse game development.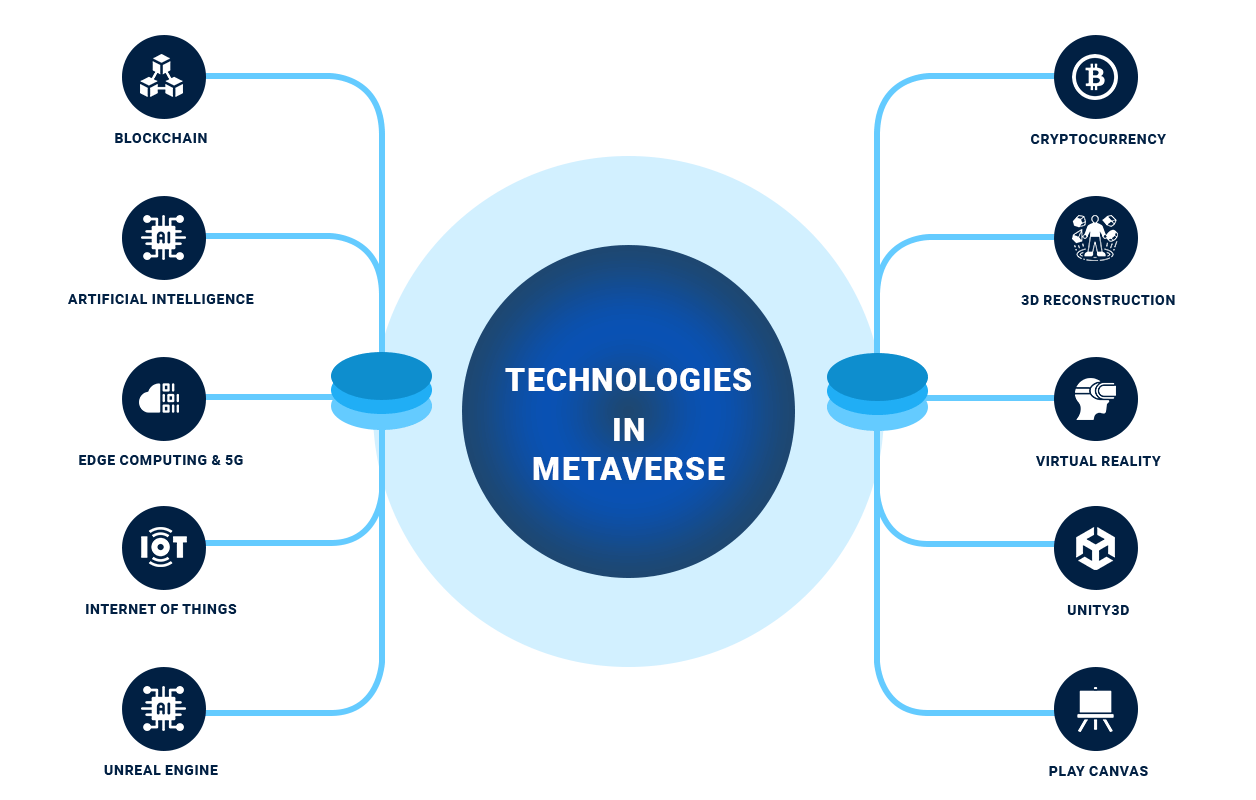 What Makes us a Top Metaverse Game Development Company
As you know metaverse gaming platforms are increasing in terms of adoption, and metaverse is currently showing progressive growth and is here to stay. Get your metaverse gaming platform developed with our blockchain and metaverse developers having years of experience in providing excellence through metaverse game development services. As a leading metaverse NFT game development company, we promise to incorporate innovative features, visually realistic graphics, outstanding sound effects, an advanced tech stack and great customer support to develop top-notch metaverse games. We aim to provide:
Tailor-made metaverse solutions
Innovative and user-friendly interface
Customizable virtual avatars
White-label metaverse gaming solutions
Quick and on-time delivery
FAQ
Metaverse games are the most advanced gaming platforms, offering interactive 3D environments to players worldwide. Through metaverse NFT gaming platforms, players virtually interact with characters and objects of the game.
The metaverse is considered the next version of the internet, revolutionising the legacy of 2D websites into a connected virtual world via interactive and immersive 3D experiences.
On average, the metaverse game development cost around $50,000 to $1,00,000. The cost also varies from region to region. There are also factors affecting the overall cost of metaverse game development including the complexity of features, location of developers, graphics, sound effects, type of metaverse game and level of metaverse game development services.
Metaverse game development is not an overnight task. The process is lengthy and it takes around 3 to 5 months from the time of development. The metaverse development may take some time depending on the game type, game levels, and complexity of features.
BR Softech is one of the leading and renowned metaverse development companies having years of experience in offering top-notch metaverse game development services. We incorporate top-quality features and tech support to deliver players' uninterrupted gameplay experience.
Metaverse game development is the creation of games based on augmented and virtual reality. Metaverse games offer immersive virtual worlds, wherein players play with each other in a highly interactive manner. With efficient technical expertise, NFTs, and appealing game concept and content, you can make your metaverse game application cut above the rest.
Metaverse technology is the amalgamation of both AR and VR. Virtual reality helps to improve sensory experiences within the VR gameplay of the metaverse game. While AR helps to add exceptionally immersive content to objects in the metaverse.
Latest Blog
Intensify your knowledge to navigate your digital transformation with us.
USA Office
21 Overlook Ridge Terrace
#523 Revere, Boston,
MA 02151 USA
+1-650-727-6690
India Office
90, 10 B Scheme, Usha Vihar,
Triveni Nagar, Gopalpura Bypass,
Jaipur- 302018, Rajasthan INDIA
+91-7821055537 , +91-9982201414
Australia Office
11 parklands place,
Morwell, Vic-3840
Australia
+61 425 630 321
Canada Office
1193 Main St #3301,
Vancouver, BC V6A 4B6,
Canada
+1-604-360-4433