With the most qualified and experienced team on board, and with their knowledge of cutting-edge technologies, we can produce the best game to make you stand on top in the iGaming sector. Serving more than 100 clients from different countries has contributed to our experience and the knowledge we behold to serve you the best.
Whether it's 3D games or multiplayer games, Android or iOS, or any other platform or game type, we leave no stone unturned in our pursuit to provide the finest solution.
Successful game development
Accurate integration and development
Skillful Marketing
Elevated growth process with us
Support & Maintenance all the time
With the ultimate dynamic technology and a customizable integration approach, we can offer full-fledged amazing game development solutions to help you create the best game possible.
We aim to create such a brand image where one sees our product and they just know that it is none other than BR Softech.

100 +

Games

1000 +

Happy Client

50 +

Countries

More than 10

Years of Experience
Game Development Resources
You can obtain a wide range of game development services in Singapore at a reasonable cost with your account-specific requirements. Regarding your game, we wouldn't merely offer development services. But, we go above and beyond for our clients by offering maintenance and support services. We will help you with the best of our project completion services.
To facilitate communication and create a game that meets our client's needs, we guarantee full client involvement and collaboration from the very beginning of the project. With us, you can be confident that your game will soar to the highest levels possible in the iGaming sector and give you the expected ROI.
The following is a list of the services we provide to our clientele
The art of game design is something we have excelled at with our experience. Anything you can think of, including AAA games, minigames, sports, racing, or role-playing games, we can make and help you stand out.
Animation in Video Games
To provide the best experience for our game enthusiasts, BR's animators have the most in-depth knowledge of the iGaming business and are capable of bringing any game to life by designing as interesting characters and settings as they can.
Our cutting-edge technologies and experience help us deliver the best user interface and functionality. Whether it's the audio or the visuals, we don't compromise on anything when making the finest game.
Our years of expertise in the iGaming industry and with modern game development techniques enable us to create exceptional AR games.
VR Game Development
The testimonials of each project can vouch for more than our words about our actions and capabilities, and VR is one of our core work areas.
Game Marketing Services
BR Softech's work doesn't cease after the game is delivered to its customers; the promotion team is assigned to advertise your game in every possible location on all the media.
Social Gaming Services
We not only build games but also thrive to serve a phenomenal gaming experience where they can play anywhere around the world and can enjoy the game socially
Making Fantasy games has always been a massive success for us. Our unique features, such as player statistics tracking, leader-boards, and real-time data, entice people to download and enjoy our app.
Our sports games have spectacular animations, powerful sound effects, and top-notch visual design that is aligned with UX/UI.
Esports Game Development Services
Esports development services and solutions from BR Softech offer a wealth of functionalities that can draw and grow user counts that are incomparable.
HTML5 Game Development
The easiest yet most challenging area of game production is HTML5 game development. And BR has nailed this as well, just like the other game innovations.
Game Testing
Before a game is released, it is important to evaluate it. Our team of experts is skilled in in-game testing and performs in-depth testing to guarantee the best quality final output.
Unlock Nemours World Best Game Development Service with Us
TaKe a Tour
Game Development Solutions
Using our extensive knowledge of various front-end and back-end game development technologies, we can assist you with games that can be executed in the industry per the standards. . To ensure great quality and position your game at the forefront of the industry, our game software developers go above and beyond in everything they do.
Our previous demonstration will give you enough reasons to choose the best game development company in Singapore
Game App Development
With our experience, we can turn your vision for a business into a completely unreal one that incorporates all current technology.
Game Website Development
The gaming websites we develop have dynamic technological interfaces that allow them to adapt to any size across all devices.
Game Software Development
For desktop and laptop computers, BR Softech offers a broad range of solutions for gaming software creation across all genres.
Game Web App Development
With low-cost construction, we can create the most fun game software for you.
Video Game Development
Our workforce includes certified professional video game developers that have been operating in the sector for a significant amount of time and can create your game while being aware of the trends and your requirements
Sign in with Custom Game Developers
The highly specialized game developers at BR Softech create cutting-edge mobile apps for Android, iOS, and PC that support AR, VR, and mixed reality gaming to give your game the perfect reality. Our team of expert software developers is committed to making games with lifelike graphics and enthralling cinematic experiences using the most recent trends. Every project we work on is driven by an unwavering devotion to providing high-standard quality games to iGaming industry
Hire Now
Our Game Development Platforms
Whichever technology or development engine you decide to utilize, we are completely dedicated to making your fantasy game ideas an actuality.
Unreal Engine Game Development
Our team of knowledgeable Unreal Engine developers specializes in giving gaming apps for iOS, Android, and other platforms valuable features. To help you create Unreal Engine games with the best tools and most recent technology used.
Unity Game Development
We are well renowned for our Unity game creation, and we specialize in developing games from scratch and using the Unity game development engine to create a fascinating and remarkable gaming experience.
Cryengine Game Development
Because of the expertise with CryEngine, our game developers can produce engaging gameplay with an impeccable UI interface.
We create unique gaming app development solutions by skillful and talented HTML5 developers inculcating user-friendly features for your game to stand out right with great functionality
AI Game Development
Our highly skilled team assists us in developing unmatched AI gaming solutions that are simple to use and provide a satisfying playing experience. We utilize AI characters in video games to provide the illusion that the game has been playing in the real environment
Windows Game Development
To create games that are compatible with the Windows platform, we have a wonderful team of developers and programmers. Our staff is skilled at making your ideal vision a concrete reality.
Arcade Game Development
With the help of our team of passionate game developers and programmers, we can develop ultra-dynamic, practical games that will engage the broadest possible audience.
Snooker Game Development
The customized snooker game by BR Softech is famous for attaching the feel of the game being played in real environments
Education Game Development
You may make learning an enjoyable activity by using our solutions for the creation of educational games.
Android Game Development
We develop applications for Android games that work flawlessly on hundreds of handsets. World-class animations and captivating 2D/3D gameplay elements
iOS Game Development
We design visually appealing, functional, and feature-rich iOS games. Experience a slick gameplay experience whether you're using an iPhone, iPad, or Mac.
Browser Specific Games
The devoted HTML5 game developers at BR Softech have a wide range of skills and can produce excellent browser-specific games.
Metaverse Game Development
We are delivering the finest services to assist you in building your ideal business in the dynamic ever-changing Metaverse industry that continues to grow and draw in a large client base.
NFT Game Development
NFT is the new frontier, and we're the finest NFT game development company on Metaverse, creating fully functional NFT gaming systems.
Our Value Added Features in Game Development Solutions
Let's explore the significant features that we inculcate with our game development solutions.
Unreal Engine Game Development

For the strong game's backend, we use cutting-edge programming languages including C++, Java, Swift, Ruby, Python, Unreal-script, Action-script, and several others to ensure that it operates properly on a variety of platforms.

Compatibility for Web, Consoles, VR Devices

Our services for game app development are available in a variety of formats, including the web, several gaming consoles, and the most well-liked VR gaming equipment.

Rewards and Bonuses

The gaming experience is made more engaging and enjoyable when gamers receive rewards in return for their time spent playing.

On-demand Modifications

The accessibility of our customers and their input are our top priorities, therefore they can ask us to make adjustments to their game development solutions at any moment according to their business requirements

Rich aestehtics & Animation

Incorporate the ideal fusion of animation and aesthetics to make your gaming software or app stand out from the competition. At BR Softech, we design game animations and graphics from the scratch with your target market in mind.
Well-Defined Rules

The skill set of the game has an impact on its success as well. At BR Softech, we design games with simple-to-understand rules that anyone can play.

Engaging Weapons & Tools

We give players an exciting gaming experience by utilizing engaging features and gaming technologies.

Multiplayer Games

The game can be played in actual time with other players from around the world thanks to the multiplayer option.

AR & VR for Enhanced Gameplay

To enhance the gameplay experience, we incorporate cutting-edge technology like augmented reality and virtual reality.
The specification in Mobile Game Development
To suit the industry standards & expectations for iPhone and Android game creation, we offer a variety of game gerners keeping in mind the iGaming standard and the competition
Casino Games
Our team of live casino gaming providers creates ultra-modern real-like environment gaming casino solutions. They are entertaining, realistic, and inculcate all of the necessary features.
Racing and Shooting Games
We produce racing and shooting games that are capable of catching the attention of everyone. We keep up with the most recent trends while including all the realistic aesthetics and enticing design.
Sports Betting Games
As one of the best game development companies in Singapore, we can meet all of your business demands. You name it, and we can make it. Sports betting games are the talk of the town.
Action Games
We offer a perfect fusion of exhilarating action games with amazing visuals and features that assist players in playing smartly and successfully.
Board Games
Our Board Game is multi-featured; we design 2D and 3D board games that may flexibly accommodate a variety of needs.
Educational Games
To help students learn and develop their skills, as well as to increase their excitement for learning, we create educational games.
Our Various Approaches to In-Game Development
The following are some ways that BR Softech offers to support the various business verticals.
At BR Softech, we make sure to combine extremely feature-rich games with an entertaining gameplay experience that captivates players for hours.
Desktop Game
We produce an unmatched 3D Dimensional experience with our desktop game that captivates enthusiasts.
Windows Game Software
The desktop game software we provide gives players the freedom to let their imaginations wander freely and offers them an engrossing gaming experience.
Our Game Design & Development Process
The following tried and tested game design and development methodologies are used to create all of our high-quality mobile gaming apps and software.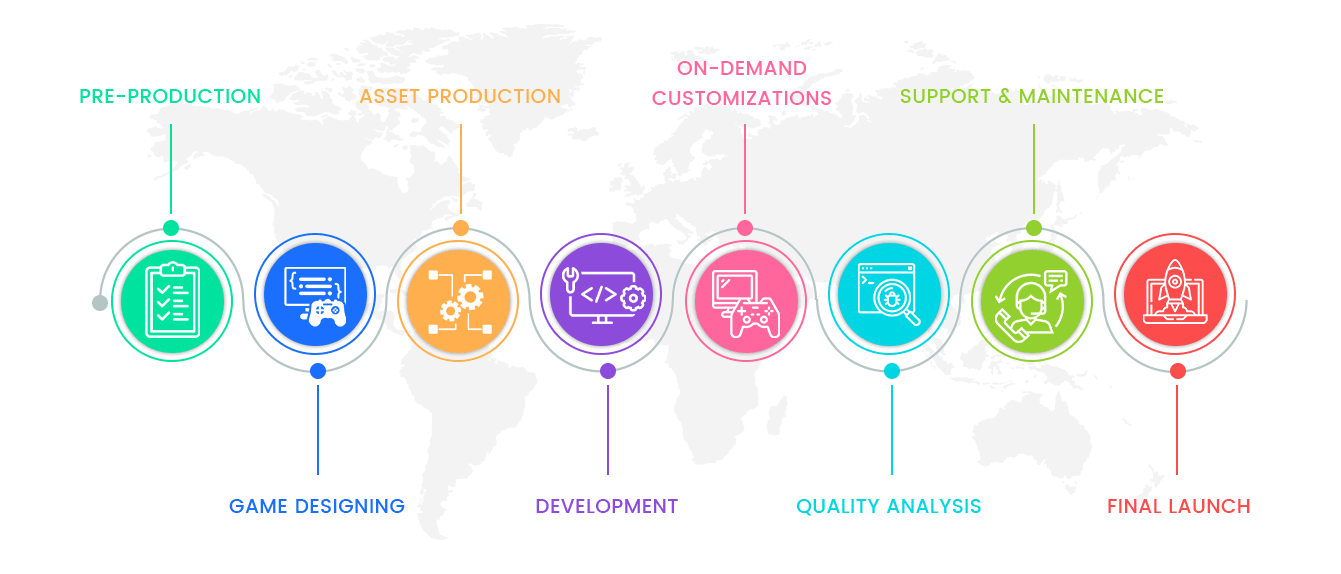 Build Game From Scratch to Power Your Business With Our Custom Game Developers
Hire Now
Latest Blog
Intensify your knowledge to navigate your digital transformation with us.
Our Game Services
Our highly competitive and skilled team of game developers offers advanced game development services which are compatible with operating Systems like, Android, iOS, Windows, and more.
Why Choose BR Softech as a Game Development Company
The one-stop destination for all the game development services in Singapore that you require to turn your fantasy game into a reality. The years of amalgamated development experience have been gained by our team of software engineers, designers, and artists giving us the artist board to create unparalleled games. Furthermore, keeping the competition in mind we keep ourselves updated with current trends and technologies.
Transparency & communication at the highest level
The agile game development process
Adherence to best security practices
100% bug-free code guaranteed


Ryan Bryon
It was my first time collaborating with BR Softech, but now I think there is a long way to go with their fabulous team. They pay very much attention to the statement of customers and deliver such a fab game, which is said to them. They ensure that the product matches all the requirements. Thanks for the wonderful services.


Jofer Kriss
BR Softech is a company that gives full attention to their valuable customers, and I had an amazing experience with them too. I came into contact regarding game development and they provided me with a great feature game. They know how to work and deal with customers.


Oscar Puker
BR Softech has hired a professional and dedicated team for accomplishing the requirements and desires of the customers. They delivered us a magnificent game that covers all the features that I asked for. I would love to work with them again and have such amazing services from them.
USA Office
21 Overlook Ridge Terrace
#523 Revere, Boston,
MA 02151 USA
+1-650-727-6690
India Office
90, 10 B Scheme, Usha Vihar,
Triveni Nagar, Gopalpura Bypass,
Jaipur- 302018, Rajasthan INDIA
+91-7821055537 , +91-9982201414
Australia Office
11 parklands place,
Morwell, Vic-3840
Australia
+61 425 630 321
Canada Office
1193 Main St #3301,
Vancouver, BC V6A 4B6,
Canada
+1-604-360-4433
Frequently Asked Question?
Yes, at BR Softech, we are a team of Android, iOS, and PC game developers who hold years of experience in turning game development ideas from scratch to reality on millions of devices.
These are some of the most common software or tools we use to develop games.
Unreal Engine
Unity
GameMaker
Godot
Blender
Visual Studio
GNU Tool Chain
There is no set timeframe for developing video games; they can range from a few days to a few months to a few years. Let's discuss your game development project with us and we will give you the estimated time your game development will require.
The answer to this question completely depends upon you. We prefer to store your game data on highly secured gaming servers. If you have any recommendations for the gaming server, then you may discuss them with us and we will store the data on the chosen server.
Yes, we offer a range of game development services including website development, mobile app development, and software development.
At BR Softech, we ensure complete transparency with our clients. We will provide you with the complete source code upon completion of your game development project. The source code of the game can be further customized to meet your specific needs.