As a leading Artificial Intelligence Game Development Company in Singapore, BR Softech is adept at utilising advanced technologies like Machine Learning and Artificial Intelligence to develop highly-immersive and hardware-driven AI games that perform flawlessly across multiple platforms. Our developers are experts in developing games across various popular genres including shooting, racing, adventure, action, etc. which are integrated with Artificial Intelligence technology to enhance the user experience.
AI Game Development Solutions
BR Softech is an AI Game Development Solutions Company in Singapore that also provides Robotic Process Automation services to our global clientele. RPA is a next-gen solution that provides robust business process automation using technologies like AI and ML. Moreover, this technology can also be used to automate and eliminate repetitive tasks and accomplish the tasks with higher accuracy.
Our AI Game Development Solutions have allowed us to transform the world of video games. Our skilled team of developers strive to transform the game into reality and provide a lifelike gaming experience by using Artificial Intelligence algorithms that are integral in controlling bots and NPCs in the video game.
What is Artificial Intelligence?
Artificial Intelligence is a vertical of computer science that focuses on creating machines that are capable of performing tasks just like an actual human. Technological advancements in sectors like Deep Learning and Machine Learning are ushering in a new paradigm shift in the technological industry. Over the years, Artificial Intelligence has been widely adopted and utilised to transform and enhance video games and other real-world industries to promote better growth and scalability.
Our End-to-End Artificial Intelligence Game Development Services
Developing an AI game is not an easy task by any means. Our developers follow a careful process of reverse-engineering human competencies and personalities in a machine to surpass human capabilities. Take a look at our wide range of Artificial Intelligence Game Development Services across various domains.
Deep Learning

Deep Learning utilises Machine Learning technology to process inputs by layering, predicting, and concluding the outcomes.

Natural Language Processing

NLP or Natural Language Processing is used to accurately interpret a language through a smart machine.

Machine Learning

ML technology allows a machine to learn and evolve based on historical data. It analyses behavioural patterns and historical data to provide more personalised experiences to new users.
Cognitive Computing

Cognitive computing allows a machine to imitate a human by monitoring speech, text, images, and objects just like humans would do to get the optimum result.

Neural Networks

Based on the same principle of Neural brain cells, it is a series of algorithms that are responsible for the relation of elements and procedures just like a human brain.

Computer Vision

Computer Vision algorithms are responsible for understanding images by breaking them down into their core components. It allows the machine to divide and analyse data and provide better future results.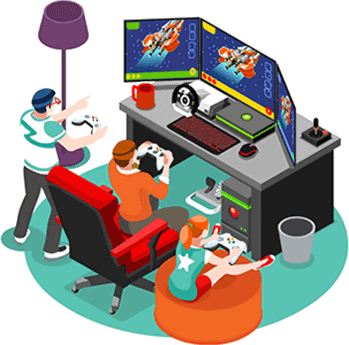 Artificial Intelligence in Video Game Programming
In order to develop stellar video game applications, BR Softech ensures that we integrate technologies like AI and ML into our AI video game development solutions. Artificial Intelligence is integral in developing highly-immersive games that offer an unprecedented gaming experience. In order to create the best possible games for our clients, we leverage Machine Learning technology that analyses the stored historical data and provides accurate future predictions based on that data. With the help of these technologies, our experienced team of developers strive to offer a realistic and natural gameplay environment.
Benefits of Artificial Intelligence Game Development
As a leading AI Game Development Company in Singapore, we strive to build customer-centric games that focus on the overall user experience. Our mission is to use AI technology to develop games with enhanced capabilities and machine learning for a robust and seamless gaming experience. Take a look at the various benefits of AI Game Development-
Enhancement in Developer's Skills
Enhanced Gaming Experience
Our Comprehensive Artificial Intelligence Game Development Process
With years of industry experience, our AI developers follow an agile and comprehensive development approach that is based on pre-determined protocols to build highly-responsive and functional AI games that perform exceptionally across multiple platforms.
Conceptual & Technical Design
Artificial Intelligence Game Development
Why Choose BR Softech for AI Game Development?
As a top AI Game Development Company in Singapore, BR Softech focuses on customer-centric solutions that are bespoke and tailored according to the client's requirements. Our skilled AI developers have years of experience working with AI technology and use their unsurpassed expertise in developing highly-engaging and robust AI game applications across various platforms.
Integration of the Latest Technologies
Experience intelligence demonstrated by machine
Let's talk
Frequently Asked Questions(FAQs)
Ans. The cost of AI game development is influenced by many factors. The average cost of developing an AI game comes to around $40,000 to $50,000.
Ans. Yes, we provide customised AI game development solutions. Our customised solutions are bespoke and tailored according to the client's requirements.
Ans. Working with AI technology requires a great deal of expertise and time. On average, it takes around 4 to 6 months to develop an AI game from scratch.
Latest Blog
Intensify your knowledge to navigate your digital transformation with us.
USA Office
21 Overlook Ridge Terrace
#523 Revere, Boston,
MA 02151 USA
+1-650-727-6690
India Office
90, 10 B Scheme, Usha Vihar,
Triveni Nagar, Gopalpura Bypass,
Jaipur- 302018, Rajasthan INDIA
+91-7821055537 , +91-9982201414
Australia Office
11 parklands place,
Morwell, Vic-3840
Australia
+61 425 630 321
Canada Office
1193 Main St #3301,
Vancouver, BC V6A 4B6,
Canada
+1-604-360-4433