As a top Robotic Process Automation Services Company in Singapore, BR Softech is proficient in leveraging the capabilities of RPA to streamline the workflow and minimise manual business operations with our highly secure and customised Robotic Process Automation Solutions.
Artificial Intelligence solutions like RPA have been at the forefront in the betterment of core parts of the business such as efficiency, productivity, and cost.
One of the main reasons behind the implementation of RPA is to facilitate effective and systematized processes across a wide range of industries. As one of the best Robotic Process Automation Service Providers, we offer a wide range of RPA services that aid businesses in increasing their productivity and efficiency across a wide spectrum.
Our RPA Services Include:
Strategy
Assessment
Design
Implementation
Support
Our Robotic Process Automation Services
Our wide range of Robotic Process Automation Services allows businesses to optimise the workflow and minimise manual operations in order to increase the quality and consistency of the workflow.
Robotic Process Automation Consulting
In-depth Business Strategies
Customised Strategies
Identifying the Business Operations
Development of a Roadmap
Identification of Tools
Robotic Process Automation Designing
Cognitive Automation, Machine Learning, and Artificial Intelligence Integration.
AI Bot Implementation
Systematic Planning & Execution
Proper Testing & Deployment
Robotic Process Automation Support
24x7 Customer Support
Enhanced Optimisation of RPA
Strong Architecture & Increased Security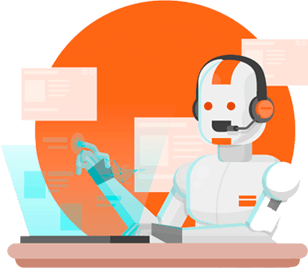 Benefits of Robotic Process Automation
The implementation of Robotic Process Automation Services offers a lot of benefits for a business. It is integral in streamlining the workflow which ultimately aids in increasing productivity. Take a look at the various benefits of RPA.
Reduces the possibility of Human Errors
High Accuracy in the Workflow
Increases Productivity
Works Round-the-clock
Cost-effective Solution
Minimises the need for Human Resources
Upto 5 times faster
Improves the Product's Quality
Enhance Your Business Efficiency With Us
Contact Us
Industry-Specific Robotic Process Automation Process Services by BR Softech
Our all-inclusive range of Robotic Process Automation Services caters to a wide range of industries in an attempt to help organisations optimise their workflow and increase their productivity and efficiency.
BPO

Data Entry

Data Validation

File Alterations

Text Mining

Customer Revert
Digital Media

Input/Output Process Creation

Advertisement Traffic

Active User Record

Quick Response to Customer's Queries
Insurance

Customised Quotation

Marketing Automation

Supports Text, Emails, Websites, etc.

Claim Processing
E-Commerce

Service & Order Management

Billings & Collections

Live Chat

Round the Clock Support
Telecom

Network Management

Order Processing

Service Guarantee

Billing Guarantee

Management of Revenue

Updation of Service
Banking & Finance

Procure to Pay

Order to Cash

Automation of Invoice

Automatic KYC Process

Check Report
Information Technology

Implementation of Chatbots

24x7 Customer Support

Automation of the Chat Feature

NOC/SOC Automation

Service Desk Automation
Why do Businesses Require Robotic Process Automation?
Diminishing Need for Manual Labour
Enhance Business Efficiency and Productivity
Solutions to Human Commitments
Why Choose BR Softech for Robotic Process Automation Services?
As a leading Robotic Process Automation Services Company in Singapore, BR Softech excels in delivering highly-customised and customer-centric RPA solutions to transform and streamline your business operations. With years of industry experience, our developers are well-versed in advanced technologies and build robust and secure applications integrated with AI technology.
Frequently Asked Questions(FAQs)
Ans. RPA is primarily used to facilitate business operations and uses artificial intelligence and machine learning to increase efficiency and workflow.
Ans. Yes, we offer personalised RPA solutions. Our personalised solutions are bespoke and tailored according to the client's requirements.
Ans. The cost of Robotic Process Automation is dependent on a variety of factors including the type of service. On average, integrating a single chatbot can cost around $5,000 to $10,000.
Latest Blog
Intensify your knowledge to navigate your digital transformation with us.
USA Office
21 Overlook Ridge Terrace
#523 Revere, Boston,
MA 02151 USA
+1-650-727-6690
India Office
90, 10 B Scheme, Usha Vihar,
Triveni Nagar, Gopalpura Bypass,
Jaipur- 302018, Rajasthan INDIA
+91-7821055537 , +91-9982201414
Australia Office
11 parklands place,
Morwell, Vic-3840
Australia
+61 425 630 321
Canada Office
1193 Main St #3301,
Vancouver, BC V6A 4B6,
Canada
+1-604-360-4433