As a top Artificial Intelligence App Development Company in Singapore, BR Softech has been providing Artificial Intelligence Services to growing and established businesses. With over years of experience, our team of developers excel in delivering customer-centric solutions across multiple industries. Our Artificial Intelligence Solutions help automate repetitive tasks and offer better efficiency to improve the workflow and operations of your organisation.
Artificial Intelligence and Machine Learning are advanced technologies that are integral in reinforcing operations and simplifying the workflow of organisations. Moreover, this lucrative technology also provides various fruitful benefits for businesses as well as users.
Leading Artificial Intelligence Solutions Provider
Our skilled team of Artificial Intelligence Developers focus on customer-centricity and strives to deliver hyper-personalised Artificial Intelligence Solutions across various business verticals. As one of the best Artificial Intelligence Solutions Providers in Singapore, BR Softech is adamant to provide hyper-realistic and innovation-driven AI App Development Services to provide an overall unprecedented user experience.
Artificial Intelligence is integral in eliminating labour costs and automating the operations of your business to accelerate the growth and efficiency of your organisation. BR Softech also offers highly-personalised AI Consulting Solutions and also aids in integrating this technology into your business to elevate your business to the next level. We strive to enhance your business' growth by delivering solutions that are:
Outcome Driven
Tailor Made
Highly-Customisable
Our Wide Range of Artificial Intelligence Services
We offer a wide range of Artificial Intelligence Services across multiple industries in order to reinforce the business' operations.
Machine Learning
Machine Learning provides machines with the capability to learn and evolve based on historical data without the need for manual interference or programming. We offer cutting-edge ML solutions to a wide range of industries.
Natural Language Processing
NLP or Natural Language Processing allows machines to communicate exactly like humans to create out-of-the-box solutions. Take advantage of our cutting-edge applications integrated with NLP.
Cognitive Service
Utilise Machine Learning algorithms to solve complex organisational issues. With the help of Cognitive Services, our developers are capable of transforming data to understand the spoken language.
Predictive Analysis
Leverage the power of advanced technologies like predictive modelling and data analysis to analyse historical data and deliver highly-accurate future predictions.
Chatbot Development
We strive to provide customer-centric solutions. As a result, we develop highly-interactive chatbots integrated with AI to bridge the gap between businesses and users.
Deep Learning
Deep Learning allows using technologies like ML and AI to solve complex problems that are impossible with manual labour. Take advantage of our cutting-edge Deep Learning Solutions and discover the benefits of automation.
Reinforce Your Business Operations with BR Softech
Contact Us
Advantages of Artificial Intelligence Technology
Leverage the power of Artificial Intelligence technology and reap the following benefits-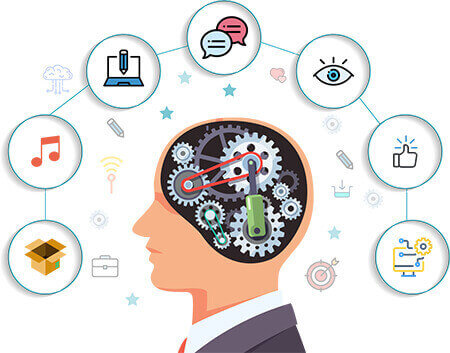 Increase and Transform Business Efficiency
Automate Customer Support & Interaction
Real-time Assistance
Data Mining Capabilities
Outcome Prediction based on Data Analysing
Automate the Recruitment Process
Increase Customer Demand with Integrated AI Solutions
Increase Productivity
Eliminate Monotonous Tasks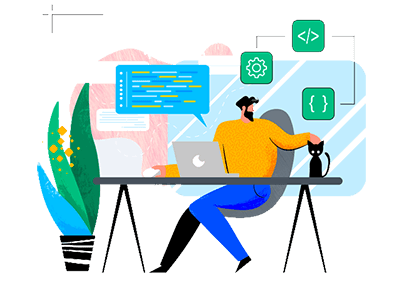 Hire Skilled AI Developers
Our AI developers are well-versed in the latest technologies and offer innovation-driven next-gen Artificial Intelligence Solutions to businesses across a wide range of industries. Our AI services are bespoke and customised for every client. You can also hire our experienced developers for better guidance and consultancy to improve your business's operations and generate higher revenue.
Hire Now
Industry-Specific Artificial Intelligence Application Development Solutions
Take advantage of our customised and highly-efficiency Artificial Intelligence Application Development Solutions that cater to multiple industries across various business verticals.
Marketing & Sales Industry
Why Choose BR Softech for Artificial Intelligence App Development?
As a leading Artificial Intelligence App Development Company in Singapore, BR Softech has been providing various benefits and state-of-the-art AI services to our clients. With the help of our experienced developers, we strive to deliver highly customised and bespoke app development to multiple industries. Partner with BR Softech and leverage the power of our Artificial Intelligence Solutions.
Cutting-edge Technologies
Experience intelligence demonstrated by machine
Let's talk
Frequently Asked Questions(FAQs)
Ans. Artificial Intelligence technology utilises many tools and frameworks. Some of the most prominent tools used by our developers are TensorFlow, Apache Mahout, Caffe, etc.
Ans. The best software for AI development includes:
Apache Prediction IO
Salesforce Einstein
Azure Machine Learning
Ans. The best coding language for AI development is Python which offers a standardised library.
Latest Blog
Intensify your knowledge to navigate your digital transformation with us.
USA Office
21 Overlook Ridge Terrace
#523 Revere, Boston,
MA 02151 USA
+1-650-727-6690
India Office
90, 10 B Scheme, Usha Vihar,
Triveni Nagar, Gopalpura Bypass,
Jaipur- 302018, Rajasthan INDIA
+91-7821055537 , +91-9982201414
Australia Office
11 parklands place,
Morwell, Vic-3840
Australia
+61 425 630 321
Canada Office
1193 Main St #3301,
Vancouver, BC V6A 4B6,
Canada
+1-604-360-4433