As a leading metaverse development company, we have always believed in serving customer satisfaction with our end-to-end metaverse development services. By developing components like a 3D space environment, decentralized platform, metaverse application, NFT casino and metaverse NFT marketplace, we can help you create your own virtual world, augmenting your overall business value, growth opportunities and reach.
With years of experience and expertise in metaverse software development, we have helped 'N' number of clients convert their dream projects to tech reality. We aim to focus on transparency, scalability and reliability while creating all-inclusive metaverse platforms, translating your business mission and vision. With our progressive metaverse development services, we can help you develop unique, innovative and high-performance metaverse applications.
Our 360* Metaverse Development Services
BR Softech offers a wide range of metaverse development services from NFT Casino development to metaverse integration for different use cases and industries including gaming, fashion, banking, real estate, virtual meeting etc.
Metaverse App Development
Our metaverse developers optimize best-in-class application development strategies to create metaverse applications from education, and fashion to social communication.
Metaverse Game Development
We offer a supreme-quality 3D-based metaverse gaming platform packed with advanced features, graphics, sound effects and a next-level tech stack.
Metaverse Casino Game Development
Leverage our casino gaming platforms to unleash the true potential of NFT casinos and crypto-based gaming platforms offering an unparallel gambling experience.
Metaverse Consulting
We offer deep insights when it comes to metaverse development. Our consulting all-inclusive information from idea generation to technology incorporation.
Metaverse Marketplace Development
We provide end-to-end metaverse marketplace development solutions, allowing users to interact, buy and sell using cryptocurrency or NFTs.
Seamless Metaverse Integration
As a metaverse software company, we focus on the smooth integration of features and functionalities to improve your entire metaverse ecosystem.
End-to-end Metaverse Development Solutions for Different Industries
Our certified metaverse developers optimize next-generation technologies and tools to translate the metaverse development requirements of a wide range of industries. Be it a fashion, education, real estate, or eCommerce industry; we have got you all covered with our metaverse software development services.
Metaverse Real Estate Development

Develop a secure, robust, independent metaverse real estate platform with the help of our certified developers, experienced in using metaverse tools and technologies.

Metaverse Fashion Development

Promote your fashion brand, products and services on a digital platform using our metaverse services, enhancing the business reach and revenue.

Metaverse Healthcare Development

Integrate metaverse into the healthcare ecosystem to automate and enhance patient care and treatment procedures.

Metaverse Banking Development

With the advent of NFTs, blockchain, AR/VR technology and cryptocurrency, the metaverse has transformed the banking industry on a deep level.
Metaverse Ecommerce Development

With metaverse, you can improve your eCommerce brand presence in the digital world. Develop your own metaverse eCommerce platform to stand out from the crowd.

Metaverse Event Platform Development

With the fascinating 3D platform, live streaming, customized digital avatars, and interactive feature, we offer a top-notch metaverse virtual event solution.

Metaverse Social Media Development

Take help from our experts to create innovative social media space using our simple and easy-to-manage interface and unique features.

Metaverse Corporate Office Development

Leverage our metaverse software solutions to transform your corporate office components such as meetings, seminars, virtual presentations, client meetings and corporate events.
Exclusive Features of our Metaverse Software Development
We develop and deploy glitch-free and high-performance metaverse software solutions as per your business requirements and expectations. As a reliable metaverse development company, we offer you supreme-quality metaverse software, including the following features:
Blockchain Integration

We integrate blockchain technology to make the platform secure. Having said that, we ensure that no information is lost in the process.

Secure Login

Our full-fledged metaverse software detects and monitors multiple failed attempts of login, making the whole process much more reliable and secure.

Scalable Platform

We incorporate high safety standards such as SSRF, SSOS, and CSRF to introduce the highest protection against hacking and breaches.
Data Encryption

Our metaverse software keeps the user data secure and safe from external breaches. We maintain the confidentiality of user information for security reasons.

Cross-site Prevention

Our metaverse solutions maintain the security of users by rejecting multiple requests from illegitimate users and platforms.

DDoS Protection

As a metaverse blockchain development company, we design, develop and deploy metaverse software that restricts the traffic coming from multiple sources.
All-Inclusive Metaverse Development Process
As a leading metaverse software development company, we aim to deliver customized metaverse solutions at economic rates. Our team of developers follow a set of stages to create end-to-end metaverse solutions.
Market Research

Competitor analysis, understanding the business goals, and development technology
Concept Design

UI/UX designing, prototyping, user testing, and environment designing
Development

Coding and programming, alignment of features and functionalities
Testing and Debugging

In-depth QA testing, debugging and smooth integration
Deployment

Launching the platform or product, marketing the developed platform
Customer Support

Platform maintenance, providing customer support, fixing the post-launch glitch
Hire Our Metaverse Developers
Tap the untapped potential of the virtual world through metaverse development services. With the smooth integration of innovative technologies like AR, VR, AI, decentralized platforms and blockchain, our metaverse developers can help you take your business platform to an advanced level. What are you waiting for? Get a quote today!
Hire Metaverse Developers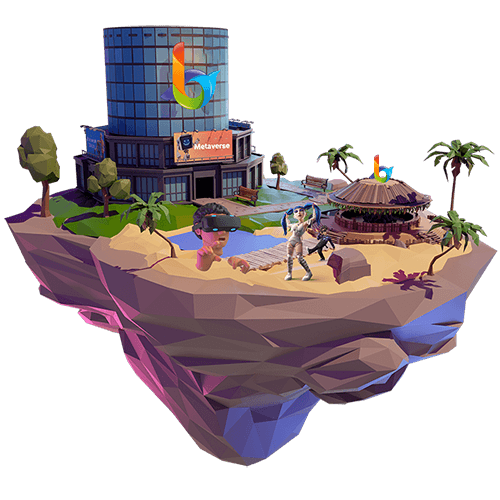 What Makes us the Best Metaverse Construction Company?
We take pride in being the best metaverse construction company, fulfilling the needs and expectations of clients in a manner like none other. We have a team of certified designers and developers who are specialized in metaverse blockchain, and metaverse software development. With 10+ years of experience in mobile game and metaverse development, we have helped plentiful clients build their own future-ready metaverse platforms. Choose us to get:
State-of-the-art infrastructure
Certified team of metaverse developers
Next-generation tools and technology
Constant tech support
Expert in blockchain development
All-inclusive metaverse development
FAQs
Metaverse is like a virtual world which allows users to interact, play, work, socialize, shop and engage in many activities within virtual reality. Metaverse uses blockchain technology that offers extreme transparency via immutable data. You can interact within virtual space using digital avatars.
Metaverse development is a process, wherein developers optimize the latest technology like blockchain, AR, VR, and AI to create a 3D space environment, metaverse software and applications for different platforms including iOS, Android, and Windows Mobile.
The cost of metaverse software development is around $30,000 to $50,000. If you want to incorporate the advanced features, graphics and latest technology, the metaverse development cost may shoot up to $80,000.
As a leading metaverse development company, our developers are highly skilled in designing and developing hyper-realistic and customized metaverse spaces. There are different types of metaverse platforms we develop including metaverse blockchain development, metaverse NFT marketplace development, decentralized platform, and metaverse digital twins.
On average, it takes around 3 to 5 months to develop a metaverse platform. The development time also depends on various factors, including the type of metaverse platform, metaverse services, the complexity of the features, graphics and the advanced tech stack.
Latest Blog
Intensify your knowledge to navigate your digital transformation with us.
USA Office
21 Overlook Ridge Terrace
#523 Revere, Boston,
MA 02151 USA
+1-650-727-6690
India Office
90, 10 B Scheme, Usha Vihar,
Triveni Nagar, Gopalpura Bypass,
Jaipur- 302018, Rajasthan INDIA
+91-7821055537 , +91-9982201414
Australia Office
11 parklands place,
Morwell, Vic-3840
Australia
+61 425 630 321
Canada Office
1193 Main St #3301,
Vancouver, BC V6A 4B6,
Canada
+1-604-360-4433