Take advantage of our cutting-edge Alexa Skill Development and develop advanced speech recognition and natural language processing modules that streamline everyday tasks. Control household tasks like lights, locks, alarms, and other smart appliances by voice command for increased accessibility. Transform your space into a smart space and discover more through personalised suggestions by Alexa Skill.
Best Alexa Skill Development Company in the UK
BR Softech is renowned and trusted Alexa Skill Development Company in the UK. Our team of experienced Alexa Skill Developers have served a wide range of clients and delivered highly robust and secure services globally. We focus on developing customer-centric and quality-driven solutions for our clients that have the potential to reach millions of people. With over 10 years of industry experience, we excel in incorporating interactive features into our Alexa Skill Development solution and provide compatibility across multiple platforms such as Android and iOS.
Exceptional Alexa Skill Developers by Experienced Developers
Focus on Programming and Incorporating Valuable Features.
Native, Hybrid, and Web Alexa App for multiple devices
Rich and Mood-refreshing Features
Integration of the Latest Technologies
Leverage the strength of Alexa Skill Development and take your business to the next level. Our developers have hands-on Amazon Alexa Skill development experience and will help create the best quality app development solutions that are bespoke and tailored according to your requirements.
What is Alexa Skill?
Amazon Alexa is a voice assistant developed and distributed by Amazon that takes advantage of AI-enabled devices. The Voice assistant is capable of recognising commands like voice interaction, playing music, controlling smart appliances, providing current updates, setting alarms, and a lot more. It is compatible with and perfectly capable of controlling various smart devices at once, transforming your house into a smart home. If you have a business idea for Alexa Skill Development, contact us and we will help you turn that idea into reality.
BR Softech is a globally recognised Alexa Skill Development company that offers a wide range of custom automation solutions to our global clientele according to their business requirements. We offer a robust and highly-customisable Alexa Skill application which ensures better performance and leverages voice recognition capabilities to scale higher than your competitors.
Our End-to-End Alexa Skill Development Services
Alexa Home Automation
Convert your home into a smart home with Alexa Home Automation Services and experience next-generation technology that allows you to control smart appliances.
Alexa for On-demand Apps
Leverage cutting-edge technologies and reach new heights in the business world with Alexa Skill solutions that offer instant service and save valuable time.
Smart Office Automation
Enable next-gen automation in your office with our Alexa skill developers and transform your office space into a fully automated and voice-controlled ecosystem.
Customised Alexa Skill Development
Transform your unique idea into reality with our experienced Alexa Skill Developers. We offer highly customised solutions that are bespoke and tailored according to the client's requirements.
Amazon Pay Integration
Integrate Amazon pay API in your functioning app and allow seamless and secure transactions. With the help of a payment gateway, you can sell a wide variety of goods and services like apparel, collectables, paid subscriptions and other things for extra revenue.
Alexa Skill Kit(ASK)
Our developers are well-versed in using the Alexa Skill Kit. It provides a seamless and easy-to-navigate user interface that offers an engaging and thrilling user experience.
Alexa Voice Service
Integrate Amazon Alexa into your product and enjoy the benefits of Alexa Voice Service in order to create impeccable software with rich features and functionality.
Alexa Skills Design
Our developers and designers strive to build a robust and interactive Alexa Skills application with in-build voice control. Our developers strive to design an aesthetic design interface and strive for 100% customer satisfaction.
Alexa Skills Consulting
Take advantage of our Alexa Consulting Services by talking to our experts. Our developers offer a flexible engagement model that is tailored according to your business needs. Our consulting services will help you tackle various business challenges and resolve queries.
Alexa Skill Development Technology Stack
Our skilled developers are well-versed in the latest technologies and possess hands-on experience in working with various programming languages. Our Amazon Alexa Skill Development Technology utilises the following technologies.
Natural Language Processing
Robotic Process Automation
Alexa Skill Development Services Beneficial for Business
Our all-inclusive Alexa Skill Development Services provide a lot of benefits for businesses. Partner with BR Softech and elevate your business to new heights.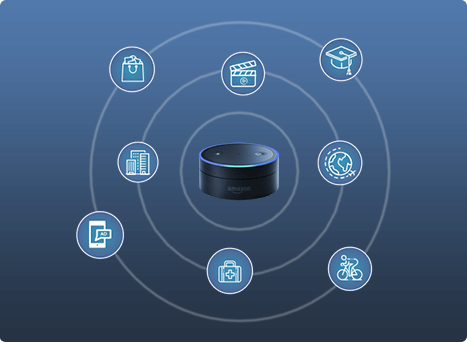 Flexible Engagement Models to Cater to Various Business Needs
Multiple Solutions for Home and Business
Smart Digital Experience with Amazon Alexa
Amazing E-commerce Sharing Experience
Increased Productivity and Business Efficiency
Interactive and Immersive Gaming Experience with Alexa
Unlock Various Business Opportunities
Boost your Business Growth
Take the Home Automation System to New Heights
Voice-Driven Computing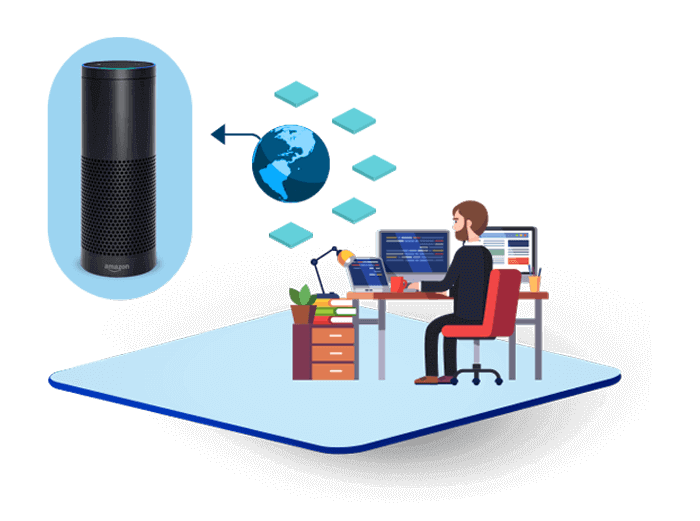 Hire Alexa Skill Developers
Are you looking for Amazon Alexa Developers for your business needs? BR Softech is a top-notch Alexa Skills Development Company that offers cutting-edge solutions to our clients that ensure customer satisfaction. Our dedicated Alexa developers provide better insight into your business requirements and develop a solution according to that information. Our highly-skilled team of developers in the UK provide robust services that are compatible with multiple platforms and help maximise your revenue.
Hire Now
Why Choose BR Softech for Alexa Skills Development?
As a renowned and trusted Alexa Skills Development Company in the UK, BR Softech is a pioneer in Alexa Skills Development Solutions. We strive to transform your house and office space into a smart environment that can be entirely controlled by voice commands. Partner with BR Softech and reap the following benefits.
Integration of Advanced Technologies
Latest Blog
Intensify your knowledge to navigate your digital transformation with us.
USA Office
21 Overlook Ridge Terrace
#523 Revere, Boston,
MA 02151 USA
+1-650-727-6690
India Office
90, 10 B Scheme, Usha Vihar,
Triveni Nagar, Gopalpura Bypass,
Jaipur- 302018, Rajasthan INDIA
+91-7821055537 , +91-9982201414
Australia Office
11 parklands place,
Morwell, Vic-3840
Australia
+61 425 630 321
Canada Office
1193 Main St #3301,
Vancouver, BC V6A 4B6,
Canada
+1-604-360-4433
Frequently Asked Questions(FAQs)
Ans. Our Amazon Alexa Skill Development cost ranges from $20,000 to $30,000 depending on your business requirements.
Ans. Yes, we provide customised Alexa Skills Development. Our customised services are bespoke and tailored according to the client's requirements.
Ans. Yes, voice recognition is still an emerging technology. However, it will be widely adopted by various sectors in the future and will turn into a very lucrative industry with hefty revenue potential.