Artificial intelligence is termed the most crucial technical aspect of game development, especially for video games. In most video games like role-playing games, shooting, racing or any strategy-based games, AI acts as the crucial pillar stone for game developers who tend to convert the imagination onto digital screens. As a leading AI game development company in the UK, BR Softech aims to convert the most complex game ideas into the most successful and innovative projects.
We strive to maintain transparency and accuracy when developing AI-based games for our clients. Our team of professional designers and developers work round the clock to implement the latest and most advanced technologies and tools to develop the most creative and innovative gaming solutions that can help you achieve the highest ladders of success.
With AI-based gaming solutions, you can augment the overall performance of your app while offering users seamless, automated and uninterrupted gameplay experiences.
Top-Notch AI Game Development Services
We strive to incorporate the latest AI algorithms and techniques to create the most alive and life-like gaming applications for gamers of all ages. As a top-rated AI game development company in the UK, we tend to keep our clients in the loop to implement each and every suggestion given by them within the gaming platform. Our team of experts focus on developing client-oriented AI game applications that are scalable, reliable and credible in nature.
If you are looking for cost-effective yet innovative AI-based games, your search ends here at BR Softech! We have an in-house team of certified and skilled developers who work with dedication and motivation towards creating an all-inclusive AI-based game application. We tend to cover a wide range of games such as video games, shooting games, racing games, adventurous games, role-playing games, etc. Let's look at the bespoke AI game development services provided by us:
Unity Game Development
iOS Game Development
Android Game Development
2d & 3d Game Development
Html 5 Game Development
Web Ai Game Development
How Does AI Game Development Work?
Building an AI system is not an overnight task, and hence requires professional and technical expertise to convert human competencies into a smart machine with computational power. To enlighten you with AI game development, here is the list of the most crucial components and domains of an AI System that makes it whole and full-fledged.
Deep Learning

It is a type of machine learning and Artificial intelligence that imitates exactly the way humans acquire certain types of knowledge. Deep learning is basically an important element of data science, which includes statistics and predictive modelling.

Machine Learning

It is a type of artificial intelligence and computer science branch, which focuses on the use of algorithms and data to imitate the way humans acquire knowledge or learn, gradually improving accuracy.

Neural networks

It is a concept in the ocean of artificial intelligence that teaches computers to process data and information in a way that is inspired by the human brain.
Cognitive Computing

It is an AI algorithm which acts exactly like a human brain by monitoring texts, images, speeches, and objects to provide desired results in an accurate manner.

Computer Vision

This algorithm focuses on understanding the digital image part by part to process desired results of searches.

Natural Language Processing

It is a type of process by which an AI system understands, reads, and interprets a language through a machine. After the processing, it tends to provide accurate and authentic results.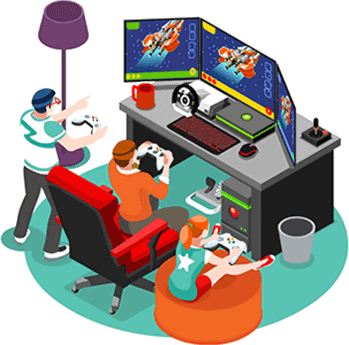 Artificial Intelligence in Video Game Programming
For any kind of video game, BR Softech specialised in programming AI to augment the experience of the players. With good knowledge of AI and its algorithms, we offer impeccable and feature-rich video game applications that are easy to operate and run. Our expert team tend to make the best use of 3D characters, visually realistic graphics and an eye-catching game environment to develop AI-based games of all genres.
Benefits of Leveraging AI-based Games
We hold great experience and command over creating end-to-end artificial intelligence-based games that offer users interactive and engaging gameplay experiences. Our in-house team of developers and designers implement AI technology to build customised and hyper-personalised solutions that target a massive user base.
Artificial intelligence penetration has been reshaping the future of game development with its latest features and tools. Here is the list of benefits you can get from our AI-based games:
Customised and Smart Game App
Enhanced Experience of the Gaming
Uninterrupted Gameplay Experience
Improved Player Interactions
Unique AI Game Development Process
Our expert team holds great experience and knowledge in converting your dream project into reality. We strive to maintain the utmost professionalism and go the extra mile to exceed the benchmark set by our clients. Being a reputed AI-based game development company, we are highly driven by excellence and innovation. Here is the step-by-step process followed by us to deliver hyper-personalised gaming solutions.
Pre-Development
Conceptualisation
Market Research
SWOT Analysis
Setting of Budget
Development
UI/UX design
Programming
Character design
3D Modelling
Post-Development
Testing & QA
Marketing & Launch
Deployment
Maintenance and Updates
Why Choose BR Softech As an AI Game Development Company in the UK?
The gaming industry is transforming in a manner like none other. And the reason behind this thriving growth is the emergence of the latest technology like AI. If you want to harness the power of artificial intelligence to unleash the true potential of your gaming platform, Contact BR Softech, a leading AI game development company in the UK.
With our domain-expert team of certified developers, designers and QA Engineers, we can help you convert your imagination or ideas into the most successful AI-based game applications. Choose us to get:
Robust Development Process
Experienced Team Of Developers
Smart & Customised Solutions
Latest Blog
Intensify your knowledge to navigate your digital transformation with us.
USA Office
21 Overlook Ridge Terrace
#523 Revere, Boston,
MA 02151 USA
+1-650-727-6690
India Office
90, 10 B Scheme, Usha Vihar,
Triveni Nagar, Gopalpura Bypass,
Jaipur- 302018, Rajasthan INDIA
+91-7821055537 , +91-9982201414
Australia Office
11 parklands place,
Morwell, Vic-3840
Australia
+61 425 630 321
Canada Office
1193 Main St #3301,
Vancouver, BC V6A 4B6,
Canada
+1-604-360-4433
Frequently Asked Questions
Q1. How Much Does It Cost To Develop AI Game App?
AI-based game application development costs range from $30,000 to $35,000. However, the cost may shoot up depending on the type and complexity of your project.
Q2. How Long Does It Cost To Develop An AI Game App?
It takes around 2 to 3 months to develop an AI-based game app from the scratch.
Q3. Is It Profitable To Develop AI Games?
Yes, with the advancement of technology, the demand for video and ai based games is increasing to the next level. With AI-based game apps, you can target more target audiences and generate high-level ROI.
Q4. Do You Develop Customised Ai Games?
Yes, we develop personalised AI games as per the client's requirements and demands with top-notch features, graphics and cost-effective development strategies.