Being one of the best VR software development companies in the UK, BR Softech has been driving growth and revenue for businesses with its cutting-edge VR app development solutions. Our VR developers have years of industry experience working with advanced technologies like AR and VR to develop top-notch app development solutions that perform exceptionally across multiple platforms.
Catering to a wide range of industries from healthcare to gaming, our VR app development services have been improving user experience by delivering next-gen VR applications. Our VR app development solutions are built using advanced tools and technologies that attract the target audience and ensure a high return on investment.
Virtual Reality Software Development
Our VR Software is aimed towards helping businesses deliver highly personalised and immersive user experiences. We cater to a wide range of industries including healthcare, gaming, education, etc and develop customised VR software that is bespoke and tailored according to the client's requirements. Our customised services allow businesses to deliver highly immersive user experiences across multiple platforms that ensure high customer engagement.
Virtual Reality App Development
Being a top Virtual Reality App Development Company in the United Kingdom, BR Softech excels in building VR apps that deliver lifelike virtual experiences that grasp the user's attention. Our experienced VR developers have years of industry experience in working with VR technology and have developed countless Virtual Reality applications for organisations ranging from startups to big enterprises. Be it Android or iOS, our VR solutions are capable of delivering extraordinary and top-notch experiences on any platform.
What is Virtual Technology?
Virtual reality can be defined as a computer-generated environment with objects and scenes that appear real, making the user feel immersed in the environment. Contrary to a traditional user interface, VR places the user in a computer-simulated environment filled with objects that can be interacted with. The major drawback of this technology is that it requires VR equipment like headsets and VR glasses to experience the simulated virtual reality.
Benefits of Our Virtual Reality App Development Services
Partner with BR Softech to build engaging VR apps that provide innumerable benefits for your business.
Immersive User Experience
Extensive Domain Knowledge
Transparency and Integrity
Increased Brand Recognition
Our Comprehensive Virtual Reality Software Development Process
Our developers follow an agile development approach with pre-determined protocols to develop stellar applications that perform efficiently across multiple platforms.
Virtual Reality App Development
Testing & Quality Analysis
Benefits of VR Software Development for Business
Virtual Reality is an emerging technology that can prove to be highly beneficial for businesses. BR Softech aims to provide cross-platform VR development that can help businesses grow and maximise their revenue.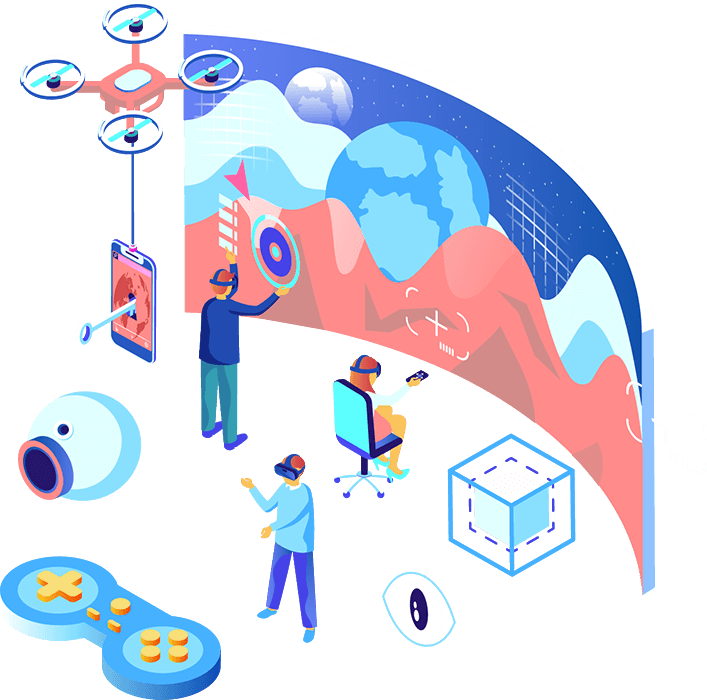 Virtual reality showrooms allow customers to interact with the product.
Introduce established products to the audience
Enhances Customer Engagement
Increased Brand Loyalty
Reduces business travel needs
Highly-interactive teleconferencing meetings
Our Wide Range of Virtual Reality Software Development Servicesh
Being a leading Virtual Reality Software Development Company in the UK, BR Softech offers a variety of VR Development services that cater to a wide range of industries.
VR Integration & Deployment

Our VR solutions can be integrated into an existing platform or application if the client desires. VR integration is a cost-effective process that saves the cost of developing an app from scratch.

VR Trade Show & Event Apps

Experience virtual events with our VR Event App development services. Our developers also provide a free demo where you can get a presentation view of the event in virtual reality.
Virtual Product Environment

Our 3D app designers strive to deliver a highly immersive virtual environment to provide an all-around engaging experience in the VR app.

VR Gaming App Development

Our developers excel in developing VR gaming applications that bring the virtual reality experience to the player's mobile screens. Utilising our in-depth knowledge of technologies like AR and VR, we develop next-gen highly engaging mobile games that are feature-packed.
Virtual Reality App Development Tools & Frameworks
Our VR app developers are proficient in working with a wide range of tools and technologies in order to create highly scalable and reliable VR app development solutions.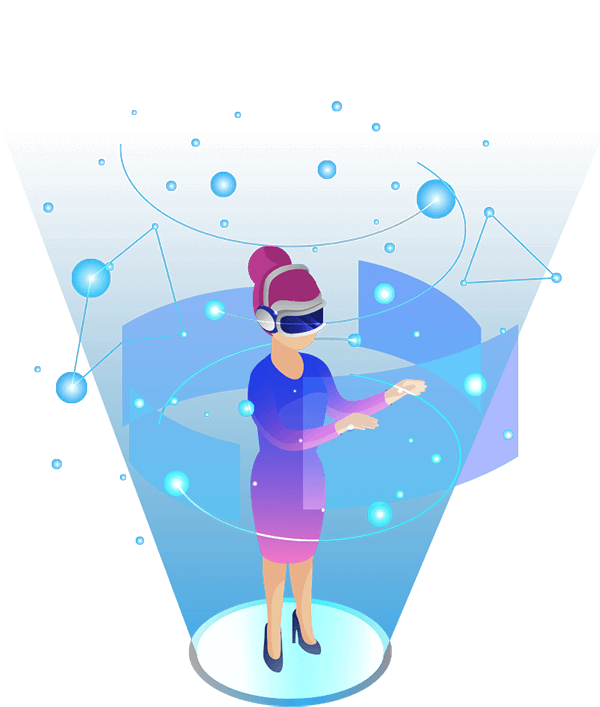 Industry-Specific Virtual Reality Software Development Solutions
Our Virtual Reality Development Solutions cater to a wide range of industries and help facilitate growth and increase revenue. Whether it's healthcare or gaming, VR has penetrated every sector and has been pathbreaking for several industries.
Education & Training

High-Quality Education

Interactive Learning

Helps students understand complex concepts with ease.

Immersive Teaching Methods
Retail & ECommerce

VR Online Store

Shopping from the comfort of home

AI algorithms help understand user behaviour

Interactive Shopping Experience
Advertisement

Creates a bond between the consumer and the product

Interactive & Realistic Process

Increased Brand Awareness

Helps Engage Consumers
Travel & Tourism

Maximise Customer Engagement

Explore and Experience the Environment Before Booking

Virtual walk to the destination

Reliable Decision Making
Gaming

Immersive Gaming Experience

Highly-interactive Games

Innovative Technology

Unprecedented Experience
Medical & Healthcare

Improvement in the range of surgery

Advancement in Diagnosis

Revolutionalise areas like counselling & surgery

Helps in medical training
Military

VR training Simulators

VR brings realistic scenarios

Cost-effective Operations

Better Engagement
Why Choose BR Softech for Virtual Reality App Development?
As a leading Virtual Reality App Development Company in the UK, BR Softech offers a wide variety of B2B VR Development Services. Our experienced team of VR developers are well versed in emerging technologies and strives to keep current with the latest developments.
Cross-Platform Development
Agile Development Approach
Latest Blog
Intensify your knowledge to navigate your digital transformation with us.
USA Office
21 Overlook Ridge Terrace
#523 Revere, Boston,
MA 02151 USA
+1-650-727-6690
India Office
90, 10 B Scheme, Usha Vihar,
Triveni Nagar, Gopalpura Bypass,
Jaipur- 302018, Rajasthan INDIA
+91-7821055537 , +91-9982201414
Australia Office
11 parklands place,
Morwell, Vic-3840
Australia
+61 425 630 321
Canada Office
1193 Main St #3301,
Vancouver, BC V6A 4B6,
Canada
+1-604-360-4433
Frequently Asked Questions(FAQs)
Ans. VR app development cost is influenced by various factors. On average, the cost to develop a VR application ranges from $50,000 to $60,000. However, if you want to develop a cross-platform app with sophisticated features, the cost can go up to $100,000.
Ans. The time duration for full-cycle VR app development can be around 3 to 6 months depending on the features of the application.
Ans. Yes, our customised VR app development solutions are bespoke and tailored according to the client's requirements.
Ans. JavaScript and Python are the most commonly used programming languages used for AR & VR Development projects.