With a fully qualified and professional developer workforce, BR Softech is currently dominating the iGaming market in Singapore and around the world. We guarantee to produce all types of game solutions, from 2D to Multiplayer 3D mobile game development solutions, as specified by your marketing plan, we are known for the customized solutions we provide
With our in-depth industry knowledge and access to cutting-edge tools like AR/VR, AI, ML, and other modern technologies, we can amalgamate unparalleled features and functionality. That has the potential to reach a larger global audience.
Here is what we have accomplished since we started in 2010.
5510+
Mobile Apps Developed
Mobile Game Development
Make your envisioned game stand out in the iGaming business by signing up with the top-notch mobile game solution firm in Singapore to receive one of the best game development solutions. Modern mobile game development companies try to provide game creation services using Unity's modular mobile game development tools for iOS & Android mobile game platforms, which make up the vast bulk of these enterprises. We implement the same strategy to provide our end customers with a captivating experience featuring amazing 2D and 3D games everywhere.
Considering and thoroughly researching the needs of our clients is the first stage of our mobile game creation offerings. We establish open lines of communication with our customers as we learn more about their requirements for the construction of mobile games and create the necessary layout since as first point planners they understand their project well and they should know each process. After that, we present our strategies and start the process when the layout is approved
Below listed are the most used Android & iOS game development services by us
Cocos 2D mobile game
Cocos 3d Mobile Game
AR/VR mobile game
AI-powered games
Native mobile game
Hybrid mobile game
HTML5 mobile game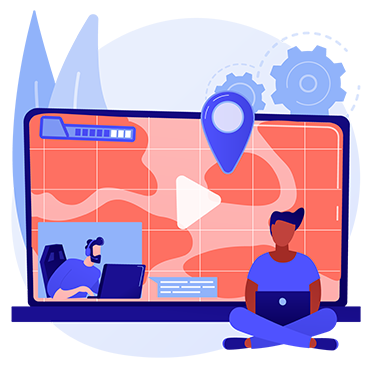 Astounding Mobile Game Design
We have by far the most qualified mobile game designers and developers on board who implement unique customized approaches in line with the specific needs of our customers to offer them the best & reliable live-ops and monetized app solutions. These mobile game solutions offer phenomenal performance, outstanding visibility, and effective accelerated growth.

The list below includes the professional mobile game design services we offer to our clients.

Mobile game UI/UX design

Mobile game art creation

Spectacular animation integration
Finest Mobile Game Development Services & Solutions
Create your dream game with our Mobile Gaming Services and Solutions with the assistance of our incredibly talented team and their knowledge, we only intend to provide high-quality services that are specifically catered to the needs of your business. By combining the best and most attractive mobile game design, cutting-edge ideas, and perfect programming language, we provide excellent performance. We provide the following as a top mobile game developer in Singapore.
HTML5 Mobile Game App Development
We offer qualified and knowledgeable solutions with the assistance of our skilled team who uses cutting-edge technologies to create HTML5 mobile games at competitive prices.
BR Softech offers Python game development services and solutions for mobile gaming apps following client specifications.
We provide social media games that are so enticing that can draw a larger audience. You can recommend these to your friends and they take up less space on mobile devices.
Cross-platform Mobile Game Development
Discover services for iOS, Android, and other mobile platforms that are flexible according to your business requirements and greater engagement, use a cross-platform game development solution that is feature-rich and highly aesthetic.
2D and 3D mobile Games Development
Invest in a cutting-edge mobile app framework and make your game more exciting and discover fresh perspectives on 2D and 3D game production.
Get the VR, MR, and AR Mobile Game Application development services with the ultimate aesthetical 2D & 3D technologies and mobile game engines.
With the help of our iPad game development service, our developers convert your dream iPad game ideas into amazing developments for mobile simulation multiplayer games.
We use Unity to create all types of games, including multiplayer, single-player, and multilevel games. You will have a wonderful gaming experience with Unity game development.
With the help of our skilled mobile game developers, you may get a range of multiplayer mobile games using Unreal Engine.
We create 2D & 3D mobile video games in full motion and HD resolution, as well as powerful software solutions for video game animation.
Bring your dream to the right evolution with us.
AI Mobile Game Development Service
We are highly experienced at creating artificial intelligence video games that can effortlessly provide players with a seamless gaming experience. Artificial intelligence (AI) characters are added to video games to enhance the authenticity of the game.
Arcade Game Development
With our team of dedicated game designers & programmers, we can deliver highly functional games that can attract a great number of audiences worldwide
Snooker Game Development
A tailor-made snooker game developed by BR Softech can give an astounding feeling of playing it on the grounds
Education Game Development
With the help of professional education game development services, learning can be fun and educationally knowledgeable
Astounding features in Mobile Game Application Development
The best characteristics that should be used whilst developing mobile game apps are listed below.
Refer & Earn

Users can earn financial rewards or game points they can utilize later on by endorsing friends and family to the game.

Payment Integration

Mobile game app creation assures the security of players' financial transactions throughout the game with security codes and passwords by offering a variety of payment methods, such as direct payment & server integration.

ChatBot Feature

To get assistance and guidance for the game, players can post queries or problems they are encountering on the chatbot.

Stunning Graphics

As images are a key component that keeps your audience interested and sets you apart from competitors, having stunning graphics and aesthetics can help you retain users.

Time-to-time Updates

Mobile gaming software and applications require updating regularly to keep up with the growing demand.
Social Platform's Connectivity

The integration of social media platforms into the production of sports mobile games helps to spread awareness of the game app among a sizable global audience as everyone is on social media lately.

Monetization Strategy

The reason behind mobile game development is to make money and gain high revenue, so the game app must have a proper monetization strategy like 'motivating larger spend' to get profit with elevated results

Hardware-driven Games

These days, there is an elevated expansion of game-relevant hardware worldwide, whether it be for a console, arcade, PC, or something else.

Impressive UI Designs

Simply because they enjoy the way it looks, users will be enticed to a game app or website with several iterations.

Different Game Modes

Multiple game options are incorporated during the creation of video games so that players can play independently, with everyone, or even against the computer without getting bored.
Mobile Game Development Technologies
When it comes to cross-platform mobile game creation, we have the best game developers onboard, and with their full potential, they provide amazing services underpinning the research assorted with cutting-edge mobile game development technology.
To create the best AR and VR games possible, we utilize a diverse variety of cutting-edge technologies and mobile game production tools.
Unity
Our Unity game solutions accelerate mobile game development processes whilst offering a wide range of platforms
SmartFox Server
These multiple-level gaming servers deliver mobile simulation multiplayer game apps to get elevated revenue at an affordable cost.
HTML 5
It is one of the most often-used technologies for Android & iOS mobile game platforms, irrespective of whether that is a mobile game design app or anything else.
Unreal Engine
This mobile game solution offers a wide variety of choices for developing games of exceptional quality. It is mostly used by creative enthusiasts to create art content for mobile games.
Cocos2Dx
With the assistance of programming in many languages, one can work on various platforms using development tools. Furthermore, it's being used to offer clients cutting-edge services and contemporary solutions.
Photon
All across the world, real-time multiplayer games are released using this mobile gaming engine. It is a reliable networking innovation that supports independent software game releases.
Mobile Game Development Engines
For the construction of cross-platform 2D and 3D games, our skilled team of developers uses Unreal, Unity, as well as other top mobile game engines to enhance the application and its functionality. By signing in with our team of mobile game app developers, who work with preset assets and create your game one of a kind, you can get photo-realistic rendering graphics for the game that can help you top up your game in the iGaming market, work with the finest mobile game development company.
AR and VR-Based Mobile Game Development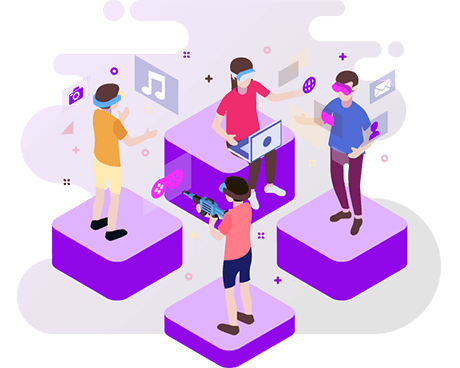 Our team has extensive experience and provides significant and first-rate solutions for developing mobile game apps for augmented reality and virtual reality that have comprehensive, intriguing aesthetics.

By teaming with us to fully autonomous AR/VR game solutions that are customized to your needs, you can benefit from the various advantages.

- Tailored user experience

- Enhanced customer retention

- 3D Vision

- Easy visualization
Hire Mobile Game Developers
We have a group of qualified enthusiasts who have strong enthusiasm for games and have been working in the field for several years. Hire our experts from Singapore and other countries to make your fantasy game a fantastical reality. We only aim to deliver the best solutions possible, thus we incorporate cutting-edge technology to offer amazing features and components. From conceptualization to the development process, we take care of every little thing to make it unique. Work with the finest mobile game development solution provider in Singapore and explore your dream game in reality.
Hire Mobile game developer
Numerous Versions of In-game Development
The following business verticals are covered by BR Softech.
Mobile Game
At BR Softech, we put in our best effort to ensure that games are filled with incredible features and a pleasurable user experience, allowing players to enjoy themselves for hours.
Desktop Game
With our PC game, we produce an unparalleled 3D Multidimensional experience that draws gamers from all around the world.
Windows Game Software
Players may unleash their imagination and play as they like with the desktop game software we offer, which can give them an engaging gaming experience.
The specification in Mobile Game Development
BR Softech Singapore provides clients with a range of interactive game categories to meet their requirements for iPhone and Android game development.
Casino Games
Our team of live casino gaming providers offers creative and superior casino gaming solutions. Our casino games are entertaining, and authentic, and combine all aspects that will keep your audience hooked.
Racing and Shooting Games
We develop racing and shooting games keeping the current trends in mind to incorporate trending designs and graphics to enthrall our users.
Sports Betting mobile game
The rage right now is sports betting games, so don't wait and create your superior quality sports betting app with us, we can meet all of your expectations. For our sports fans, we offer a variety of gaming options.
Action Games
We offer a perfect fusion of thrill and excitement with action games that give its users an enthralling experience
Board Game Development
Our Board Game provides a variety of characteristics; we produce 2D and 3D board games while satisfying every requirement with the most flexibility
Poker Game Development
We create poker game apps for the web, Android, and iOS platforms. As a top mobile poker game development company, we consistently produce poker game websites and apps with high security and numerous advantages.
Card Mobile Game Development
At BR Softech, we have a team of skilled developers who specialize in game planning and development to produce high-quality card mobile games.
Ludo Mobile game Development
Our developers devote their full attention to developing ludo mobile games with stunning game design and to giving users an interactive environment
Our Game Design & Development Process
The following tested game design and creation techniques go into creating all of our premium mobile game apps and software.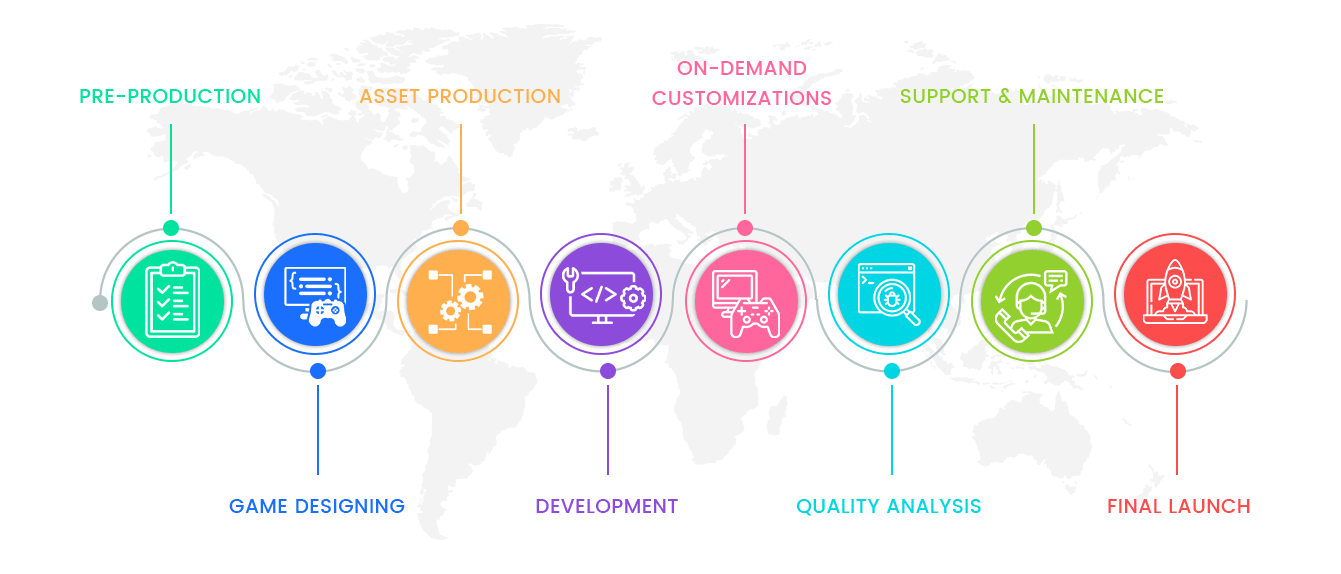 Our Game Development Technology Stack
Our Game Development Specialization
Our highly experienced team of designers and developers has offered users a variety of amazing and dynamic mobile gaming solutions. Not only are we experts in the development of mobile gaming applications, but it is also our ambition to modernize the whole iGaming sector with our top-notch solutions. We offer a range of services for game development in Singapore and various other countries.
Ludo Mobile game Development
Our developers try incredibly hard to develop ludo mobile games with amazing aesthetical game design and to give players an immersive experience.
Casino Mobile Game Development
Our company offers casino game development in Australia and around the world o give users an astounding experience of online casino games just like land ones
Poker Mobile Game Development
As a renowned poker game development company, we consistently produce best-in-class websites and apps with strong security and flexible functionality.
Card Mobile Game Development
With the help of our skilled team, we keep our focus on game planning and development with each detail, we at BR Softech generate massive card mobile games.
Board Mobile Game Development
The experts at our organization produce the newest board mobile game apps with advanced functionality by employing the current tools and technology.
Sports betting Mobile Game Development
Our talented team of developers excels in making safe and responsive mobile game apps for sports betting.
Sign in with Top Mobile Game Development Service Provider
As one of the top service providers for mobile game development in the iGaming sector, BR Softech Singapore is a trustworthy and well-known name in the mobile game app development market. For gamers to have a boatload of fun and excitement, we provide cutting-edge, dependable mobile game production services. Our game development services are grooved with modern software features, effective operation, and a tonne of incentives and awards.
Since we offer the best fusion of creativity and expertise, we are one of the top companies that produce mobile games. We strive to stand out with our best solutions that can advance your company and give your dreams life and business the expected ROI

With more than a decade of experience and knowledge in every type of game production, we use the best technologies while keeping up with current industry trends to provide unique solutions.
We create breathtaking visuals and aesthetics for your game to be in light of the rapid advancement of technology so that you can keep your players hooked.

Our skilled and committed team works hard to provide cutting-edge technology-based smart gaming service solutions at competitive prices.
Latest Blog
Intensify your knowledge to navigate your digital transformation with us.
Our Game Services
Our highly competitive and skilled team of game developers offers advanced game development services which are compatible with operating Systems like, Android, iOS, Windows, and more.
Why Choose BR Softech as Mobile Game Development Service Provider?
We offer excellent online AI-based apps amalgamated with stunning cutting-edge AI software while emphasizing quality and security. Utilizing our top services and solutions, we hope to transform the entire era of the online gaming sector, providing customers with a realistic experience that will be a tremendous asset for endless revenue.
Sign in with the best mobile game development solution company in Singapore and let reality hit your dream.
Transparency & communication at the highest level
The agile game development process
Adherence to best security practices
100% bug-free code guaranteed
USA Office
21 Overlook Ridge Terrace
#523 Revere, Boston,
MA 02151 USA
+1-650-727-6690
India Office
90, 10 B Scheme, Usha Vihar,
Triveni Nagar, Gopalpura Bypass,
Jaipur- 302018, Rajasthan INDIA
+91-7821055537 , +91-9982201414
Australia Office
11 parklands place,
Morwell, Vic-3840
Australia
+61 425 630 321
Canada Office
1193 Main St #3301,
Vancouver, BC V6A 4B6,
Canada
+1-604-360-4433
Frequently Asked Questions?
A mobile game app's development cost is influenced by several variables, including the platform, features, and the developer's location. But you can find out the approximate cost.
Yes, we proffer a wide range of impeccable services while developing your sportsbook software development project. We use the perfect blend of expertise with the latest technological upgradation that helps you elevate your business. Work with the best game development company in Singapore.
Our entire team is made up of qualified, knowledgeable, and experienced individuals who have a wealth of experience in the field of mobile app development and offer our clients constant support.
By connecting with social media groups or freelancer networks like Upwork and using someone's referral, you can hire professional mobile game developers in Singapore, India, and the USA. But before you do that, look over their portfolio and past work samples to see if they're reliable.