With over 12 years of experience, BR Softech is renowned and trusted Mobile Game Development Company in the UK that specialises in integrating the latest technologies such as AR/VR, AI, NFTs, and more in their Mobile Game Development Solution. We are a one-stop solution to all your Mobile Game Development requirements and offer a variety of Mobile Game Development services that are compatible with multiple screens and devices.
Customer satisfaction is our utmost priority. We strive to build customer-centric, highly customisable solutions tailored to the client's requirements. We have exceptional in-house developers with hands-on experience working with different technologies and platforms. Our developers are adept at building feature-rich Mobile Game Development solutions packed with attractive designs, user-friendly interfaces, and robust architecture.

100 +

Games

1000 +

Happy Client

50 +

Countries

More than 10

Years of Experience
Mobile Game Development Solutions
We follow an innovative-driven Game Development strategy in order to provide comprehensive Game development solutions to clients all around the globe. Being the leading Mobile Game Development Company in the UK, we strive towards innovation and constant upgradation to facilitate Android Game Development.
Our developers will assist you in every step of the development process and keep you in the loop during the entire process to ensure transparency and deliver customised mobile game development solutions that carry the essence of your unique idea. Our aim is to develop highly scalable and reliable game applications that attract the audience and help businesses turn a profit.
We deliver high-quality and robust Mobile Game Development Services including:
Designing 3D and 2D Games
Single Player & Multiplayer Game
Attractive UI/UX Design
Outstanding Animation Integration
Eye-catching Art Creation
Unique Character Designs
Appealing Theme and Concept Art Design
Multiple Revisions after taking the app into Production
Next-gen Mobile Game Development Services & Solutions
Mobile Game Development covers a lot of verticals. Building a stellar Mobile Game Application requires a unique blend of design, sound, and coding. Our developers strive to transform your unique idea into reality by integrating the best art, design, sound, and technologies. Take advantage of our Mobile Game Development Solutions including:
HTML5 Mobile Game App Development
Leverage the power of HTML5 technology to build interactive game apps across multiple platforms.
Python Mobile Game Development
Our developers are adept at using Python and developing highly robust and engaging Mobile game applications using the Python programming language.
Facebook Game Development
Take advantage of Social gaming with our cutting-edge Facebook Game Development packed with eye-catchy designs and secure game architecture.
Windows Game Development
Enhance your Windows platform experience with the help of our cutting-edge and aesthetically appealing Windows Game Development Solutions.
Cross-platform Mobile Game Development
Our developers excel at utilising the latest technologies to build highly robust and secure Mobile game applications that run efficiently on different platforms such as Android, iOS, and Windows.
2D and 3D Mobile Game Development
We offer highly personalised and high-quality 2D and 3D games for multiple mobile platforms.
AR/VR Mobile Game Development
Take advantage of advanced technologies like AR and VR and experience hyper-immersive and engaging mobile game applications that attract millions of people.
iPad Game Development
Experience single-player and multiplayer gaming with the help of our cost-effective iPad Game Development Solutions that are highly reliable and scalable.
Unity Game Development
Our developers build extremely efficient and responsive game applications by leveraging technologies like Unity3D. We maintain the standards and offer exceptional Unity Game Development Services.
Unreal Game Development
Our developers have hands-on experience in working with multiple game engines including Unreal Game Development Services.
Mobile Video Game Development
Our highly-customisable Mobile Game Development Services offer high-quality 3D graphics, engaging storylines, and robust architecture.
AI-enabled Mobile Game Development
Our mobile game development solutions are powered by the latest technologies like Artificial Intelligence and Machine Learning that are highly reliable and scalable.
Arcade Game Development
We offer a wide variety of Arcade Game Development that are packed with attractive designs, themes and interactive features for an immersive user experience.
Snooker Game Development
Our Snooker Game Development is entirely customised and provides the same feel as an actual land-based game.
Education Game Development
Promote interactive learning with our wide range of Education Game Development Services that are highly immersive and engaging.
Key Features of Our Mobile Game Development Solutions
We deliver highly engaging and interactive Mobile game applications packed with the most sophisticated features. The following are the most commonly used features in our Mobile Game Development Solutions.
Safe & Secure Payment Gateways

Our game development solutions are integrated with safe and secure payment gateways that are integral in protecting the client's financial information. There are also multiple payment methods for user accessibility.

Easily Navigable UI

Our designers and developers design stunning and easy-to-navigate user interfaces which allow users to browse through the game with ease.

Different Game Modes

We also provide multiple game variations to make the Mobile game more engaging, and thrilling and offer an unprecedented gaming experience.

Referral Rewards

The mobile game application allows users to invite their friends and family to the mobile game app. Moreover, users also get additional rewards whenever a user joins the game through their invite link.

Social Media Integration

Users can sign in to the gaming platforms by linking their social media accounts with the game application.
AI Chatbot

The AI Chatbot is integral in addressing and resolving user queries rapidly and efficiently without the need for human intervention.

High-quality Graphics

Our game applications are packed with high-quality and attractive visuals that provide an immersive and engaging gameplay experience.

Regular Updates

We also roll out regular updates to fix potential bugs and glitches and integrate the latest features into the game application.

Monetisation Strategy

We also provide reliable and efficient game monetisation strategies that can help you generate multiple revenue streams and generate additional profit.

Live Chat

Gaming is a social activity. Our game development solutions allow players to interact with each other using voice, video, text, and emojis.
Our Mobile Game Development Technology Stack
Our developers are well-versed in different technologies and excel in implementing them in the game development process to offer an unprecedented gameplay experience. The most common technology stack for Android & iOS Game Development is as follows.
Unity Engine
Leading cross-platform game engine that supports a wide range of APIs, platforms and technologies.
SmartFox Server
Simple, versatile, high-performing language, making the server API more streamlined, intuitive and richer.
HTML 5
Easy-to-use language with quick implementation, used to develop games such as table games, and slot games.
Unreal Engine
State-of-the-art engine with instant photorealistic rendering, distinctive effects and animation features.
C#
A robust yet easy-to-use programming language, suitable to create indie games in Unity 3D.
C++
A suitable coding language to create AAA projects with multiplayer support on unreal engines.
Swift
Fast, and engaging programming language used to create iOS mobile game applications.
Python
It is a widely used, high level programming language that has a built-in library called pygame, suitable for mobile game app development.
Java
Java is an easy-to-use, interactive programming language, suitable for developing a wide range of 2D game applications.
Hire Mobile Game Developers
Our developers aim to develop customer-centric solutions that are compatible with platforms such as Android, iOS, iPad, and Windows. We follow an agile development approach that allows us to deliver spectacular Mobile game apps that are packed with interactive features within an estimated budget. Utilising the latest technologies tools, and game engines, our developers build cost-effective game applications that are highly reliable and scalable. If you are looking for experienced Mobile game developers, BR Softech is equipped with the tools to fulfil your requirements.
Hire Now
Our Comprehensive Game Design & Development Process
We deliver end-to-end game development solutions by following an agile development methodology which allows us to deliver scalable and credible Mobile game applications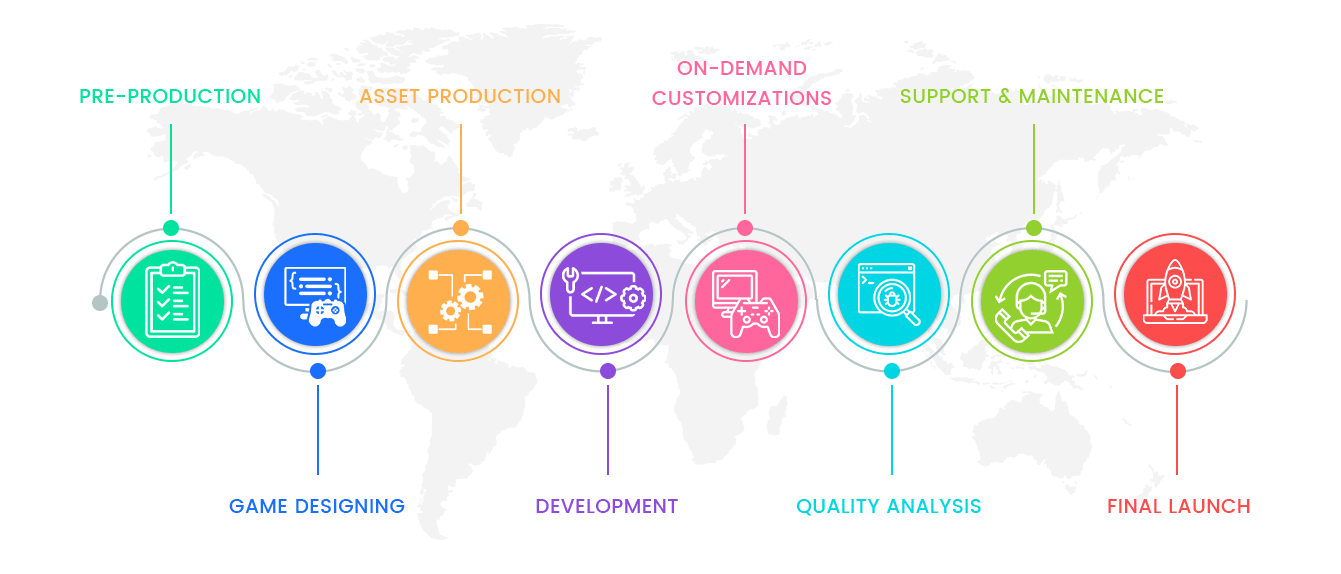 Mobile Game Development Genres We Cover
We have developed a variety of Mobile Game Development solutions covering a variety of game genres for our global clientele. We are adept at building applications packed with stunning graphics, immersive sound effects, addictive gameplay and never-seen-before gaming experience.
Why Choose BR Softech for Mobile Game Development Solutions?
As a leading Mobile Game Development Company in the UK, BR Softech is adept at building highly responsive mobile game apps that are compatible with different platforms. Being an industry leader in Mobile Game Development, we strive for 100% customer satisfaction by offering our clients the best possible game development solution packed with the latest technologies.
Integration of the Latest Technologies
Latest Blog
Intensify your knowledge to navigate your digital transformation with us.
Our Game Services
Our highly competitive and skilled team of game developers offers advanced game development services which are compatible with operating Systems like, Android, iOS, Windows, and more.
USA Office
21 Overlook Ridge Terrace
#523 Revere, Boston,
MA 02151 USA
+1-650-727-6690
India Office
90, 10 B Scheme, Usha Vihar,
Triveni Nagar, Gopalpura Bypass,
Jaipur- 302018, Rajasthan INDIA
+91-7821055537 , +91-9982201414
Australia Office
11 parklands place,
Morwell, Vic-3840
Australia
+61 425 630 321
Canada Office
1193 Main St #3301,
Vancouver, BC V6A 4B6,
Canada
+1-604-360-4433
Frequently Asked Questions(FAQs)
Q1. What is the Mobile Game Development Cost?
The cost of mobile game development depends on a variety of factors. On average, the cost of developing a single-platform game with basic features costs around $40,000 to $50,000.
Q2. How Long Does It Take To Develop A Mobile Game?
It takes around 3 to 6 months to complete a full-cycle game development process.
Q3. Do You Provide Customised Mobile Game Development Solutions?
Yes, we offer customised mobile game development solutions. Our customised games are bespoke and tailored according to the client's requirements.
Q4. Is It Profitable To Invest In The Mobile Gaming Industry?
Currently, mobile gaming is the fastest-growing segment in the gaming industry and the sector will be very lucrative in the future.