BR Softech is a renowned custom game development company that specializes in building games from scratch following the most advanced and contemporary development methodologies.
The process of custom game app development begins with the requirement analysis of the client. Our mobile game app developers engage themselves with the client to explore the endless possibilities of development and provide the best possible development solution.
We at BR Softech aim to give our clients' ideas life and create game applications in compliance with the competitive market requirements, meeting the demands of players, clients, and users in terms of modernity and advanced features. Hire custom game developers from BR Softech to build 2D and 3D multiplayer games for Android, iOS, and PC powered by addictive gameplay.
Game Development Solutions We Provide
Using our extensive knowledge of various front-end and back-end game development technologies, we can create game development solutions that can be launched in the market as quickly as possible. In everything we do, our game software developers go above and beyond to ensure exceptional quality to set your game apart from the competition.
Choose any of the following game development solutions we provide, and we will do the rest.
Game App Development
Create a tangible physical product from your game development idea, putting your dreams and concepts into action.
Game Website Development
The game websites we create can fit any screen size and offer a seamless experience across all devices.
Game Software Development
Game software development services from BR Softech include a large selection of genres suited for desktop and laptop.
Game Web App Development
A truly fun fling gaming experience can be derived from our game web app development services at optimal cost.
Video Game Development
BR Softech has certified video game developers who can create your game from scratch following the latest market trends and client specifications.
Platforms Used for Game App Development
With its reputation as the leading game app and software development company, BR Softech offers services to meet the needs of all platforms.
Android Game Development
We created Android game applications that can run on hundreds of smartphones without any problems. Our 2D/3D Android game application features world-class animations and addictive gameplay.
iOS Game Development
Creating iOS games that are feature-rich, engaging, and aesthetically pleasing is what we do best. A flawless gaming experience is guaranteed, regardless of whether you're using an iPhone, iPad, or Mac.
PC Game Development
We have highly skilled PC game developers ready to turn your game idea into a reality, with top-of-the-line quality and an engaging gaming experience.
Browser Specific Games
Dedicated HTML5 game developers at BR Softech know how to develop browser-specific games of the finest quality.
Unlock Nemours World Best Game Development Service with Us
TaKe a Tour
Our Value Added Features in Game Development Solutions
Let's take a tour of the value-added features we offer with our game development solutions.
Unreal Engine Game Development

We develop the backend of the game application with powerful programming languages such as C++, Java, Swift, Ruby, Python, UnrealScript, ActionScript, and so on to ensure the seamless working of the game on multiple platforms.

Compatibility for Web, Consoles, VR Devices

Our game app development solutions are compatible to be played on multiple platforms including the web, several gaming consoles, and most trending VR gaming devices.

Rewards and Bonuses

The gaming experience becomes more captivating when players are rewarded with bonuses in exchange for their playing time.

On-demand Modifications

Our clients can ask us at any time to make on-demand changes to their game development solutions with the aim of serving their clients best.

Support, Maintenance, and Optimization

At BR Softech, we never leave our clients to luck. We offer them round-the-clock support, post-maintenance, and game optimization services to assist them whenever necessary.
Rich in Graphics & Animation

Make your game software or app stand out from the rest by adding the perfect blend of graphics with animation. Here at BR Softech, we create game graphics and animations from scratch catering to your targeted audience.

Well-Defined Rules

The learning curve of the game also plays a vital role in the success of the game. We at BR Softech develop games with well-defined rules, which allows anyone to easily learn how to play.

Engaging Weapons & Tools

By using engaging weapons and gaming tools, we are able to provide an enthralling gaming experience for players.

Multiplayer Games

The game can be played with real-world players in real-time, thanks to the multiplayer game mode.

AR & VR for Enhanced Gameplay

We make use of the most trending technologies such as AR & VR to enhance the gameplay experience.
Game Development Services
With BR Softech, you will receive a range of game development services at an affordable price, aligned with your business requirements. It is not merely development that we provide. We go the extra mile for our clients by offering maintenance and support services after a project is completed.
With our experience as a premium game app development company, we ensure full client engagement and involvement right from the beginning of the project. You can be sure that our game development services will help you gain results and opportunities that will propel you forward.
Here is the list of services we offer to our clients.
Fantasy game development services
Esports game development services
Hire Custom Game Developers
BR Softech's custom game developers produce next-generation AR, VR & mixed reality game software or mobile apps compatible with Android, iOS, and desktop. Games that feature stunning graphics and immersive cinematic experiences are a trademark of our highly experienced video game software engineers. Every project we work on is driven by an absolute dedication to quality and illustrates our ability to acquire new domain knowledge.
Build Game From Scratch to Power Your Business With Our Custom Game Developers
Hire Now
Software Engineer Game Development
With our experience and skills in software engineer game development, we can help you step into video game software development with all the features you want to include in your game. Our dedicated video game software engineer guarantees you full-cycle, end-to-end game software development services & solutions. Being a game development company with a proven record of developing all types of games with the aim to accelerate your business growth.
Our Different Versions of In-game Development
BR Softech offers coverage for a diverse range of business verticals as follows.
Mobile Game
Here at BR Softech, we ensure the deployment of highly feature-rich games with a user-friendly gameplay environment that keeps gaming enthusiasts hooked for hours.
Desktop Game
With our Desktop Game, we create an unparalleled 3D Dimensional adventure that captivates game lovers.
Windows Game Software
The desktop game software we offer empowers players to unleash their imaginations and provides them with a captivating gaming experience.
Specification in Mobile Game Development
BR Softech offers you different game categories to meet the market demands of iPhone and Android game development.
Casino Games
Our live casino gaming provider team delivers innovative and high-quality gaming casino solutions. Our casino games are fun, real and combining all the skills development features.
Racing and Shooting Games
While keeping the latest trends in mind, we develop racing and shooting games that can easily blow everyone's mind with amazing graphics and appealing design.
Sports Betting Games
Sports betting games are the talk of the town, and as a prominent game development company, we cater to all your business needs. We provide a wide range of gaming facilities to our sports lover.
Action Games
We proffer a perfect blend of excitement and thrill with action games that help users get dealt with hand-eye coordination and fast reaction times.
Board Games
Our Board Game provides a multi-feature game; we create 2D and 3D board games while covering all the needs with the utmost flexibility.
Educational Games
To increase interest in learning, we develop educational games that help students learn and upgrade their skills.
Our Game Design & Development Process
All our high-quality mobile game apps and software are the result of the following proven and tested game design & development processes.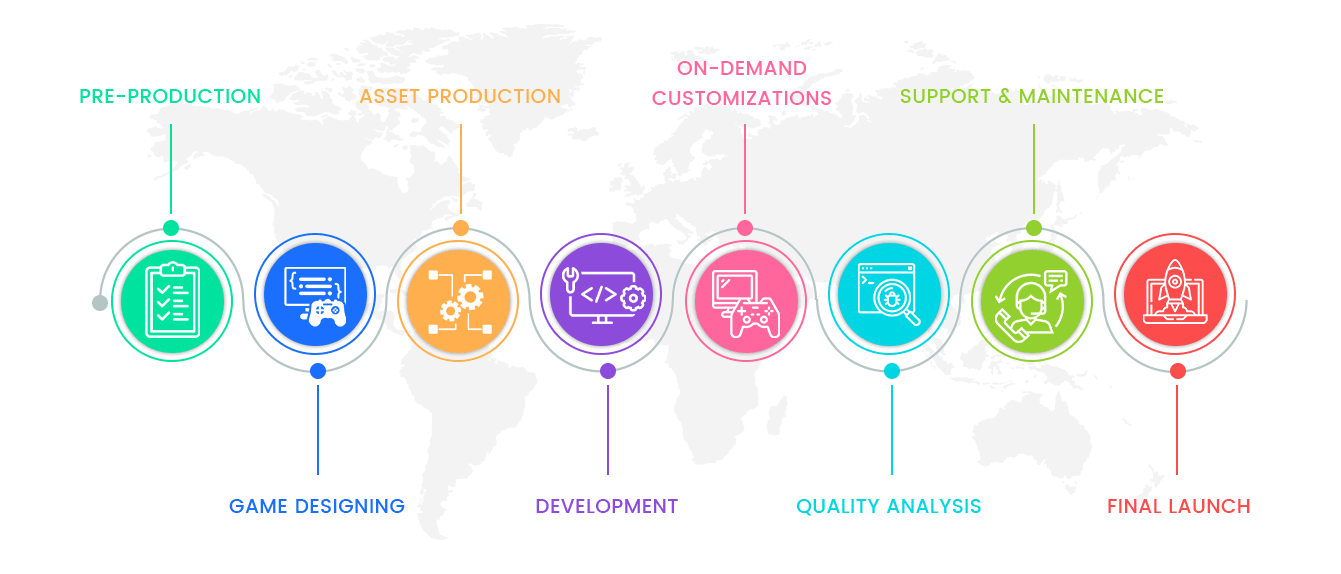 Our Game Development Platforms
Irrespective of what technology or development engine you prefer, we are entirely committed to bringing your vision to life.
Unreal Engine Game Development
Our team of professional Unreal Engine developers excels at providing valuable features for game applications on iOS, Android, and other platforms. The best tools and latest technologies are used to help you create Unreal Engine games.
Unity Game Development
We are a well-known Unity game development company that specializes in creating a mesmerizing and memorable gaming experience from scratch using the Unity game development engine.
Cryengine Game Development
In our game development agency, developers are trained on CryEngine well enough to craft intuitive gaming experiences rendering smooth UI transactions.
HTML5 Game App Development
We develop unusual game app development solutions by skillful and talented HTML5 developers with user-friendly features.
AI Game Development
We have a good knack for developing artificial intelligence gaming experiences that can easily give users a seamless gaming experience. We put AI characters in video games that make the game look more realistic.
Windows Game Development
We have a laudable team of programmers, developers for developing Windows platform compatible games. Our team is competent at turning your ideas into realities with awesome graphics for the gaming app.
Arcade Game Development
With our team of dedicated game designers & programmers, we can deliver highly functional games that can attract the maximum number of users.
2D/3D Game Development
You can hire our 2D/3D game developers for the development of highly entertaining and robust 2D & 3D game apps and software.
Snooker Game Development
A tailor-made snooker game developed by BR Softech is known to give the exact land-based feel of the snooker game.
Education Game Development
Make the learning experience an enjoyable ride with our education game development services.
Our Game Development Company Statistics
BR Softech is a leading game website development company that has run its business for the last decade. Let's know important core points about the BR Softech game development company.
100 + Games
It is an honor for us to have launched more than 100 games that are doing well in the market. Let's connect with us, increase our game development count and your revenue.
1000+ Happy Client
We are proud to have such a big family that caters to each other's needs. We have 1000+ happy clients that show some trust, and we bring digital gaming solutions into their lives.
50+ Countries
In the last 10 years, we have expanded our reach in almost 50+ countries worldwide. We have developed a game in almost all countries while matching all their business needs.
More than 10 Years of Experience
We have 10+ years of experience in developing contemporary games with great creation of graphics, sound, and impressive features.
Frequently Asked Question?
Q1. Do You Develop Game Apps For All Platforms?
Yes, at BR Softech, we are a team of Android, iOS, and PC game developers who hold years of experience in turning game development ideas from scratch to reality on millions of devices.
Q2. What Are The Best Software or Tools to Develop Games?
These are some of the most common software or tools we use to develop games.
Unreal Engine
Unity
GameMaker
Godot
Blender
Visual Studio
GNU Tool Chain
Q3. How Much Time Does it Take to Develop a Game?
There is no set timeframe for developing video games; they can range from a few days to a few months to a few years. Let's discuss your game development project with us and we will give you the estimated time your game development will require.
Q4. Where Do You Store All Data of Any Game Developed By BR Softech?
The answer to this question completely depends upon you. We prefer to store your game data on highly secured gaming servers. If you have any recommendations for the gaming server, then you may discuss them with us and we will store the data on the chosen server.
Q5. Will You Provide Both Game Web & Mobile App Development Services?
Yes, we offer a range of game development services including website development, mobile app development, and software development.
Q6. Do We Completely Own The Source Code of The Game?
At BR Softech, we ensure complete transparency with our clients. We will provide you with the complete source code upon completion of your game development project. The source code of the game can be further customized to meet your specific needs.
Latest Blog
Intensify your knowledge to navigate your digital transformation with us.
Our Game Services
Our highly competitive and skilled team of game developers offers advanced game development services which are compatible with operating Systems like, Android, iOS, Windows, and more.
Why Choose BR Softech as a Game Development Company
BR Softech is the one-stop shop for all types of game development services you need to make your fantasy a reality. Our team of video game software engineers, designers, and artists has over a decade of experience developing games. Moreover, our team is well versed in the latest technologies and current industry trends to provide clients with the best possible solutions.
Transparency & communication at the highest level
The agile game development process
Adherence to best security practices
100% bug-free code guaranteed


Ryan Bryon
It was my first time collaborating with BR Softech, but now I think there is a long way to go with their fabulous team. They pay very much attention to the statement of customers and deliver such a fab game, which is said to them. They ensure that the product matches all the requirements. Thanks for the wonderful services.


Jofer Kriss
BR Softech is a company that gives full attention to their valuable customers, and I had an amazing experience with them too. I came into contact regarding game development and they provided me with a great feature game. They know how to work and deal with customers.


Oscar Puker
BR Softech has hired a professional and dedicated team for accomplishing the requirements and desires of the customers. They delivered us a magnificent game that covers all the features that I asked for. I would love to work with them again and have such amazing services from them.
USA Office
21 Overlook Ridge Terrace
#523 Revere, Boston,
MA 02151 USA
+1-650-727-6690
India Office
90, 10 B Scheme, Usha Vihar,
Triveni Nagar, Gopalpura Bypass,
Jaipur- 302018, Rajasthan INDIA
+91-7821055537 , +91-9982201414
Australia Office
11 parklands place,
Morwell, Vic-3840
Australia
+61 425 630 321
Canada Office
1193 Main St #3301,
Vancouver, BC V6A 4B6,
Canada
+1-604-360-4433
Delhi Office
First Floor, Plot No. 73,
Sector-20, Dwarka, Delhi,
South West Delhi, Delhi, 110077

HONG KONG OFFICE
Unit 701, 7/F, Silvercord Tower 2,
30 Canton Road
Tsim Sha Tsui, Hong Kong
PHILIPPINES OFFICE
14 Floor, Apple One -
Equicom Tower, Cebu Business Park, Mindanao Avenue cor. Biliran
St.Cebu City6000 Cebu, Philippines
Pune Office
Shop No. 7 A Square,
Nigdi, Pradhikaran
Pune, Maharashtra 411033