The adoption of cryptocurrency wallets is aggressively expanding on a global scale. These wallets provide the ability to both store and move cryptocurrency assets. They were created using blockchain technology and are thus regarded as the safest platform for digital currency.
BR Softech is among the largest cryptocurrency wallet development companies, providing comprehensive cryptocurrency wallet design services and solutions.
In addition to producing secure, quick, and feature-rich wallets, BR Softech Singapore also delivers and launches the client's cryptocurrency wallet application and software.
BR Softech is one of the finest cryptocurrency providers in Singapore and various parts of the world.
Following are some advanced features BR Softech offers:
Keyless Wallets Go key-free.
Facial Recognition To unlock the crypto wallet using a face.
Multi-Coin Support To store multiple crypto tokens.
QR Scanner To scan the crypto wallet via a QR code.
Cross-Platform Compatibility To be used on various platforms.
Automatic Conversion Rates Help you manage & trade your cryptocurrencies
Our Crypto Wallet Development Solutions
Just like every other wallet, cryptocurrency wallets are used to store virtual currencies such as cryptocurrencies, NFTs, etc. They can be found in paper wallets, hardware wallets, and software wallets, among other variations.
With the growth of cryptocurrency, cryptocurrency wallets are becoming popular. These wallets store the crypto & keep them safe & secure.
Cryptocurrency wallets have become a necessity today for crypto holders, traders, and users.
As the world dynamic changes and how the digital world is ruling everything and revolutionizing the conventional method of everything. Cryptocurrency is an aspect of the new digital world and lucky has loads of monetary value other than all the assets these days.
The world is rapidly adapting to the dynamic of cryptocurrency its time you built your wallet for it from the finest cryptocurrency wallet development provider in Singapore
Crypto Wallet Development Services
We are a well-known company that offers bitcoin wallet services. Our customer-focused services are adaptable to the needs of the user. Check out the list of wallets below for a few examples.
NFT Wallet Development

NFT wallets are used to store and exchange NFTs, and BR Softech's highly secure NFT wallet creation allows its clients to trade with confidence.

DeFi Wallet Development

DeFi, or decentralized finance, wallets are advantageous to both businesses and business people since they efficiently handle high-end transactions.

Tron Wallet Development

To carry out massive cryptographic transactions, use the Tron wallet. Several industry professionals advise using Tron wallets.

Web Wallet Development

Web wallets are more geared toward private users than DeFi or Tron wallets. When it comes to smaller-scale crypto transactions, they are renowned for their security factors.

Mobile Wallet Development

An individual platform that differs from DeFi and Tron Wallets as it has better security factors referring to small-scale crypto transactions.
Bitcoin Wallet Development

These wallets are used to store and trade Bitcoins safely & simply. BR Softech's Bitcoin wallet developments have been highly successful.

Ethereum Wallet Development

Ethereum wallet is for Ethereum cryptocurrency - the second most valuable crypto after Bitcoin. These crypto tokens need high-level security.

Multi-Currency Wallet Development

Advanced-level wallets and multi-currency wallets allow you to store or trade a variety of cryptocurrencies.

Centralized Wallet Development

Centralized wallets are very useful when:

You want full control of your digital assets.

When you conduct large-scale crypto transactions.

Coin-Specific Wallet Development

Customized wallets intended to concentrate on a certain cryptocurrency token are called coin-specific wallets.
Hire Cryptocurrency Wallet Developers
BR Softech is a well-known name in the crypto wallet development sector and with its astounding experience, it can deliver you solutions that are dynamic and supreme. The committed team at BR has been assisting cryptocurrency for more than 7 years. Our workforce thoroughly understands the program and does in-depth research and then does its appropriate execution.
The workforce at BR Softech Singapore amalgamates the team of experts who uses advanced tools that further boost the crypto wallet development to be a highly secure & fast system.
Types of Cryptocurrency Wallets
Cryptocurrency wallets come in two varieties: hot wallets and cold wallets.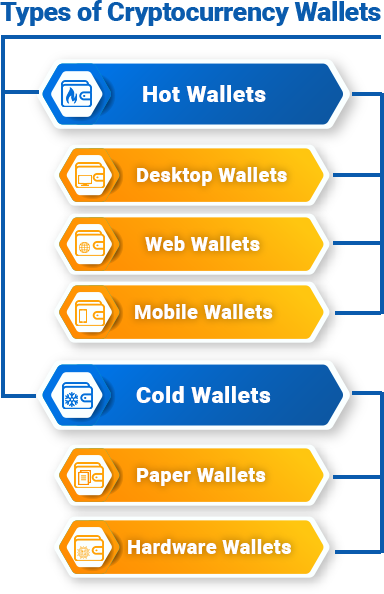 Hot Wallets

These are digital currency wallets that allow for immediate transactions.

Hot Wallets are of three types;

Desktop Wallets

Require an application/software to be installed on your PC/laptop.

Web Wallets

Require a web browser to access your crypto assets.

Mobile Wallets

Require a mobile app to be downloaded to carry crypto transactions.

Cold Wallets

These are offline cryptocurrency wallets for higher crypto security.

Cold Wallets are of two types:

Paper Wallets

Physical documents have the information and the keys.

Hardware Wallets

They provide you with a USB-like hardware device. It has the keys considered - the safest form of wallet - among all other crypto wallets.
Whenever there is crypto ownership, there are two keys generated:

Public Key

Private Key

The public key is publicly available. Everyone can see it. Whereas the private key is private, and only you can see it. Both keys are required to complete cryptocurrency transactions.

Wallets do nothing but store these keys safe & sound.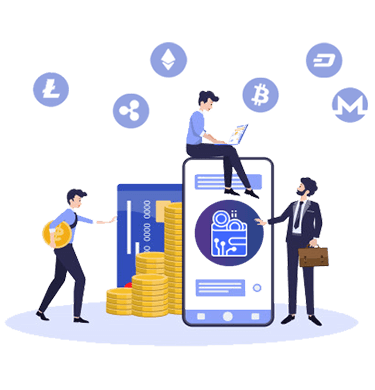 White Label Cryptocurrency Wallet Development
The White Label cryptocurrency wallet allows owners to preserve complete control over their digital assets. No one or anything has the right to intervene directly in their business. A white-label cryptocurrency wallet is a safe and secure option for your digital assets.
White Label cryptocurrency wallets stand apart for the reasons listed below:
White Label wallets can be customized.
Instant transfers can be merged with White Label wallets.
Additional security may be established.
Wallet integration can easily be done.
BR Softech is known as one of the best White Label crypto wallet developers in Singapore and around the world, its team and their experience make it possible to stand as one of the best white-label crypto wallet providers.
Features of White Label Cryptocurrency Wallet App
We envision to provide one of the kind features to let our users behold a seamless experience and fulfill their tailored requirements
In-chat Transactions

Enables easy & instant crypto transactions of crypto assets.

API Connection to Crypto Exchanges

Enables multi-tasking & trading within the system.

Buy Crypto with Credit Card

Cryptos can be bought using credit cards.

Sell Crypto

Crypto selling can be done right away.

Enhanced Privacy

More secure due to private key optimization.

NFC (Near Field Communication) Support

Enables the owner to conduct fast transactions with other owners.

Multi-Layer Security

White Label crypto wallet offers added security.
Auto Denial of Duplicate Payments

Save chargebacks by automatically denying duplicate payments.

User-friendly Interface

Makes the digital wallet easy to use.

Easy Portfolio Management

Multiple tabs provide easy management.

Home Screen Customization

Set the home screen as per your preferences.

KYC Verification

Enhanced legalization & authentication.

OTC Trading

Over-the-Counter enables direct trading between two users.

Security

End-to-end encryption & distributed ledger take care of privacy & optimal security.
Technology Stacks in Decentralized Crypto Wallet Development
The best Crypto wallet development company in Singapore, BR Softech uses the following languages, frameworks, & blockchain protocols:
Transparent Crypto Wallet Development Process
As the leading crypto wallet developer, we make sure the cryptocurrency wallet development process remains transparent and uncluttered at all stages of development and that the client is aware of each process and is or ding the necessary feedback. The intelligible flow goes through the following:
Business & Technical Analysis

Before beginning the implementation, a comprehensive case study is conducted to know what is needed and what in the market

Architecture Design

The blueprint is made to have a rough idea of what the project will look like.

Wallet Interface Design

The wallet appearance will be worked out here.

Wallet Smart Contracts Development

Smart contracts are predetermined computational programs that get active when predefined conditions occur.
Back-end Services Development

The creation of strong back-end features to give that seamless experience to its users.

Front-end Development

The development of the front-end services and to see how it looks like and what all features and element it should incorporate.

Deployment

Once all the elements are amalgamated the deployment is done with the final trial and market runs
Why Choose BR Softech Crypto Wallet Development?
Our step-by-step, smooth, fast, and transparent working methods have helped us become the top crypto wallet development company in Singapore and around the world. We do not just create but develop a project that fits your tailored requirements. We always place our clients first and serve them with the following amenities.
Fast & Low-Cost Wallet Development
Crypto Exchange Platforms
Still, if you have any doubt regarding our services, we request you to please get in touch with us and we will make sure that we can meet up to your expectations.
Frequently Asked Questions(FAQs)
Here are some factors you should consider while selecting a cryptocurrency development company
Determining your goals and criteria
Their experience and knowledge
Take various quotes
Yes! We do provide maintenance and support after the installation of the game, our team is always available to assist you with anything.
Yes! These are safe and they keep your digital asset perfect secured you can access it is anytime with a seamless experience
Our Game Services
Our highly competitive and skilled team of game developers offers advanced game development services which are compatible with operating Systems like, Android, iOS, Windows, and more.