Snake and ladders game development is not an overnight task, and thus requires a collaborative effort of designers, developers and testing and marketing professionals. Do you want to launch the snake & ladder game? If yes, our snake & ladder game developers are waiting to help you with top-notch and end-to-end game development services that are highly reliable and scalable.
We aim to focus on customer-centricity and satisfaction to develop end-to-end gaming solutions for different platforms, including Android, iOS and Windows platforms. As a top-notch snake & ladder game development company, we aim to deliver excellence and innovation through well-thought and customised gaming solutions that can make you a market leader in the industry.
Leading Snake & Ladder Game Development Company in the UK
One must always take help from an experienced and qualified game development company that will help you deliver innovative and fully-functional solutions at your convenience. BR Softech can help you fulfil the same at much more affordable rates. Our skilled and certified developers have the knowledge to make the best use of professional programming languages to develop customised gaming solutions.
Our company has a renowned and eminent name as a snake & ladder game development company across the globe. Our developed mobile game apps are built with enriched features and functionalities to deliver an excellent user experience. We ensure to exceed the benchmark set by our clients by optimising ultra-modern technologies for unmatched user engagement. The games built by us are easy to install, and use and can operate on multiple devices and platforms.
Unmatched Snake & ladder Game Development Services
As a leading snake & ladder game development company in the UK, BR Softech has helped 'N' number of clients with exceptional and unmatched game development services. Our developers ensure the quality-driven and on-time delivery of the project across various domains and industries. For us, client satisfaction is our utmost priority and we ensure to reflect the same via our enhanced and advanced game development services.
Being a leading game development company, we strive to hire a team of certified and skilled game developers who are not afraid of taking risks and implement out-of-the-box, creative and innovative development ideas to convert clients' dreams into reality. In order to satisfy clients with innovative user experiences, we tend to focus on creating attractive and enticing designs that attract and retain a loyal community of users. Moreover, our developers strive to maintain transparency and credibility while keeping clients in the loop at every stage of the game development process.
End-to-end Snake & Ladder Game Development Solutions
BR Softech resembles innovation and creativity. Our developers are trained to implement the latest tech stack and market trends to develop future-ready solutions that are hard to find. We aim to use a simple and easy-to-use gameplay environment, features, interface and elements to provide users with a stress-and-hassle-free experience. Clients always appreciate mobile game apps created by us.
We ensure to keep competition in mind to develop and deploy advanced and interactive features to develop end-to-end snake & ladder game development solutions. Being an internationally recognised game development company, we tend to develop highly reliable game development solutions, including
White-label software solutions
Turnkey software solutions
Customised software solutions
AI-backed game development solutions
AR/VR game development solutions
Exclusive Features of Snake & Ladder Game Development
We have a team of skilled and proficient snake & ladder game developers who are skilled in developing gaming platforms with top-notch features. These features are:
Welcome Bonus

This feature offers users immediate welcome bonus points to make them extra happy.

Play Online

Snake & ladder game allows players to play games online with friends and family members to win real money.

Quick Deposit and Withdrawal

This feature allows users to make quick deposits and withdrawals with the help of streamlined and safe payment integration.

Multiplayer game

The game platform allows users to play with their friends and family members using a multi-player game feature
Live support

It allows users to connect to the admin or available operator who can help you provide 24/7 assistance and support to users.

Social Media Integration

Through this feature, you can sign in via different social media handles. It will add your social media friends automatically to your playlist.

Play As a Guest User

The snake & ladder game we develop also allows players to play as guests in situations when they haven't created any account.

Withdraw history

Through this feature, users can check how many games they played and how much money they won and lost via playing games.
Become an Industry Leader with Snake & Ladder Game Development Services
Contact Today
Top-notch Games We Developed
Our Well-Versed Snake & Ladder Game Development Team
As a leading snake & ladder game development company in the UK, we are here to guide you through every stage of the development process with expert guidance and consultation. Look at the team members who will work on your project with extreme dedication.
Quality Assurance Engineer
Marketing and sales manager
Maintenance and quality check managers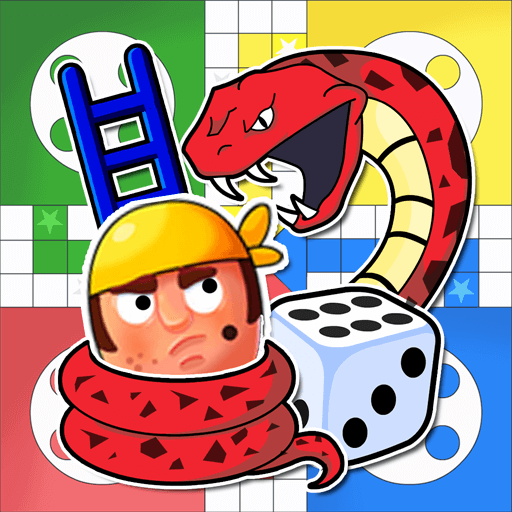 Why Do We Require Snake & Ladder Game Apps?
Snake and Ladder Game is an online platform game that can be easily defined as a game of survival that offers diverse options to play and enhance skills.
The modern world brings a significant change in a gaming world while offering an ample range of customised features. During our ideal time we love to play a game with our loved ones that relax our mind and soul. We have a good knack in developing Snake & Ladder gaming apps that are filled with interactive graphical interface and other ways that make this game much more exciting.Get a multiplayer gaming option and combine your gaming experience with this survival game.
Our childhood's most played board game has now transformed into an online mobile game app, snake & ladder. This multiplayer game can be played with 2-4 players and is considered a classic game worldwide. In the snake & ladder game solution, the board will consist of a grid from 1 to 100 numbered squares that have lots of snakes & ladders. This game's main goal is to reach the 100th box from the first one by escaping from snakes in the way. Players can take help from the ladders.
Our highly reliable snake & ladder game development services are the result of the following steps
Monitoring the Role
Observing the server and the smoothness of the application running on the platform.
Arrangement and Designing
To set up the designing of programming to configure and manage the server of the app.
Examining Potential Threats
Analysing all kinds of security logging with best practices tools to eliminate unwanted potential threats.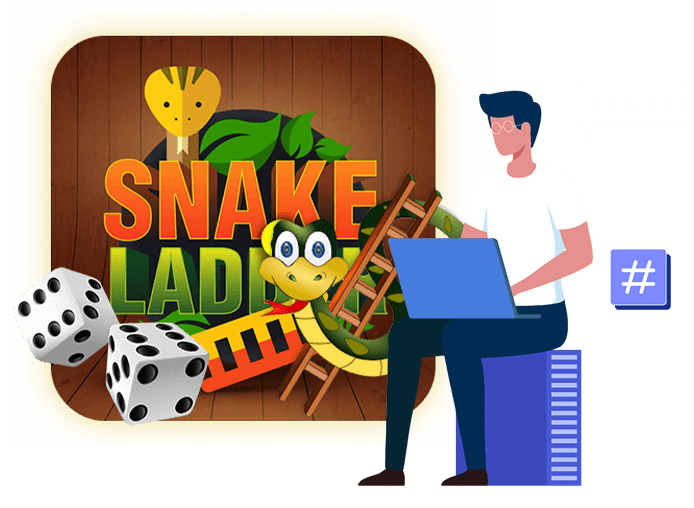 Hire Snake & Ladder Game Developers
When it comes to quality, BR Softech offers top-notch snake & ladder game development services that are highly credible, scalable and reliable. Our skilled and certified snake & ladder game providers are excellent at translating the most complex development ideas into the simplest reality using advanced features and the latest tech aspects. The mobile game apps created by us are much more compatible with operating systems like Windows, Android, iOS, etc.
Hire Snake & Ladder Game Developers to Level Up Your Business
Hire Now
Tech Stack, We Are Well-Versed In
Our developers use the latest and modern stack to create next-generation gaming solutions. These are:
Swift or Objective-C for iOS
Kotlin or Java for Android
CSS/HTML/JavaScript for Cordova and PhoneGap
JavaScript for React Native
Get In Touch Snake & Ladder Game Development Service
With Us
Cost of Snake & Ladder Game Development
As a leading snake & ladder game developer in the UK, we give tough competition to most of the leading game development companies in the UK and across the globe. If you are concerned about the cost, fret not, we offer feature-rich and customised gaming solutions at affordable prices. We have a flexible and convenient pricing policy that can match your set budget, helping you launch your gaming platform in a matter of a few days. Here are a few factors that can affect your overall game development cost:
Cross-platform compatibility
Technology stack
Location of the developers
Testing
Marketing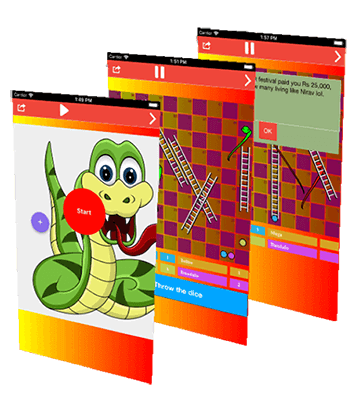 Why Choose BR Softech as a Snake & Ladder App Development Company in the UK?
Being a prominent snake & ladder game development company in the UK, we ensure to leave no room for error when it comes to designing, developing and deploying top-notch gaming solutions. We strive to create end-to-end gaming platforms that not only offer safe features but also interactive and immersive gameplay experiences. Our experienced team members at BR Softech work round the clock with utmost dedication and motivation to keep up with the expectation of the clients by offering them top-performance and tailor-made solutions. Choose us to get:
2D/3D experienced game developers
Best gaming experience via interactive UI/UX
CMS support for mobile apps
Creative and out-of-the-box concept design
On-time delivery of the project
Leverage our Customised snake & ladder game solutions to make an impact
Contact us
Latest Blog
Intensify your knowledge to navigate your digital transformation with us.
Our Game Services
Our highly competitive and skilled team of game developers offers advanced game development services which are compatible with operating Systems like, Android, iOS, Windows, and more.
USA Office
21 Overlook Ridge Terrace
#523 Revere, Boston,
MA 02151 USA
+1-650-727-6690
India Office
90, 10 B Scheme, Usha Vihar,
Triveni Nagar, Gopalpura Bypass,
Jaipur- 302018, Rajasthan INDIA
+91-7821055537 , +91-9982201414
Australia Office
11 parklands place,
Morwell, Vic-3840
Australia
+61 425 630 321
Canada Office
1193 Main St #3301,
Vancouver, BC V6A 4B6,
Canada
+1-604-360-4433
Frequently Asked Questions
Snake and ladder game development costs around $15,000 to $20,000. This cost is for the game platform with basic features and functionalities. Therefore, the cost may shoot up to $30,000 and even more depending on the type and functionality of your project.
It takes around 15 to 30 weeks to develop a feature-rich and end-to-end snake and ladder game app.
The most common and advanced technologies used by our game developers for board game development are Vue. JS, Angular, Reactive Native, Flutter, and so on.
We use top-notch and competitive features to make snake and ladder game applications highly competitive and updated in the upcoming gaming industry.
The most common and crucial benefits of snake and ladder game applications are high ROI, wide reach, multiple monetization strategies, and cross-platform compatibility.