Unity 3D is expanding its reach at a rapid pace due to techno advancement. It is one of the widely used and preferred used tools that develops 3D enchanting games to enhance customer experiences. These games are developed by Unity 3D that are easily accessed on major devices, which are a web browser, PCs, and other mobile devices.
BR Softech is a leading Unity game development company that has robust cross platforms for game development. We are a worldwide recognized platform for game development that provides the best gaming solutions in a more profound way. Our skilled game developer excels in developing a game that can give the user an amazing experience of Unity 3D game.We are skilled in developing unity 3D games which have become the first choice in developing impressive and exciting gaming solutions.
Unity 3D Game Development Provider
We are a well-recognized unity game development company that develops impressive games, an interactive visualization that delivers the best in rich gaming applications. We aim to provide a best-in-class gaming application that assures you to have a competitive edge over your competitors. We provide 3D modeling solutions for error-free and impeccable harmony that are matchless and unbeatable in terms of functionality, design, and performance.
We tend to offer innovative and contemporary solutions with no operational risks. BR Softech is a recognized 3D unity game developer in the gaming industry that caters to all your diverse needs.
Unity Game Development Services
At BR Softech, we have a team of Unity game developers who hold years of experience in delivering a range of Unity game development services as follows.
Unity game development for Android
Unity game development for iOS
Unity game development for PC
Unity game development for web
Unity augmented reality (AR) game development
Unity virtual reality (VR) game development
Unity 2D & 3D game development
Cross-platform Unity game development
Unity AR game development
Custom Unity game development
Unity game application maintenance and support
What Makes BR Softech Best In Unity Game Development?
1. Quality is our uppermost priority
2. Provides an end-to-end business solution
3. Assures mutual benefit
4. Offer Affordable Services
5. Believe in maintaining a long term relationship with the clients
Unity Game Development Services
Unity is providing cross platforms which help the game developer to build a game using the latest unity game development tools. We have an adroit game developer that provides the best in class unity game development services. We are providing great games from casual games to complex games that support both 2D and 3D maintenance support.
UNITY 2D/3D GAME DEVELOPMENT

We specialize in the unity of 3D platforms due to enriching knowledge and hard work. We develop a 3D/2D unity game with fewer complexities and coding that will cater to the best results with magnificent visualization. Our Unity 3D game developer is coming with an addictive gaming application that can easily enhance the gamer's experience.

Widely Recognised across the globe

Dedicated game development studio

Stunning Graphics

Rich Background
Unity Mobile Game Development

We are a well-known Unity Mobile Game Development that uses unity across platforms for mobile development for high-quality gaming experiences. We are aiming to fulfill all the required needs of virtual games with a virtual environment and providing a real-life experience that gives the user a fun and enchanting experience.

Impeccable team of mobile game developers

Developing engaging games for Android and iOS Platforms

Adaptive Performance
Unity Multiplayer Game Development

Now experience the Unity Multiplayer Game Development that provides you real-time gaming experience. We can help to build rich and engaging multiplayer games that can easily make the sports lovers' day memorable and worthwhile.

We assist you in building a game that improves customer relations and also helps companies to attract customers.

Render 2D scenes

Develop 2D Games in Different Genres

Support and Maintenance

Single/Multiplayer Game
UNITY VR/AR/MR APP DEVELOPMENT

There are many VR SDKs available that help VR developers to create unity VR games for iOS and Android. Our Unity VR Game development creates 2D and 3D visualization games that help users to experience the virtual world in the real world. Our unity AR game development is providing the best visuals and gaming experience in real-time. Unity MR app development is the fusion of virtual Reality game and mixed reality games that provide an immersive experience and high-quality graphics that keep them on the edge of the seats.

Create a virtual environment

Seamless Virtual Experience

Rich Graphic Integration
Unity Cross-Platform Development

Unity Cross-Platform is an emerging tool that is widely used by many Unity Cross-Platform Development for higher productivity and minimum efforts.Unity cross-platform framework is used to streamline with the best 3D graphics and impressive gameplay.

Support Social Media Integration

Fantastic Graphics

Thriving Gaming Community
Game Application Maintenance and Support

We are bringing convenience to the people who are looking for the ultimate gaming software. We will also assist you in improving the sports business & process efficiencies by providing the 100% unity technologies games application maintenance and support.

Create a virtual environment

Seamless Virtual Experience

Rich Graphic Integration
Embrace Innovation to Drive Transformation
Contact us
We Are Gaining Success in Unity Game Development
BR Softech is a foremost Unity 3D game app development company. We are a team of expert game developers that has the capacity to work on a complicated project and provide the best possible returns. We are also providing valuable game features for android and iOS platforms. We strive to implement the best game functionality that fulfills the demands of the gamers.
Customised Unity Games Development for Multiple Platforms
Our passionate unity game developers are providing the latest advanced gaming solutions that run smoothly majorly on all platforms.
Unity Game for Android
Our certified unity game developers are proficient in Android SDK, JDK. We developed stunning unity games for android using best in class features and a highly immersive gaming experience. Our motive is to build long-lasting relationships that ensure growth for your business.
Unity Game for iOS
Being a Highly Proficient unity game app development for iOS platform, we deliver high standard gaming solutions that are sure to fascinate the user. Our skillful game developer is using the best programming languages like native C, C++, and iOS functionalities for developing unity games for iOS.
Unity Game for PC
Our expert unity game app developer is providing the supreme quality gaming experience for using the best quality features at affordable prices. Our unity game for PC supports both 2D and 3D genre games with high-performance gameplay.
Key Features Of Unity Game Development
We are a top-tier unity game development company that addresses the needs of the market. We deliver the optimum combination of stunning graphics and the latest techniques that allow our customers to experience the gaming experience. To make your project successful, we use creative methods and custom software development know-how.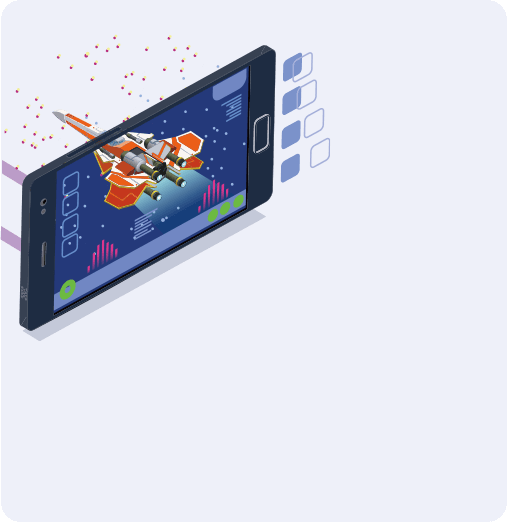 Better Graphics

Quality and Performance is our USP. We offer stunning animations and high-quality effects.

Rendering Experts

Our experts are a master at delivering excellent solutions and giving clients a wider possible audience.

Exceptional Gaming Experience

Our team of unity game developers is highly skilled and professional. They help you to develop the customized game covering all aspects.

Multi-platform Support

We are compatible with providing multiple platform support for iOS, Android, and Web.

VR/AR Support

BR Softech is one of the leading VR/AR app developments. We are using advanced 3D and Animation while developing unity games.

Asset Store and Plugins

We have huge unity assets stores and plugins that cover everything related to projects, models, and even animations.
Why to Choose BR Softech As a Unity Game Development Services Provider?
Our highly competitive and knowledgeable team of game developers provides innovative unity game development services that are compatible with all platforms and make the experience more memorable.
Unity Integration

Providing the best in class unity integration in-built support.

Unity Programming

Having an excellent programming experience in unity in developing games.

Unity Mobile Development

Bringing the best-in-class unity game as we are skilled unity mobile development.

Unity Implementation

Implementing highly engaging and addictive gameplay.
Unity Gaming Architecture

Developing seamless and smooth functioning for gamers at multiple levels.

Brilliant Visuals

We are capable of providing enchanting audio and video visuals.

Cross-Platform Development

We have a good knack in developing cross-platform unity game development.

Regular Updates

Get Regular updates and great support from our unity development team.
Hire Unity Game Developer
With a dedicated team of BR Softech offers highly functional and rich-featured services to our clients. Our bunch of professional coders work vigorously to uplift your business and to meet the expectations of the customers. From Vivid Gaming Designs to a never-ending list of awe-inspiring features, our experts cover all the factors from start to end. Hire a unity game developer as we ensure top-notch functionality for our clients, keeping the latest trends in mind. Moreover, originality and creative thinking make us special.

Customized Solutions
Our aim is to create reliable, customized solutions through a careful understanding of market needs. We always believe in adopting the best standards that will satisfy the requirements of the client.

Seamless Communication
We encourage seamless communication with utmost commitment in order to provide customers with high-quality services and deliver the best quality useful services in the future.

Confidentiality
Our team of experts lowers the risk of exploitation of sensitive data by maintaining the confidentiality and keeping our client's profile private.

24x7 Dedicated Support
Our 24*7 inspection and support services provide proactive alerting to keep the system reliable with the lowest downtime. We always make sure to give peace of mind to our clients with our professional approach.

Top-notch Security
Offering our customers a highly secure app that protects the customer's personal information and other false or fraudulent activities. We value our customer privacy and always try to follow with utmost devotion.
FAQ
Would your Unity developers advise us with any ideas?
While seeing the craze of unity games, our unity game app developers are improving the proficiency and quality-driven approach that can help you to keep alive in the market.
Do you also upload the Unity application to the app store?
Unity applications are one of the most widely used applications for gamers. We bring a rich unity application with an extensive range of features to the application store.
Can your Unity experts handle complex project requirements?
Being a unity gaming company with an experienced and professional approach, we ensure result-oriented innovative unity game development.
Our Game Services
Our highly competitive and skilled team of game developers offers advanced game development services which are compatible with operating Systems like, Android, iOS, Windows, and more.
Latest Blog
Intensify your knowledge to navigate your digital transformation with us.
USA Office
21 Overlook Ridge Terrace
#523 Revere, Boston,
MA 02151 USA
+1-650-727-6690
India Office
90, 10 B Scheme, Usha Vihar,
Triveni Nagar, Gopalpura Bypass,
Jaipur- 302018, Rajasthan INDIA
+91-7821055537 , +91-9982201414
Australia Office
11 parklands place,
Morwell, Vic-3840
Australia
+61 425 630 321
Canada Office
1193 Main St #3301,
Vancouver, BC V6A 4B6,
Canada
+1-604-360-4433
Delhi Office
First Floor, Plot No. 73,
Sector-20, Dwarka, Delhi,
South West Delhi, Delhi, 110077

HONG KONG OFFICE
Unit 701, 7/F, Silvercord Tower 2,
30 Canton Road
Tsim Sha Tsui, Hong Kong
PHILIPPINES OFFICE
14 Floor, Apple One -
Equicom Tower, Cebu Business Park, Mindanao Avenue cor. Biliran
St.Cebu City6000 Cebu, Philippines
Pune Office
Shop No. 7 A Square,
Nigdi, Pradhikaran
Pune, Maharashtra 411033