As an award-winning and certified Unity game development company, we hold expertise in turning your game concept into an interesting and highly engaging 3D gameplay environment. Hire our Unity game developers who are specialized in catering to all your needs and unleash the fast and stunning gaming experience. Our ability to produce interactive 3D visualizations from real-world data using Unity's amazing graphics capabilities allows us to effectively address the needs of our clients.
As a renowned Unity game studio, we aim to develop a feature-packed, interactive and 3D Unity-based game application that caters to the immersive gameplay experience of the users. Our expert team of Unity 3D engine developers work day in and day out to bring forth casual, hyper-casual, action, RPG games etc. With the Integration of the latest technologies like AR and VR, we promise to provide unity 3D games that offer engaging gameplay experiences.
Unity Game Development Solutions
As the best Unity game development company, we aim to provide enhanced and user-friendly 3D gaming applications that offer convenient and immersive gameplay experiences to users. Our expert team of Unity 3D game developers hold years of experience in delivering a wide range of Unity game development solutions, including:
Android/iOS/Web Unity game development
AR-based game development
Unity 2D & 3D game development
Cross-platform Unity game development
Custom Unity gaming solutions
VR-based unity games
Unity Game Development Services
As the best Unity 3D game development company in the USA, we promise to provide our clients with 100% client satisfaction. Here is the list of Unity game development services provided by our tech-enabled game developers:
Unity 2D/3D Game Development

We develop interactive 3D/2D unity games with fewer complexities and coding that will cater to the best results with magnificent visualization.
Unity Mobile Game Development

As a top Unity game development company, we aim to create innovative Unity mobile games that provide a real-life experience that gives the user a fun and enchanting experience.
AR/VR Unity Game Development

We can help to build rich and engaging multiplayer games that can easily make your gameplay experience engaging and interactive.
Unity 3D Game Design

Here at BR Softech, we offer a full suite of Unity 3D game design services including UI/UX, object drawing, and user experience design.
Cross-Platform Game Development

Our expert team of Unity game developers aim to provide cross-platform compatible games that match your business goals and functions.
Full Cycle Unity Game Development

With the integration of cutting-edge technologies, features, graphics, and amazing sound, we ensure to provide clients with amazing full cycle Unity 3D games with unique storylines.
Unity Game Software for Multiple Platforms
Our passionate Unity game developers are providing the latest advanced gaming solutions that run smoothly majorly on all platforms.
Unity Games for Android
Our certified Unity 3D game developers are proficient in using best-in-class features to build long-lasting android unity game apps that ensure growth for your business.
Unity Games for iOS
As the best Unity 3D game development company in the USA, we make the best use of programming languages like native C and C++ to develop Unity games for iOS.
Unity Games for PC
We aim to create innovative and creative unity games for PC that support both 2D and 3D genres with high-performance gameplay.
Key Features Of Unity 3D Games
As the best Unity 3D game development company, we deliver the optimum combination of stunning graphics and the latest techniques that allow our customers to experience innovation via our engaging Unity 3D games that are designed in precision. Here is the list of features we integrate into our Unity 3D game applications: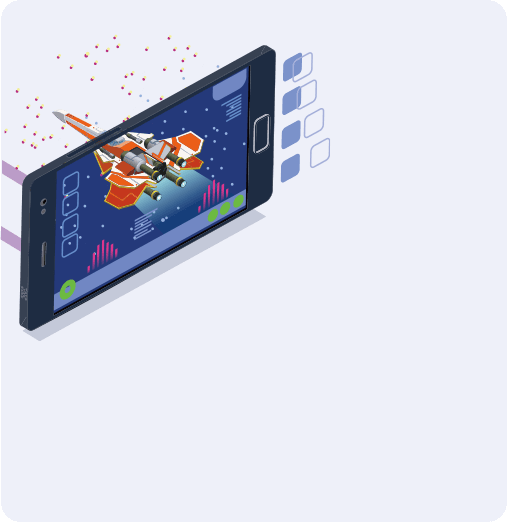 Better Graphics

Quality and Performance are our USPs. We offer stunning animations and high-quality effects to provide gamers with an excellent gameplay experience and visual realism.

Exceptional Gaming Experience

We have a team of highly skilled and professional designers and developers who are extremely proficient in providing exceptional gaming experience.

Multi-platform Support

We are compatible with providing multiple platform support for iOS, Android, and Web.

VR/AR Support

As the best Unity 3D game development studio in the USA, we integrate top-notch technologies like AR and VR to develop high-quality Unity games.

Asset Store and Plugins

We have huge Unity assets stores and plugins that cover everything related to projects, models, and even animations.
Why Choose BR Softech As a Unity Game Development Company?
Our highly competitive and knowledgeable team of Unity game developers provides innovative services that are compatible with all platforms and make the gameplay experience more memorable for users. Choose us as a Unity game development company to get:
Customized Solutions
Our aim is to create reliable, customized unity gaming solutions through a careful understanding of market needs. We always believe in adopting the best standards that will satisfy the requirements of the client.
Seamless Communication
We encourage seamless communication with utmost commitment in order to provide customers with high-quality services and deliver the best quality useful services in the future.
Confidentiality
Our team of Unity 3D game developers lowers the risk of exploitation of sensitive data by maintaining the confidentiality and keeping our client's profiles private.
24x7 Dedicated Support
As a top Unity 3D game development company, we aim to provide 24*7 inspection and support services to offer our clients with utmost satisfaction.
Top-notch Security
Our Unity 3D game developers provide customers with the topmost privacy and security while always trying to follow with utmost devotion.
Hire Unity Game Developer
From Vivid Gaming Designs to a never-ending list of awe-inspiring features, our experts cover all the factors from start to end. Hire our Unity 3D game developers to take your business to the next level.
Hire Now
Frequently Asked Questions(FAQs)
Ans. The unity game development process is not an overnight task and hence requires a lot of resources and brainstorming. On average, unity 3D game app development requires one to three months. However, the duration may go up depending on the type and complexity of the project.
Ans. Yes, having an expert team of Unity 3D game developers, BR Softech builds any type of application on any platform be it Android, iOS, tablets, PC, and so on.
Our Game Services
Our highly competitive and skilled team of game developers offers advanced game development services which are compatible with operating Systems like, Android, iOS, Windows, and more.