Want to develop your Metaverse platform but are not aware of the technicalities? Take assistance from our skilled and competent Metaverse developers that are well-versed in emerging technologies like AR/VR, AI, Metaverse, etc. We are an established Metaverse development company in the United Kingdom that is highly proficient in creating customer-centric Metaverse solutions that will help you kickstart your business.
Our End-to-End Metaverse Development Services
Our end-to-end MEtaverse development services cater to different industries including gaming, real estate, banking, sports, fashion, etc. Take advantage of our customised development services including:
Metaverse App Development
Our Metaverse developers are well-versed in using Metaverse development tools to create Metaverse applications across various verticals including social apps, gaming apps, etc.
Metaverse Game Development
Experience gaming on a highly-immersive 3D Metaverse gaming platform with advanced features, high-end graphics, and robust infrastructure with our Metaverse Game Development services.
Metaverse Casino Game Development
Unleash the full potential of online casino games with our highly-engaging and immersive Metaverse NFT casino platforms that offer an unprecedented casino experience.
Metaverse Marketplace Development
Now selling and trading NFTs and cryptocurrencies have been simplified with our Metaverse marketplace development.
Seamless Metaverse Integration
Take your Metaverse to the next level by integrating our seamless features and functionalities with our Metaverse integration services.
Our Highly Efficient Metaverse Development Solutions
Leverage our Metaverse development solutions spanning across a variety of industries. Our developers take advantage of next-gen technologies to facilitate our cutting-edge Metaverse Development solutions.
Metaverse Real Estate Development

Take advantage of our skilled and competent Metaverse developers to create robust Metaverse Real Estate platforms incorporated with advanced tools and technologies.

Metaverse eCommerce Development

Enhance your business' potential with our Metaverse Fashion Development solutions. Our end-to-end solutions allow you to upgrade your fashion brand and reach new heights.

Metaverse Healthcare Development

Metaverse development can be integral in aiding the healthcare industry by automating the treatment process and introducing seamless patient care protocols.

Metaverse Banking Development

Leverage the power of cryptocurrencies, NFTs, and blockchain to transform the banking industry and develop a Metaverse banking platform for your business.
Metaverse Event Platform Development

Take advantage of Meaverse features such as 3D avatars, live streaming, and other interactive features and host fun-filled and high-octane concerts with our Metaverse Event Platform Development Solutions.

Metaverse Social Platform Development

Revolutionalise the social media experience by creating an unprecedented social media platform with our feature-packed and robust Metaverse Social Platform Development.

Metaverse Tourism Development

Transform the travelling experience and explore open-world virtual realities with the help of our Metaverse Tourism Development.
Essential Features of Metaverse Software Development
As a leading Metaverse Software Development Company in the UK, BR Softech offers high-performing Metaverse software solutions integrated with exclusive features and functionalities that aid in a business' growth.
Decentralised Platform

Our Metaverse platforms boast complete decentralisation. These platforms are free from the control of a central regulatory authority.

Blockchain Integration

Our developers integrate blockchain technology into the Metaverse platform to ensure security and transparency in the data sharing and transaction process.

True Ownership

The Metaverse platform offers true ownership of the digital assets acquired in the Metaverse platform. Users are the true owners and possess complete control of the in-game items and collectables.
DDoS Protection

Our Metaverse software solutions are integrated with robust DDoS protection to restrict malicious traffic from reaching the intended targets within the Metaverse.

Encrypted Data Protection

Our Metaverse solutions are integrated with the latest technologies and provide a robust infrastructure that keeps user data safe from security breaches and hacking attempts.

3D Avatars

Users can take advantage of fully-customisable 3D Avatars that can be controlled and used to interact with various elements in the open-world Metaverse environment.
Our Comprehensive Metaverse Development Process
BR Softech is the industry leader in Metaverse Development Solutions in the UK. Our team of skilled developers follow a comprehensive and thorough development process to create engaging Metaverse platforms.
Market Analysis

Know your competitors with thorough competitor analysis. Also, make sure to define your business goals and understand the audience preferences and ongoing trends of the market.
Concept Design

UI/UX Design, environment design, 3D Avatar designing, and prototyping are conducted in this phase.
Metaverse Development

Leverage the power of advanced technologies and facilitate Metaverse development with all the features in place.
Testing & Quality Analysis

Ensure proper testing to iron out the bugs and glitches of the Metaverse platform and polish your product.
Deployment & Launch

After a thorough testing process, launch your MEtaverse platform and implement the necessary marketing strategies.
Post-Deployment Support

Provide customer support and regular platform maintenance by rolling out timely updates.
Hire Dedicated Metaverse Developers
Metaverse is still a widely misunderstood concept. Hire competent and skilled developers to build Metaverse platforms integrated with advanced technologies like AR/VR, AI, and Blockchain. Our dedicated Metaverse developers can assist you in creating a robust decentralised platform to skyrocket your business to new heights. What are you waiting for?
Hire Metaverse Developers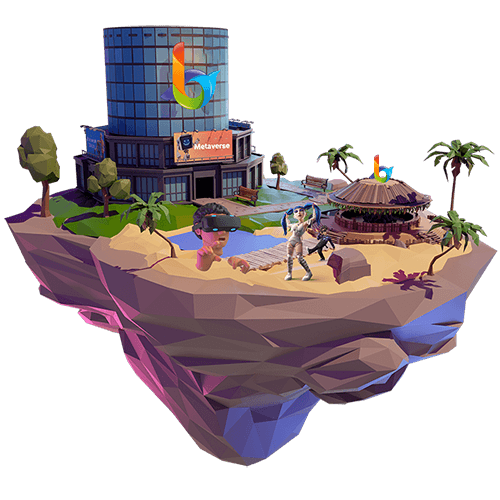 Why Choose BR Softech for Metaverse Development?
Being one of the best Metaverse Development Companies in the United Kindom, BR Softech takes pride in its team of excellent and impeccable developers who strive to create customer-centric Metaverse platforms to fulfil their requirements. With over 10 years of experience, we are a veteran Metaverse and Game Development company that has catered to several clients and built future-ready Metaverse platforms that help boost your business' revenue and growth. Partner with us and reap the following benefits:
Cutting-edge infrastructure
Experienced Team of Metaverse Developers
Next-generation tools & technology
24x7 Customer Support
Blockchain Developers
Comprehensive Metaverse Development
Frequently Asked Questions(FAQs)
Metaverse development takes advantage of various emerging technologies like AR/VR, AI, Blockchain, 3D reconstruction, etc.
The cost of Metaverse software development range from $40,000 to $50,000 depending on the features and functionalities. However, if you want to develop cross-platform Metaverse software with advanced features, the cost can go up to $100,000.
On average, Metaverse software development takes around 3 to 6 months depending on the feature and functionalities of the platform.
The Metaverse is a highly efficient technology that can boost the growth and revenue of various industries like sports, gaming, fashion, real estate, e-commerce, etc.
Latest Blog
Intensify your knowledge to navigate your digital transformation with us.
USA Office
21 Overlook Ridge Terrace
#523 Revere, Boston,
MA 02151 USA
+1-650-727-6690
India Office
90, 10 B Scheme, Usha Vihar,
Triveni Nagar, Gopalpura Bypass,
Jaipur- 302018, Rajasthan INDIA
+91-7821055537 , +91-9982201414
Australia Office
11 parklands place,
Morwell, Vic-3840
Australia
+61 425 630 321
Canada Office
1193 Main St #3301,
Vancouver, BC V6A 4B6,
Canada
+1-604-360-4433