Are you a fan of the snake & ladder board game and willing to develop your snake & ladder game? Empower your game development idea with our highly skilled team of senior game designers, developers, and 2D/3D game artists.
With powerful apps compatible with iOS and Android, our company's efficient professionals can provide services and solutions based on your needs. Experience a smooth and magical journey of snake & ladder game development with BR Softech. As a top-notch snake & ladder game development company, you will get high-quality snake & ladder game app services and products from us!
Snake & Ladder Game Development Company
Get snake & ladder game development services from highly qualified and experienced snakes & ladders game developers who will set you free from every concern related to snakes & ladders game solutions. Give us a chance to deliver you a great app solution!
BR Softech is an eminent name as a snake & ladder game development company. With every created snake and ladder game solution, we are moving a step ahead. Our developed mobile game apps will offer you an amazing user experience through enriched features and great functionalities. We create games that are empowered with ultra-modern technologies for better user engagement. Snake & ladder game developers at our company build games that are easy to install and supported on multiple devices.
Driven by the legacy of being supreme in the field of game development, we hire skilled, dedicated, and highly experienced game developers who are not afraid to take on the out-of-the-box ideas & requirements of our clients and translate them into market-leading products. In order to satisfy our clients and offer innovative user experiences, we rely on attractive designs combined with great UX/UI inputs. Our snake & ladder game developers strive to maintain a transparent approach with our clients to keep them in the loop with our progress on every stage.
Snake & ladder Game Development Solutions
If you want to have thrilling and stunning snake & ladder game app solutions, give us a chance! All the clients who have got our snake & ladder game development services are satisfied and happy with our amenities. You will also enjoy more with our game app solutions available for both Android and iOS. Experienced developers at our company believe in providing clients with advanced and better game development services.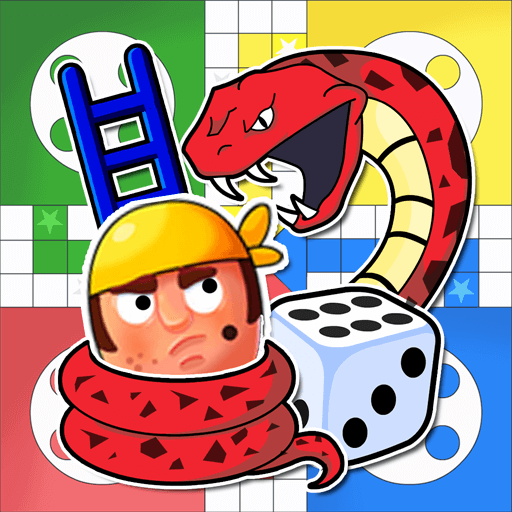 Why Do We Require Snake & Ladder Game Apps?
Snake and Ladder Game is an online platform game that can be easily defined as a game of survival that offers diverse options to play and enhance skills.
The modern world brings a significant change in a gaming world while offering an ample range of customised features. During our ideal time we love to play a game with our loved ones that relax our mind and soul. We have a good knack in developing Snake & Ladder gaming apps that are filled with interactive graphical interface and other ways that make this game much more exciting.Get a multiplayer gaming option and combine your gaming experience with this survival game.
Our childhood's most played board game has now transformed into an online mobile game app, snake & ladder. This multiplayer game can be played with 2-4 players and is considered a classic game worldwide. In the snake & ladder game solution, the board will consist of a grid from 1 to 100 numbered squares that have lots of snakes & ladders. This game's main goal is to reach the 100th box from the first one by escaping from snakes in the way. Players can take help from the ladders.
Snake & Ladder Game Development Services
At BR Softech we have developed several successful game applications that deliver a simple to use gameplay environment with attractive features to enjoy more without any stress of learning how to play. Clients appreciate previously created mobile apps by us. With the interactive and advanced snake & ladder game solutions, you can compete with all the gaming market competitors.
Our highly reliable snake & ladder game development services are the result of the following steps
Monitoring the Role
Observing the server and the smoothness of the application running on the platform.
Arrangement and Designing
To set up the designing of programming to configure and manage the server of the app.
Examining Potential Threats
Analysing all kinds of security logging with best practices tools to eliminate unwanted potential threats.
Remarkable Features of Snake & Ladder Game Development
Including wonderful features is the most significant part of snake & ladder app development. We have skilled and proficient snake & ladder game developers at our company to provide you with an enriched features app.
Welcome Bonus

When you join the game app, it will immediately offer you the welcome bonus points to make you extra happy.

Play with Real-money Online

In this gameplay, you can win real-money and users are also attracted to this lucrative game as it is their extra source of income.

Fast Deposit and Withdrawal

You can spend your most time in-game playing, that is why snake & ladder game providers develop the support to do the deposit and withdrawal functions fast.

Multiplayer game

Add your friends and family members to your gameplay as you can play this game with a maximum of four players.

Game and Withdraw history

You can see what games you have played in the past and how much money you have got or lost through those games.
Live support

It will connect you to the admin or available operator to solve your queries. You can contact them 24*7.

Sign-in through Social media

You can pursue your already existing account on a different social media platform for signing-in to the snake & ladder game app. It will add your social media friends automatically to your playlist.

Play As a Guest User

If you don't want to create an account, you can play as a guest user using a social media account or email.

Email or phone number OTP Verification

Snake & ladder game development services include this feature to have only genuine users. So, the players have to verify their phone number followed by an OTP.
Get In Touch Snake & Ladder Game Development Service
With Us
Essential Team Structure for Snake & Ladder Game Development
If you search for an experienced snake & ladder website development company to get services from a proper team structure step by step, then end your search with us. We use this following team structure for snake & ladder board game development-
The project manager or business strategist/consultant
Mobile game app designers
Mobile game app developers
Quality Assurance engineer
Marketing and sales manager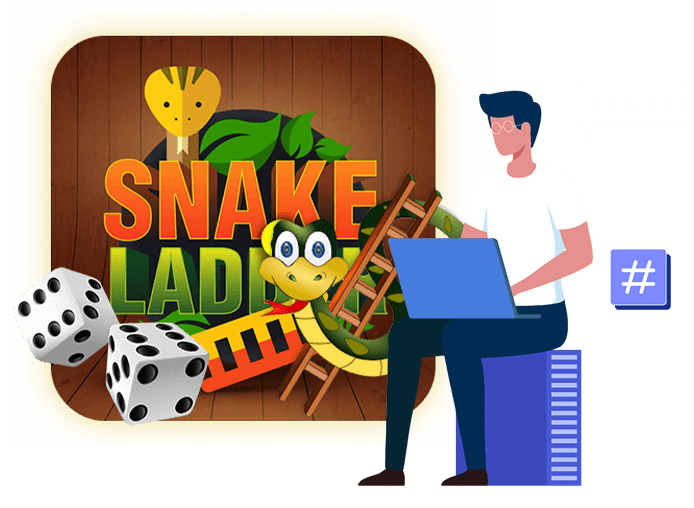 Hire Snake & Ladder Game Developers
BR Softech has quality services for snake & ladder website development, and various advanced features are also provided into the app by our skilled snake & ladder game providers. Our dedicated snake and ladder developer provide impeccable white label customised solutions while aiming to achieve a higher degree of satisfaction. By using an innovative technologies that suits all the requirements and suitability of our clients , we use N Numbers of programming language like Swift, Kotlin, Java, C# that makes snake and ladder app development more scalable and robust.
We have a highly qualified and professional developer's team for providing game development services with the latest technologies and tools. These created mobile game apps are compatible with operating systems like iOS, Android, Windows, etc.
Required Technology Stack Used by Us
At BR Softech, our developers never compromise with the app quality, so they use the appropriate technologies as per the suitability for snake & ladder game development.
Swift or Objective-C for iOS
Kotlin or Java for Android
CSS/HTML/JavaScript for Cordova and PhoneGap
JavaScript for React Native
Cost Evaluation for Snake & Ladder Game App
We are the best snake & ladder game development company that offers quality app solutions fairly. We Don't offer less cost than all the game service providers but relatively less than some of them with premium app quality that makes us different. Not an estimated price, but here we explain some of the factors that affect your cost at high-point.
App platform
App technologies
App developer's location
App testing
App promotion and advertising after launch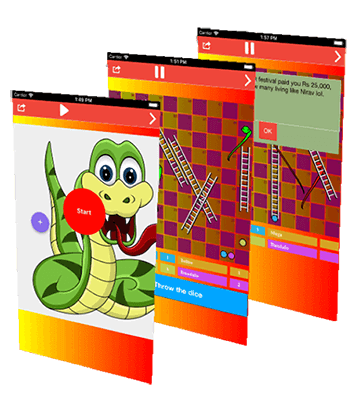 What Makes Our Snake & Ladder App Development Unique From Rest?
In the specific field of snake & ladder board game development, we have rich experience providing reliable mobile game app services. Being a prominent snake & ladder game development company in India, we ensure our clients' pleasurable and trust-worthy app services with an efficient team of masters. Team members of BR Softech work with dedication and passion for providing you with better quality app services and products at surprising prices.
Creative and unique ideas by our developers for app development
Multi-integration app design for the projects
Full CMS support for mobile apps
Assistance from project approval to project launch by the team
Best gaming experience through UI/UX
2D and 3D experienced game developers
Join us, and you will have such an amazing experience like never before with our devoted development team. We have rich experience in this area as we have developed various real-money game apps with our knowledge and expertise. Get assistance for snake & ladder game development from us, and you can just sit back and relax!
Our Game Services
Our highly competitive and skilled team of game developers offers advanced game development services which are compatible with operating Systems like, Android, iOS, Windows, and more.
Frequently Asked Questions
Q1. How Much Time Does it Take to Develop a Snake & Ladder Game?
Usually, snake and ladder game development takes between 15 and 28 weeks. The time is not constant here, it changes depending on the features and functionalities of your game app.
Q2. What is the Estimated Cost That Will Occur While Developing the Snake & Ladder Game?
Snake and ladder game development costs generally range from $7,000 to $20,000.
Q3. Which Technology Will You Use For Snake & Ladder Game Development?
For the backend, we prefer to use Java and for database requirements, we depend upon MySQL, Oracle, PostgresSQL. The front end of the game app is developed using technologies such as Vue. JS, Angular, Reactive Native, Flutter, and so on. These are just a few technologies we name. Let's connect with us to know more about the technologies we work on.
Q4. Can I Access Our Snake & Ladder Game Admin Panel Using Mobile Devices?
Yes, you can access the admin panel of the snake & ladder game on your PC or mobile devices seamlessly. Login credentials are required only.
Q5. Where Do You Store All Data of This Snake & Ladder Game?
The answer to this question completely depends upon you. We prefer to store your Snake and ladder game data on highly secured gaming servers. If you have any recommendations for the gaming server, then you may discuss them with us and we will store the data on the chosen server.
Q6. Will You Provide Both The Snake & Ladder Game Website & Mobile App Development Services?
Yes, we offer a range of snake & ladder game development services including website development, mobile app development, and software development.