As a leading Metaverse App Development Company in the United Kingdom, BR Softech excels in delivering Metaverse components like Metaverse NFT Marketplaces, 3D virtual reality platforms, decentralised blockchain development, and much more. Our Metaverse development process follows a set of pre-determined protocols that have helped us enhance the growth of multiple businesses.
With over 10 years of experience, our developers are well-versed in emerging technologies like Metaverse, IoT, AR/VR, 3D modelling, etc. and have optimised various tools and technologies to deliver state-of-the-art development services with a robust infrastructure. Our expert programmers possess a deep understanding of various niches which has allowed them to develop next-generation Metaverse development solutions for industries like social media, gaming, real estate, healthcare, and tourism.
Our Top-Notch Metaverse App Development Services
Our end-to-end Metaverse app development services can be used to facilitate various business verticals. From fashion to gaming, various industries can benefit from our cutting-edge and secure solutions.
3D Space Development
Our developers possess in-depth knowledge of 3D reconstruction technology and are adept at building scalable solutions including 3D visualisation, 3D modelling, and 3D space design.
Decentralized Platforms
Leverage the power of blockchain technology and develop cutting-edge and customized decentralized platforms.
Metaverse Integration Services
Enhance the overall experience of your Metaverse platform with our end-to-end Metaverse integration services that help augment the features and functionalities of the Metaverse.
Gaming Space Development
Experience Metaverse gaming with our Metaverse game development services. Our developers integrate various interactive technologies like play-to-earn, decentralized platforms, NFT trading, 3D virtual environments, and live streaming to develop exceptional Metaverse games.
Metaverse Marketplace Development
Develop scalable Metaverse marketplaces like Decntraland and Axie Infinity with valuable suggestions from our industry experts.
Best-in-Class Metaverse App Development Solutions
Are you looking for a Metaverse App Development Company to develop Metaverse applications? We've got your back! Facilitate Metaverse development with our top-notch and experienced Metaverse developers.
Metaverse Gaming Platform

Our expert team of developers excel in developing interactive Metaverse games incorporated with sophisticated features and advanced technologies for better scalability.

Metaverse Fashion Development

As a leading Metaverse App development company, we also help startups in the fashion industry to build their brand and taste success by leveraging the power of Metaverse technology.

Metaverse Banking Development

Metaverse banking solutions are reliable and more trustworthy than traditional banking systems. Being based on the blockchain, these platforms offer enhanced transparency and robustness in the banking system.
Metaverse Real Estate Development

Now purchase and trade real estate properties with our decentralized Metaverse real estate platforms that are packed with smart contracts and trader-centric features that facilitate the buying and selling process.

Metaverse NFT Marketplace Development

NFTs are the hot topics of the technological space. With increased demand, BR Softech aims to help businesses create NFT marketplaces where users can freely trade, buy, and sell various valuable and rare NFTs.

Metaverse E-commerce Development

Revolutionalize the online shopping experience with the help of a Metaverse E-commerce platform. Our Metaverse e-commerce solutions will help your business reach new heights of success with a reliable and robust infrastructure integrated with the latest technologies.
Benefits of Metaverse App Development
Metaverse App Development is a boon for various industries like fashion, e-commerce, real estate, and gaming. Take a look at the benefits you can avail yourself by opting for Metaverse App Development solutions: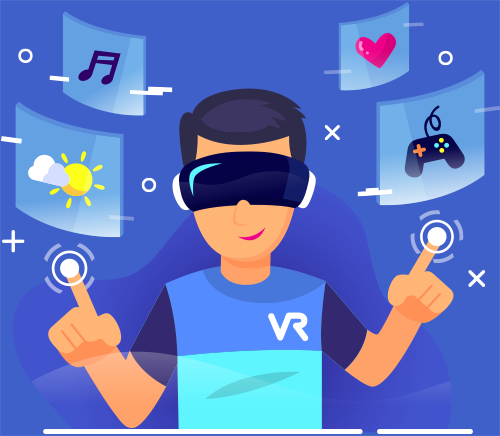 Worldwide Reach
Take advantage of an overseas reach and break geographical boundaries with our reliable and efficient Metaverse app development services.
Enhanced User Experience
Provide an enhanced user experience to users with the help of interactive features and technologies like AR/VR and AI.
High ROI
Metaverse is a very lucrative industry and the future technology displays great revenue potential. Investing in Metaverse development can prove very beneficial for a business.
Widespread Community
The Metaverse is a hot commodity in the tech industry right now and features a huge community of innovation-driven people that provide information and updates about upcoming trends and development.
Our All-Inclusive Metaverse Development Process
Our team of experienced developers follow an agile approach to creating Metaverse applications powered with pre-determined protocols.
Testing & Quality Analysis
Post-deployment Support & Maintenance
Essential Technologies in Metaverse App Development
Metaverse development is an arduous task that requires extensive knowledge of various next-generation technologies. Our developers use the following technologies to build robust yet cost-effective Metaverse app development solutions: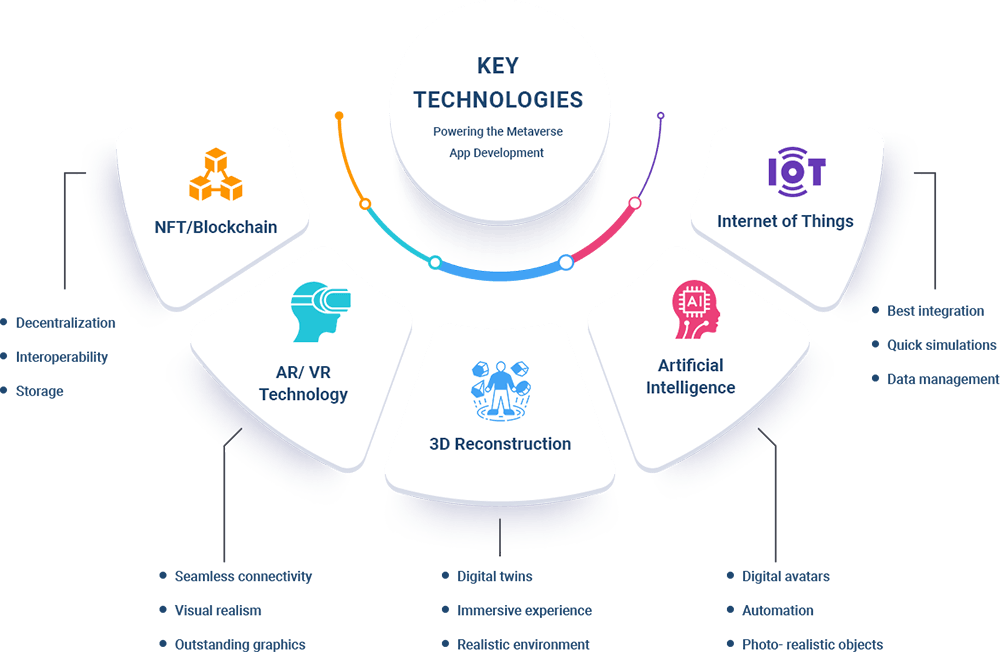 Why is BR Softech the Best Metaverse Development Company?
As the leading Metaverse development company in the UK, BR Softech has years of experience in working with emerging technologies like Metaverse, virtual reality, and more. Our competent programmers make it a priority to develop customer-centric solutions that ensure 100% client satisfaction.
Robust Integration Services
Innovative and Secure Platforms
Frequently Asked Questions(FAQs)
Metaverse app development cost is dependent on various factors. On average, the cost to develop a Metaverse app ranges from $60,000 to $80,000. However, if you want to create a cross-platform app with sophisticated features, the cost can go up to $100,000.
Metaverse app development is a lengthy process which requires a lot of hard work and dedication. On average, it takes around 3 to 6 months to complete the full cycle of Metaverse app development.
The go-to language for Metaverse app development is JavaScript. Other popular languages used in development include Lua, HTML5, Python, C++, and C#.
Yes, the Metaverse technology is still in its development phase and has already garnered a lot of popularity. Investing in this lucrative technology can be very beneficial for a business and can yield exciting returns.
Latest Blog
Intensify your knowledge to navigate your digital transformation with us.
USA Office
21 Overlook Ridge Terrace
#523 Revere, Boston,
MA 02151 USA
+1-650-727-6690
India Office
90, 10 B Scheme, Usha Vihar,
Triveni Nagar, Gopalpura Bypass,
Jaipur- 302018, Rajasthan INDIA
+91-7821055537 , +91-9982201414
Australia Office
11 parklands place,
Morwell, Vic-3840
Australia
+61 425 630 321
Canada Office
1193 Main St #3301,
Vancouver, BC V6A 4B6,
Canada
+1-604-360-4433