NFTs have completely revolutionalised the gaming industry by allowing gamers to trade, buy, sell and develop gaming tokens within the virtual gaming industry. Our developers are proficient at developing NFT games for various genres including play-to-earn games, role-playing games, crypto games, Web3 games, etc.
Being the industry leader in NFT Game Development, BR Softech aims to tackle the challenges of the gaming industry by developing a gaming platform where users can trade and make transactions using NFTs and even have true ownership of the in-game assets. Based on blockchain technology, NFT games feature a decentralised platform that eliminates the need for a central regulatory authority. Enhance your game's potential by leveraging the power of our cost-effective and advanced NFT game development services.
Our End-to-End NFT Development Services
With a pre-determined development protocol and strategies, our developers create robust yet interactive NFT games that have the potential to take your business to the next level.
Customisable NFT Games
Our NFT games are completely customised and tailored according to the client's requirements. We offer bespoke development so your NFT game is unique and stand out in the market.
Play-to-earn Game Development
Our play-to-earn game development services allow players to earn real money by playing NFT games. Partner with BR Softech and develop cutting-edge P2E games like Axie Infinity and Sorare.
Crypto Breeding Game Development
Develop games like CryptoKitties and explore the potential of NFT breeding game development. We provide next-gen NFT crypto game development compatible with multiple platforms.
PvP Game Development
Compete with your friends and others online with our next-generation PvP game development solutions which now support NFTs and cryptocurrencies.
Strategy Game Development
Brainstorm and come up with thought-out strategies in our NFT strategy games. Our developers now include integrated crypto and NFT support in our strategy-based game development.
Move-to-earn Game Development
Making money has never been easier. Leverage the capabilities of our move-to-earn games and earn real money in the process.
NFT Game Development Genres
As a leading NFT Game Development Company in the UK, BR Softech is proficient in integrating NFTs and blockchain technology into various game genres.
NFT for Action Games

Transform your in-game equipment such as armour, weapons and other collectables into NFTs and ensure higher ROI.

NFT for Adventure Games

Take advantage of our NFT development services and transform your adventure game assets into reliable NFTs that provide true ownership.

NFT for Fantasy Sports

Fantasy sports allow players to bet on real-life matches in a fantasy league. Incorporate NFTs in your fantasy sports platform and drive traffic towards your online game for greater returns.

NFT for Racing Games

Convert your racing game assets into functional NFTs and experience overall immersive gameplay with our racing game development.
NFT for Card Games

We specialise in incorporating NFTs into our card game platform. Leverage the power of our card game development services to create engaging online card game platforms.

NFT for Simulation Games

Simulation games require strategic gameplay and critical thinking on the player's part. Enhance the appeal of your simulation game by integrating it with advanced technologies like blockchain and NFTs.

NFT for Sports Games

Sports games are some of the most popular in the gaming industry. Now tokenise your in-game assets as NFTs and enhance your gameplay experience with our NFT Sports Game Development.

NFT for Casino Games

Our casino development solutions offer accessibility to bettors as well as bookies. Leverage the power of our casino development services and enjoy hefty returns.
Benefits of Our NFT Game Development
Our skilled developers make it a priority to develop customer-centric NFT solutions that can be very beneficial for the growth of your business. Our NFT game development services cater to a wide range of game genres by developing cutting-edge and robust NFT gaming platforms.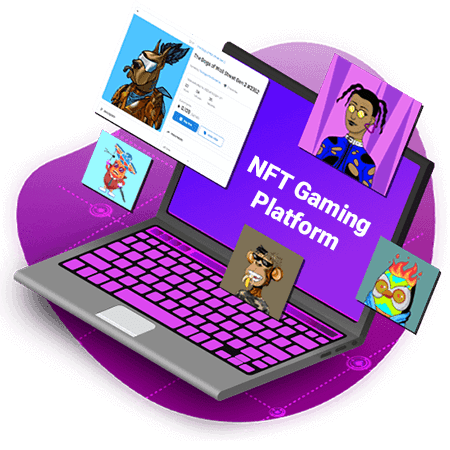 Interoperable

Our developers integrate advanced technologies like blockchain to deliver interoperable solutions which means assets acquired in a particular game can be easily transferred and used in another game.

Expert Developers

Our developers utilise advanced technologies, and thought-out development strategies to develop state-of-the-art NFT game platforms that perform efficiently across multiple platforms.

Cross-platform Games

Using the latest technologies, our developers work hard to create cross-platform NFT applications that run effortlessly on platforms like Android, Web, iOS, and PC.

Enhanced Security

NFT games are based on blockchain technology which provides enhanced security and transparency. Our focus is to develop a robust and highly secure platform which provides entertainment while maintaining security intact.
Our Comprehensive NFT Game Development Process
With a pre-determined set of protocols and development strategies, our developers follow an agile approach to develop high-end NFT games integrated with the latest technologies.
Market Analysis

UI/UX Design

Development of the Game
Blockchain Integration

Testing & Q/A

Support & Maintenance
Why Choose BR Softech for NFT Game Development?
As a leading NFT Game Development Company in the United Kingdom, BR Softech offers customised and reliable NFT Game Development solutions across various game genres. Partnering with us will provide you access to experienced and skilled developers who specialise in delivering immersive gaming experiences. Our developers integrate the latest technologies into the NFT game and deliver an unprecedented gaming platform that is optimised for multiple screens and devices and reaches a large audience.
24x7 Customer Support
Cost-effective Solutions
Unique Development Approach
Aesthetic Game Designs
NFT Token Development
Skilled Developers
Quick Turnaround Time
Frequently Asked Questions(FAQs)
Ans. NFT Games allow users to tokenise different gameplay elements like objects, in-game assets, weapons, and equipment. These games are based on the blockchain and provide true ownership of these assets.
Ans. NFT Game Development Cost is influenced by various factors. On average, the cost to develop an NFT game ranges from $50,000 to $60,000. However, if you want to develop a cross-platform game with sophisticated features, you might have to invest close to $100,000.
Ans. NFT game development is an arduous and time taking process. The full cycle development process can take around 6 to 9 months depending on the feature of the game.
Ans. Yes, we offer completely customised NFT game development solutions. Our customised solutions are bespoke and tailored according to the client's requirements.
Latest Blog
Intensify your knowledge to navigate your digital transformation with us.
USA Office
21 Overlook Ridge Terrace
#523 Revere, Boston,
MA 02151 USA
+1-650-727-6690
India Office
90, 10 B Scheme, Usha Vihar,
Triveni Nagar, Gopalpura Bypass,
Jaipur- 302018, Rajasthan INDIA
+91-7821055537 , +91-9982201414
Australia Office
11 parklands place,
Morwell, Vic-3840
Australia
+61 425 630 321
Canada Office
1193 Main St #3301,
Vancouver, BC V6A 4B6,
Canada
+1-604-360-4433