Artificial Intelligence is one of the most prominent technologies used in game development. With the help of our skilled AI game developers, BR Softech aims to develop cutting-edge AI-enabled games that run flawlessly on multiple screens and devices. AI has been prevalent in the gaming industry and various game genres such as shooting, racing, strategy, adventure, etc utilise this futuristic technology for various purposes. We strive to transform the most unique game ideas into a successful and functional game app.
Being the industry leader in AI Game Development, we strive to develop AI games with the highest industry standards and ensure 100% client satisfaction. Our developers work round-the-clock to develop customer-centric AI game apps that are tailored to our client's requirements. Our developers leverage the most advanced tools and frameworks in order to create innovative and next-gen gaming app solutions that can take your business to the next level.
Our End-to-End AI Game Development Services
We offer a wide range of AI Game Development Services to our clients by developing highly sophisticated and robust AI game Development solutions that are scalable and reliable. Our developers utilise the latest AI tools and techniques to transform your unique game idea into reality. We ensure transparency in communication and keep our clients in the loop with the latest updates in the game development process.
Are you looking for cost-effective and robust AI Game Development Solutions? Your search ends here. BR Softech has an in-house team of skilled developers who work round-the-clock to provide you with the best AI gaming software that has the potential to elevate your business to new heights. We develop games of various genres ranging from shooting, racing, RPG, adventure, action, puzzle, etc. Our AI Game Development Services are as follows-
Unity Game Development
iOS Game Development
Android Game Development
2D & 3D Game Development
HTML5 Game Development
Web AI Game Development
How Does AI Game Development Work?
Building an AI game requires technical expertise and professional developers. Developing an AI System requires a wide range of computations and tools and technologies to facilitate the development process. Take a look at the most crucial components of an AI system.
Deep Learning

Deep Learning is considered to be an essential part of data science, which includes statistics and predictive modelling. It is a type of ML and AI that mimics exactly how humans acquire certain types of knowledge.

Machine Learning

ML is a type of Artificial Intelligence which focuses on how a computer system acquires data and learns exactly like humans. It focuses on algorithms and gradually improves accuracy over time.

Neural Networks

It is a concept in the field of Artificial Intelligence that allows computers to process data much like the human brain.
Cognitive Computing

An AI algorithm that functions like a human brain by interpreting texts, images, speeches, and objects to provide desired results.

Computer Vision

It splits images and objects into various parts and analyses them individually to produce the desired results.

Natural Language Processing

NLP is a type of process through which computer systems understands and interprets a language through a machine to provide accurate and authentic results.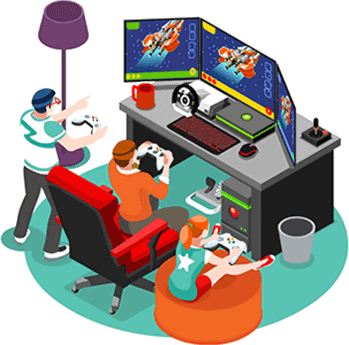 Artificial Intelligence in Video Game Programming
As a top AI Game Development Company in Hong Kong, BR Softech specialises in utilising AI technology to enhance the user experience of video games. With a team of skilled AI developers, we strive to offer customer-centric and feature-rich video game applications that run flawlessly across various screens and devices. We leverage realistic graphics, 3D characters, and eye-catchy designs to develop AI games of all genres.
Benefits of AI-enabled Games
Artificial Intelligence is an emerging technology that offers plenty of benefits. BR Softech leverages the power of Artificial Intelligence to build highly-customised and supreme-grade solutions that target millions of users. Take a look at the benefits you can get from our AI Game Development Solutions.
Customised and Smart Game App
Enhanced Experience of the Gaming
Uninterrupted Gameplay Experience
Improved Player Interactions
Our Comprehensive Artificial Intelligence Game Development Process
We follow a stringent and agile development process with pre-determined protocols to develop high-remarkable and cutting-edge AI Game Development Solutions for our global clientele.
Pre-Production

Conceptualisation
Market Research
SWOT Analysis
Setting of Budget
Development

UI/UX Design
Programming
Character Design
3D Modelling
Post-Production

Testing & Q/A
Marketing & Launch
Deployment
Maintenance & Updates
Why Choose BR Softech as an Artificial Intelligence Game Development Company in Hong Kong?
As a top AI Game Development Company in Hong Kong, BR Softech specialises in leveraging the power of AI to create robust and next-generation solutions that exceed the expectations of our clients. Our experts utilise their expertise and skills to develop highly sophisticated and responsive game apps that are compatible with a wide range of screens and devices. We offer-
Integration of the Latest Technologies
Frequently Asked Questions(FAQs)
Ans. The cost to develop an AI Game is influenced by many factors like the location of the developers, features, tech stack, etc. On average, it costs around $30,000 to $40,000 to develop an AI game.
Ans. It takes around 3 to 4 months to develop an AI game from scratch.
Ans. Yes, according to the current industry trends, AI Game Development is booming and it is very profitable to invest in this field.
Latest Blog
Intensify your knowledge to navigate your digital transformation with us.
USA Office
21 Overlook Ridge Terrace
#523 Revere, Boston,
MA 02151 USA
+1-650-727-6690
India Office
90, 10 B Scheme, Usha Vihar,
Triveni Nagar, Gopalpura Bypass,
Jaipur- 302018, Rajasthan INDIA
+91-7821055537 , +91-9982201414
Australia Office
11 parklands place,
Morwell, Vic-3840
Australia
+61 425 630 321
Canada Office
1193 Main St #3301,
Vancouver, BC V6A 4B6,
Canada
+1-604-360-4433