Take advantage of our Amazon skill development and develop advanced speech recognition and natural language processing modules that streamline the task of every business in the most efficient manner. With our Alexa skill development, you can automate almost everything including lights, locks, alarms and other smart appliances at home just by voice command. With next-gen Alexa skill development, you can transform your normal space into a smart space.
Top Alexa Skill Development Company In Hong Kong
As the most trusted and renowned Alexa skill development company in Hong Kong, we can take your business to the next level with top-notch transformation and automation processes. We focus on creating client-centric and innovation-driven solutions that have the potential to reach millions of global users. With 10+ years of experience in Alexa skill development, we provide intelligent voice command applications for different platforms, including Android, iOS and Windows Mobile.
Integration of the latest technologies
Hybrid, Native, web Alexa app for multiple devices
Vibrant and Rich features
Focus on programming and incorporating incredible features
Exceptional Alexa skill developers
Our in-house and certified designers and developers work day in and day out to bring forth tailored solutions according to the requirements of the clients.
What is Alexa Skill?
Amazon Alexa is a voice assistant platform that provides users with the flexibility to harness the power of AI-enabled devices. Alexa skill has the high potential of understanding and implement voice commands like voice interactions, controlling smart appliances, playing music, setting alarms, providing current updates and a lot more. As a renowned Amazon Alexa skill development company in Hong Kong, we offer robust and highly customized Alexa skill applications that are highly competitive, scalable and credible.
Exclusive Alexa Skill Development Services
Alexa Home Automation
Our Alexa home automation services allow you to convert your home into a smart home by helping you control or automate your home appliances.
Alexa for On-Demand Applications
Leverage our on-demand app development services to transform the outlook of your business or home ecosystem.
Smart Office Automation
With voice-controlled features, you can transform your office space into a modern one.
Alexa Voice Services
Leverage the rich features and functionalities of the Alexa voice platforms to create supportive and impeccable software.
Alexa Skills Design
Our in-house designers and developers build Alexa skills applications with high voice control and a user-friendly interface.
Alexa skills consulting
Besides development and design, we also offer Alexa skills consulting services to guide people on how to leverage the power of automated and seamless voice control applications.
Customized Alexa Skill Development
Our experienced developers work day in and day out to bring forth personalized Alexa skill development solutions at your convenience.
Alexa Pay Integration
We offer the flexibility to integrate Alexa pay features into your platform to ensure users with secure and safe payment facilities.
Alexa Skill Kit
Our developers are well-versed in optimizing the Alexa skill kit which offers users a seamless and easy-to-navigate user interface providing them with seamless experiences.
Exclusive Benefits of Alexa Skill Development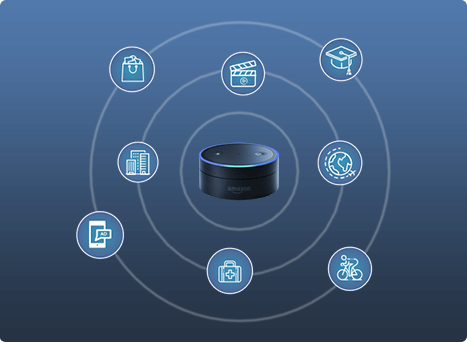 Unlock various business opportunities
Boost business growth
Voice-driven computing
Interactive gaming experiences
Immersive home automation system
Amazing e-commerce sharing experiences
Smart digital experiences
Multiple solutions for home and businesses
Flexible engagement models
Tech Stack We Use For Alexa Skill Development
As a leading Alexa skill development company in Hong Kong, we use an advanced and next-level tech stack, including:
Robotic process automation
Natural language processing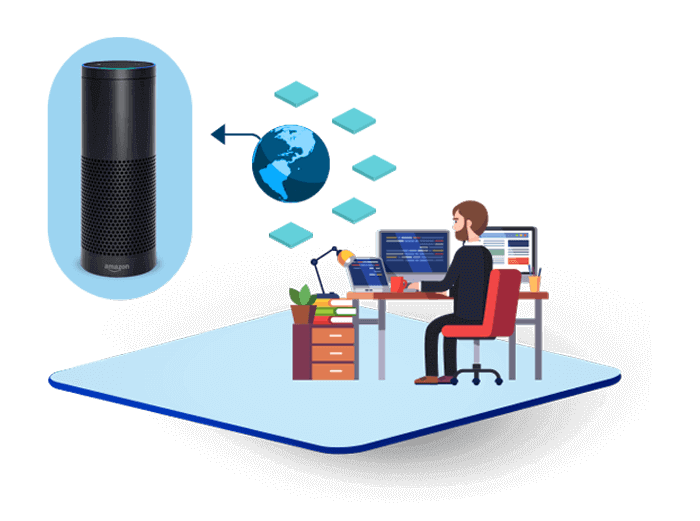 Hire Alexa Skill Developers
Being a top-rated Alexa Skill Development company in Hong Kong, BR Softech has a team of skilled and experienced Alexa skill developers who are proficient in leveraging advanced tech stack to develop innovation-driven solutions. We use high-control voice features and an out-of-the-box development approach to design and create tailored solutions.
Hire Now
Why Choose BR Softech as an Alexa Skill Development Company in Hong Kong?
Being the best Alexa skill development company in Hong Kong, we aim to focus on innovation, creativity and quality to bring forth client-oriented solutions at your convenience and under your budget. We strive to convert the basic space into the automated and modern one by integrating next-level features. Choose us to get:
Experienced team of developers
On-time delivery of the project
Customized and affordable solutions
Frequently Asked Questions(FAQs)
On average, it takes around $30k to $35k to develop Alexa skill applications.
It takes around two to three months to develop Alexa skills applications from scratch.
Yes, we provide customized Alexa skill applications with high-quality voice control features and functionalities.
Latest Blog
Intensify your knowledge to navigate your digital transformation with us.
USA Office
21 Overlook Ridge Terrace
#523 Revere, Boston,
MA 02151 USA
+1-650-727-6690
India Office
90, 10 B Scheme, Usha Vihar,
Triveni Nagar, Gopalpura Bypass,
Jaipur- 302018, Rajasthan INDIA
+91-7821055537 , +91-9982201414
Australia Office
11 parklands place,
Morwell, Vic-3840
Australia
+61 425 630 321
Canada Office
1193 Main St #3301,
Vancouver, BC V6A 4B6,
Canada
+1-604-360-4433