BR Softech is an internationally-recognised Mixed Reality App Development Company in Hong Kong that is adept at creating cutting-edge applications integrated with MR that are compatible with a wide range of popular platforms. Our developers are well-versed in working with advanced technologies and have the tools to tap into the full potential of technologies like AR, VR, and MR. With years of experience, BR Softech has been leveraging the power of advanced tools and frameworks that allow us to develop customer-centric solutions that are tailored to the client's requirements and ensure 100% client satisfaction.
Benefits of MR App Development for Business
Mixed Reality or MR is one of the emerging technologies that blur the line between the virtual and physical world, providing a competitive edge to your organisation. By combining the power of AR and VR, MR takes it to the next level by offering an unprecedented virtual experience.
Mixed Reality is now prevalent in a wide range of industries including Manufacturing, healthcare, construction, and more. The futuristic technology generates an augmented world where users can interact with physical and virtual elements.
Tap into the potential of MR and reap the following benefits-
Easy Recruiting and Screening
Immersive and Interactive Marketing Strategies
Enhanced Business Operations
Improving Creativity
Enhanced Customer Experience
Opportunities for Customisation
Real-time Assitance in Maintenance and Control
MR boosts customers' buying decisions
Increased efficiency in Work Collaboration
What is Mixed Reality?
Mixed Reality was introduced in 1994 by Paul Milgram and Fumio Kishimo. It is defined as the amalgamation of augmented reality and virtual reality to create a new environment where users can interact with physical and virtual elements. With the help of MR, developers can now bridge the gap between the physical and virtual realities by tapping into the potential of AR and VR. Advancements in Mixed Reality technology have also paved the way for MR developers to unlock numerous opportunities. Technologies like graphical processing, display technology, and computer vision have transformed the way users interact with each other and objects.
Benefits of Mixed Reality App Development
MR technology offers a lot of benefits for businesses. It has the potential of reinforcing a company's position and strengthening its hold in the market by providing a competitive advantage. Take a look at some of the most prominent benefits of Mixed Reality App Development.
Enhanced Quality
MR is adept at bridging the gap between the virtual and physical worlds and helps businesses transform and optimise the quality of products.
Reduced Maintenance
Take advantage of reduced maintenance time by implementing Mixed Reality applications that offer an unprecedented experience to users.
Enhanced E-learning
Mixed Reality offers an unprecedented learning experience that is way better than the traditional method of learning.
Improved Training
Mixed Reality App Development has the potential to transform training and education by streamlining the process and offering better efficiency.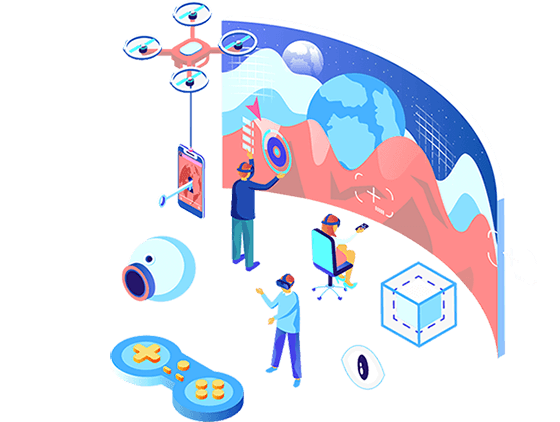 Our Comprehensive Mixed Reality App Development Process
In order to utilise the full potential of MR, our developers follow an agile and strategic development approach to develop cutting-edge Mixed Reality apps.
Mixed Reality App Development
Testing & Quality Analysis
Our Mixed Reality App Development Services
Augmented Reality

Augmented Reality introduces elements like audio, visual, and other sensory stimuli in a real-world setting. The AR technology enables users to interact with augmented elements in a real-world environment which offers an unprecedented user experience. With the help of technologies like 3D object recognition, SLAM, and real-time tracking, AR developers are capable of developing cutting-edge and stellar Augmented Reality apps that ensure a robust and interactive user experience.
Virtual Reality

With the help of technologies like gyroscopes, sensory feedback, and motion tracking, Virtual Reality creates a simulated environment that completely engrossed the user. It transports the user into a simulated virtual reality with the help of VR equipment like VR headsets and smart glasses. Virtual Reality App Development creates a 3D virtual world where users can interact with objects. It is a futuristic technology that makes the user lose sight of the real world and get completely immersed in the simulated reality.
Why Choose BR Softech as a Mixed Reality App Development Company in Hong Kong?
As a Mixed Reality App Development Company in Hong Kong, BR Softech excels in leveraging advanced technologies and creating stellar Mixed Reality apps that are compatible with major platforms including Android, iOS, and Windows. Our MR app development solutions have the potential to reach millions of users and ensure a high ROI for your business.
Transparent Communication
Integration of the Latest Technologies
Latest Blog
Intensify your knowledge to navigate your digital transformation with us.
USA Office
21 Overlook Ridge Terrace
#523 Revere, Boston,
MA 02151 USA
+1-650-727-6690
India Office
90, 10 B Scheme, Usha Vihar,
Triveni Nagar, Gopalpura Bypass,
Jaipur- 302018, Rajasthan INDIA
+91-7821055537 , +91-9982201414
Australia Office
11 parklands place,
Morwell, Vic-3840
Australia
+61 425 630 321
Canada Office
1193 Main St #3301,
Vancouver, BC V6A 4B6,
Canada
+1-604-360-4433
Frequently Asked Questions(FAQs)
Ans. The cost of developing Mixed Reality apps is dependent on various factors. On average, it costs around $30,000 to $40,000 to develop a Mixed Reality app.
Ans. It takes around 3 to 4 months to develop a Mixed Reality app from scratch.
Ans. Yes, we provide customised MR App Development Solutions that are tailored to our client's requirements and are bespoke.