Crypto wallets are becoming increasingly popular with the advent of technology and rising online gaming platforms that support transactions in the form of digital currency. They are built on the foundations of blockchain technology and network and hence offer users a sense of security and safety when it comes to making transactions.
As a leading cryptocurrency wallet development company in Hong Kong, we strive to deliver excellence via our end-to-end integrated and innovative cryptocurrency wallet development services. We aim to focus on customer centricity and satisfaction to design and develop tailored crypto wallets that are responsive, safe and authentic. We never fail to leave no stone unturned especially when it comes to user safety and security.
Crypto wallet Development services
As a well-known crypto wallet provider, we ensure to provide high-performance and supreme-quality wallets, including:
Binance trust wallet development
Desktop wallet development
Bitcoin wallet development
Ethereum wallet development
NFT wallet development
DeFi wallet development
Tron wallet development
Web wallet development
Mobile wallet development
Multi-currency wallet development
Centralized wallet development
Coin-specific wallet development
Our Crypto Wallet Development Solutions
Just like any other wallet, crypto wallets keep all digital assets, including tokens, NFTs, crypto coins, etc. There are different types of crypto wallets, including software wallets, hardware wallets, and paper wallets. We at BR Softech are highly driven by the reputation of being the best crypto wallet development company in Hong Kong, so if you want to step into the world of cryptocurrency, hire us to get everything at your convenience. Hire us to get different types of crypto wallet development solutions, which include:
White-label crypto wallet software
Turnkey crypto wallet software
Customized crypto wallet software
Blockchain-based crypto wallet
NFT crypto wallet software
Hire our Crypto Wallet Developers
Our in-house certified and experienced crypto wallet developers work day in and day out to bring forth the most trending and latest crypto wallets that are authentic, credible and safe. We use advanced technologies and the latest market trends to bring forth the most innovative and user-friendly crypto wallets.
Different Types of Crypto Wallets
We develop different types of crypto wallets. In general, crypto wallets are broadly classified into two categories: Hot Wallets and Cold Wallets.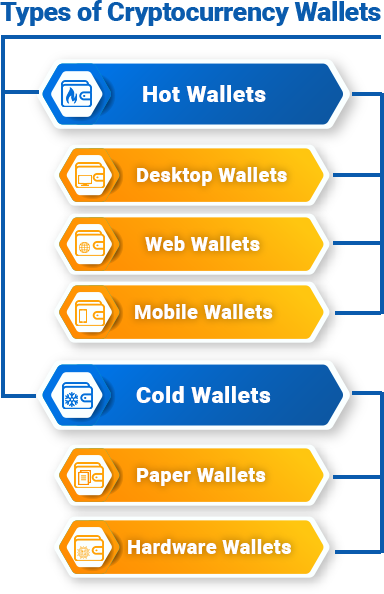 Hot Wallets

These wallets are used for instant and quick cryptocurrency transactions. Here are some of the major hot wallets:

Desktop wallets

It requires software or applications to be installed on your PC.

Web wallet

Here the web browser plays an important role by keeping crypto assets.

Mobile Wallets

It requires a mobile app to do transactions.

Cold Wallets

These wallets offer high and premium standards for cryptocurrency safety and support. The major cold wallets are:

Paper Wallets

In this type of crypto wallet, physical documents carry the information and the keys.

Hardware Wallets

This kind of wallet resembles a USB-like hardware device which offers immense safety and security.
Features of Cryptocurrency Wallet App
We use high-end features to provide users with a smooth and safe experience. Here is the list of some of the major features we use:
Enhanced Privacy

We use a private key to provide users with enhanced privacy and security.

In-Chat Transactions

It enables users to do instant crypto transactions of crypto assets.

OTC Trading

Over-the-Counter helps users do trading between two users.

Multi-Layer Security

We optimize multiple layers of security to offer users a flexible and convenient crypto wallet.
API Integration to Crypto Exchanges

It enables users to do multi-tasking & trading within the system.

Credit Card Support

Via this feature, anyone can buy crypto tokens using credit cards.

User-friendly Interface

This feature enables users to use the platform in the easiest way.

KYC Verification

This type of verification process improves authentication.
Tech Stacks For Decentralized Cryptocurrency Wallet Development
Here is the list of the latest tech stack we use to develop high-end and safe cryptocurrency wallets.
Crypto Wallet Development Process
As a leading crypto wallet development company in Hong Kong, we aim to follow a step-by-step guide to creating secure crypto wallets that offers a seamless experience to users. Here is the crypto wallet development process we follow:
Market Research

The first and foremost thing we do is market research and analysis by gathering complete information about significant details like target audience, budget, etc.

Design

After completing the research, we focus on designing aspects by creating an interface for the crypto wallet.

Development

We ensure the use of the latest technologies and tech stack to develop end-to-end cryptocurrency wallets.
Deployment

We use high-tech marketing strategies like digital marketing campaigns, email marketing, and content marketing to promote your crypto wallet.

Testing & QA

We use the latest testing techniques like integration testing, functional testing and integration testing to fix all the bugs and glitches within the platform.
Why Choose BR Softech as a Crypto Wallet Development Company in Hong Kong?
As a leading cryptocurrency wallet development company in Hong Kong, we adhere to keeping up with the latest market trends, client demands and requirements in the most affordable manner. We use quality-driven features, graphics, and outstanding sound effects to design and develop tailored cryptocurrency wallets. Choose us to get:
On-time delivery of the project
Crypto exchange platforms
Frequently Asked Questions(FAQs)
On average, it costs around $25k to $30k to develop a crypto wallet with basic features and functionalities.
It takes around two to three months to develop a cryptocurrency wallet from the scratch.
With the advent of technology and rising digital currency, it is lucrative to invest in the crypto wallet to generate great leads and get a high level of benefits and ROI.
Our Game Services
Our highly competitive and skilled team of game developers offers advanced game development services which are compatible with operating Systems like, Android, iOS, Windows, and more.