As a top-rated bitcoin wallet development company in Hong Kong, we are highly known for our excellent and top-notch development services. From conceptualization, design and development to deployment and promotion; we offer the on-time project delivery of the feature-rich end product.
Our full-stack team of blockchain developers use a customer-centric approach to developing a bitcoin wallet app that runs on all operating systems and CEFI & DEFI Platforms. We aim to focus on transparency and credibility to develop end-to-end bitcoin wallet development solutions at your convenience and under your budget. Hire our developers to get supreme-quality and tailored solutions as per your project specifications.
Best-in-class Bitcoin Wallet Development Solutions
As the best bitcoin wallet provider, we have helped global clients to make a difference in the market with safe and secure bitcoin wallet integration. We make sure to use our in-depth knowledge and client's requirements to design and develop best-in-class bitcoin wallet development solutions, including:
Multi-Currency Wallet Development
Centralized Bitcoin Wallet Developmentt
NFT Bitcoin Wallet Development
Tron Wallet Development
Defi Bitcoin Wallet Development
Web-Based Bitcoin Wallet Development
Bitcoin Wallet Development Services
As a leading bitcoin wallet development company in Hong Kong, we have been helping 'N' number of clients leverage the power of bitcoin and cryptocurrency to enhance their business productivity and performance. Here is the list of bitcoin wallet development services we provide:
Bitcoin ATM software development

Bitcoin javascript development

Blockchain development
Bitcoin exchange platform development

Bitcoin ICO development
Hire Bitcoin Wallet Developers
We have the best team of certified and skilled team of bitcoin wallet developers who possess exceptional programming skills, knowledge and years of industry experience. With high-end features, outstanding sound effects and visually appealing graphics, we can convert your dream projects into reality. Hire our bitcoin wallet developers to get constant tech support even after the development and deployment of the software.
Types of Bitcoin Wallet Development
In order to stay ahead of the curve, make sure to leverage different types of bitcoin wallet development services, winch include: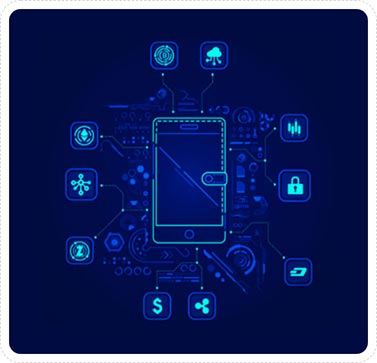 Web Wallet

A web wallet is a type of browser-specific wallet where bitcoins can be stored in the most secure way.

Hardware Wallet

These are the bitcoin wallets that store users' private keys on a secure hardware device to improve security.

Desktop Wallet

It stores and manages the private keys for your bitcoins on your computer hardware.

Mobile Wallet

These are the types of applications that can store payment information, including APIs for financial accounts and bitcoin.
Why Choose BR Softech as a Bitcoin Wallet Development Company in Hong Kong?
As a top-rated and internationally recognized bitcoin wallet development company in Hong Kong, we ensure to offer our clients 100% satisfaction via tailored and customized solutions. We use high-level features, excellent sound effects, and visually appealing graphics to deliver excellence and innovation at their best. Choose us to get:
An expert team of developers
Bitcoin exchange solutions
Frequently Asked Questions(FAQs)
It takes around two to three months to develop a bitcoin wallet from scratch.
On average, the cost to develop a bitcoin wallet ranges from $30k to $35k.
Yes, we provide customized bitcoin wallets that are packed with high-performance features, graphics, and sound effects.