Are you looking for customised and bespoke Ludo game app development? Fret not, BR Softech is adept at customised Ludo game app development and prioritises client satisfaction above all else. We strive to develop customer-centric Ludo game apps that are entirely customised according to our client's requirements. We also provide Ludo solutions for multi-gaming platforms packed with interactive features that greatly enhance the user experience of the Ludo game.
Best Ludo Game Software Development Company
Being the best Ludo Game Development Company in India, BR Softech excels in delivering robust and secure Ludo app development services to our global clientele. Our skilled team of Ludo game developers in India have years of experience in developing a wide variety of board games. We leverage advanced technologies like AI and ML and integrate the same in our Ludo game app development solutions in order to exceed the expectations of our clients.
Being a top Ludo App Development Provider, our developers strive for client satisfaction and work round the clock to develop real money ludo game development solutions. Our Ludo game developers are adept at building cutting-edge Ludo solutions for multi-gaming platforms that are loved by users.
Top-Notch Ludo Game Development Services
BR Softech offers cost-effective Ludo game app development services to ensure that we meet the demands of our clients. We utilise a perfect blend of interactive features and the latest technologies to create online ludo tournament app development solutions that are popular all across the globe.
Our best Ludo game app developers drive for perfection and ensure to leave no room for loopholes and errors in the development process. We use full-fledged Ludo development strategies and also provide round-the-clock customer support to ensure regular upgradation and maintenance of the Ludo game app. Our Ludo development services include-
Android Ludo Game
iOS Ludo Game
AR/VR Integration
Desktop Ludo Game
Ludo Game UI/UX Design
Ludo Game Testing
Social Media Integration
2D and 3D Ludo Game
Hybrid Ludo Game
Hire Ludo Game Developers
BR Softech has certified in-house developers who specialise in developing next-gen Ludo game apps for platforms like Android, iOS, and the Web. Our certified Ludo game developers have years of industry experience and strive to develop customer-centric Ludo game solutions that attract a large audience and offer an unprecedented gaming experience. With over 10 years of experience, our developers have a deep understanding of the board game market and utilise their knowledge to build scalable and reliable apps that exceed the expectations of our clients.
Launch Your Own Ludo Game App Today
Hire Now
Different Modes of Ludo Game
Being the best Ludo web development company in India, we integrate multiple game modes in our Ludo game development solutions to offer an unprecedented gaming experience to our users.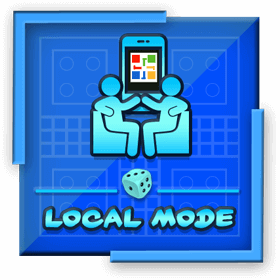 Local Mode
Enjoy the game with your friends and family on a single device with Local Mode.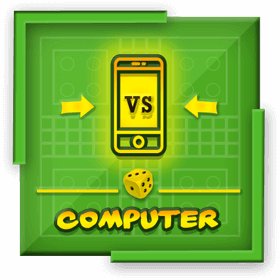 Computer Mode
In case none of your friends is available, you can play against a computer AI bot.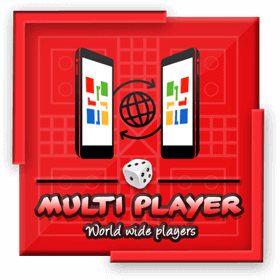 Multiplayer Mode
Play the Ludo game with others on different devices. Users can also link their social media accounts and invite their friends to play via Multiplayer mode.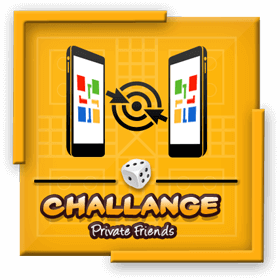 Play Online Mode
Enjoy a thrilling Ludo game with players all across the globe with the Play Online mode.
Real Money Ludo Game Development
Ludo is an exciting board game that is played all over India and around the world. However, with the advancements in technology, the popular board game has been massively improved. Our developers merged the Ludo game with the Play-to-earn genre and developed Real Money Ludo Game Apps that allow players to earn real money while playing on our online Ludo game development solution. Now leverage the power of Ludo game development and have a chance to earn real money while enjoying your favourite board game.
Exclusive Ludo Game Development Features
In order to deliver a robust and immersive gaming experience, our skilled Ludo game developers incorporate various Ludo game development features in our Ludo game app.
Play With Friends

The ludo game platform allows users to play the Ludo game with their friends and family and earn real money rewards.

Quick Play

Enjoy a fast-paced Ludo game with autoplay and auto move

Live Chat

Connect and interact with other players via voice, texts, and emojis when playing the Ludo game.

Refer & Earn

Invite your friends and family to the Ludo gaming platform and earn additional rewards that enhance the gameplay.
Auto Move

The auto-move feature moves your token automatically according to the roll of the dice.

Daily Bonus

Users get daily bonuses that can be used to enter Ludo tournaments and also serves as a motivation to users to play more.

Multilingual Support

The Ludo game app is integrated with multiple languages so users all around the world can enjoy the game in their preferred language.

Anti-Fraud System

We utilise cutting-edge security measures and tools to ensure that our Ludo app is safe from cyber threats and phishing attempts.
Our Comprehensive Ludo Game Development Process
In order to develop feature-rich and robust Ludo game apps, our developers follow an agile and strategic development approach to facilitate the development process and develop an app within an estimated Ludo app development cost.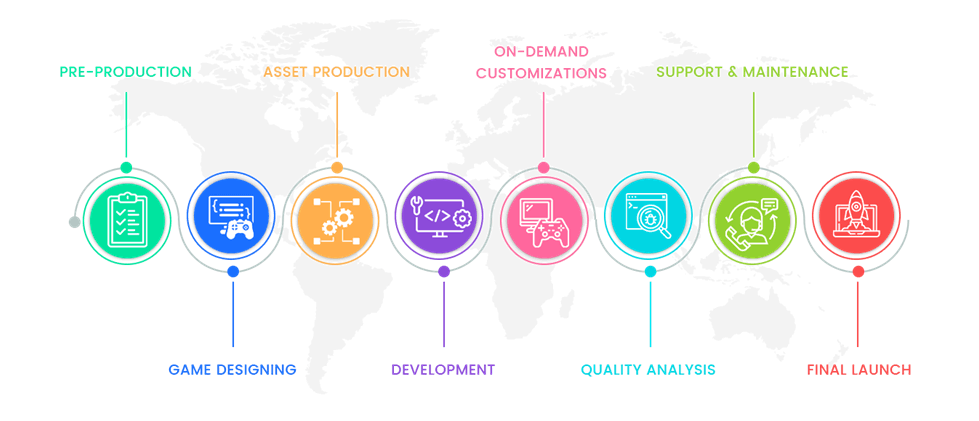 Make an Impact with our Ludo Game Development Solutions
Why Choose BR Softech as Ludo App Development Provider?
Being the best Ludo game development company in India and the USA, BR Softech leverages advanced technologies to facilitate Ludo game development. Our highly-experienced developers offer supreme-quality and innovation-driven Ludo game development services that perform flawlessly on platforms like Android, iOS, and the Web and elevate your online Ludo game business to new heights. Our team of programmers, designers, and developers will assist you in every step of the development process from ideation to planning to deployment. Choose us and get-
Integration of the Latest Technologies
Our Game Services
Our highly competitive and skilled team of game developers offers advanced game development services which are compatible with operating Systems like, Android, iOS, Windows, and more.
Frequently Asked Questions
Q1. How long does it take to develop a Ludo game?
Ans. It can take up to 3 months to develop a Ludo game app. However, the development time can be increased to 4 months depending on the platforms and features.
Q2. What is the cost to develop a Ludo game?
Ans. The Ludo game development cost is dependent on a variety of factors including platform, features, location of developers, etc. On average, it takes around $20,000 to $30,000 to develop a Ludo game from scratch.
Q3. What other board games do you develop?
Ans. We develop a variety of board games including Carrom, Chess, Snake & Ladder, Monopoly, etc.
Q4. What technologies do you use for Ludo game development?
Ans. Our developers are well-versed in advanced technologies. We utilize a robust tech stack according to the platform to develop high-tech Ludo game apps.
Q5. Can I earn real money by playing online Ludo?
Ans. Yes, we offer real-money ludo game development where users can earn real money whenever they win a Ludo game against other players.
Latest Blog
Intensify your knowledge to navigate your digital transformation with us.
USA Office
21 Overlook Ridge Terrace
#523 Revere, Boston,
MA 02151 USA
+1-650-727-6690
India Office
90, 10 B Scheme, Usha Vihar,
Triveni Nagar, Gopalpura Bypass,
Jaipur- 302018, Rajasthan INDIA
+91-7821055537 , +91-9982201414
Australia Office
11 parklands place,
Morwell, Vic-3840
Australia
+61 425 630 321
Canada Office
1193 Main St #3301,
Vancouver, BC V6A 4B6,
Canada
+1-604-360-4433