Over the past few years, artificial intelligence has proven to be the most vital tool in video game development. Numerous video games, such as shooting games, racing games, and strategy games, have diverse AI-controlled elements & features, such as friendly characters or adversary bots. In artificial intelligence video game development, even vague characters and elements that are not important but are programmed for adding depth to the game and make it more interesting. According to a Statistic analysis, the earnings from the international automation market are anticipated to increase by more than $50 billion by 2024 compared to 2016.
AI Game Development Company
BR Softech, one of the finest AI app game development companies proffers astounding robotic process automation, known as an advanced form of business process automation technology by artificial intelligence and software robot notion. Furthermore, it helps an organization eliminate repetitive tasks and increase the productivity
However, there are indeed a lot more ways where AI and video games can grow together and revolutionize the whole era of the iGaming industry. As a team of the best AI developers, we try out our best capabilities to keep up with the changing algorithms.
As video games are now improving their patterns with more study and Channing technology. With the changing technology and its unbeatable dynamics, it is almost time to revolutionize the whole era of the iGaming industry and bring out the finest set of games and projects to give game enthusiasts an exceptional experience
What Artificial Intelligence Is?
The development of machine intelligence for performing the tasks that need human intellect is the focus of the broad field of artificial intelligence (AI), which is a subfield of computer science. Even though it uses a variety of methods and is an interdisciplinary field of study, advances in deep learning and machine learning are causing a virtual fundamental change across all the dynamics of technology, and with that iGaming industry
How does BR Softech AI Game Development work?
It ain't easy to just build an AI system for an AI video game production company; it involves an intensive process of reversing engineering human traits and skills into a smart machine and utilizing its computational power to outperform our talents and make it look like a reality.
Here at BR Softech, we've dug deep into the various sectors and domains of AI to have a better understanding of how it works and how it can make your game an astounding project.
Following are a few of the domains we excel at:
Deep Learning

It is an ML technique that teaches a computer to process inputs in layers for classification, prediction, and inference of outcomes.

Machine Learning

It teaches a machine how to draw conclusions and make decisions based on previous outcomes. It looks for patterns and historical data that might affect the meaning of the data points and lead to potential outcomes. It includes human experience, which is particularly beneficial in the creation of AI video games.

Neural Networks

It uses a series of algorithms to capture the relationship between several underlying parts and processes the data in a way similar to how human neural cells function.
Processing of Natural Language

It is applied for machine-based language reading, comprehension, and interpretation. When the machine understands the precise communication, it responds appropriately.

Cognitive Computing

By monitoring voice, text, objects, or images in a way that a human would understand and aiming to achieve the intended output, this algorithm attempts to mimic the functioning of the brain.

Computer Vision

These algorithms attempt to interpret photos by splitting them and examining the parts of the various objects. To provide a better result through accurate understanding ", the machine divides and learns from the image collection.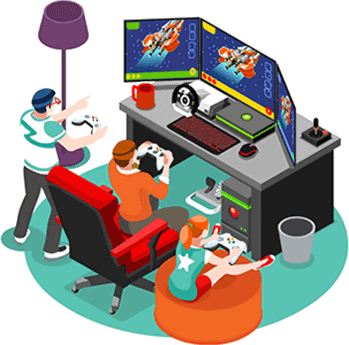 Artificial Intelligence in Video Game Programming
BR Softech implements AI for all types of video game development to improve the player experience. Machine learning uses the recorded data to develop an environment where simple actions can be carried out to create relatively basic AI games. With the use of this data, we can develop the game's environment and make the characters seem much more realistic.
With our expertise and an unparalleled team. We are providing excellent services and have solid AI knowledge & expertise. The AI algorithms ought to have access to rich information and data to enable them to respond appropriately to certain stimuli. Although ML has a massive user base, many companies have not embraced it due to the difficulty in obtaining the vast amounts of data required to train AI systems.
In the industry of video games, where creators are projected to invest varied resources in determining whether AI is capable or not? AI for game creators has many automation applications, but only for those who have access to the limits of technology.
How AI Can Bring a Revolution in the Video Game Industry?
We don't believe in words but due to our unbeatable team which helps us assist the industry by creating artificial intelligence video games that offer users a seamless gaming experience. When a developer creates a game, he wants to create an experience for the player by amalgamating AI characters into video games that make them more astounding
The major driver of AI technology these days is the iGaming industry. Take a look at how AI is transforming the gaming industry.
Creating More Smarter Games
Non-playable characters are controlled by AI, and these characters take action cues from the player and adjust their behavior accordingly. The goal of artificial intelligence in games is to create a solid system that can comprehend background noise, voice, and other sounds.
Changes in Skills of Developers
The technical and creative skills of game developers have been improved by the introduction of ultra-modern technologies. For the creation of such dynamic and realistic games, AI techniques and algorithms are projected to blend more naturally with the traditional talents of game development. Developers are creating astounding games with the help of AI
Improved Experience of Gaming
While playing games, you can compare them in terms of team chemistry, graphics, and many other things. AI has made different paths of leisure and reality in the iGaming industry which gives its users a different exceptional experience
Realistic Games
With today's games, 3D visualization techniques and physical-based simulations, including augmented reality and virtual reality, will evolve and with iGaming would be revolutionized too. These have given mobile game creators the tools they need to create more interesting and engaging games.
Smarter Mobile Games
The evaluation of mobile games is the primary driver of the growth in video game earnings. It offers powerful processing and enables game designers to create more fully immersive mobile games. Currently, mobile game developers are experimenting with different machine learning and AI algorithms to make their games smarter and better
The Services Provided by BR Softech in Gaming Through AI
Using artificial intelligence, you can now anticipate what a player will do and direct the AI character accordingly. Additionally, it assists in the possibility to make machines smarter so they can pass judgment based on the concept.
These machines continue to learn just like humans do, and they make decisions based on particular circumstances. Here are a few of its advantages:
1. Ability to Predict

Some key AI components to use in evaluating players' upcoming moves and making decisions based on them are Support vector machines (SVM), Artificial Neural Networks (ANN), and Decision Tree Learning. All this is done by the past used patterns of players and through random guessing.

2. Better Decision-Making

A better way to illustrate artificial intelligence in games would be to point out how intriguing it is for these games to react to user actions. AI, which enables decisions based on actions, is capable of carrying out all of these and making it interesting for the users

3. Improved Interactions

The interaction between the game and the player must be managed carefully if you want your game to succeed. One could argue that AI is a ground-breaking technology that strengthens the bond between the player and the game.
4. Inhibiting Intelligence

Games now offer more than just entertainment courtesy goes to artificial intelligence game development services. These serve as a good artificial intelligence testing ground because they can be used to track player behavior and help them to use their intelligence less

5. Effective and Realistic Games

Artificial intelligence is particularly intriguing because it enables game designers to create more engaging games for gaming enthusiasts, which also enhances player engagement with the game's characters and makes it seem much more realistic and fun.
BR Softech Game Development Process
Our developer's team has been in the industry for a quite time now which gives them a wealth of experience in creating and implementing plans and carrying out astounding games and projects
Pre-production, Production, and Post-production are the three steps that we follow in our projects to create astounding games
Pre-Production:
During the pre-production stage, the client and the developers collaborate on the game's concept and understand each other's requirements
Production:
This process involves where the designers and developers come in role play and carry out the process of making the blueprint into the reality
Post-Production:
In this part of the process the testing is there to see the functionality of the game and make the alterations accordingly
Why Choose BR Softech?
Time flies, gone are the days when people used to be hooked on televisions and leisure activities in their free time or for entertainment. Everyone is hooked to their phone these days and with the growing technology,y the iGaming industry is ruling the world right with its astounding realistic games. With the growing industry and opportunities, BR Softech leaves no stone unturned to keep with its standards and stand firm on the top. With our skilled AI tea,m we proffer astounding AI game development that is surrealist enough to give its users a lifetime exceptional experience.
Customized implementation
We know everybody is different and every business has its requirements, hence we assist our clients with tailored made solutions that can elevate their business
Smart and flexible solutions
With the growing technology, we aim our best to give skilled and smart solutions with easy flexibility that can make your game an exceptional project
Seamless Communication
We believe communication is everything to keep things afloat and easy, we tend to keep our clients in the loop with the process and every action of ours to have transparent communication and a great project.
Expert Game Programmers
We have a team of highly skilled developers who have been in the industry and can make the exceptional game with their knowledge and imagination.
24*7 customer services and technical support
We are here for our clients no matter if they want a tailored solution or they require help or our consultation in any things related to the iGaming industry we are here for you 24/7.
Latest Blog
Intensify your knowledge to navigate your digital transformation with us.
USA Office
21 Overlook Ridge Terrace
#523 Revere, Boston,
MA 02151 USA
+1-650-727-6690
India Office
90, 10 B Scheme, Usha Vihar,
Triveni Nagar, Gopalpura Bypass,
Jaipur- 302018, Rajasthan INDIA
+91-7821055537 , +91-9982201414
Australia Office
11 parklands place,
Morwell, Vic-3840
Australia
+61 425 630 321
Canada Office
1193 Main St #3301,
Vancouver, BC V6A 4B6,
Canada
+1-604-360-4433