Unity is one of the finest widely used 3D game development engines that helps developers to unleash the brisking and astounding gaming experience. All our Unity 3D game development solutions can be easily accessed on major devices, which are web browsers, PCs, and other mobile devices such as Android & iOS.
Our results-driven approach influences every step of the creation of Unity games and make it one of a kind.Our skilled Unity game developer excels in developing a range of Unity games that leaves its end users with an enthralling experience.
Unity 3D Game Development
As one of the finest and accredited Unity game app development companies, we behold expertise in turning your game concept into an interesting and highly engaging 3D gameplay environment.Empoly a Unity 3D developer from BR Softech who knows it all when it comes toDirect3D, OpenGL, and OpenGL ES. We have developers with a wide range of experience 7& knowledge, who are specialized in catering to all your customized needs. Our ability to produce interactive 3D visualizations from real-world data using Unity's amazing graphics capabilities allows us to effectively address the needs of our clients and help them stand out right. Whether it is VR/AR integration in Unity games or building interactive 3D visualizations, you can count on BR Softech who can make your dreamy game into a reality
Unity Game Development Solutions
At BR Softech we only aim to provide the best solutions to our clients by understanding their game with each detail and curating a customized solution for the same.
Android Unity game development
iOS Unity game development
PC Unity game development
Web Unity game development
Unity augmented reality (AR) game development
Unity virtual reality (VR) game development
Unity 2D & 3D game development
Cross-platform Unity game development
Custom Unity game development
Unity Game Development Service Provider
We don't believe in words but in actions you can see our work, we have created many impressive games with interactive visualization that can make your game stand out right in the iGaming industry. We aim to provide a best-in-class gaming application that assures you elevated returns.
In terms of functionality, design, and performance, we provide unparalleled and incomparable 3d rendering solutions for flexible functionality
We proffer dynamic, risk-free operating solutions is the reason we stand on the top in the iGaming industry as well-known 3D Unity game developer that can meet all of your various requirements.
Unity Game Development Services
Unity provides cross-platform compatibility that helps its developer in using the latest unity game development tools.
Our experienced game developer provides the dynamic Unity game creation services.We are providing great games from casual games to complex games that support both 2D and 3D maintenance support.
Unity 2d/3d Game Development

We specialize in the unity of 3D platforms due to enriching knowledge and our years of experience. We develop a 3D/2D unity game with almost no complexities and coding that can put forth the finest of products that can elevate your business. Our Unity 3D game developers come with great application resources that can easily enhance the gamer's experience.

We have a dedicated game development studio that can assist you with stunning graphics rich background
Unity Vr/Ar/Mr. App Development

There are many VR SDKs available that help VR developers create unity VR games for iOS and Android.With assistance of our Unity VR Game development, users can experience the digital space in the real world through 2D and 3D visualization games.Our unity AR game development aims to provide the best visualization with an astounding environment. Unity MR app development is the fusion of Virtual Reality games and mixed reality games that provide an immersive experience and high-quality graphics that keep the users on the edge of their seats.

Create a virtual environment with Seamless Virtual Experience integrated with Rich Graphics.
Unity Mobile Game Development

We are a well-known Unity Mobile Game Development company that develops elevated mobile gaming experiences for the users using unity across platforms.We envision providing the best of solutions by putting forth our best knowledge and expertise to create one of a kind game with astounding rich graphics and quality

We have unparalled team f mobile game developers developing interesting games for the iOS and Android platforms
Unity Multiplayer Game Development

Now experience the Unity Multiplayer Game Development that provides you real-time gaming experience. We can help to build rich and engaging multiplayer games that can easily make the sports lovers' day memorable and worthwhile.

We assist you in building a game that improves customer relations and also helps companies to target the right audience and retain them for good
Unity Cross-Platform Development

Unity Cross-Platform is an emerging tool widely used by many Unity Cross-Platform Development for higher productivity and minimum efforts. The best 3D graphics and engaging gameplay are optimised with the Unity cross-platform basis.
Game Application Maintenance and Support

We are making things easier for those that are looking for the best gaming software.We can proffer to help in your sports business & process efficiencies by providing 100% unity technologies games application maintenance and support.

Create the ultimate virtual environment with Seamless Virtual Experience Integrated by Rich Graphics and Render 2D scenes Develop 2D Games in Different Genres.
Unity 3D game Design

Here at BR Softech, we offer a full suite of Unity 3D game design services including UI/UX, object drawing, and user experience design. With the help of our talented Unity 3D game designers we can turn your dream into reality, you imagine your reality and we help you discover it with our best efforts.
Embrace Innovation to Drive Transformation
Contact us
Customized Unity Game-Making Software for Multiple Platforms
Our highly experienced Unity game developers deliver one of the most ultra-modern gaming solutions which can function flawlessly across all platforms.
Unity Game for Android
Our qualified Unity game developers are trained in the JDK and Android SDK. Integrating ultra-modern technologies that can give its end users an enthralling gaming environment. We have created outstanding unity games for Android. We aim to create stunning android unity games in the iGaming industry
Unity Game for iOS
Being a Highly Proficient Unity game app development for the iOS platform, we deliver high-standard gaming solutions that help you ace up your business and make your space in the iGaming industry. Our skillful game developer is using the best programming languages like native C, C++, and iOS functionalities for developing unity games for iOS.
Unity Game for PC
Our expert unity game app developer is providing a supreme quality gaming experience with multi-function capabilities and ultra-modern features. Featuring elevated gameplay exeprience, our Unity game for PC enables both 2D and 3D genre games.
Key Features Of Unity Game Development
We are a top-tier unity game development company that aims to provide the best solutions in the iGaming industry. We believe in delivering optimum results through our team who excel in everything and have good knowledge and experience in the iGaming industry.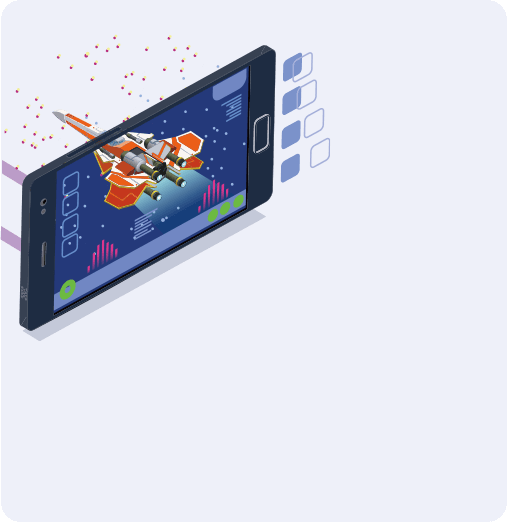 Stunning Graphics

Quality and Performance are our USPs. We offer stunning animations and high-quality aesthetics and only good aesthetics can help you retain your users

Rendering Experts

Our specialists are skilled rendering at providing clients with exceptional solutions to target right and wider audience.

Exceptional Gaming Experience

Our team of unity game developers is highly skilled and professional. They help you to develop

Multi-platform Support

We can provide multiple platform assistance and support for iOS, Android, and Web.

VR/AR Support

BR Softech is one of the finest VR/AR app development company. We inculcate dynamic modern 3D animation technology in your games.

Asset Store and Plugins

We have a giant assortment of unity assets stores and plugins that can wrap everything related to projects, models, and even animations.

the customized game according to your business requirements
Why Choose BR Softech As a Unity Game Development Services Provider?
Our highly competitive and knowledgeable team of game developers provides innovative unity game development services that are compatible with all platforms and help you elevate your business right in the iGaming market
Unity Integration

Providing the finest unity integration with in-built support to give that flexibility.

Unity Programming

We excel at programming in unity in developing games, to give you the finest of products.

Unity Mobile Development

Bringing the best-in-class unity game as we have a skilled team in unity mobile development.

Unity Implementation

Implementing a highly engaging and aesthetical environment for its end-user to give them enthralling gameplay.
Unity Gaming Architecture

Developing seamless and smooth functioning by having all the aesthetics in the blueprint and then turning them into a reality

Brilliant Visuals

With the astounding team of excel developers who can proffer you with enchanting audio and video visuals that can make your game stand out

Cross-Platform Development

We have a good knack for developing cross-platform unity game development, that can give the right amount of flexibility for the same.

Regular Updates

Get regular updates and great support from our unity development team who can assist with even the slightest issues.
Sign in with the best Unity Game Developer
BR Softech aims to provide ultimate highly functional and feature-rich services that can elevate your business. Our team of skilled programmers puts in great effort to develop your game following your business requirements. Our experts examine every aspect from beginning to end, covering everything from dynamic gaming designs to an endless amount of unique features. Sign in with us since we ensure top-notch functionality for our customers while keeping up with the latest trends and technologies.
Call To Action

Customized Solutions
Our goal is to develop dependable, tailored solutions by carefully analyzing the demands of the market and our clients. We want to provide the best solutions possible so that they will meet the client's needs.

Seamless Communication
To assist our consumers with high-quality services and deliver the best quality solutions we aim to keep our whole process in the loop with our clients through continuous communication

Confidentiality
Our client's data is of paramount importance to us and we try our best to keep it confidential

24x7 Dedicated Support
Our round-the-clock maintenance and assistance services offer proactive monitoring to ensure the system's durability with the fewest interruptions. With our professional approach, we always make sure to provide our clients with a feeling of security.

Top-notch Security
We respect the privacy of our clients and make every effort to adhere to it strictly. By providing our consumers a highly secure app that safeguards against other deceptive or unauthorized activities that can hamper the customer's sensitive information.
Our Game Services
Our highly competitive and skilled team of game developers offers advanced game development services which are compatible with operating Systems like, Android, iOS, Windows, and more.
Latest Blog
Intensify your knowledge to navigate your digital transformation with us.
USA Office
21 Overlook Ridge Terrace
#523 Revere, Boston,
MA 02151 USA
+1-650-727-6690
India Office
90, 10 B Scheme, Usha Vihar,
Triveni Nagar, Gopalpura Bypass,
Jaipur- 302018, Rajasthan INDIA
+91-7821055537 , +91-9982201414
Australia Office
11 parklands place,
Morwell, Vic-3840
Australia
+61 425 630 321
Canada Office
1193 Main St #3301,
Vancouver, BC V6A 4B6,
Canada
+1-604-360-4433
FAQ
How long have you been building Unity apps?
We have been building Unity apps for more than 10 years. Our Unity game developers have access to the latest tools and frameworks that help them to build the most advanced solutions with enticing features.
Do you build Unity game applications for tablets?
Yes. Having an expert team of unity developers, BR Softech builds any type of application on any platform whether it is android, ios, tablets, PC, and so on. We can assist you with all sorts of unity game applications for every platform you require.
What approach do you follow while building Unity game apps?
Our team of unity game developers follows the strategic approach for building the unity game apps and follows it throughout the project until it gets complete. We provide quality, timely delivery, and professional coordination while building apps to give the finest product.
Before developing the app, do you follow the latest iGaming industry trends?
Yes, we do follow the latest industrial trends. We do competitive research and analysis before beginning the project. We proceed with the app with the help of the blueprint that we make through our research and analysis.