BR Softech has gained a remarkable position in offering the best-mixed reality application. We have a team of experts who are competent and proficient in developing the best and most outstanding mixed reality app which helps in enhancing the company's brand image with the use of the latest and advanced technology. We work on the motto of providing the top quality apps within the time frame. We provide mixed reality solutions that can be used for Android, iOS, or desktop, our team is efficient enough to develop anything and can turn the client's idea into a real-world MR app.
What is Mixed Reality?
Another name for mixed reality is hybrid reality. It is an amazing combination of the real-world and virtual world to create new habitat. This was initially introduced in 1994 by Paul Milgram and Fumio Kishino in their paper, the paper focused on the introduction of mixed reality. The expansion of mixed reality applications came with varied possibilities that are beyond imagination. Technology advancement has brought many changes in the real world and provided a new platform for interaction in real-time.
Why is MR App Development Important for Business?
Nowadays mixed reality (MR) is the trending technology, which is competent in enhancing the company's foothold by having a competitive edge. The MR helps in integrating augmented reality and virtual reality which assist in providing an astounding virtual experience with extraordinary visuals. It can be integrated into any industry be it construction, medical, or manufacturing where audiences can experience both physical and digital objects at the same time.
The capability of mixed reality is just gaining its presence but still, it needs to be discovered more.
Efficient recruitment and screening
Captivating and integrated marketing strategies
Enhance customer experience
Gain prime opportunities by personalizing
Real-time assistance in maintenance and control
Blended reality helps in stimulating buying decisions
Amplify expertise and efficiency in work collaboration
What is Mixed Reality Technology?
Mixed reality is an amalgamation of the virtual world and augmented reality where there are digital objects and their interface, The Mixed reality helps in interconnecting the physical and virtual objects.
AR assist in showcasing the virtual object in the real world with the use of the camera of a smartphone or tablet. Some examples of the use of AR are Snapchat filters, virtual makeup, and interior design.
AR is different from VR as it provides the experience of a virtual environment but with the use of some particular gadgets such as VR headsets and controllers.
With the use of AR and VR in mixed reality apps, there is an amalgamation of the real world with the digital world.
Ready to Leverage the Benefits of Mixed Reality App Development For Your Business?
Schedule a free consultation with our highly proficient mixed reality app developers.
Contact Us
Benefits of Mixed Reality App Development
A mixed reality app has numerous benefits attached to it some of the noteworthy benefits are as follow:
Reduce Maintenance
Mixed reality applications assist in identifying the important aspects and help in eliminating the maintenance time.
Improves Quality
A mixed-reality application provides a platform with the interface of the real world with the virtual world and it assists in improving the overall quality of the organization.
Make E-Learning Easy
With the use of mixed reality apps, the overall engagement is increased with the use of modern technology and breaking down the use of traditional methods.
Focus on Existing Technologies
The use of modern technology helps in making the best of applications and executing the real-life experience in the app.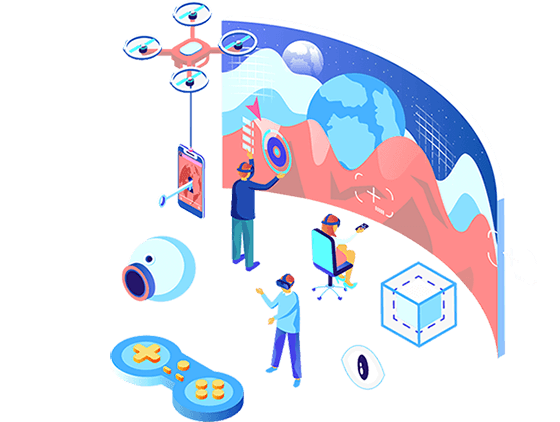 Mixed Reality App Development Process
The development process is most important as the success of the whole app depends on it, We at BR Softech offer an advanced mixed reality app development process.
Requirement Analysis and Brainstorming
The first step starts with a vigorous brainstorming session and collecting the desired requirements of the client and moving further.
Prototype Development
After the requirement analysis, the next step is to select the essential use case for developing a prototype while focusing on functionality and interface.
UI/UX Design
The next step involves designing an easy user interface that is visually enchanting which helps in increasing the user engagement.
Development
This stage basically involves where the developers frame the thousand-line coding to come up with the mixed reality app development solution.
Testing
The next step involves testing our team of experts runs multiple tests to make sure that the app is working properly and as desired.
Deployment
The final step involves introducing the app in the market and stimulating customers towards it.
Why Should You Choose BR Softech For Mixed Reality(MR) App Development Services?
BR Softech is a remarkable name in developing mixed reality apps, we work with the aim to develop mixed reality apps that can attract and engage the audience.
Best Mixed Reality App Development
We assist in providing Android and IoS app development with great graphics and an amazing interface.
24x7 Technical Support
We provide real-time assistance to the clients, our experts are available 24*7 to provide assistance to the clients.
Expert Game Programmers
The team of professionals has the expertise to develop mixed reality programs, their expertise help in providing a rich and high-end gaming experience.
Smart Solutions
We endeavor to provide smart service solutions with the use of top-notch technology while providing cost-effective solutions.
Seamless Communication
We nurture seamless communication to provide users with an amazing experience with the help of customized services.
Flexible and Customized Solutions
We are well equipped with a team of highly experienced and proficient professionals who have exhausted experience in developing and creating mixed reality apps.
Industry-Specific Mixed Reality App Development Solutions
BR Softech has remarkable experience in creating mixed reality app solutions for different industries which are listed below:
Architecture and Industrial Design
Types of Mixed Reality App Development Services By BR Softech
Mixed reality development acquires the features of modern and innovative technology of both AR & VR. It provides a platform and a connection between the real ad virtual worlds with different blends. It offers a place where there is digital transformation with the use of digital content, it is a perfect amalgamation of augmented reality and the virtual world.
Augmented Reality

Augmented Reality is a fusion of the digital world and physical content to design artificial habitats. This technology assists in providing support to the users to encounter artificial intelligence. Augmented reality provides users with an intuitive experience with the assistance of innovative and modern objects recognition
Virtual Reality

Virtual reality is an artificial domain designed with varied technologies and portrait to the user in such a way that the user considers it to be real. Virtual reality can be used with varied senses like vision and sound. It assists in creating the best 3-D habitat which can be used for interaction and can create different objects.
Let's Plan Your Next Augmented Reality, Virtual Reality, and Mixed Reality App Development Project With Us.
Get A Quote
Why Should You Choose BR Softech For Mixed Reality(MR) App Development Services?
BR Softech is a highly renowned mixed reality app development company that works with the vision of developing mixed reality app development solutions that go a long way to impress, engage, and wow the audience.
Best App Development
Get a variety of Android and iOS app with our team of experts and experience the stunning graphics with a highly polished interface. We use the latest technologies to help you serve with the best solution.
24x7 Technical Support
Get your problems instant solution with our 24x7 technical support.
Expert Game Programmers
We have a team of expert ultimate Mixed Reality providers and game programmers holding years of rich experience. Their hard work brings video games and apps to life.
Smart Solutions
We strive to provide with smart service solution at the time of cutting edge technology. Our cost-effective solutions help in saving time and efforts.
Seamless Communication
We promote seamless communication to give users with greater experience and aim to provide with more personalized services.
Flexible and Customized Solutions
We have a team of expert ultimate Mixed Reality providers and game programmers holding years of rich experience. Their hard work brings video games and apps to life.
Frameworks, Platforms & Tools Used For Mixed Reality App Development
Here is a list of the frameworks, platforms & tools we used for mixed reality app development.

Autodesk 3DS Max

Android's ARCore

Vuforia

iOS ARKit

Blender

Unity 3d

XCode

Android Studios
Latest Blog
Intensify your knowledge to navigate your digital transformation with us.
USA Office
21 Overlook Ridge Terrace
#523 Revere, Boston,
MA 02151 USA
+1-650-727-6690
India Office
90, 10 B Scheme, Usha Vihar,
Triveni Nagar, Gopalpura Bypass,
Jaipur- 302018, Rajasthan INDIA
+91-7821055537 , +91-9982201414
Australia Office
11 parklands place,
Morwell, Vic-3840
Australia
+61 425 630 321
Canada Office
1193 Main St #3301,
Vancouver, BC V6A 4B6,
Canada
+1-604-360-4433
Frequently Asked Question?
Q1. What Are Some Good Examples of Mixed Reality App Development?
IKEA
Microsoft's Hololens
Pokemon GO
Q2. How Much Time Does it Take to Develop a Mixed Reality Application?
It's quite difficult to provide you with an exact mixed reality app development timeframe. The process can take approximately four to six months.
Q3. What is the Estimated Cost That Will Occur While Developing the Mixed Reality Platform?
The cost of mixed reality app development varies greatly depending on the mixed reality app types and features. It ranges from $10,000 to $30,000.
Q4. Which Technology Will You Use For Mixed Reality Development?
Mixed reality development uses a variety of technologies, including.
Vuforia
Wikitude
ARkit
ARCore
ARToolkit
Q5. What Is The Difference Between Augmented Reality, Virtual Reality & Mixed Reality?
They are distinguished by their respective devices and experiences: AR uses a real-world setting while VR takes place entirely in a virtual setting. For virtual reality, you need a headset device, while for augmented reality, it's possible to use your smartphone. Virtual and augmented reality can be enhanced simultaneously, while virtual reality can only enhance a fictional reality.
Q6. How Should I Evaluate Which Tech to Use: Augmented Reality, Virtual Reality, or Mixed Reality?
The choice of technology depends upon your preferences. For example, if you wish to offer a complete virtual reality environment accessible through a headset, then nothing can go as far as VR. While AR is an ideal choice if you are satisfied with the overlay of the virtual content. If you want the blend of both AR and VR, then Mixed Reality is meant for you.
Q7. What Questions Should I Ask Before Hiring a Mixed Reality App Development Agency in India?
Ask them to share their complete portfolio
Testimonials of previous clients
How much time will the mixed reality app deployment take?
What technologies will they use?
Acquaint yourself with their support system
Q8. What Mistakes Should Be Avoided Before Choosing a Mixed Reality Development Agency in India?
Not doing your research
Overlooking the importance of the experience
Making a compromise on the quality of the app for the sake of money
Poor quality of content