BR Softech was established in the year 2012, To date, BR Softech has gained much recognition and one of them is the renowned name in the field of virtual reality development. We have experience of around 11 years, and we have worked with many small as well as some Fortune 500 companies. We have expertise in developing astonishing VR platforms that helps in enhancing the business and leads to business growth.
We can help an organisation in improving their business communications, we cater to almost all the industries whether it is education, healthcare, or the automobile industry. We provide amazing applications with a great user experience.
Partner with us to achieve great heights and we assure the best VR software development services to our clients which helps in increasing their return on investment.
Virtual Reality(VR) Software Development
We are a pioneered name in the field of developing the best VR Software, our aim is to develop VR software that helps in enhancing business growth and offers immense user experience. Our team of experts is competent enough and they offer customized virtual reality software solutions that meet the customer needs.
We can develop personalized VR software for any industry be it aviation, construction education, health care, the entertainment industry, or any other industry.
Virtual Reality App Development
We are a leading name in the field of virtual technology development in the USA as well as all around the world. VR technology helps in providing an imaginary experience with the help of real-life mobile apps. We have a bunch of experienced professionals who offer the best VR mobile development services which can be used in different industries whether it is a startup or a well-established firm. We have covered all the aspects of VR technology and offer it for different platforms whether Ios or android.
What is Virtual Reality Technology?
Virtual reality is basically a computer-generated environment that provides the experience of the real world. It differs from the traditional user interface as VR offers a simulated environment that can be discovered in 360 degrees. VR is basically a replica of real world while providing a similar experience.
VR headsets are required to discover the beauty of the virtual world, the headset helps in creating a world that is similar to the real world.
Benefits of Virtual Reality (VR) Software Development
Some of the benefits associated with Virtual reality software development are:
Prototyping and Design
The use of VR in business helped in reducing the requirement for full-scale prototype development. With the help of VR, the initial exploration of ideas can be converted and presented in the form of finished concepts to the users.
VR Will Play an Important Role in Training
VR will be a great help in employee training. The invention of VR in the business world has allowed the business to create and conduct live training sessions or seminars which are more effective and interactive in comparison to the traditional measure.
Enhance Productivity
Everything can be managed with the help of VR technology whether it is a meeting or conference. It leads to increased productivity which result leads to higher revenue.
Virtual Reality Software Development Process
Below is the process we follow while developing the virtual reality app.
Whitepaper Creation
We start the process with a rigorous discussion with the client to have a better understanding of the client's requirements. After understanding the need our team of experts moves forward toward the creation of a white paper with mentions the details related to the environment and UI/UX designs.
Prototype
Our team of experts creates the prototype for the actual product while keeping the client's specifications in mind. Our team of experts keeps in regular touch with the clients to discuss the prototype with the client so as to assure that the clients' requirements are met.
UI/UX Design
To present the clients with the best virtual world experience UI/UX design is of utmost importance, though this the app will have a better interface.
Virtual Reality Mobile App Development
This stage involves defining the backend logic, and our team of experts works on it.
Testing
Testing is the most important step in the process of developing a virtual reality app or software. At this stage multiple tests are run to ensure that the app or software is working up to the mark.
Deployment
The final step is deployment when the testing results are positive the team of experts deploys the virtual reality app.
Why is VR Software Development Important for Business?
VR technology comes with many advantages for a business. Few of the important benefits of VR technology is engagement and inspiration, We offer all these benefits to the organization and provide the free estimation to the clients to ensure that the clients get the best out of their investment.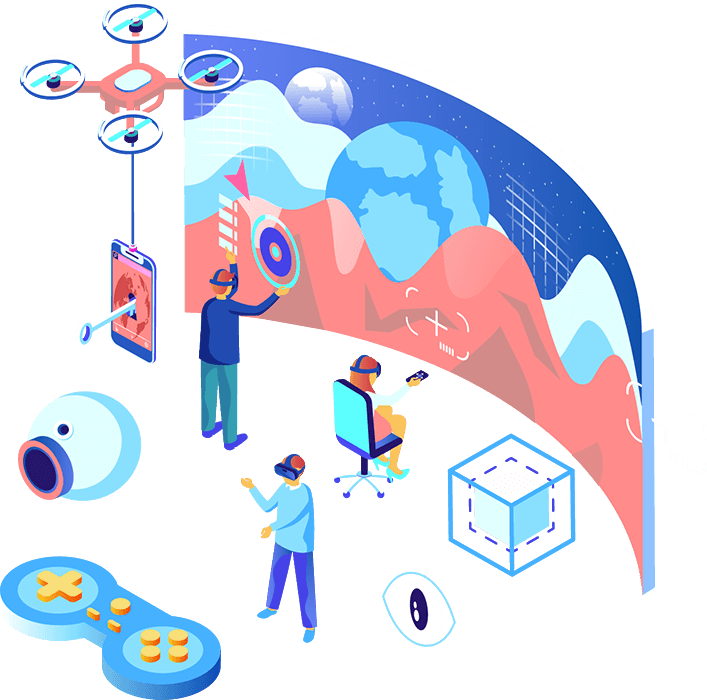 Customer engagement through the Virtual based showrooms makes it easy for customers to interact.
Launching developed product to the new audience.
Enhance user engagement.
Increases the brand loyalty
Eliminates the need to travel and makes the best use of the virtual meetings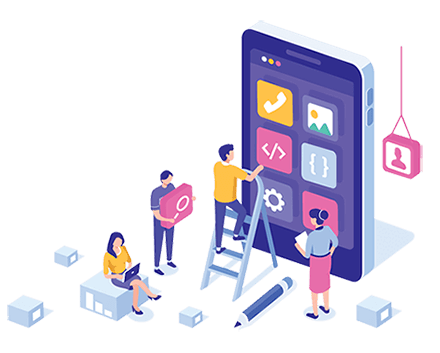 Why VR App Development
New and emerging technology
Introduce the agile method which is trusted by all
It helps in transforming the gaming, medical as well as data science fields.
It will be outreaching the TV industry in the coming 10-15 years.VR games will be all over the app stores and will be having a huge market in the future.
Emerged very well in the tourism industry.
Types of Virtual Reality Software Development Services By BR Softech
We offer the best virtual reality applications and we ensure to provide the best user experience to users with the use of advanced technology.
A brief about the Virtual development service.
VR Integration and Deployment

The team of experts integrates the VR technology with the platform as per the customer's need, which helps in reducing the cost of developing the app from starting phase.

Virtual Product Environment

The virtual designs are created using the best 3D technology and with the help of our professionals

3-D walk

Marketing campaigns are created with the use of #D technology which helps in stimulating the customers.
VR Trade show or Event Apps

IT helps in having a bird view of the event or the trade show and can have a presentation view also.

VR Gaming App Development

VR Game developers provide a real gaming experience on smartphones. The team of expert professionals can create next-gen gaming applications which are endowed with amazing features and functionality.

VR Software Development Services

We offer fully-fledged VR software services to our clients which fulfill their needs as per the market criteria.
Frameworks, Platforms & Tools Used For Virtual Reality App Development
Our team has expertise in all the fields, frameworks, and platforms which are new and upcoming in the market. Here is the list of a few of them.
Unity3D

Unity 3 D is the new trend in the market and how can we lack in that. The mobile and game developers give immense importance to this feature as it helps to ease the process and save time which can be used effectively in other tasks.

Unreal Engine

The unreal engine technology makes the working easy and simpler, it is integrated with AA gaming and photoreal visualization. This is helpful in supporting and integrating the quality as well as in 2D and 3D image identification. This UI feature can be easily deployed and helps in creating a cinematic view.

Lumberyard

This is known as virtual reality content creation, it is enriched with features which can be modified to offer the right work. It enables 3D environments and offers real-time effects as well it is equipped with camera and weather effects also.

CryEngine

It is similar to the Unreal engine, it is supported by different domains like 3D modeling, animation, script, and sound. This tool is used for having an efficient impact and to provide guidance to the developers to bring out the great outcome. Different languages like Action Script, Lua, and C++. are supported in Cry engine.

Blender

It is the best tool for VR Developers, it is an open-source VR development tool written in python language. IT offers a large community where users can interconnect and interact with each other.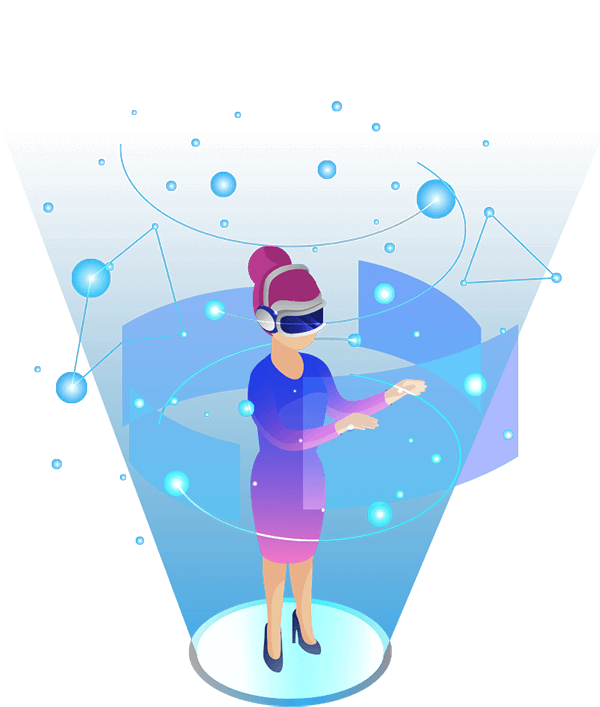 Why Should You Choose BR Softech For Virtual Reality(VR) App Development Services?
We offer advance virtual reality app development services for both android and iOS platform which can be persoalised as per the requirement. The team experts are proficient and have extensive experience in the field of VR development, they can cater any requirement of the client.
A team of certified Virtual Reality Developers.
Worked with startups as well as with some top Fortune 500 companies.
Expert in creating the best VR game with spectacular interface for android,iOS or desktops.
NDA is signed to secure the client's information
Industry-Specific Virtual Reality App Development Solutions:
Here is a list of all the industries we serve.
Education & Training

VR app development has transformed the education sector. It has been a blessing for this sector as it offers real-world classrooms for long-distance courses.VR Technology has created a great difference in the education field as virtual learning is no more a challenge nowadays.

Impact of VR in the Education & Training Sector

High-quality education.

Transform learning into an interactive process.

Helps students in easy understand difficult concepts.

Brings out the immersive teaching method.
Retail & ECommerce

It has brought the 2D platform for e-shopping. Th VR technology has brought many changes to the retail and e-commerce industry.

Impact of VR in Retail & ECommerce

Introduced the new e-Commerce online store

Customers can explore the store with the ease of being at home.

Analytics helps in having a beer understanding of customer behaviour, their patterns and interest

Introduced an interactive shopping platform for customers
Advertisement

The advertisement industry is also transformed with the use of VR technology it helps in bringing out the real image of the product and allows to have a preview of the product ins a specific environment.

Impact of VR in the Advertisement

This technology helps to create an emotional bond between customers and products.

Brings out the interatic=ve and realistic process

VR technology enhance the brand image

Helps in engaging customers
Travel & Tourism

VR Technology has brought significant changes in the tourism industry, it has helped in transforming the traveler's experience. With the use of simulators traveling is easily accessible to everyone. If he/she can't travel to the location still they can take the experience of visiting the place virtually.

Impact of VR in Travel & Tourism

Increased customer engagement.

Assist customers to explore and experience the ground before the actual visit

Offers a virtual tour of the desired destination

Helps in taking better decions
Gaming

The gaming industry has been transformed with the use of VR technology, it has enhanced the gaming industry with the invention of the virtual world. It offers both 2D and 3D dimension experiences, the technology helps in creating a virtual gaming environment and providing an imaginary world to to its users.

Impact of VR in the Gaming

Enhance gaming experience.

Introduce highly interactive and engaging gaming.

Bridge gap to meet real and virtual imaginations.

A platform for new and innovative technology
Medical

It has been a blessing to the field of medical and health industry. This technology has brought great changes and it has improvised the whole experience. It helps in having interaction in a 3D world and has enhanced the treatment offered to the next level.

Impact of VR in the Medical

Enhanced the surgery Enhancement in diagnosis.

Restructuring in areas like counseling and surgery.

Assist to train the next generation of doctors in the medical field.

Offer a safe environment to the user.
Manufacturing & maintenance

VR technology has brought an impact on the manufacturing industry too, it offers a safe and secure platform, and it helps in increasing the productivity of manufacturing units. The technology has helped in having a competitive advantage and has transformed the manufacturing process faster.

Impact of VR in the Manufacturing and Maintenance

Increased Efficiency.

Increased Safety.

Enhance User Experience.

Easy and faster process.

Helps to create better products.
Engineering Design

This includes 3D tools and visualization, the VR technology helps a 360-degree view. VR helps in the exact image of the real world which is portrayed in the form of images and videos.

Impact of VR in the Manufacturing and Maintenance

Visualization of real place

Improvised design

Save time and effort.

Increase efficiency.

Brings rich graphics and videos.
Workplaces

The workplace has also been effective by VR technology. Most companies and even big firms like Facebook, Samsung, and Google are using and relying on VR hardware and software. It has brought the significant effect in this industry

Impact of VR at the Workplaces

High employee's energy level

Faster process

Understanding becomes easier

Assist in improving workflow.

Enhanced decision-making process.
Military Segment

VR in the military is used to tackle many situations. VR mobile applications are used in the field of medical training, navy forces, and on the ground, as well as it is very much effective in boot camps.

How does VR mobile app development help in the military sector?

VR Simulations.

VR helps in portraying realistic Scenarios.

Cost-Effective operations.

Enhanced Engagement

Isabella
He kind of development services Br softech delivered was expected, but in such a short span of time they did it was like a treat for me. I contacted them at a very crucial time where it was essential for me to live my website at the scheduled date, but there were many obstacles coming across to achieve this. BR provided me a team of experts who took the project up and started executing things right of the bat helping me have its timely release

Olivia
BR Softech is a best virtual reality development company.They have mind blowing experience in the VR development. I contact with them when my project was ruined by other company and it was too hard to bring it on track again. At that time, BR Softech well verssed developers helped me to offer exactly what i have dreamt off.
Latest Blog
Intensify your knowledge to navigate your digital transformation with us.
USA Office
21 Overlook Ridge Terrace
#523 Revere, Boston,
MA 02151 USA
+1-650-727-6690
India Office
90, 10 B Scheme, Usha Vihar,
Triveni Nagar, Gopalpura Bypass,
Jaipur- 302018, Rajasthan INDIA
+91-7821055537 , +91-9982201414
Australia Office
11 parklands place,
Morwell, Vic-3840
Australia
+61 425 630 321
Canada Office
1193 Main St #3301,
Vancouver, BC V6A 4B6,
Canada
+1-604-360-4433
Frequently Asked Question?
Q1. What Are Some Good Examples of Virtual Reality Software Development?
Here is a list of a few of the most popular virtual reality apps that are ruling the market. .
IKEA Mobile App
Nintendo's Pokémon Go App
L'Oréal Makeup App
U.S. Army System
Q2. How Much Time Does it Take to Develop a Virtual Reality App?
The time it takes to build a virtual reality app depends on its size, the number of assets, and the number of interactions. On average it could be somewhere between 8 weeks to 15 weeks.
Q3. What is the Estimated Cost That Will Occur While Developing the Virtual Reality Platform?
The cost of virtual reality mobile app or software development does vary on the complexity and the location of the developers.
Q4. Which Technology Will You Use For Virtual Reality Development?
While developing VR mobile apps, we make use of technologies such as visual development tools, Python, JavaScript, Swift, C, C++ in addition to several other great technologies.
Q5. What Is The Difference Between Augmented Reality & Virtual Reality?
The main difference between AR and VR regards the devices they use and the experience they provide. Talking about augmented reality, it makes use of real-world settings to present the digital content in the real-world environment. VR on the other hand implies an entirely virtual environment that excludes the physical world.
Q6. How Should I Evaluate Which Tech to Use: Augmented Reality, Virtual Reality, or Mixed Reality?
The choice of technology depends upon your preferences. For example, if you wish to offer a complete virtual reality environment accessible through a headset, then nothing can go as far as VR. While AR is an ideal choice if you are satisfied with the overlay of the virtual content. If you want the blend of both AR and VR, then Mixed Reality is meant for you.
Q7. What Questions Should I Ask Before Hiring a Virtual Reality Software Development Agency in India?
1. Ask them to share their complete portfolio
2. Testimonials of previous clients
3. How much time will the virtual reality app deployment take?
4. What technologies will they use?
5. Acquaint yourself with their support system
Q8. What Mistakes Should Be Avoided Before Choosing a Virtual Reality (VR) Development Agency in India?
1. Not doing your research
2. Overlooking the importance of the experience
3. Making a compromise on the quality of the app for the sake of money
4. Poor quality of content