Looking for a top-tier ludo board game development company? Well, you have the right creative space.
We have a Ludo game development specialist who can provide a better aesthetic, Ultra modern technology features, vibing colors, unique themes, flexible payment integration, chatbot AI, machine learning integration, etc.BR Softech offers skilled and experienced Ludo game developers that are experts in their respective domains of mobile game development. Our professional game development team completes your project on time and within budget. We develop Ludo source code for a variety of platforms, including Java, C++, PHP, Unity, iOS, and Android.
Ludo Game App Development Company
BR Softech is a renowned, award-winning mobile game development company in Australia. We do it all, and we do it best. From application creation to support and maintenance, we handle everything needed to turn a prospective Ludo gaming business into a profitable one. This is simply a gist of what we can do as a top-rated Ludo game software development firm. We also supply a Ludo game PHP script to save your time & expense over developing an app from the ground up.
Our desire to be the finest Ludo game development business in India, the United States, the United Kingdom, and Australia motivated us to develop exceptional apps for Android, iOS, and PC.
We concentrate on providing our clients with smooth communication channels Hence, our clients can benefit from the power of customized services from experienced Ludo game developers.
With the Ludo game software development concept in mind, we operate with the only vision to ensure complete client gratification of their trust & money.
Ludo Game Development Services
At BR Softech, we provide customizable Ludo game creation services that are designed to meet the client's specific requirements. Our renowned game creation services are the right combination of top-notch visuals and modernistic technology to elevate your business just right in the iGaming industry
The client's requirements are thoroughly evaluated by our experienced team of iOS and Android game developers. Following that, we construct a whole development blueprint and share it with the customer to get their approval. We take full responsibility for our client's feedback and implement it into our services to ensure that all of their objectives are addressed. All of our Ludo game creation services come with a 24-hour troubleshooting service guarantee, Hence you never feel alone.
The following are some of the most popular Ludo game development services we provide to our clients throughout the world.
Desktop Ludo game
Android Ludo game
iOS Ludo game
Hybrid Ludo game app development
AR and VR integration
Ludo game UI/UX design
2D & 3D Ludo game
Social media integration
Ludo game testing
Hire Ludo Game Developers
At BR Softech we have a solid team of developers who excel in Android and iOS Ludo game development. Our specialists are capable of handling anything from game UI/UX design to support and maintenance. Our developers strive to exceed and go above to ensure great aesthetics and flexible entertaining intact with modernistic features. Our developers work closely with our clients throughout the planning & development process to ensure that it meets all of their game development objectives.
Our Ludo game developer has over 11 years of expertise in the game development business and has a deep understanding of the whole whereabouts of the industry which gives them a great upper hand to give their best on the table. We counter every point to make your game the best and on the top of the Ludo game industry.
Explore and talk to one of our experienced Ludo game developers about making sure the Ludo game is compatible with all platforms, including Android, iOS, and Windows.
Mark Your Presence In Online Top Board Game Development with BR Softech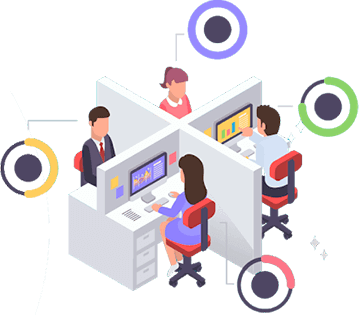 Our Expertise and Skilled Ludo Game Developers
From expert game developers to game designers and game programmers, we have the best of everything to design & develop the best Android and iOS Ludo game apps.
Our key development objective is to provide a user-friendly gaming interface with engaging gameplay. Our Ludo Game Development team is extremely competent and has years of expertise in developing games with features that are flexible and modern with bombastically stunning aesthetics that give the players a surreal experience and a reason to play more & more.
Modes of Ludo Game
We have provided these different game modes via Personalized ludo game app development to make the user experience more interesting.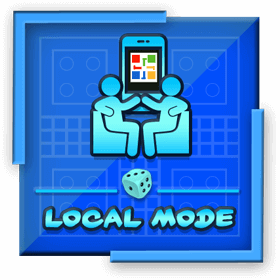 Local Mode
This mode allows players to play the game on a single device with their family or friends. You may all take turns having fun and excitement.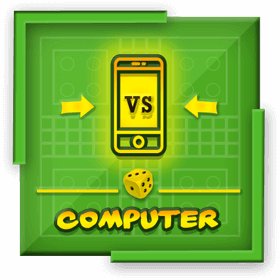 Computer Mode
You don't need a buddy to play Ludo if you use the computer intelligence mode. Ludo Game Development Service Providers offer this to assist clients and enhance their game abilities.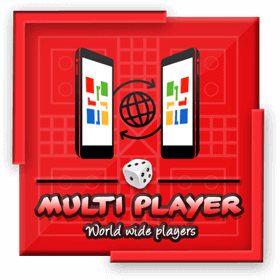 Multiplayer Mode
The Multiplayer option in ludo game development allows 2 to 6 players to play Ludo at the very same time, according to the app type. You can also integrate your app with social media and have more connections with it.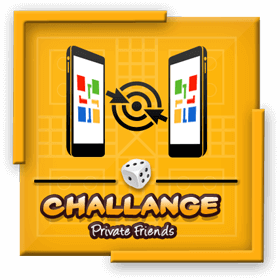 Play Online Mode
Play Ludo in challenge mode using the internet and meet random individuals from all around the world and explore in the comfort of your home. The game may be played with as many people as you like.
Impeccable Features of Ludo Game Software
We have included these fantastic elements in the ludo game app development to make the game easier and more pleasant, so do not just play the game slay the game with an easy understanding of it.
Play with Your Friends

Who does not like company no matter what you do, and especially when it's your favorite game everyone wants their friends to enjoy with. Our top-tier features give you an option to play it with your friends and enjoy your best.

Secure Deposit & withdrawal of Money

Our ludo game development team has included support for money deposit and withdrawal to allow you more time to enjoy the game. This makes the whole process safer and more convenient.

Daily Bonus Coins

Our Ludo Game Development Services provides daily bonus coins to entice new players and keep existing ones engaged in the game.
Login Via Social Media

You may join up using any of your social network accounts, such as Gmail or Facebook, and your connections will be automatically added to your buddy list.

Multi-language Feature

Our custom ludo game software solutions include a user-friendly design that allows you to play Ludo in your native language.

Live Support

You may connect to our support team at any time for assistance. Users can use it anytime.
How do we design and develop a Ludo game application?
We always use the latest technologies for ludo game app development to offer the most advanced and user-friendly games to our users.
Pre-development
Planning & Documentation
App design development
Game plan formation
At the time of Development
Amazing art production
App programming
Audio production and quality check
Post-development
App maintenance
Trouble shooting services
Flexible customer services
Factors Influencing The Cost to Develop Apps Like Ludo King
Some factors must be considered before selecting a Ludo game development business or game app developer. BR Softech can provide you with high-quality iOS or Android game development at a fair price. We look for the following aspects that might affect the price of a mobile gaming app:
Game app aesthetics & design
Android or iOS mobile app platform
Why Choose BR Softech Ludo Game Development Services?
We do not just create but build a top-notch game with elevated features to keep you on the top. We are always there for you, from gaming app creation to post-development maintenance and support. BR Softech is one of the well-known mobile app development companies in the industry, and we also provide White-label app creation services for your convenience.
Our developer's team is highly efficient and skilled with in-depth knowledge & rich experience in app development. We are one-of-a-kind service providers who will deliver you all salient features at the right price.
Expert team for ludo game app providers
Solutions for cross-platform gaming
Flexible technical support and quick responses
Easy communication with the support team
Customized and flexible app solutions
On-time project completion
Our Game Services
Our highly competitive and skilled team of game developers offers advanced game development services which are compatible with operating Systems like, Android, iOS, Windows, and more.
Admin Control Features
Running an online Ludo game is not an easy task. It takes a lot of planning and effort. Thus we implemented several admin control features to ease the experience of managing your Ludo game application, software, or web app.
Admin Dashboard
With the admin dashboard, you can have a complete view of how your Ludo game application is performing.
Effective User Management
This feature gives the admin power to manage and control the activity of all the users using the Ludo game. If any user is found to be performing suspicious activities, the admin can immediately remove them.
Payment and Wallet Management
This feature will let you control all the financial activities happening in your Ludo game.
Push Notifications
Admin can send push notifications to the Ludo game players regarding the upcoming tournaments, game improvement tips & tricks to enhance user experience.
Manage Advertisements
Advertisements are considered to be one of the major sources of revenue. Thus this feature will enable administrators to effectively manage advertisements to boost their revenue.
Leaderboard
Show the names of high-performing players to honor them and spur other players to strive for their names to appear there.
Frequently Asked Questions
Q1. How much does it cost to develop an app like Ludo King?
The cost of developing a Ludo game application depends on a variety of factors i.e. developers' locations, features, the complexity of the project, and so on. By taking these factors into account, you might need to spend around $18,000 to $42,000 to bring your Ludo game development idea to life.
Q2. Which technologies do you use for the development of Ludo games?
For the backend, we prefer to use Java and for database requirements, we depend upon MySQL, Oracle, PostgresSQL. The front end of the game app is developed using technologies such as Vue. JS, Angular, Reactive Native, Flutter, and so on. These are just a few technologies we name. Let's connect with us to know more about the technologies we work on.
Q3. Do you provide maintenance support once my Ludo game is developed?
Yes, we do offer 24*7 post-maintenance services to assist you at any hour of the day or night.
Q4. Do you have machine learning and AI Integration in the Ludo game?
Yes, we can integrate machine learning and AI in your Ludo game app to bring a more realistic gaming experience to the world.
Latest Blog
Intensify your knowledge to navigate your digital transformation with us.
USA Office
21 Overlook Ridge Terrace
#523 Revere, Boston,
MA 02151 USA
+1-650-727-6690
India Office
90, 10 B Scheme, Usha Vihar,
Triveni Nagar, Gopalpura Bypass,
Jaipur- 302018, Rajasthan INDIA
+91-7821055537 , +91-9982201414
Australia Office
11 parklands place,
Morwell, Vic-3840
Australia
+61 425 630 321
Canada Office
1193 Main St #3301,
Vancouver, BC V6A 4B6,
Canada
+1-604-360-4433