BR Softech is a pioneer in Augmented Reality app development that specialises in building cutting-edge and top-notch applications that work on emerging technologies like AR. Our developers are well-versed in working with advanced technologies and strive to offer a comprehensive AR experience compatible with multiple screens and devices.
With over 10 years of experience in the field, we are adept at creating apps integrated with the latest technologies like AR and VR. These technologies are still in the early stages of development but showcase unprecedented market potential. Our AR developers leverage high-quality AR app development to provide a user-friendly experience with an extensive set of features.
Along with Augmented reality app development services, BR Softech is also proficient in creating robust and scalable Augmented reality web development solutions that ensure better reach and high ROI.
Importance of AR App Development for Business
The advent of AR app development has opened many new opportunities for App developers to leverage a variety of benefits. AR technology has been integral in providing benefits to a variety of sectors including gaming, sports, healthcare, e-commerce, manufacturing, and more.
With the help of AR technology, a business owner can avail of a variety of benefits. Some include:
Increased Customer Engagement
High ROI
Detailed Analytics
Improved User Interaction
Consult AR Experts for your Next AR App Development
What is Augmented Reality Technology?
Augmented Reality is often described as an emerging technology that modifies the real environment by introducing sound, visuals, and other sensory stimuli. Nowadays, AR technology is widely used in several industries. The applications for this technology are abundant and many thriving industries have been dabbling with AR technology to solve real-world problems.
Augmented reality involves overlaying auditory, visual and other sensory stimuli onto the real world to enhance one's experience. Unlike virtual reality, which creates its own virtual environment, Augmented reality adds particular elements to the existing world as it is. Typically, there are four types of Augmented reality:
Projection-based AR
Marker-based AR
Marker-less AR
Superimposition-based AR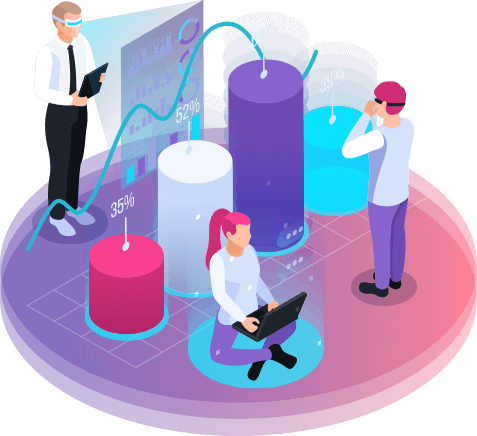 Our Cutting-Edge Augmented Reality App Development Solutions
Using AR technology, our developers excel in providing AR Mobile App & Web Development. Moreover, the technology offers enhanced compatibility with mobile platforms like Android, iOS, Windows, and even BlackBerry. Our Augmented Reality Development Solutions include:
AR Software Development
AR App Development
AR Game Development
AR Android & iOS Development
Benefits of Augmented Reality App Development
Reap the benefits of Augmented Reality Development by partnering with the Best Augmented Reality App Development Company in Australia. Leverage the strength of AR applications and obtain the following benefits:
Product Preview

Online shopping has become the new norm among consumers today. AR technology elevates the online shopping experience by offering visualization of products in a real-world setting.

Enhanced Brand Awareness

No matter the sector, Augmented Reality Development is adept at attracting the user's attention and enhancing brand awareness among consumers by offering vivid and life-like experiences from the comfort of their homes.

Customized Experience

AR Technology is very desirable among the userbase as it provides a personalized experience to every user in their desired environment.

Increased Customer Retention

Customers gravitate towards unique and out-of-the-box applications. The user experience of Augmented reality ensures a unique feel and greatly improves customer retention.
High ROI

The emerging technology is highly desirable by users as it provides an out-of-the-box experience by combining the virtual and real world. Thus, ensuring better scalability and high ROI.

Adoption in Multiple Sectors

Augmented Reality technology is being widely used in various sectors like gaming, education, healthcare, and the military. The applications for this technology and abundant and multiple industries can benefit from it.

Unique and Distinguishable

The exclusivity of AR technology helps in delivering unique products that are unique and have the potential to stand out in the fierce competition.
Our Exceptional Augmented Reality App Development Process
Partner with BR Softech and reap the benefits of our in-depth and exceptional app development process. Our developers utilise their knowledge of AR to build impeccable experiences using AR technology and techniques.
Brainstorming & Strategy

Brainstorm strategic goals for transforming your unique idea into a masterpiece.

Market Analysis

Research the market and figure out the ongoing trends and preferences of the audience.

Prototype Development

Develop a working Prototype with all the essential features in place.

UI/UX Design

Develop a seamless and easily navigable user interface with a refined design.
Deployment & Launch

Launch the AR application on the desired platforms.

Maintenance & Support

Provide regular updates and employ a dedicated support team to address the user's queries.

Augmented Reality App Development

Develop the back-end, and APIs, and implement the necessary features during the extensive development process.

Testing & Quality Analysis

Ensure proper testing and verify your app's quality through an extensive testing process.
Augmented Reality App Development Services by BR Softech
We offer a variety of Augmented Reality app development services across various platforms such as Android, iOS, and the Web. Our services include:
Marker-based AR

Marker-based AR applications detect a specific marker(QR code or pictogram) or object placed in front of the camera and showcase its information on the screen.

Marker-less AR

Marker-less AR apps are not reliant on a marker and use GPS tracking, location data, and complex visual algorithms to realistically place AR models without the use of markers.
Projection-based AR

Projection-based AR sheds immersive light on a flat surface to create 3D imagery. It can be used to create interactive holograms that can be beneficial for the business industry and completely revolutionalize teleconferencing.

Superimposition-based AR

Super-imposition-based AR applications use object recognition technology and replace part of or complete existing views of an object and project an augmented view to enhance the experience.
Industry-Specific Augmented Reality App Development Solutions
With a dedicated team of professional and experienced developers, we strive to create cost-effective and high-quality AR development solutions that cater to a wide range of industries.
E-Commerce

Leverage the power of Augmented Reality by allowing users to view the product virtually.

Architecture

Create holographic images and project them onto a space to get an accurate view of the model using our AR Development services.

Marketing & Advertisement

Implement AR services in your marketing strategies and witness a surge in revenue and an increased user base.

Education

Revolutionalize education techniques by implementing AR technology which provides enhanced interactivity and engagement.
Military

Military training can be revolutionalized by AR technology by using superimposed digital information onto a user's real-world setting.

Gaming

Augmented Reality Gaming applications provide a more immersive gaming experience than conventional games. Leverage the power of AR game development services by BR Softech to develop high-quality and interactive games.

Healthcare

AR technology can be beneficial for the Healthcare sector as medical professionals can get an accurate reading with the help of 3D imagery and holographic models.

Entertainment

Develop Augmented Reality content instead of traditional content to enhance interactivity and reach a wider audience with your applications.
Exclusive Features of Augmented Reality Application Development
Our Augmented Reality Development solutions are incorporated with necessary features that provide a more interactive and appealing user experience.
Unique and Distinguishable

Offer something unique and unprecedented to your customers by using our Augmented Reality Development solutions. The apps developed by our team of professional developers usually scale higher and feature a robust environment.

SLAM

SLAM stands for Simultaneous Localization and Mapping. As the name suggests, this technology aids in mapping environments, positioning, and indoor navigation. We develop AR apps integrated with SLAM technology to provide interactive and user-friendly applications.

3D Object Tracking

Aur Augmented Reality solutions are integrated with 3D object tracking capabilities that recognize everyday objects like toys, boxes, and more.
Smart Glasses Support

Our Augmented Reality solutions also support smart glasses like HoloLens and Google Glass with in-built gesture recognition and voice control.

Cloud Recognition

As a leading AR app development company in Australia, we use cloud storage to provide an unprecedented experience that can recognize a wide variety of markers.

Customized Applications

All the applications developed by our team of professionals are bespoke and tailored according to the client's requirements.
Tools and Frameworks Used for AR Development
Augmented Reality Development uses various frameworks and tools to develop applications on platforms such as Android & iOS.

AutoDesk 3DS Max

Android's ARCore

Vuforia

iOS ARKit

Blender

Unity 3d

XCode

Android Studios
Why Choose BR Softech for Augmented Reality App Development Services?
With over a decade of experience in Augmented Reality technology, BR Softech is the leading AR app development company in Australia. Our developers strive to provide an engaging and satisfying user experience by leveraging the power of AR app Development.
Cutting-Edge App Development
Experienced Developers & Programmers
Transparent Communication
Customized Application Solutions

Sarah Betty
"No other company is better for the development of AdMob solutions than BR Softech. They handle all the queries and needs of clients with ease. With the 100% customer support and on-time project delivery, I recommend them to all."

Paul Ashley
"I have been working with the BR for many years, and they didn't give me any single chance to complain. Their team was helpful whenever I got an issue and solved it very patiently. Thank you for that!"

Ronald Brian
"They listened to every detail I told them about the AdMob solutions development. They also made sure that the app met all of my expectations. I am fully satisfied with their work and highly recommend them to others."
Latest Blog
Intensify your knowledge to navigate your digital transformation with us.
USA Office
21 Overlook Ridge Terrace
#523 Revere, Boston,
MA 02151 USA
+1-650-727-6690
India Office
90, 10 B Scheme, Usha Vihar,
Triveni Nagar, Gopalpura Bypass,
Jaipur- 302018, Rajasthan INDIA
+91-7821055537 , +91-9982201414
Australia Office
11 parklands place,
Morwell, Vic-3840
Australia
+61 425 630 321
Canada Office
1193 Main St #3301,
Vancouver, BC V6A 4B6,
Canada
+1-604-360-4433
Frequently Asked Questions(FAQs)
Q1. What are the benefits of AR app development?
AR app development provides an interactive and immersive user experience to the users. Moreover, Augmented reality games also provide never seen before and out-of-the-box approach with an unprecedented user experience.
Q2. What are the most popular AR apps?
There are various industries that have used augmented reality to create something unique and generate more revenue. Some popular AR apps include Pokemon GO, IKEA Place, Roar, Google Lens, and GIPHY World.
Q3. What is the cost of developing an AR application?
The development cost of an AR application is influenced by various factors. On average, the cost to develop an AR app with basic features ranges from $50,000 to $60,000. However, if you want to create a cross-platform app with sophisticated features, the price can go up to $100,000.
Q4. How long does it take to build an AR application?
Augmented Reality app development is an extensive and lengthy process. In order to complete the whole development process takes around 4 to 6 months.
Q5. Why is BR Softech the leading AR app development company in Australia?
BR Softech takes advantage of its team of experienced and professional developers to create interactive and engaging user experiences across a variety of platforms. Our developers strive to create applications that are scalable and feature a robust infrastructure.