It is not possible to build a sophisticated Snakes & Ladder app in a night. It requires the combined effort of the entire development team to build a robust and responsive application. Being one of the most renowned Snake & Ladder Development service providers in Hong Kong, our developers will help you with cutting-edge and tailored game development services that are reliable and scalable.
Our developers strive for client satisfaction and focus on customer-centricity to develop highly reliable gaming solutions that are compatible with multiple platforms like Android, iOS, and the Web. Our mission is to deliver excellence and innovation-driven gaming solutions through our cutting-edge gaming solutions that will help you stand out in the competitive market.
Top Snake & Ladder Game Development Company in Hong Kong
As a reputed and renowned Snake & Ladder Game Development Company in Hong Kong, BR Softech leverages the power of next-gen technologies to deliver highly innovative and functional game development solutions to our clients. Our developers utilise their in-depth knowledge of the field to come up with cutting-edge solutions that ensure 100% client satisfaction.
Our Snake & Ladder game apps are built with absolute precision and are compatible with a number of screens and devices. We develop highly-sophisticated apps integrated with advanced features and functionalities to ensure an immersive user experience and high customer reach.
End-to-End Snakes & Ladders Game Development Services
BR Softech is a trustworthy and reputed Snakes & Ladders Game Development Service Provider that has helped 'N' number of clients with our unmatched and robust game development services. Our skilled team of developers ensure innovation-driven and quality services across various business verticals. Our app development services cater to a wide range of industries and ensure the utmost client satisfaction.
We are focused on customer-centricity and aim to develop cutting-edge game development solutions for our clients. Our developers have years of industry experience and don't hesitate in taking risks to develop out-of-the-box and creative development ideas to transform your unique game idea into reality. Leverage the power of advanced technologies and partner with BR Softech to scale your business to new heights.
Cutting-Edge Snake & Ladder Game Development Solutions
With a deep understanding of the latest technologies, BR Softech is the epitome of innovation and creativity. Our developers utilise their in-depth knowledge of the latest tech stack to develop future-proof solutions that ensure a solid market presence. We develop a simple and easy-to-use user interface, features, and elements to offer a hassle-free ecosystem to users.
Our apps are developed after extensive market analysis and are tailored to the current market preferences. We develop highly robust apps that meet the highest industry standards and ensure a strong presence in the market. Being a trustworthy game development company, we develop reliable game development solutions including-
White-label software solutions
Turnkey software solutions
Customised software solutions
AI-backed game development solutions
AR/VR game development solutions
Key Features of Snake & Ladder Game Development
As a leading Snake & Ladder Game Development Service Provider in Hong Kong, BR Softech develops highly sophisticated and robust applications integrated with all the necessary features that enhance the user experience.
Welcome Bonus

Get a Welcome Bonus as soon as you sign up on our game app to kickstart your gaming journey.

Live Chat

Interact and connect with people from all across the world via voice, texts, and emojis.

Safe & Secure Payment Gateways

Facilitate transactions with robust and secure payment gateways that protect the users' financial information.

Play Online

Connect to the internet and play with random strangers on our game app.
Multiplayer Support

Users can enjoy the game with their friends and family on a single device with the Multiplayer game feature.

Social Media Integration

Connect your social media account with the Snake & Ladder app and invite your social media friends to the game.

Refer & Earn

Invite your friends and family to the Snake & Ladder game and get additional rewards that enhance the gameplay.

Multilingual Support

Our Snake & Ladder game is available in different languages so users from different regions can play the game in their preferred language.
Leverage the Power of Snake & Ladder Game Development Services
Contact Us
Top-Notch Games We Develop
Our Experienced Snake & Ladder Game Development Team
We have a skilled team of in-house designers, developers, programmers and testers that assist you through every step of the development process through expert guidance.
Quality Assurance Engineer
Marketing and sales manager
Maintenance and quality check managers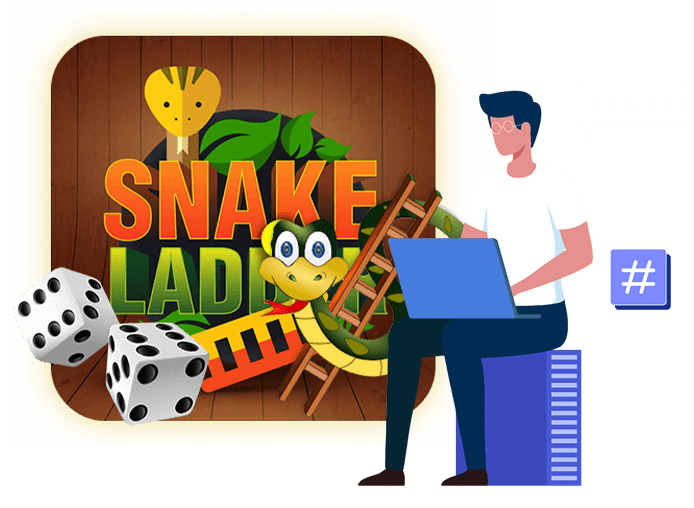 Hire Skilled Snake & Ladder Game Developers
We have experienced and skilled in-house developers that are adept at handling board game development projects like Snakes & Ladders, Ludo, Chess, and more. Our board game developers utilise their knowledge and expertise to create out-of-the-box and innovation-driven game development solutions that ensure high market reach and scalability.
Hire Snake & Ladder Game Developers to Level Up Your Business
Hire Now
Our Advanced Technology Stack
Our developers are well-versed in the latest technologies and utilise the latest tech stack to build next-gen apps-
Swift or Objective-C for iOS
Kotlin or Java for Android
CSS/HTML/JavaScript for Cordova and PhoneGap
JavaScript for React Native
Get In Touch Snake & Ladder Game Development Service
With Us
Why Choose BR Softech as a Snake & Ladder Development Company in Hong Kong?
As an award-winning Snakes & Ladder Game Development Company in Hong Kong, BR Softech ensures that we fulfil and surpass our client's expectations. We leave no stone unturned and ensure error-free development when it comes to designing programming, and various other aspects of development. Our developers are available round-the-clock and strive to provide expert guidance and assistance to streamline the development process. We offer-
2D/3D experienced game developers
Best gaming experience via interactive UI/UX
CMS support for mobile apps
Creative and out-of-the-box concept design
On-time delivery of the project
Latest Blog
Intensify your knowledge to navigate your digital transformation with us.
Our Game Services
Our highly competitive and skilled team of game developers offers advanced game development services which are compatible with operating Systems like, Android, iOS, Windows, and more.
USA Office
21 Overlook Ridge Terrace
#523 Revere, Boston,
MA 02151 USA
+1-650-727-6690
India Office
90, 10 B Scheme, Usha Vihar,
Triveni Nagar, Gopalpura Bypass,
Jaipur- 302018, Rajasthan INDIA
+91-7821055537 , +91-9982201414
Australia Office
11 parklands place,
Morwell, Vic-3840
Australia
+61 425 630 321
Canada Office
1193 Main St #3301,
Vancouver, BC V6A 4B6,
Canada
+1-604-360-4433
Frequently Asked Questions(FAQs)
It cost around $10,000 to $20,000 to develop a snake & ladder game with basic features. However, if you want to develop a cross-platform app with sophisticated features, you will have to invest $50,000.
It takes around 2 to 3 months to develop a board game app from scratch.
Board game apps like Ludo, Carrom, and Chess are quite popular among the audience. It is very profitable to invest in board game development as high market reach and high ROI will be profitable for businesses.