Cryptocurrency wallets are digital wallets that store crypto assets and transfer them. Blockchain technology is deployed to make cryptocurrency wallets which is one of the reliable modes for digital currency
BR Softech furnishes one of the best Cryptocurrency development solutions for our clients. Our experts assure us to provide reliable, authentic, and fast cryptocurrency wallets and applications.
Following are some advanced features BR Softech offers:
Following are some advanced features BR Softech offers:
Keyless Wallets Seamless transaction without any key
Facial Recognition Confirming the identity using face
Multi-Coin Support Ease to load multiple crypto token
QR Scanner Fastest way to scan the crypto wallet via a QR code.
Cross-Platform Compatibility Can be used on different platforms
Automatic Conversion Rates Aids in easy conversion and managing cryptocurrency
Our Crypto Wallet Development Solutions
A cryptocurrency wallet is just an upgrade to digital wallets in the world of digitalization which is one of the secured ways of storing digital assets like crypto coins, NFTs, and many more. It comes in different forms- paper wallets, hardware wallets, and software wallets.
Cryptocurrency is one of the major requirements for crypto holders, traders, and users to safely store their assets. We at BR Softech assure to provide an agile and efficient solution to all the needs of Cryptocurrency development.
Crypto Wallet Development Services
You are at the right place if you are looking for a cryptocurrency wallet service provider. Below is the list of a few services that we provide:
Binance Trust Wallet Development

We have our expertise in developing a crypto binance trust wallet- a decentralised crypto wallet that assists its user to manage, buy, sell, and exchange crypto assets.

NFT Wallet Development

The team at BR Softech acquaint the skills for the development of NFT wallets which is a reliable way to store & exchange NFTs

DeFi Wallet Development

We help our clients to achieve efficiency through our Decentralised finance wallets or DeFi which is one of the useful assets for entrepreneurs.

Tron Wallet Development

To manage all the large-scale cryptographic transactions we assist you through the development of Tron wallets.

Web Wallet Development

An individual platform that differs from DeFi and Tron Wallets as it has better security factors referring to small-scale crypto transactions.

Mobile Wallet Development

To have ease of effortless access to crypto our team assists in having efficient mobile wallet crypto for managing all crypto transactions through mobile.

Desktop Wallet Development

To have access to cryptocurrency on a computer device Desktop wallet is a solution, it is useful for crypto analysis and research perspective as it provides a better insight into all transactions.
Bitcoin Wallet Development

To securely store and trade Bitcoins, the Bitcoin wallet is a one-stop solution. We at BR Softech have expertise in bitcoin wallet development.

Ethereum Wallet Development

To trade in Bitcoins there is a need for vigilance and high-level security. To deal in Ethereum cryptocurrency there is a need for an Ethereum wallet, our team assists in the development of an Ethereum wallet as per our clients' requirements.

Multi-Currency Wallet Development

The multi-currency wallet is an advanced-level wallet to manage and trade multiple cryptocurrencies.

Centralised Wallet Development

A centralised wallet is consolidated access to all the digital assets and provides an ease to have large-scale transactions. Centralised wallets are less complicated in regulating different digital assets.

Coin-Specific Wallet Development

A customised wallet is designed to focus on a specific crypto token. Our team of professionals has expertise in developing coin-specific wallets.

Hire Cryptocurrency Wallet Developers

BR Softech is one of the renowned names in crypto wallet development as we have extensive experience and a commendable team behind it. We have a holistic approach towards our commitment and are leading in this field for more than 7 years with our brilliant and efficient team who are continuously researching and updating themselves. Our team is efficient enough to work on different advanced crypto tools and deliver custom-made crypto wallets.
Hire Cryptocurrency Wallet Developers
BR Softech is one of the industry's leading names in the crypto wallet development segment. Having been actively working for over 7 years now, BR's dedicated team smartly crafts the project with an in-depth approach, planning, and execution.
The team of experts and advanced tools further boost the crypto wallet development to be a highly secure & fast system.
Types of Cryptocurrency Wallets
There are two types of cryptocurrency wallets - Hot Wallets & Cold Wallets.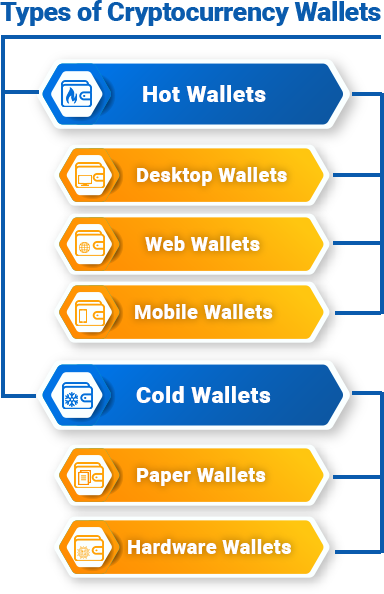 Hot Wallets

Hot Wallets for instant crypto transactions.

Desktop Wallets

Wallets for PC/laptop for easy and secure cryptocurrencies.

Hot Wallets are of three types;

Web Wallets

Crypto wallet for web browsers to have easy access to crypto assets.

Mobile Wallets

Mobile app for managing and storing all the crypto transactions.

Cold Wallets

Cold wallets provide an offline cryptocurrency platform to have high crypto security.

Cold Wallets are of two types:

Paper Wallets

Paper wallets are documents that have keys and QR codes for easy access to cryptocurrencies.

Hardware Wallets

A hardware wallet is just like a USB hardware device containing all cryptocurrency information.
Two types of keys are generated in crypto ownership

Public Key

Private Key

As the name suggests public key is available to all while the private key is available to the individual owner. Both keys are vital to any kind of crypto transaction.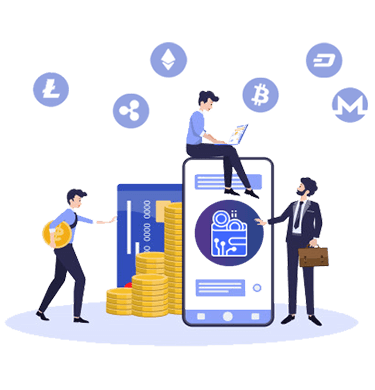 White Label Cryptocurrency Wallet Development
A cryptocurrency solution for smooth trade of multiple currencies serving different purposes which helps an individual to save time. White label cryptocurrency helps an individual to have better control over their digital currencies.
Amazing features of white label crypto:
A white Label wallet can be tailor-made
Easy and fast transfer and can be merged with White label wallets.
Additional security can be added
The integration process is easy
We at BR Softech provide custom-made cryptocurrency wallet development for our esteemed clients.
Features of White Label Cryptocurrency Wallet App
We provide the best solutions to our clients for a better experience.
In-chat Transactions

Facilitates quick and easy crypto transactions.

API Connection to Crypto Exchanges

Helps in multi-tasking and facilitates trading within the system.

Buy Crypto with Credit Card

Cryptocurrencies can be purchased using credit cards.

Sell Crypto

Facilitates an easy and secure way to sell cryptos

Enhanced Privacy

Provides a secure platform with the feature of private key optimization.

NFC (Near Field Communication) Support

Assist in having instant transactions with other individuals.

Multi-Layer Security

Feature of providing an enhanced and extra level of security.
Auto Denial of Duplicate Payments

Automatically remove duplicate and similar payments.

User-friendly Interface

Provide a very feasible and easy to use platform

Easy Portfolio Management

Assist in easy management through multiple tabs option

Home Screen Customization

The home screen can be adjusted as per the preference.

KYC Verification

Provide an easy and fast authentication process

OTC Trading

Easy way to have direct trading between two individuals

Security

Enhanced security and provide End-to-end encryption
Technology Stacks in Decentralised Crypto Wallet Development
We make use of these languages, frameworks, and blockchains protocols: protocols:
Crypto Wallet Development Process
We work on a translucent process with our clients and offer tailor-made and customized solutions to our clients. This process goes through different stages such as:
Business & Technical Analysis

A depth study is conducted to understand the requirement and gather the details and discover facts.

Architecture Design

A draft is prepared to get things done the right way. A detailed blueprint of the process is framed.

Wallet Interface Design

A detailed design and appearance of the wallet are framed.

Wallet Smart Contracts Development

Work is done on the predetermined computational programs.
Backend Services Development

Back end services are designed and drafted

Frontend Development

A sketch out of the frontend services.

Deployment

Execution is done and is made live
Why Choose BR Softech Crypto Wallet Development?
Our high-end services and transparent process makes us renowned in the field of crypto wallet development. We empower to provide the best customer service as we put our clients first and provide them with different facilities.
Budget-friendly Wallet Development
Crypto Exchange Platforms
Commendable team of professional
Still, if you have any doubt regarding our services, we request you to please get in touch with us and we will make sure that we can meet up to your expectations.
Latest Blog
Intensify your knowledge to navigate your digital transformation with us.
Our Game Services
Our highly competitive and skilled team of game developers offers advanced game development services which are compatible with operating Systems like, Android, iOS, Windows, and more.
USA Office
21 Overlook Ridge Terrace
#523 Revere, Boston,
MA 02151 USA
+1-650-727-6690
India Office
90, 10 B Scheme, Usha Vihar,
Triveni Nagar, Gopalpura Bypass,
Jaipur- 302018, Rajasthan INDIA
+91-7821055537 , +91-9982201414
Australia Office
11 parklands place,
Morwell, Vic-3840
Australia
+61 425 630 321
Canada Office
1193 Main St #3301,
Vancouver, BC V6A 4B6,
Canada
+1-604-360-4433