Being the industry leader in NFT Development Solutions, BR Softech is a veteran NFT Marketplace Development Company in Hong Kong that offers highly robust and innovative NFT Marketplace Solutions that are compatible with a wide range of platforms. Our developers have in-depth knowledge of modern technologies and help your clients elevate their business potential by tokenising their tangible assets into functioning NFTs.
With the help of blockchain technology, NFT Marketplace Development offers a lot of benefits to users and businesses. We utilise a stringent and robust development process and maintain transparency by providing constant updates about important milestones. Blockchain technology allows our developers to implement smart contracts and create a decentralised platform that enables us to eliminate a central regulatory authority and ensure true ownership of in-game assets.
Our End-to-End NFT Marketplace Development Services
BR Softech offers a wide range of NFT Marketplace Development Services that ensure an unprecedented user experience and take the user experience to the next level with a wide range of interactive and immersive features.
NFT Marketplace Smart Contracts
Smart contracts ensure that the action is executed properly. We implement smart contracts in the NFT marketplace to ensure that the platform runs efficiently and is lag-free.
NFT Wallet Development
Our developers also offer NFT Wallet Development Services to store and manage digital currencies and NFTs. Our storage solutions can store and manage a wide range of cryptocurrencies and digital assets with ease.
White-label NFT Marketplace Development
We also provide readymade solutions for NFT Marketplaces that provide an edge in the competitive market. Our developers offer robust and sophisticated NFT Marketplace Development by incorporating the latest technologies.
NFT Marketplace Marketing
Do you want to stand out in the competitive market? BR Softech also offers efficient marketing strategies to promote your NFT Marketplace across a wide spectrum.
Decentralised NFT Marketplace Development
Our decentralised NFT Marketplace solutions are built on the blockchain and offer true ownership of digital assets like photographs, artwork, music, etc.
Striking Features of NFT Marketplace Development
Our NFT Developers incorporate interactive features and tools to create highly sophisticated and interactive NFT Marketplace Software Solutions.
Digital Wallet

NFT Digital wallets are used to store and manage digital currencies and NFTs. Moreover, they can also be used to perform safe and secure transactions in the NFT Marketplace.

Ratings

In the NFT Marketplace Development, users can rate and review various artworks and collectables that allow users to make informed decisions.

Multi-Currency Support

The NFT Marketplace platform offers support to a wide range of digital currencies and fiat currencies to ensure smooth and secure trading of NFTs.
Storefront

With the storefront feature, users can get information about the different types of NFTs, owners, value, and possible bids.

Filter Feature

The filter feature allows users to find and locate NFTs in the marketplace without any hassle. NFTs are categorised into various sections and filters can be used to show the various sections.

Auction System

Users can auction their NFTs and collectables on the NFT Marketplace platform. Other users can take part in the auction and bid their desired amount for the ownership of the NFT.
Our Comprehensive NFT Marketplace Development Process
Our NFT Developers follow an agile and well-thought-out NFT Marketplace Development process to create robust and secure NFT platforms across various platforms.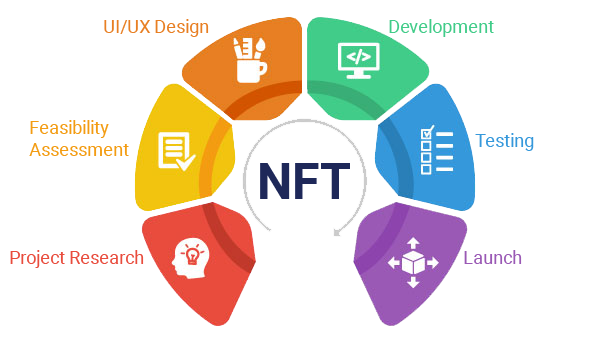 Connect with Experienced NFT Marketplace Developers
Want to harness the power of a decentralized platform like NFT? Our NFT marketplace developers at BR Softech are here to guide you through every stage of NFT development. Take help from our experts to stand out from the crowd.
HIRE NFT DEVELOPERS
Why Choose BR Softech as an NFT Marketplace Development Company?
As a leading NFT Marketplace Development Company in Hong Kong, BR Softech excels in developing robust and scalable NFT Marketplace Solutions that can elevate your business to the next level. We focus on customer-centricity and develop cutting-edge NFT Marketplace platforms that exceed the client's expectations and ensure a 100% client satisfaction rate. We offer-
Integration of the Latest Technologies
Frequently Asked Questions(FAQs)
Ans. The cost of NFT marketplace development solutions is not fixed and is dependent on various factors. On average, it costs around $40,000 to $50,000 to develop an NFT Marketplace.
Ans. It takes around 3 to 5 months to develop an NFT Marketplace from scratch.
Ans. Yes, it is profitable to invest in NFT Marketplace Development as the NFT market is booming and entrepreneurs are looking to invest in this profitable industry.
Latest Blog
Intensify your knowledge to navigate your digital transformation with us.
USA Office
21 Overlook Ridge Terrace
#523 Revere, Boston,
MA 02151 USA
+1-650-727-6690
India Office
90, 10 B Scheme, Usha Vihar,
Triveni Nagar, Gopalpura Bypass,
Jaipur- 302018, Rajasthan INDIA
+91-7821055537 , +91-9982201414
Australia Office
11 parklands place,
Morwell, Vic-3840
Australia
+61 425 630 321
Canada Office
1193 Main St #3301,
Vancouver, BC V6A 4B6,
Canada
+1-604-360-4433