Incorporated in 2010, BR Softech is a leading virtual reality software development company, extending real-world scenes and facilitating an interactive user experience. Over the past 11 years, we have worked with organizations ranging from small businesses to Fortune 500 companies with a single aim: To create the best VR development platform that improves business processes and leads organizations to success.
As a result of our expertise with virtual reality, we can improve the way business communications are conducted. No matter what sector you're in - education, healthcare, or automotive/transportation - our virtual reality software development services have many applications to bring a fantastic user experience.
When you partner with our top virtual reality software development agency, you can be assured that the VR software or mobile app you develop will maximize the return on your investment.
Virtual Reality(VR) Software Development
Being a well-known virtual reality software development company, BR Softech focuses on designing and developing VR software that helps businesses to deliver immersive customer experiences. Our expertise is not only limited to VR solutions, we also offer custom virtual reality software development services aligned with the client's personalized needs and industry.
Whether you are in the aviation, construction, education, health care, or entertainment industries, you can count on our customized VR development services to transform your business.
Virtual Reality App Development
BR Softech is known as a leading virtual software development company in the USA and all over the world. With the help of VR technology, we offer imaginary and real-life mobile app experiences to uplift business objectives. Our experienced team has delivered various immersive virtual reality mobile application development services for diverse industries including startup and global entities. Be it Android VR development or iOS we leave no stone unturned in order to create an extraordinary and cinematic experience.
What Empowers Our Virtual Reality App Development?
Here is how we make your VR mobile app or software development project an actual success.
A rich and immersive experience for users
The best compliance with quality and security
In-depth domain knowledge
Integrity & transparency at their best
Brand recognition increased
What is Virtual Reality Technology?
The concept of virtual reality is computer-generated environments that appear more real than they actually are. As opposed to the traditional user interface, VR places the user in a simulated environment that can be explored in 360 degrees. The general idea behind virtual reality is to replicate the real world in a virtual environment.
It is necessary to wear a VR headset in order to experience virtual reality. By removing the real world, this headset creates a world where physical and digital are virtually indistinguishable.
Benefits of Virtual Reality (VR) Software Development
Let's have a look at the benefits of virtual reality software development.
Prototyping and Design
By implementing VR within a business, it can eliminate the need for full-scale prototype development. With VR, the initial exploration of ideas can be carried out to present the finished concept to the users.
VR Will Play an Important Role in Training
VR is going to play a vital role in improving employee training. The evolution of VR in the business sphere will let businesses conduct live training sessions or seminars to make traditional training more effective and interactive.
Enhance Productivity
Increased productivity results in higher revenue. From live meetings to the conference, everything can be managed effectively using the VR mobile apps.
Virtual Reality Software Development Process
This is what we do to make our virtual reality development process highly effective.
Whitepaper Creation
Our team of virtual reality mobile app developers engages themselves in healthy communication with the client to gain an understanding of the client's requirements. Upon knowing the client's taste in terms of the app environment, UI/UX design, and features, we proceed to create a whitepaper that details all of these requirements.
Prototype
Our team builds a prototype for the actual product by keeping the client's specifications in mind. Again we schedule a meeting with the client and discuss the prototype with them to make sure the actual product is going to address all their needs.
UI/UX Design
UI/UX design is the first thing your customers are going to notice. To make our client presence felt in the world of virtual reality we go a long way to crafting a beautiful interface.
Virtual Reality Mobile App Development
At this stage, our talented pool of VR mobile app developers works on defining the backend logic of the mobile app development.
Testing
This is the inevitable step in the process of virtual reality app & software development. We perform testing on multiple parts of the application to ensure that the app brings a flawless user experience to the table.
Deployment
When the testing results of the final product are positive, we move ahead with the deployment of the virtual reality app development.
11 Years+
Industry Experience
98+
Client Retention Rate
Ready To Take On The World of Virtual Reality
Share your virtual reality mobile app development or software development idea with us and let us serve you with feature-rich next-generation virtual reality app development solutions.
Get A Quote
Why is VR Software Development Important for Business?
Virtual reality technology offers many benefits to businesses. Engagement and inspiration are among the major benefits of VR platform development. By offering the following benefits and free project estimation, BR Softech ensures you get the most out of your investment.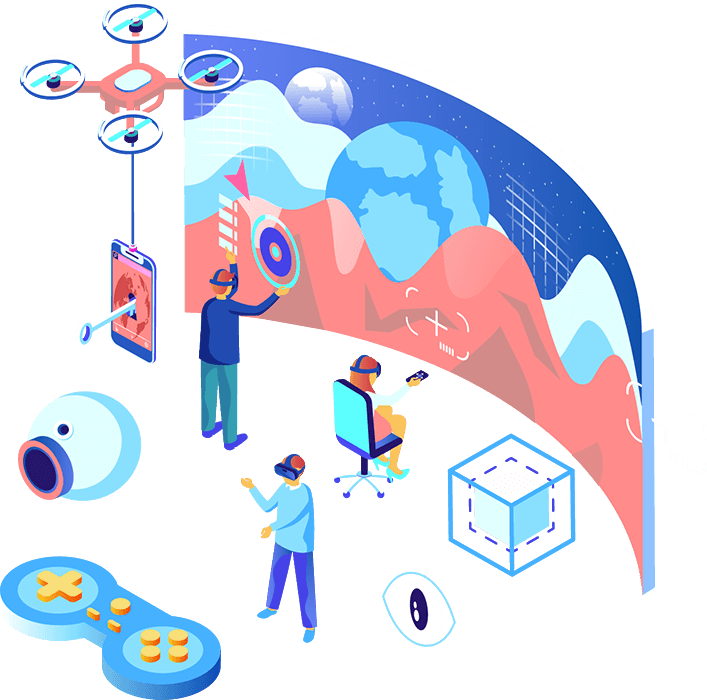 Virtual reality-based showrooms will make customers interact with the product and services more engaging.
Introduced established products to the new audience
Improves customers engagement
An increase in brand loyalty
Reduce the business travel needs and efficient business meetings.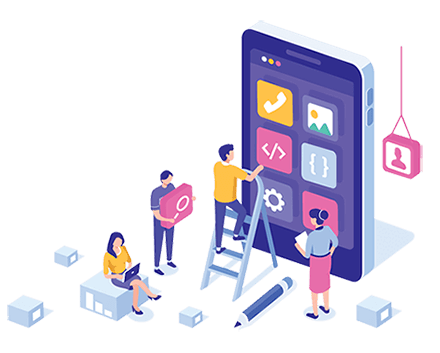 Why VR App Development
One of the fastest growing emerging technologies
Following Agile methodology that is the trust of App Market
It is about to Transform the education gaming medical fields & data science field
It is projected to overreach the television industry in the next 10 to 15 years or so. That is why VR apps and games will cover the app stores & will be a huge market area to them.
It is also being established fastly in the tourism industry
Types of Virtual Reality Software Development Services By BR Softech
We as a renowned virtual reality app development company ensure to bring positive outcomes with our virtual reality app & software development services.
Let's have a quick tour through our virtual reality app development services.
VR Integration and Deployment

Our game experts integrate VR Technology into the platform to which the customer desires. It saves the cost of developing the app from scratch.

Virtual Product Environment

BR Softech virtual designs are designed by the best 3D mobile app designers which help to bring the same environment for the players.

3-D walk

In addition to attracting users to the platform, we create marketing campaigns to draw the attention of the users.
VR Trade show or Event Apps

Our developers offer you a glance at the app in the demo app. Through which you can have a presentation view of the event or business event.

VR Gaming App Development

Our VR game developers offer you the real gaming world on smartphones. Our team has the ability to deliver the next-generation mobile games app with enriching features and high functionality.

VR Software Development Services

BR Softech offers fully-fledged VR Software to our customers, which fulfills all the requirements as per the market and customer demands.
Frameworks, Platforms & Tools Used For Virtual Reality App Development
Our virtual reality mobile app developers will lay hands on every framework, platform, and tool available on the market. Here we have mentioned a few of them.
Unity3D

Unity 3D technology is a demand of game developers, so how can it be lacking in the VR development process? The mobile app and game developers give high preference to this tool as it has enriching features and eases the developers to save time by efficiently completing the development tasks.

Unreal Engine

The Unreal Engine technology makes the process easier and simpler. It is the most demanded app which includes AAA games and photoreal visualization. It is supportive for integrating effects, tracking better quality, 2D & 3D image identification, and face tracking. The UI feature can also be implemented easily. Unreal Engine helps to bring the cinematic effect to the mobile app.

Lumberyard

This virtual reality product development platform is known as an ideal virtual reality content creation. It makes the features active and modifies them to work in the right process. It enabled an amazing 3D environment and real-time effects. It includes features like camera framework and weather effects etc.

CryEngine

This tool is similar to Unreal Engine. It supports various domains which include 3D modeling, animations, script, and sound. This tool has an effective impact and mobile developers need guidance to bring the successful outcome of this. The Cry Engine supports the languages Action Script, Lua, and C++.

Blender

It is becoming the most preferred tool for VR developers. Basically, it is one of the open-source VR development tools written in the Python language. It is a huge community, in which people are interconnected and have interaction regarding it.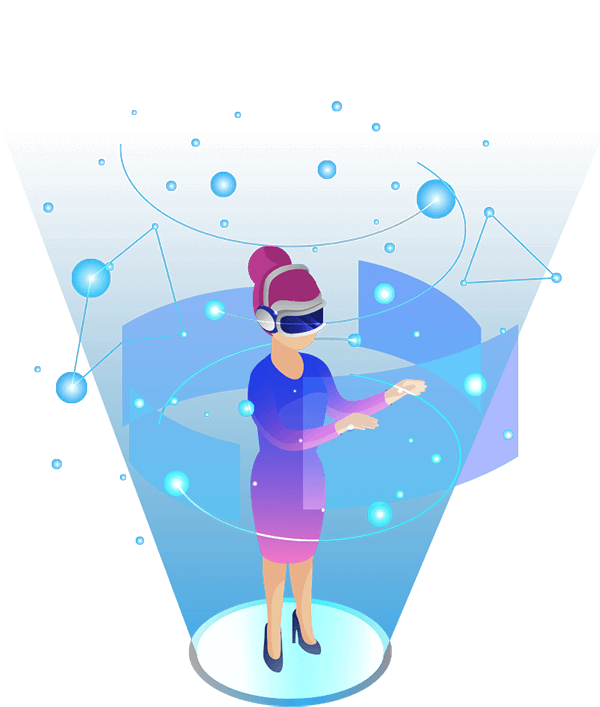 Why Should You Choose BR Softech For Virtual Reality(VR) App Development Services?
Here at BR Softech, we offer advanced virtual reality app development services for both Android and iOS tailoring to the specific business requirements. Our team is backed by extensive knowledge of VR development and strives to keep updating themselves with the latest trends to bring market-leading solutions into existence.
A team of certified Virtual Reality Developers.
Worked with ranging startups to Fortune 500 companies.
As one of the reputed VR game development companies, we've created spectacular mobile games & apps for iOS, Android & Desktops.
Non-disclosure agreement to answer all your security-related concerns.
Industry-Specific Virtual Reality App Development Solutions:
Here is a list of all the industries we serve.
Education & Training

VR app development has lifted the education sector. It is beneficial for real-world classrooms as well as for long-distance courses. VR Technology has turned the whole process of education and now learning is not a new challenge.

Impact of VR in the Education & Training Sector

High-quality education.

Turns learning into an interesting process.

Helps students to understand difficult concepts in an easy way.

Introduce an immersive teaching method.
Retail & ECommerce

Now, shoppers have turned the shopping experience of the customers by offering the 2D e-commerce platform. The implementation of VR technology has covered the various layers on it.

Impact of VR in Retail & ECommerce

Brings an impressive online store

With the help of VR, a customer can take a round of a store from their home.

Our analytics helps to understand consumer behavior and its pattern along with their interest.

It offers an interactive shopping experience to the users.
Advertisement

The advent of the latest technology VR in the advertisement industry brings real images of the product to the customers. It allows users to preview products in a specific environment that relates to the real world.

Impact of VR in the Advertisement

This technology helps to create an emotional bond between customers and products.

Brings an interactive and realistic process.

VR technology increases brand awareness.

Helps to engage customers.
Travel & Tourism

It has transformed the traveling experience of travelers and emerged as the backbone of the travel industry. With the help of simulators, traveling is accessible for every individual. If a traveler is not able to travel then also he/she can experience the destination.

Impact of VR in Travel & Tourism

Maximize customer engagement.

Helps customers to explore and experience the ground before hotel booking.

Offers a virtual walk to the desired destination

Make decisions more reliable and worthy
Gaming

VR technology has revolutionized the gaming industry completely. Hence it enhances the gaming industry and brings the real-world closer to the virtual world. It offers the 2D and 3D dimension experience. The Virtual Reality Game Developers bring the imaginary world to the players. VR Game development is in high demand and it is meant to be experienced.

Impact of VR in the Gaming

Improvise your gaming experience.

Bring highly interactive and engaging gaming.

Helps to meet real and virtual imaginations.

A chance to meet new innovative technologies.
Medical

It is acting as a boon in the medical and health industry. It has significantly impacted the healthcare industry and has improved human lives. This allows us to interact with the 3D world and treatments have been uplifted to the next stage.

Impact of VR in the Medical

Improve in the range in the surgery

Enhancement in diagnosis.

Reshape areas like counseling and surgery.

Helps to train the next generation doctors in the medical field.

Offer save environment to the user.
Manufacturing & maintenance

VR technology is spreading widely, and in the manufacturing industry, it is bringing a secure platform and increasing productivity. It helps to stay ahead of the market competition and turn the manufacturing process faster.

Impact of VR in the Manufacturing and Maintenance

Increased Efficiency.

Increased Safety.

Enhance User Experience.

Easy and faster process.

Helps to create better products.
Engineering Design

It includes 3D tools and visualization in the designing part. The VR Technology helps to view the video at 360 degrees. The decisions are held at the early stage of the development. Before passing the process to the end, it helps to get the idea and if there are changes, they could be done. VR helps to bring the exact imagination of the real-world in the form of images and videos.

Impact of VR in the Manufacturing and Maintenance

Visualization of real space.

Improving design Save time and efforts.

Increase efficiency.

Introduce rich graphics and videos.
Workplaces

There are many ways that VR changes the workplace. Even companies like Facebook, Samsung, and Google rely on VR hardware and software. It is significantly impacting all over the world.

Impact of VR at the Workplaces

Employees' stamina level will not get low.

The working process has changed into a faster process.

The process of understanding will become better.

Helps in improving workflow.

Improve the decision-making process.
Military Segment

It has been used to tackle various situations. The VR mobile application is utilized in major fields such as medical training, navy forces, and on the ground. It is the most effective and used widely in boot camps.

How does VR mobile app development help in the military sector?

Training VR Simulators.

VR Therapy Brings Realistic Scenarios.

Cost-Effective operations.

Better Engagement

Isabella
He kind of development services Br softech delivered was expected, but in such a short span of time they did it was like a treat for me. I contacted them at a very crucial time where it was essential for me to live my website at the scheduled date, but there were many obstacles coming across to achieve this. BR provided me a team of experts who took the project up and started executing things right of the bat helping me have its timely release

Olivia
BR Softech is a best virtual reality development company.They have mind blowing experience in the VR development. I contact with them when my project was ruined by other company and it was too hard to bring it on track again. At that time, BR Softech well verssed developers helped me to offer exactly what i have dreamt off.
Frequently Asked Question?
Q1. What Are Some Good Examples of Virtual Reality Software Development?
Here is a list of a few of the most popular virtual reality apps that are ruling the market. .
IKEA Mobile App
Nintendo's Pokémon Go App
L'Oréal Makeup App
U.S. Army System
Q2. How Much Time Does it Take to Develop a Virtual Reality App?
The time it takes to build a virtual reality app depends on its size, the number of assets, and the number of interactions. On average it could be somewhere between 8 weeks to 15 weeks.
Q3. What is the Estimated Cost That Will Occur While Developing the Virtual Reality Platform?
The cost of virtual reality mobile app or software development does vary on the complexity and the location of the developers.
Q4. Which Technology Will You Use For Virtual Reality Development?
While developing VR mobile apps, we make use of technologies such as visual development tools, Python, JavaScript, Swift, C, C++ in addition to several other great technologies.
Q5. What Is The Difference Between Augmented Reality & Virtual Reality?
The main difference between AR and VR regards the devices they use and the experience they provide. Talking about augmented reality, it makes use of real-world settings to present the digital content in the real-world environment. VR on the other hand implies an entirely virtual environment that excludes the physical world.
Q6. How Should I Evaluate Which Tech to Use: Augmented Reality, Virtual Reality, or Mixed Reality?
The choice of technology depends upon your preferences. For example, if you wish to offer a complete virtual reality environment accessible through a headset, then nothing can go as far as VR. While AR is an ideal choice if you are satisfied with the overlay of the virtual content. If you want the blend of both AR and VR, then Mixed Reality is meant for you.
Q7. What Questions Should I Ask Before Hiring a Virtual Reality Software Development Agency in India?
1. Ask them to share their complete portfolio
2. Testimonials of previous clients
3. How much time will the virtual reality app deployment take?
4. What technologies will they use?
5. Acquaint yourself with their support system
Q8. What Mistakes Should Be Avoided Before Choosing a Virtual Reality (VR) Development Agency in India?
1. Not doing your research
2. Overlooking the importance of the experience
3. Making a compromise on the quality of the app for the sake of money
4. Poor quality of content