Being highly driven by the reputation of being the best metaverse app development company in Hong Kong, we strive to provide our clients with supreme-quality development and consultation services. With metaverse 3D environment development, digital avatars, and decentralized and blockchain platform development; we ensure to incorporate high-level features, tech stack, and ultra-modern technologies to create updated solutions.
Be it fashion, entertainment, real estate, tourism, healthcare, social gaming and sports; our developers use modern technologies like AR, VR, AI, Blockchain and NFTs to bring forth innovative and creative virtual platforms for all.
Our Varied Range of Metaverse Development Services
Our in-house team of domain experts including our certified developers and skilled art directors work together in collaboration to develop competitive and advanced metaverse platforms that can help you stay ahead of the curve. From fashion and gaming to sports and education; the metaverse has captured the eyeballs of every business owner or investor. Here is the list of services we provide at BR Softech:
3D space development
Our developers focus on 3D modelling and the creation of an attractive yet high-performance 3D in-game environment to provide users with enhanced metaverse applications.
Decentralized Platform
Harness the power of blockchain technology to develop responsive and decentralized platforms that are highly safe and secure.
Metaverse marketing
We strive to use top-notch marketing strategies to promote your metaverse platform in the market.
Non-Fungible Tokens
We create unique and immutable NFTs which users can trade or exchange across multiple marketplaces for real money.
Digital Avatars
Our developers have years of knowledge and expertise in creating innovative yet creative digital avatars that offer users immersive gameplay experiences.
Metaverse Marektplace Development
We ensure to develop a metaverse marketplace which allows users to trade and exchange NFTs for cryptocurrency or digital coins.
Metaverse Integration services
Our expert team provides the best-in-class metaverse integration services that provide both users and creators with a seamless experience.
Our Metaverse App Development Solutions
Are you looking for top-notch metaverse app development solutions that are affordable and high-performance? Fret not, we have got you all covered at BR Softech! Here is the list of metaverse application development solutions we offer:
Metaverse Gaming Platform
Metaverse Fashion Development
Metaverse Banking Development
Metaverse real estate development
Metaverse NFT marketplace Development
Metaverse E-Commerce Platform Development
Exclusive Metaverse App Development Benefits
Whether it is fashion, entertainment, real estate, gaming, sports and e-commerce; we offer a wide range of metaverse applications that offer plentiful benefits to both users and creators: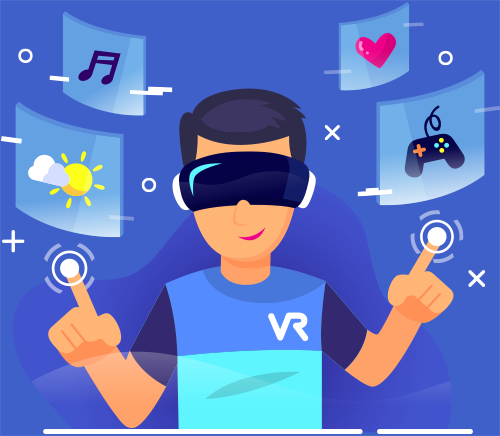 High ROI
Our metaverse applications offer clients an opportunity to generate a high level of revenue and profits.
Widespread community
Metaverse has a very wide community so you can get wide support from its members. This will help you stay ahead of the curve and implement the latest trends.
Enhanced User Experience
We use the latest technologies like AR, VR, AI, and ML to deliver users an enhanced experience.
Worldwide Reach
Our metaverse applications are designed in such a manner that they can reach a massive population of gamers.
Our All-Inclusive Metaverse App Development Process
Our expert team of designers and developers work round the clock to offer tailor-made metaverse applications for different platforms and screens.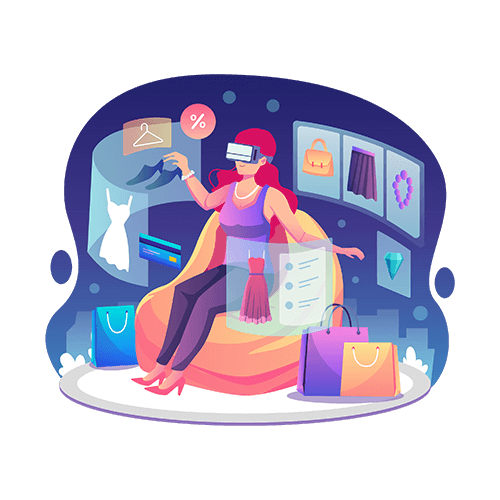 Technologies in Metaverse Application Development
At BR Softech we use advanced technologies and tools to create high-performance metaverse applications that are of high value and hard to find. Here is the list of technologies we use: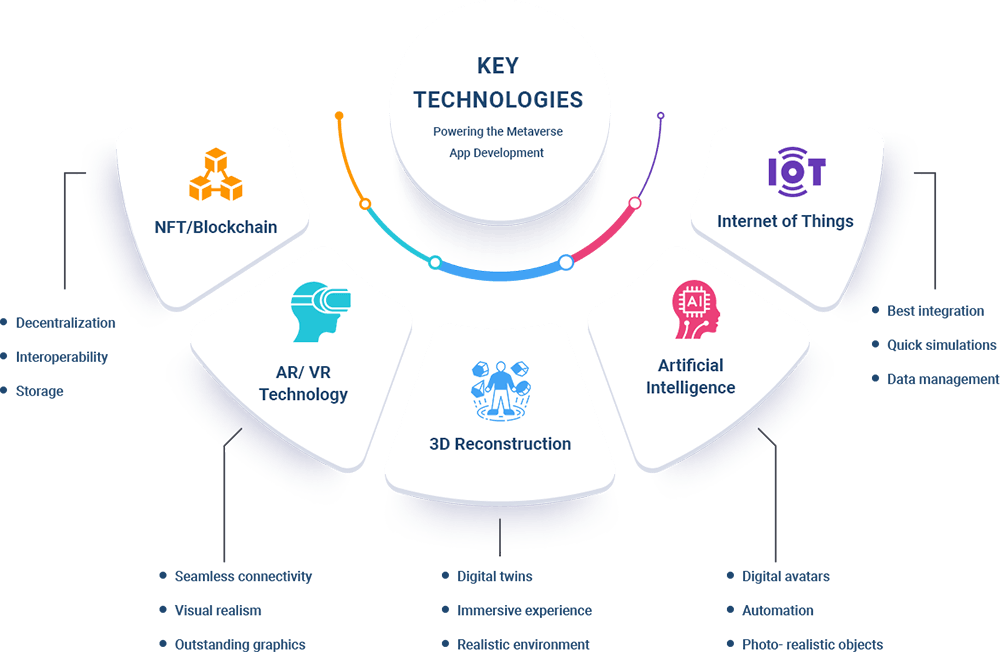 Hire our Metaverse App Developers
Hire Now
Why Choose BR Softech as a Metaverse App Development Company in Hong Kong?
With emerging technologies like AR, VR, MR, AI and blockchain, we strive to develop customized and latest metaverse applications that are of high value. As the best metaverse application development company in Hong Kong, we strive to incorporate the best-in-class metaverse solutions for different industries, domains and use cases. Choose us to get:
On-time delivery of the project
Experienced team of developers
Robust development process
Frequently Asked Questions
On average, the cost of metaverse app development ranges from $30k to $40k.
It takes around two to three months to develop a metaverse app from scratch.
Yes, it is profitable to develop a metaverse application as the industry as a whole is constantly rising in a manner like none other.
Latest Blog
Intensify your knowledge to navigate your digital transformation with us.
USA Office
21 Overlook Ridge Terrace
#523 Revere, Boston,
MA 02151 USA
+1-650-727-6690
India Office
90, 10 B Scheme, Usha Vihar,
Triveni Nagar, Gopalpura Bypass,
Jaipur- 302018, Rajasthan INDIA
+91-7821055537 , +91-9982201414
Australia Office
11 parklands place,
Morwell, Vic-3840
Australia
+61 425 630 321
Canada Office
1193 Main St #3301,
Vancouver, BC V6A 4B6,
Canada
+1-604-360-4433