Being the most renowned and best NFT marketplace development company, BR Softech holds impressive experience when it comes to blockchain or NFT platform development. We enable our clients to unleash the true potential of NFTs by transforming all their digital assets into non-fungible tokens. We make sure to incorporate the latest tech stack, tools and development strategies to develop distinguished NFT marketplace software solutions.
NFT marketplace offers 'N' number of benefits to both users and creators. We implement smart contracts and decentralization in an NFT marketplace to eliminate the role of the third party and ensure smooth trading operations of assets. We make sure to keep our clients in the loop to take proper details of the project requirements and avoid room for errors. Customer satisfaction is our utmost priority and we ensure to reflect the same with our feature-rich NFT marketplace development services.
Exclusive Range of NFT Marketplace Development Services
We build a feature-rich, and cost-effective NFT marketplace that enhances the user experience with a wide range of security layers. From ideation to testing and launching; we provide constant technical assistance while offering full-fledged NFT marketplace development services.
NFT Marketplace Smart Contract
We offer end-to-end NFT smart contract consulting services to check if the intended action is executed properly. Moreover, we ensure that the entire system is bug or glitch-free.
NFT Wallet Development
With our NFT storage solutions, you can store your NFT data in a decentralized manner. We develop multi-currency NFT wallets, which support a wide range of cryptocurrencies.
White Label NFT Marketplace Development
We offer ready-made NFT marketplace platforms to clients who want the crypto world. We ensure glitch-free and feature-rich white-label NFT marketplace development.
NFT Marketplace Marketing
As a leading NFT marketplace development company, we offer a wide range of marketing strategies that can help you promote your NFT marketplace platform across multiple mediums.
Decentralized NFT Marketplace Development
Leverage our decentralized NFT marketplace development services for building reusable and famous standards for non-fungible tokens.
NFT Marketplace Design and Development
With the proper optimization of NFT standards such as ERC-721 and ERC-1155 and smart contracts, we offer supreme-level NFT marketplace design and development services.
Unique Features of our NFT Marketplace Development
Our certified NFT marketplace developers incorporate next-gen technologies and advanced NFT marketplace features to create exceptional NFT solutions.
Digital Wallet

We integrate digital wallets in our NFT marketplace platforms to ensure smooth, safe and seamless transactions. It allows users to store, and manage their cryptocurrencies.

Ratings

This feature allows users to rate digital collectibles, helping them make a strategic decision on choosing the ideal digital collectible.

Storefront

We incorporate this feature in our NFT marketplace development process to provide users with all the crucial details about the bids, value history and owners.
Multiple Currency Support

We design and develop an NFT marketplace supporting multiple fiat and cryptocurrencies. Our multi-currency NFT marketplace makes trading easier for clients.

Filter Option

We offer multiple filter options to users to make navigation easier for them. The feature allows users to search and select elements with the help of different categories.

Auctions & Bids

Our NFT marketplace provides bidders with an authentic, reliable, and easy-to-operate platform to purchase NFTs. Through the auction watchlist, users can check the current status of the bid.
Full-fledged NFT Marketplace Development Process
We follow a step-by-step guide to creating a strategic and customizable NFT marketplace, offering seamless buying and selling of non-fungible tokens. Our NFT marketplace development process consists of the following steps: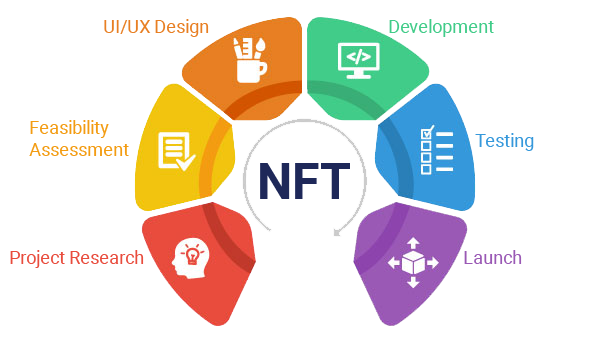 Project Research

The first and foremost thing we do before developing NFT marketplace software is research. In this phase, we collect project information like target audience, features, graphics, etc.

UI/UX Design

We aim to create intuitive and engaging UI/UX design for our NFT marketplace development, ensuring a user-friendly and feature-rich interface.

Development

After the NFT marketplace design, we focus on incorporating the latest tech stack and development strategies for full-fledged NFT marketplace app development.

Testing

We perform rigorous testing to make your NFT marketplace bug-free or error-free. We ensure that the platform is running smoothly on your expected platform.

Launch

We launch the NFT marketplace using top-notch marketing strategies, including digital marketing campaigns, content marketing, advertisements, etc.
Convert Your Dream Project into Reality with Our NFT Marketplace Developers.
Get in Touch
Hire Our NFT Marketplace Developer
Want to harness the power of a decentralized platform like NFT? Our NFT marketplace developers at BR Softech are here to guide you through every stage of NFT development. Take help from our experts to stand out from the crowd.
Hire NFT Marketplace Developer
Why Choose BR Softech as an NFT Marketplace Development Company?
Being the best NFT marketplace development company, we have developed top-notch NFT marketplaces that took businesses to new heights of success. We focus on quality and customer-centricity when it comes to NFT marketplace platform development to offer highly-personalized, reliable and scalable services. Choose us to get:
Customized NFT marketplace solutions
Cost-effective NFT marketplace services
Agile development approach
FAQs
NFT marketplace is a digital and decentralized platform that allows users to buy, sell and bid on NFTs using multi-currency such as fiat and cryptocurrency.
There are different affecting the cost to create an NFT marketplace, including the location of the developers, complexity of the features, graphics, tech stack, etc. On average, the cost to develop NFT marketplace software is around $30,000 to $50,000.
NFT marketplace platform development is not an overnight task, and hence requires a pre-defined set of stages. The steps to develop the NFT marketplace are:
Research and understanding the niche
UI/UX design
Development
Testing
Launch and support
NFTs use blockchain technology, which offers a lot of benefits to users. The advantages of NFT marketplace development are decentralization, complete transparency, unique ownership, liquidity and security.